Warehouse Express community members once again turned in some stunning photographs for the monthly WEX Gallery competition. Each year our judges award one of these winners £250 to spend at Warehouse Express and the Photograph of the Year title. We're pleased to announce the 2010 winner is Martin Chamberlain with his powerful shot of a Sadhu.
WEX Gallery judge Ben Weeks reveals why this shot was chosen:
"This shot ticks all the boxes for me in terms of what a great photograph should be and do. The focus on the eyes, the perfectly balanced exposure and the fantastic capture of the textures of the skin, hair and smoke all combine to make a technically excellent shot. But what's equally, if not more important is the thoughts, emotions and questions that the photograph evoke in the viewer. Who is this man? What has he done? What is he doing? What's happening around him? Martin's image of this Sadhu encourages a curiosity and a desire to know more, and this is one of the most powerful effects a photograph can have."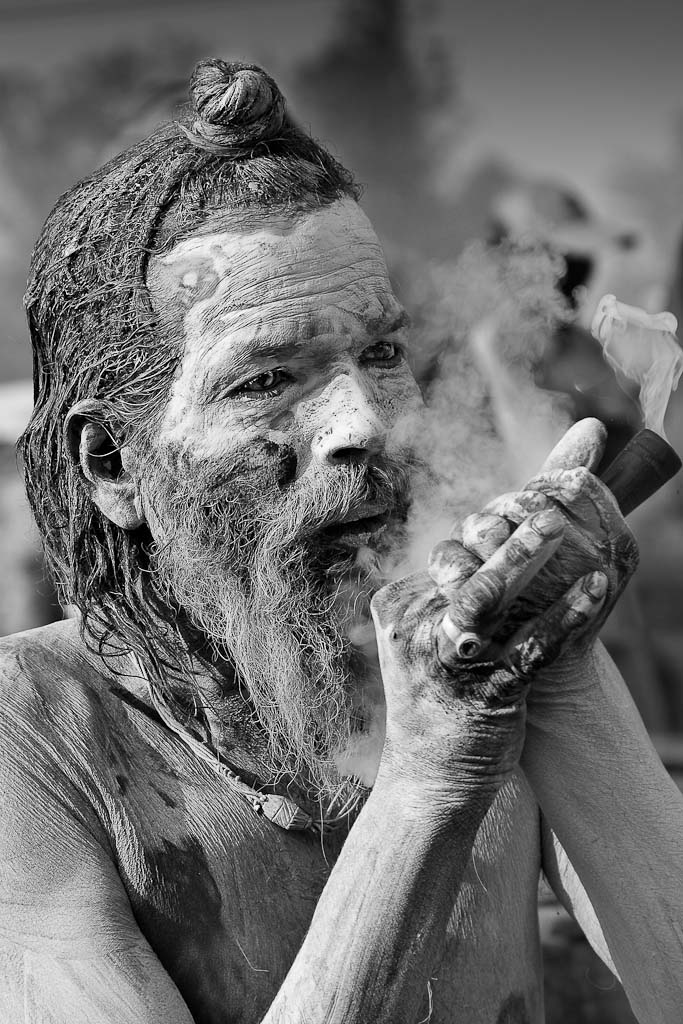 We spoke to Martin to find out more about this fantastic shot...
When and where was this photo taken?
This image was taken at the Shiva Ratri Festival at Pashupatinath in 2005 on the banks of the Bagmati River just outside Kathmandu, the capital of Nepal. The Shiva Ratri festival takes place every year in February or March depending on the phase of the moon. It's held in honour of the Hindu God Shiva at shrines throughout India and Nepal, but the biggest is at Pashupatinath, which attracts pilgrims and sadhus from all over the sub-continent.
What kit and techniques were used to create this image?
After many years shooting film, I took this shot soon after I'd acquired what was my first digital SLR - a Canon EOS 20D. I had a Canon 28-135mm IS lens set at 112mm and it was shot at 1/250th, f8, ISO 200. This was so obviously going to end up as a black and white shot - in fact, there's hardly any colour in the original RAW file, and the monochrome really emphasises the detail in the wrinkled skin, beard and matted hair. I previewed the RAW file in black and white in Lightroom, then switched to Photoshop for a some local contrast enhancements. It's pretty much a straight shot, no crops.
Tell us the story behind the photo...
I would normally shoot with a tripod where I can, but the ground is pretty uneven at Pashupatinath - lots of steps and walls and broken walkways. Besides, on this occaision it was best to look as inconspicuous as possible - not easy when you're surrounded by 100,000 holy men (and women), most of whom are almost naked and smoking charas! I therefore went with just a single body and lens, hand held.
As the light is pretty harsh in Nepal, it was important to get to the festival early. This also has the advantage of fewer visitors. I wandered around for a while from about 6am chatting to some of the sadhus who, at this time were already up and about, practising yoga, reading holy texts or applying their body paint. I'd normally try to resist taking pictures initially, instead prefering to weigh up the whole scene and show some interest in what's going on. Engaging with the subject is amost always going to get you a better shot (and is more interesting anyway) although it can require a considerable investment in time.
For this particular shot, I'd watched this sadhu on and off for about an hour painting a grey sludge onto his body and into his hair. I later found out that the sludge was a mixture of water and the ash of recently cremated deceased Hindus (Pashupatinath is also a temple where Hindu cremations take place regularly on open pyres). This is almost the last shot of many that I took of the whole procedure and it captures a moment of self congratulation as he lights up a huge pipe and takes the first of many puffs of the day - a bit like opening a beer after decorating your lounge!
Any ideas of what you might spend your voucher on?
Not sure yet. I've since upgraded to the Canon 5D Mk II which I'm very happy with. I'd love to try out the new Canon 24mm TS-E (Tilt/Shift) lens for landscape photography but I think I'm going to need to win a few more vouchers for that!
Finally, what would you say to someone thinking of entering the WEX gallery competition?
Its very easy to enter, and providing your image is appropriate for the theme you should have a go and upload your shots.
Congratulations to Martin and all the winners from last year! To find out more about the competition, including the current month's theme, visit the WEX Gallery page on Warehouse Express.
You can find more of Martin's work on his
website