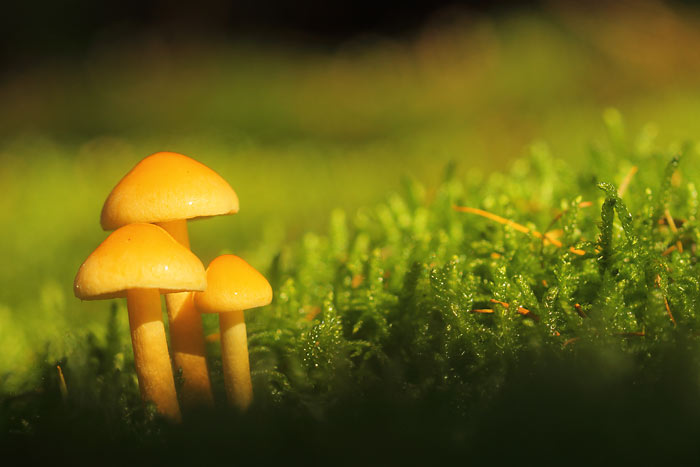 Join wildlife photographer and Manfrotto Ambassador, Victoria Hillman on a photowalk around the Holt Country Park and woodlands near Norwich. This Walkabout is aimed at introducing you to the challenging subject of macro photography, specifically fungi. The woodlands at Holt Country Park are rich with a variety of fungi waiting to be discovered and photographed!
Walkabouts are not formal workshops - you will be given tips and advice to get you started and some technical support from the Wex team but essentially Walkabouts are the chance to spend time on your favourite hobby with likeminded people and maybe try something new!
Spaces are limited to 15 each session to ensure everyone attending can enjoy a relaxed and informal session. Above all the aim is to have fun and take this opportunity to ask any questions you may have!
In association with Manfrotto & North Norfolk District Council.
Suggested equipment
You will need:
Your DSLR with lots of memory and a spare battery. You may like to use a compact or bridge camera with a macro capability.
A tripod. Some tripods will be available to borrow on the day, courtesy of Manfrotto.
Lumies rather than flash and small reflectors - some will be made available to borrow.
Any macro lenses or close up filters you have.
Please dress appropriately for an outdoor shoot in a woodland in October.
Refreshments are not provided or readily available on site so please bring your own snack and drink if you wish.
Please note, because of the subject matter you will need to be physically capable of getting up and down off the ground to set up your shoot.
For top tips on this subject please read Tom Mason's blog article: How to photograph fungi
Dress for the great British outdoors and wear sturdy boots/wellies!
Event Information
Event: Wex Walkabout: Holt Country Park – Fungi Macro Photography
Date: Thursday 22nd October
Location: Holt Country Park, Norwich
Please note that tickets for this event are being made available via Eventbrite. Clicking 'Book now' will take you to the Eventbrite website where you can register for a ticket.
About Victoria Hillman
Victoria is wildlife researcher, an award winning wildlife photographer, and a National Geographic Explorer. Victoria's passion is to share the way she sees the natural world in the hope that she can help to change peoples' perceptions and inspire them to get outdoors, understand, enjoy and conserve it. The safety and welfare of both her subject and the environment come first even if this means missing a crucial opportunity. The trust that she builds up over time with her subjects is incredibly rewarding, allowing her to enjoy and capture aspects of their day to day life. She has contributed video material to TV series both in the UK and USA and been published in magazines and books.
What is a Walkabout?
Join us through 2015 for Wex Walkabouts - a new programme of free local events (Venue costs / entry fees may apply).
Following the success of our free showroom seminars, we are offering you the opportunity to get out and about with your camera, meet up with your local photographic community and learn some new skills from the pros in a relaxed, informal environment. Every month, the Wex team will be at a new venue with a different lead photographer, focusing on a different subject with a unique set of challenges. Regardless of your skill level or kit, Wex Walkabouts are for you – whether you want to try something new or just meet other likeminded enthusiasts.
Unlike our photography workshops, Wex Walkabouts are completely informal, have no minimum group size and are not dependent on your ability or gear – wherever possible, we will bring along a range of kit you can borrow. All you need is your DSLR or compact system camera and some clothing suitable for the great outdoors! There are no specific steps or learning outcomes – the walkabouts will give you the challenge of a new environment and a new subject, all supported by an experienced pro photographer.
Make time in your diary for the monthly Wex Walkabouts and try something new!