Kit out Fujifilm's finest flagship with the best lenses for the job – here's our guide to the best lenses for the Fujifilm X-T3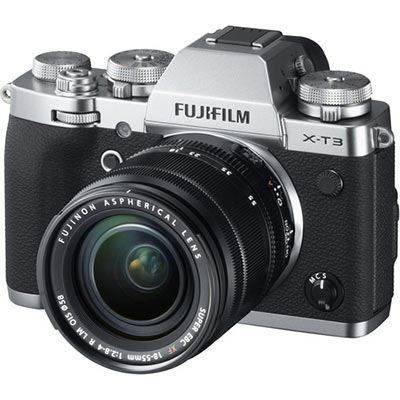 ---
Update: Since writing this article, Fuji have released the X-T4. Don't worry though, if you're thinking of upgrading, all lenses mentioned here will work with both models.
---

The Fujifilm X-T3 is one of the finest mirrorless cameras around. It's stylish, it's got a sophisticated APS-C sensor, and it's just as capable when it comes to video as it is for stills. Really, there's nothing not to like.
With that said, the best and only way to make sure you're getting the most out of your Fujifilm X-T3 is to take advantage of the X series' fantastic catalogue of lenses. The good news is that no matter what type of photographer you are, and what genre of images you're interested in capturing, Fujifilm will definitely have a lens for you, and what's more it absolutely doesn't have to cost the earth.
Here we've compiled our favourite X-mount lenses you can pick up for a great price. From zooms to primes, from wide-angles to telephotos, they're all here. We've ordered them by price so you can easily find the level that's appropriate for your budget.
A note on focal lengths: An important thing to remember when dealing with Fujifilm cameras and lenses, is that you're working with an APS-C sensor, which is smaller than full-frame. This means that all the lenses on this list will provide an equivalent focal length 1.5x longer than stated; so a 50mm lens will provide the same effective focal length as a 75mm lens, for instance.
That's enough preamble – let's get to the lenses!
As mentioned above, this lens provides an effective focal length of 75mm, making it a solid all-purpose choice for travel and even portraits – that f/2 maximum aperture makes it possible to give backgrounds an attractive blur while still keeping your main subject sharp. Having the optical quality of a prime lens helps you really make the most of the superb X-Trans sensor in the X-T3, and all in all this is the kind of prime lens you can simply strap on and use in a whole host of situations.
Fujifilm XF 50mm f2 R WR Lens - Black
The Fujifilm 50mm f2 R XF WR Lens is a compact and lightweight lens that is perfect for portraiture and landscapes but can easily be used for wedding and street photography. It has a bright and fast f2 aperture that allows you to shoot in a variety of different lighting situations. The lens design is very similar to that of the Fujifilm 23mm f2 and 35mm f2, featuring a full metal exterior and quality craftsmanship. 9 lens elements in 7 groups, including one aspherical ED lens, ensure a sharp edge-to-edge image that is guaranteed to impress!
£429.00 View
This wider prime is a great choice for landscapes and architecture shooting – although, given that it provides an equivalent focal length of just under 35mm, it's also a solid choice for documentary shooting when you generally want a naturalistic but expansive frame. Whether you're planning to shoot stills or videos on the X-T3, the Fujifilm XF 23mm f2 R WR Lens is definitely a solid choice. It's weather-resistant too, so a great option for outdoor work.
Fujifilm XF 23mm f2 R WR Lens - Silver
The compact, weather-resistant Fujifilm 23mm f2 R WR XF Lens offers a 35mm equivalent focal length, making it ideal for travel, street, and portrait photographers. Its fast f/2 aperture makes it a great choice for low-light conditions, and, with its 9 diaphragm blades, delivers a pleasing out-of-focus quality when working with a shallow depth of field.
£429.00 View
So far we've only dealt with f/2 lenses, and if that isn't enough of a wide aperture for you then definitely give this 35mm prime a try. With a maximum aperture of f/1.4, this lens is well-equipped for low-light shooting and shallow depth of field alike. Its equivalent focal length is a hair over 50mm (52.5mm), so you could definitely get away with portrait shooting, but it also provides a pleasingly naturalistic "human-eye" perspective that's ideal for street shooting and documentary work.
Fujifilm XF 35mm f2 R WR Lens - Black
The Fujifilm 35mm f2 R WR Fujinon lens is a stunning, sharp and compact prime lens. It is a popular lens because of the sharp and detailed images it can produce as well being a common go-to lens because its focal range provides an angle of view that is similar to that of the human eye. The optical construction of the lens is made up of 9 elements in 6 groups that ensure an extremely high image quality. This high image quality is coupled with the compact design which is also is weather/dust-resistant, and can work in temperatures down to -10°C.
£389.00 View
It may look like a kit lens at first glance, but this lens actually provides an equivalent focal length of 27-84mm, making it close to a 24-70mm and well-suited for all sorts of work. Fujifilm has done a thorough job of beefing it up as well, equipping it with high-speed autofocus that can acquire its target in as little as 0.1sec. You get a great deal of latitude for experimentation with this lens, and it's an ideal way to cover all the bases of shooting with your X-T3, without breaking the bank.
Fujifilm XF 18-55mm f2.8-4 R LM OIS Lens
The Fujifilm 18-55mm f2.8-4 R LM OIS XF Fujinon Lens is the standard zoom lens that comes with many the Fujifilm camera bodies as a kit lens - But it's much more than just a kit lens. The term 'kit lens' has negative connotations that surround it because of other brands that provide lenses that are not sharp, fast or able to capture crisp and detailed images. Fujifilm's 'kit lens' features a linear motor-driven system that delivers accurate, high-speed autofocus performance of 0.1 second. It also has silent operation making it suitable for video recording as well as stills. Its max f2.8 aperture is fast and can create some beautiful bokeh. This lens is much more than just a 'kit lens'.
£679.00 View
This is a solid choice for photographing wildlife and distance subjects with your X-T3, but it's got real general versatility, as it provides an equivalent focal range of 84-305mm. Weighing in at 580g it's lighter than an equivalent telephoto zoom would be for a DSLR, not to mention more affordable, so you can definitely consider it as a travel option. The quiet operation makes it good for video too, and the autofocus is a high-speed system that compliments the X-T3 especially well.
Fujifilm XF 55-200mm f3.5-4.8 R LM OIS Lens
The Fujifilm 55-200mm f3.5-4.8 R LM OIS XF Fujinon Lens has been designed to provide pin sharp images across its entire focal range, as well as having a large aperture from f3.5-4.8. The lens is capable of high-speed autofocus acquisition thanks to two linear motors and has an in-built image stabilisation system that allows for shutter speeds 4.5 stop slower. The lens has been designed for use on Fujifilm's compact system cameras that have an X lens mount, such as the Fujifilm X-E3.
£579.00 View
This is one of the more recent lenses for the Fujifilm X system, and as such it's replete with the latest features and functionality. Its headline spec is the 6-stop optical image stabilisation, which is class-leading for any interchangeable lens, and really expands the user's options when working in low light. Pair this with a lightweight build weighing only 440g and a close-focusing distance of just 35cm and you have a really versatile lens to pair with your Fujifilm X-T3
Fujifilm XF 16-80mm f4 R OIS WR Lens
The Fujifilm XF 16-80mm f4 R OIS WR Lens is the latest addition to the X Series. This compact 5x zoom lens covers a range of focal lengths from wide angle to mid-telephoto with a constant F4 aperture. With OIS 6.0 stops Fujifilm XF offers the highest amount of optical stabilisation in any interchangeable lens allowing the users to comfortably shoot in a wide variety of situations from a night scene to outdoors.
£699.00 View
This fast, wide-angle prime lens makes for a great partner with X-T3 if you're looking to shoot landscapes or cityscapes at night. The light-gathering potential of the f/1.4 maximum aperture makes it a contender even in the thick of night, while the seven-bladed diaphragm provides smooth bokeh that makes for attractive shallow depth of field. The barrel has a camera-to-subject distance indicator and a depth-of-field scale, giving the user som handy real-time shooting information.
Fujifilm XF 23mm f1.4 R Lens
The Fujifilm 23mm f1.4 XF R Fujinon Lens is a fast, wide-angle prime designed specifically for Fujifilm X-mount CSCs. It is suitable for a vast range of applications, including landscapes, travel, and night photography. Its bright f/1.4 aperture allows you to capture crisp stills and handheld movies, even in low light conditions, whilst its rounded 7-blade diaphragm provides smooth bokeh for portraits.
£799.00 View
A more sophisticated portrait lens for those who don't mind a larger outlay of cash, the f/1.2 maximum aperture of this lens gives it a real edge in its ability to create razor-thin shallow depth of field, for really vivid subjects. The 56mm focal length gives an equivalent of 84mm, which is pretty much the perfect choice for making flattering portraits. Whether you plan to take your X-T3 out on location or keep it in the studio, you really can't ask for better when it comes to a portrait lens for the Fujifilm X-T3.
Fujifilm XF 56mm f1.2 R Lens
The perfect portraiture lens, the Fujifilm 56mm f1.2 R XF Fujinon Lens offers a 85mm-equivalent focal length and a super-fast maximum aperture of f1.2. This lens is capable of great things; it's stunningly sharp, bright, has incredible AF acquisition and is at home in light or dark conditions. Its control of depth of field and subject isolation would be note-worthy by any photographer's standards.
£849.00 View
We absolutely love this premium wide-angle zoom, a perfect choice for landscapes, exploring and outdoor shooting with the Fujifilm X-T3. Its advanced optical design and sophisticated image stabilisation system ensure it produces excellent images in all shooting conditions, while the stepping motor means it's also no slouch when it comes to autofocus. A multi-layer coating on all lens elements also minimises ghosting from stray reflections – a problem that can plague wide-angle lenses in particular.
Weather-resistant and sturdily built, this lens carries an internal optical construction of 17 elements in 12 groups, with which it is able to produce images of superb edge-to-edge sharpness. A linear motor ensures quick and quiet autofocus, while its maximum aperture of f/2.8 is constant right the way through the zoom range. This is a fantastic all-purpose lens for your X-T3, and though it's the most expensive on our list, it's definitely worth its price tag.
Fujifilm XF 16-55mm f2.8 R LM WR Lens
The Fujifilm 16-55mm f/2.8 R LM WR Fujinon lens is an excellent lens to use and can produce some stunning imagery. It's weather-resistant and features a constant aperture of F2.8 that consists of 17 elements in 12 groups. With these, it is capable of achieving edge-to-edge sharpness across the entire zoom range and the linear motor inside allows fast and quiet autofocusing. This lens is incredibly versatile and can cater to a whole range of photographic opportunities thanks to the wide-angle to medium telephoto zoom. Not only this, but its 9 rounded aperture blades create smooth, circular and beautiful bokeh.
£979.00 View
About the Author
Jon Stapley is a professional journalist with a wealth of experience in a number of photography titles including Amateur Photographer, Digital Camera World and What Digital Camera. See more of his writing on Jon's author page.
Related articles