We help you sort through the best affordable monopods that are available to buy right now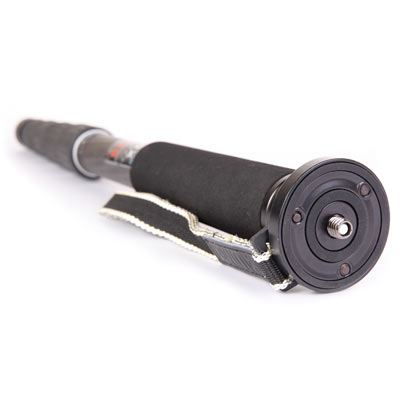 Monopods marry the best of both worlds as far as camera supports go – you get stability and a secure hold, but also convenience and easy transportation. Many monopods also double up as walking sticks, making them perfect for a day-long photo hike, and the best news of all is that you really don't have to spend too much on a monopod to get something that's going to do everything you need and last for a good long time.
Whether you're using a lightweight compact or mirrorless setup or toting a hefty DSLR and a long lens, there's going to be a great monopod that you can use to improve your shots and expand your photographic possibilities.
For this guide we've put together a list of fantastic monopods you can buy right now without breaking the bank, allowing you to focus on the business of improving your photography. We've ordered them from cheapest to most expensive, so you can take a look through and get a feel for which monopods suit your budget.
So, without further ado, let's get to the monopods!
Monopods under £50
You can't beat this incredible price for this Calumet 5-section monopod. It's compact and lightweight, constructed of durable aluminium, and able to handle camera setups of up to 5kg, which is enough for the vast majority of mirrorless and smaller DSLR cameras. Weighing just 500g, it's perfect for travel too, and its spring-loaded tripod screw accepts either 1/4" or 3/8" tripod connections. It also extends to an impressive maximum height of 160cm, so you can use it to get creative with camera angles. Unbeaten on price, this is a seriously impressive budget monopod.
Calumet 7104 5-Section Monopod
The Benbo Trekker uses a 180° tilting camera mount, making it extra versatile and allowing for the creation of unique imaging perspectives, as well as making it easy for the camera to be used in landscape or portrait modes. It's a two-section monopod, which means that it's impressively rigid when extended, and it can go to a maximum of 160cm in height, so you've got plenty of distance to play with. It doesn't pack down as compact as other monopods, but that impressive rigidity and versatile mount makes for an excellent monopod in most areas, especially for this price.
A hugely impressive monopod that's designed for telephoto lens users, the Manfrotto Element Monopod Aluminium delivers a huge amount of functionality for the price. Its maximum load of 15kg means its suited for basically any photographic setup, and its ergonomic hand grip makes it easy to carry and use in the field. It extends to 150cm and folds down to 41cm, and its aluminium construction ensures it's sturdy but lightweight. The twist-lock adjustment for the height also means it's quick and intuitive to operate – if you're a fast-action shooter, this is a great companion that'll keep up with you.
Manfrotto Element Monopod Aluminium - Black
Calumet's impressive 4-Section Aluminium monopod supports an impressive 16kg of kit and sports a foam wrap and wrist strap to make carrying it easy, secure and comfortable. Weighing just 500g and packing down to 48cm, it's perfect for travel, and the maximum height of 153cm is no slouch either. There's also a handy spirit level on the mount, so you can check your shots are straight, and its rubber foot is removable, so you can be sure you've always got the right grip on whatever surface you encounter.
Calumet CK7205 4-Section Aluminium Monopod
A stable and rugged monopod designed for travel and adventure, the MeFOTO Walkabout S Monopod sports anodised twist locks with deep ridges for a solid grip. This speeds up setup and pack down, helping you to be sure that you'll never miss a moment while out shooting. There's also a wrist strap and a comfortable hand grip, and the MeFOTO S WalkAbout Monopod can extend to 151cm in height, giving you more shooting options. It's also available in a variety of colours, so shop around to find the one that you like best.
MeFOTO Walkabout S Monopod - Blue
Monopods under £100
Carbon fibre supports tend to cost a little more, but the balance between stability and portability it gives you is unrivalled. The Vanguard VEO 2 CM-264 weighs just 436g and can support up to 6kg of camera kit, while it also uses an anti-slip ball type convertible rubber spiked foot, a Vanguard speciality that's designed for all different types of terrain. The monopod can take a camera directly or support a small ball head, and it also boasts advanced twist-leg locks using a 1/2" turn lock/unlock system.
Vanguard VEO 2 CM-264 Carbon Monopod
Monopods under £120
Designed for travel photographers who need the best at a good price, the Calumet 8000 Series 5-Section 8X Carbon Fibre Monopod features eight layers of carbon fibre, designed specifically to give the ultimate in strength-to-weight ratio. Its legs also have aluminium alloy parts and non-slip leg locks, as well as rubber feet with retractable spikes for secure grip on all kinds of different surfaces. It comes supplied with a carrying strap and a bag with a shoulder strap, making it that much easier to transport on all sorts of different photographic adventures.
Calumet 8000 Series 5-Section 8X Carbon Fibre Monopod
The four-part modular design of the iFootage Cobra 2 is constructed from aluminium alloy and is designed to be resistant to extreme temperatures, making it ideal for the photographer who's planning a real adventure. It features a quick release system, adjustable feet, lock and friction control, and it also has ergonomic buckles for length adjustment. The quick release system is designed to be operated with a single hand, and an extra spider stand at the bottom gives you a huge amount of additional stability to work with. This outstanding monopod is one of the best at this price point.
iFootage Cobra 2 with 3 stage aluminium A120 stand
About the Author
Jon Stapley is a professional journalist with a wealth of experience in a number of photography titles including Amateur Photographer, Digital Camera World and What Digital Camera. See more of his writing on Jon's author page.
Related articles