We run through the best camera gear backpacks that won't break the bank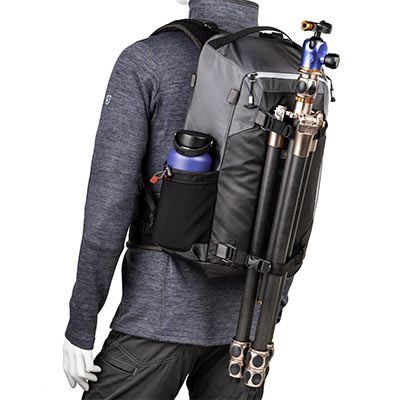 If you're travelling with camera kit, you need a safe, secure and durable bag to keep it in. While there are loads of different photo bags available, we have a soft spot for the humble backpack – they tend to be easy on the shoulders, have lots of space and extra pockets available, and be constructed of material that holds up to poor weather and rough conditions.
But all that functionality sounds expensive, right? Well it doesn't have to be. Many of the best dedicated photo bag manufacturers make backpacks that not only look and feel good, but are also available for a knock-down price. So, we've put together a list of some of the best that are available to buy right now.
We've ordered our selections by price, so you can select your appropriate budget level and find the bag that's right for you. Whether you're using a little mirrorless system or a hefty pro DSLR setup, there will be something here for you.
So, let's get to the backpacks!
Camera backpacks under £100
First up, it's a Calumet backpack that's available for, frankly, an absolute steal. This price gets you a bag capable of transporting a DSLR with a 70-200 f/2.8 lens attached, as well as 3-4 extra lenses and other accessories such as a flashgun. It also has a built-in USB charger port and cable, allowing you to hook your devices up to a portable battery charger and keep them juiced up on the go – perfect for long days spent roaming cities or hiking in the hills. There's extra space for a 14-inch laptop or tablet, and a handy pull-out rain cover allows you to give yourself extra protection from the elements. Magnificent stuff.
Calumet Camera Backpack - Medium - Black
Canon's discreet, stylish backpack is the ideal way to hold your various essentials and is a good choice for exploring cities. You get space for a DSLR camera as well as two lenses and a tablet, and the padded top compartment is a handy space for personal items. The shoulder straps are padded and designed for maximum comfort, so you can keep carrying the bag for longer without feeling the strain. Got a few day trips and mini-breaks planned? This bag is a great and affordable way to ensure you can take your camera kit with you.
Canon BP100 Backpack - Blue
Vanguard's VEO range of backpacks are designed specifically for mirrorless systems. Available in a few stylish colours (we like the Stone version pictured above), they can take a camera along with 2-3 lenses, as well as a few extra accessories and a 13-inch tablet or laptop. There's also an outer holder that's designed to take a tripod or monopod, giving you extra flexibility when out in the field. Alternatively, this bag is also a good size to take a small drone.
Vanguard VEO Range 41M Backpack - Stone
Camera backpacks under £200
No good list of camera bags is complete without a Manfrotto, and the Advanced Befree Backpack is a superb choice. Its main compartment can take a mid-sized DSLR with a 70-200mm f/2.8 lens attached, and it features an extra rear access port for the camera, allowing you to quickly swing the bag around, whip the gear out and start shooting. It can also hold a 15-inch laptop and a 9.7-inch tablet, and has an additional compartment for small personal items. Additionally, there's an expandable side pocket that can hold a tripod, and all this comes in a bag that fits standard airline carry-on requirements.
Manfrotto Advanced Befree Backpack
We absolutely love Lowepro bags, and the Photo Active BP 200 AW Backpack is a wonderful example. A rugged backpack designed for outdoor exploration, its interior utilises a QuickShelf 3-tier system that allows you to really customise and organise the layout of your kit, making your most frequently used items most accessible either from the top or from the dual side-access ports. The CradleFit pocket is expandable, able to fit a 15-inch laptop or a 2-litre water bottle, and there's a durable all-weather rain cover for when things get really rough.
Lowepro Photo Active BP 200 AW Backpack - Blue / Black
If you're expecting really rough weather on your travels and are planning some true wild exploration, a bag like the MindShift Gear PhotoCross 15 Backpack is going to be your best friend. It's built with weatherproof zippers, abrasion-resistant materials and a heavy-duty tarpaulin base for protection, as well as wide, body-forming shoulder straps, a back panel with breathable 320G air-mesh and a removable waist belt for comfort and security. An extra-large side panel gives quick access to your gear, while there's also an extra strap to carry a tripod – and let's not forget the seam-sealed rain cover that completely protects your kit from a downpour.
MindShift Gear PhotoCross 15 Backpack - Carbon Grey
Camera backpacks under £300
The innovative design of the Peak Design Everyday Backpack allows it to expand and contract depending on how much gear you're carrying – ideal for those who might take a large setup on one trip and travel light on the next. Its weatherproof fabric means it can be taken out in practically any conditions, while theft-deterrent zippers and a Maglatch Closure also make it a good choice for city exploration. Its 30L capacity is enough for up to two DSLRs with 5 lenses (including a large zoom), a 16-inch laptop, a tripod, and additional small accessories, so you can be sure you'll have everything you need within arm's reach.
Peak Design Everyday Backpack 30L - Black
This premium outdoor backpack will do everything an adventurer needs it to do and more. Able to hold a pro DSLR with up to a 600 mm f/4 telephoto lens, as well as an additional DSLR body and multiple lenses, not to mention a tripod, laptop and tablet and extra accessories, the Gitzo Adventury 45L Backpack is luxuriously roomy. Its Gitzo G-Cushion protects your gear from knocks, and the waist belt even has a pocket for quick access to small essentials. Multi-link straps allow you to connect even a large tripod, and expandable pockets at the top and side let you cram in multiple extra items. Weatherproof, comfortable and beautifully engineered, this is a perfect adventuring backpack for a great price.
Gitzo Adventury 45L Backpack
About the Author
Jon Stapley is a professional journalist with a wealth of experience in a number of photography titles including Amateur Photographer, Digital Camera World and What Digital Camera. See more of his writing on Jon's author page.
Related articles