See more of the best budget video cameras:
We take a look at the best cameras released in 2019 for video-shooters on a budget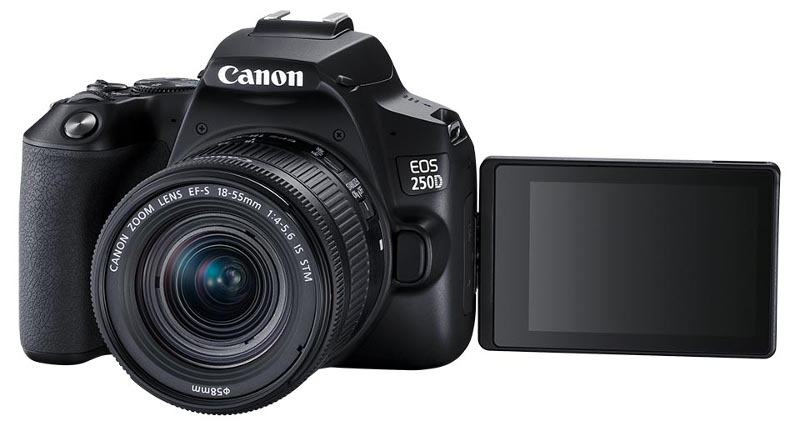 Creating video costs money. There's no doubt about that. However, this doesn't mean that it isn't possible to start shooting video on a tight budget – it's possible to pick up all sorts of video kit for a minimal cost, and that goes for cameras as much as it does all other aspects of the craft.

In 2019, we've seen plenty of cameras released that are perfect for those who are wanting to shoot video and are working to a tight budget. From DSLRs and mirrorless cameras to compacts and action cameras, there's a great deal of choice to be had. We've picked out the cameras from this year you can pick up for less than £999, so let's get stuck in and review the best budget video cameras of 2019…
An ideal first step for someone looking to get into DSLR video, the Canon EOS 250D is not only an eminently capable camera with a broad feature-set, it also gives you access to the enormous range of EF-mount lenses. From here you are all but guaranteed to find a lens with a focal range that suits you, at the right price too.
The EOS 250D may be on the cheaper end of the DSLR scale, but Canon hasn't skimped on features. It shoots 4K video, and indeed is one of the smallest and cheapest DSLR cameras to do so, making it ideal for travel videography, vlogging and more. Its 4K frame rate tops out at 25p so it's not challenging the big boys anytime soon, but it does what it does well, and is bursting with nifty extra features such as a high-quality vari-angle LCD that's great for monitoring your shots, as well as Dual Pixel Autofocus with a whopping 3,975 focal points across the frame.
The EOS 250D not only gives you everything you need to shoot video right away, it also offers a great deal of room to grow, thanks to its EF lens mount. Whatever video projects you have in mind, this capable little DSLR will keep up.
Canon EOS 250D Digital SLR Camera with 18-55mm IS STM Lens - Black
A little waterproof 4K action camera, the DJI Osmo Action is an affordable solution for shooting video in extreme environments without compromising on quality, and it's got many extra features that give it an edge over the similarly specced GoPro HERO7 Black, such as the fully functioning LCD screen on the front of the Osmo Action that makes it ideal for vlogging.
The Osmo Action can keep shooting 4K 60p video for up to 63 minutes, and that's with its RockSteady stabilisation system turned on. Furthermore, if you take the resolution down to Full HD, you can record at a super-slow 240fps, ensuring you get every moment of the action. It offers an impressive bitrate of 100MBps and has two built-in microphones for stereo sound. There's no 3.5mm jack input, though DJI tells us a microphone can be connected via USB-C if so desired.
It's an incredibly impressive piece of kit, especially for the price, and if you're planning on shooting some action videos in challenging environments, the DJI Osmo Action will give you everything you need to get the job done.
Sometimes we don't want to mess around with changing lenses. There's a lot to be said for a camera that does everything in one package, and the Nikon B600 certainly is that. It's a superzoom compact with the emphasis on "super", boasting a lens on its front with a massive focal range of 24-1440mm, which can be further extended to 2880mm with the digital Dynamic Fine Zoom technology.
Video-wise, the B600 holds up pretty well. It shoots Full HD video at 30p and can start doing so with a single button-press. It also records sound in stereo, adding a dash of professionalism, and it features a number of Creative Modes that make it easy to add creative effects and filters to your footage. If you need a simple, all-in-one video shooter for personal projects or travel vlogs, this is a solid choice for a great price.
Nikon Coolpix B600 Digital Camera - Black
A baby version of Fujifilm's flagship X-T3, the X-T30 still packs in a hell of a feature-set that makes it an excellent choice for video users. Its 26.1MP X-Trans CMOS 4 sensor records in 6K (6240x3510) in order to produce footage at DCI 4K (4096x2160) at 30fps as an 8-bit 4:2:0 MP4, giving your videos a seriously cinematic look. It also packs an ISO range of 160-12,800, expandable to 51,200, making it a serious contender in low light as well. Full HD video can be recorded at a slow-motion frame rate of 120fps for stylish effects, and the X-T30 also boasts the full complement of connectivity features, including Wi-Fi and Bluetooth.

There are plenty more nice features too – X-series cameras are just fun to use. There's a headphone jack for monitoring audio, tactile dial-led controls, a sleek and stylish body and a high-quality OLED electronic viewfinder that's fantastic for composing shots. It comes with Fujifilm's F-Log flat gamma profile, and can record 4:2:2 10bit via the HDMI port, meaning it holds its own for more serious video shooting.
Fujifilm X-T30 Digital Camera Body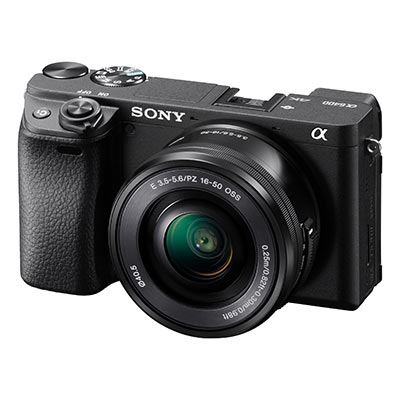 Finally, if you're happy to spend a little more, it's worth looking into this Sony CSC. Though Sony's full-frame Alpha models are arguably its star-players, it's great to see that the manufacturer hasn't forgotten about APS-C and is still releasing quality cameras in this sensor size. Case in point, the A6400, a tidy and capable shooter that can capture 4K 30p video internally with full sensor readout and no pixel binning. It collects approximately 2.4x the amount of data required for UHD video, deliberately oversampling to deliver high-quality results. Not bad!
It's also the first APS-C Sony camera to include the Hybrid Log Gamma profile, allowing for instant HDR workflows, and video shooters can make use of Fast Hybrid Autofocus to ensure the subject is also pin-sharp. The A6400 handles nicely, with an ergonomic design, and its 180-degree tiltable LCD screen also makes it a nice choice for vlogging, making it easy to keep an eye on what you're filming, as you're filming it. This action-oriented speedster will find a good home in any videographer's kit bag.
Sony A6400 Digital Camera Body
Whatever your video needs, we're confident that one of these cameras will suit you. Did we miss any? Let us know on social media, and keep checking back with us for all the latest camera kit news.
For more great content, visit our YouTube channel, Facebook, Twitter and of course, the Wex Blog.
About the Author
Jon Stapley is a professional journalist with a wealth of experience on a number of photography titles including Amateur Photographer, Digital Camera World and What Digital Camera. See more of his writing on Jon's author page.
Related articles