Starting out on your photographic journey? Let us give you a helping hand with our guide to the best cameras for photography beginners. Updated for 2020!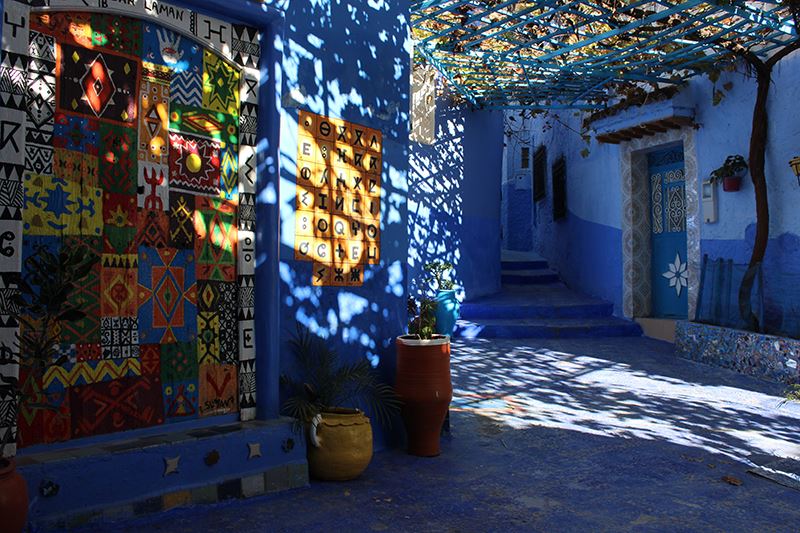 An image captured with the Canon EOS 2000D, the first choice on our list of best beginner cameras
When picking the best camera for a photography beginner, it's easy to feel a little overwhelmed. There are loads of cameras out there aimed at the photographic novice from lots of different manufacturers, and even at first glance it's obvious that a lot of them are very different.
We've compiled what we think are the best cameras for beginners, available for the best prices, right now. All the cameras we've included here also come bundled with lenses, so you'll have everything you need to start shooting straight away. So, without further ado, let's take a look!
Quick navigation:
Below, we've also included a quick comparison table with the main features of all the cameras we've included in our list
| | | | |
| --- | --- | --- | --- |
| Camera | Type | Lens / lens mount | Best for? |
| Canon EOS 2000D | DSLR | Canon EF-S | All-rounder |
| Olympus Pen E-PL9 | Mirrorless | Micro Four Thirds | Style |
| Sony Cyber-shot WX350 | Compact | 20x zoom lens | Value |
| Panasonic Lumix TZ80 | Compact | 30x zoom lens | Travel |
| Ricoh WG-60 | Waterproof compact | 5x zoom lens | Extreme adventures |
| Nikon D3500 | DSLR | Nikon F | Learning the basics |
| Canon EOS 250D | DSLR | Canon EF-S | Levelling up |
| Polaroid Originals OneStep Plus | Instant film | Two switchable fixed lenses | Parties and social snapping |
| Canon EOS R5 | Mirrorless | Canon RF | Professionals |
Best DSLR for photography beginners
Canon EOS 2000D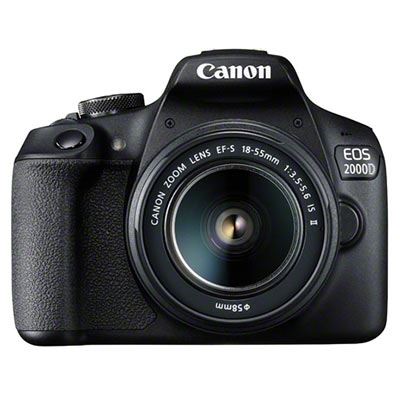 Good: APS-C sensor much better than smartphone
Good: Huge range of lenses
Bad: Basic feature-set
Why this camera? There's nothing quite like a DSLR. The optical viewfinder lets you see what you're shooting, while the ergonomic design and solid build make them a pleasure to shoot with. Buying a Canon DSLR also gives you access to a truly astounding catalogue of EF lenses, meaning that once you feel you've outgrown your kit lens, you can progress and take your photography further. We recommend the Canon EOS 2000D with an 18-55mm IS II kit lens as the perfect starting point for beginners. Thanks to its 24.1MP APS-C sensor, you'll really notice the difference compared to your smartphone, and the various easy-to-follow guides provided make it easier to take yourself on those crucial first steps.
Any downsides? Given that this is a budget, beginner's camera, it can't be expected to do everything, and there are a few cutbacks on the 2000D worth being aware of. As you'd expect from a DSLR, it has an optical viewfinder, but a model that only offers 95% coverage. There's also no 4K video, and the screen is not touch sensitive.
Best mirrorless camera for photography beginners
Olympus Pen E-PL9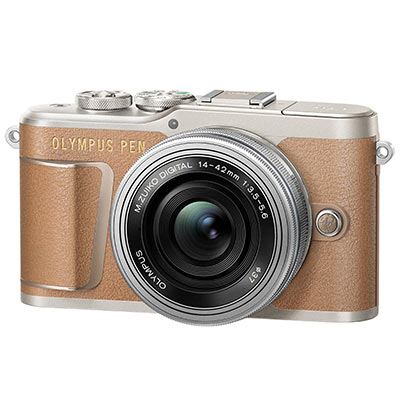 Good: Excellent JPEGs straight from camera
Good: Stylish-looking
Bad: No 5-axis image stabilisation
Why this camera? Super-stylish and beautifully made, the Olympus Pen E-PL9 is the ideal first camera for the fashion-conscious prospective shooter. While it features useful assist modes such as Advanced Photo, it also backs this up with some serious imaging power, including a 121-point autofocus system and the ability to shoot 4K video. Get even more out of the camera by connecting your phone to the OI.Share app, which you can use to download tutorials and How-To guides, as well as instantly sharing your creations on social media. The 14-42mm lens bundled with the camera is also excellent and amazingly light at just 93g, making this combination the perfect portable photographic solution.
Any downsides? It's a shame that the 5-axis image stabilisation from Olympus's OM-D E-M10 couldn't have made its way on here.
Best full-frame camera for photography beginners
Nikon Z5


Good: It's designed specifically for taking the step into Full-Frame

Good: Incredible 23.4MP photos and 4K video footage

Good: Comes with a stunning Nikon 24-50mm lens

Bad: Expensive, but worth it
Why this camera? This camera has been specifically designed for those who want to step-up to the world full-frame photography. It's a compact and rugged mirrorless camera that is packed to the brim with features that enable experimentation and for your creativity to flow. High-resolution full-frame photos, stunning 4K video footage, 5-axis VR image stabilisation, Dual UHS-II SD card slots; it's got it all (and there's so much more than just those features!) And then there's the included Nikon 24-50mm lens which is super-compact and lightweight. For those who have worked with APS-C sized sensors and don't want to throw themselves at a Pro-DSLR or Pro-Mirrorless camera, this could be the perfect solution.

Any downsides? It's not as affordable as some of the other options within this list, but when compared some of the higher-end full-frame models that aren't suited to beginners, it's definitely a solid choice that should be considered.


Best budget camera for photography beginners
Sony Cyber-shot WX350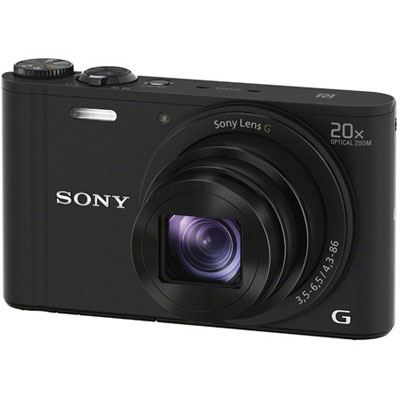 Good: Amazing value
Good: 20x optical zoom
Bad: Image detail could be better
Bad: So-so noise control
Why this camera? For the money you pay, Sony are giving you a frankly absurd amount of camera when it comes to the Cyber-shot WX350. Not only do you get a beefy 20x optical zoom in that tiny 164g body, but there's also 10fps continuous shooting, Optical SteadyShot image stabilisation, an intelligent panorama function for dynamic 360-degree shots, as well as Wi-Fi and NFC connectivity for fast image transfer. Impressive stuff!
Any downsides? The sensor is relatively small, and real-world test reports a little colour fringing and loss of detail when zooming in 100%, as well as reduced performance at high ISO levels.
Best compact camera for photography beginners
Panasonic Lumix TZ80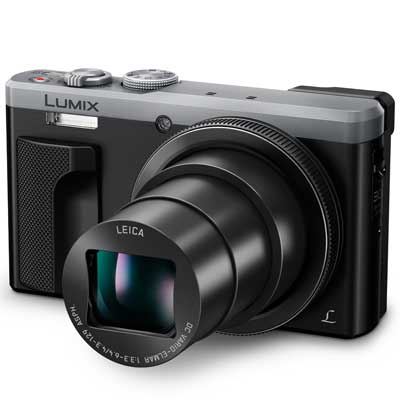 Good: Huge optical zoom
Good: 4K video and photo modes
Bad: Lens a little soft at tele end
Why this camera? One of Panasonic's best travel-zoom compacts, the TZ80 is ideal for taking on holiday, doing everything the travelling photographer needs in one tidy package. Its generous 24-720mm zoom lens gives you real shooting versatility, while it can also shoot 4K video and take advantage of Panasonic's sophisticated "4K Photo" modes, which allow the user to extract stills from 4K footage, letting you select your moment with pin-point accuracy. The camera is highly pocketable, stylishly designed, and even finds room for an electronic viewfinder.
Any downsides? This isn't a camera for pixel-peeping quality snobs, as there's a little softness here and there, especially when you get to the far end of its zoom range. Nothing ruinous, but worth bearing in mind.
Best waterproof camera for beginners
Ricoh WG-60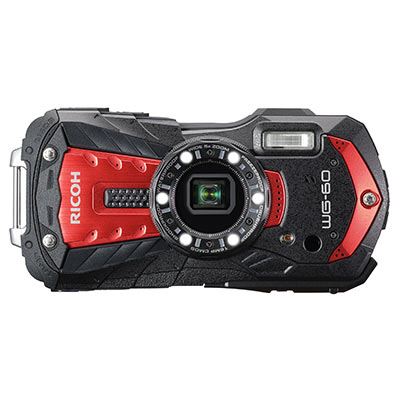 Good: Can take an absolute beating
Good: 5x optical zoom lens with ring light
Bad: Autofocus sometimes hunts
Why this camera? If you're a more adventurous photographer, you may need a camera that's a little more hardy and able to take some punishment. The Ricoh WG-60 is the perfect choice – waterproof down to 14m, shockproof against drops of up to 1.6m, and freezeproof down to temperatures of -10°C, it can handle extreme environments and is perfect for the travelling photographer. Enjoy up to two hours of uninterrupted underwater shooting, take advantage of a 5x optical zoom lens, and use the built-in LED macro lights to illuminate close-up subjects – the WG-60 is a surprisingly capable all-rounder.
Any downsides? That styling won't be for everyone, and it's worth looking at other tough cameras if you simply can't get on with that colour and shape.
Best Nikon camera for beginners
Nikon D3500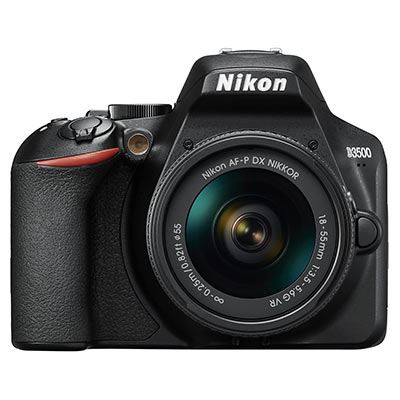 Good: High-quality and beginner-friendly
Good: Great-looking images
Bad: No 4K video
Why this camera? Nikon make fantastic DSLRs, and their D3XXX series are some of the best beginner models on the market. The D3500 is the latest in the line, and it's equipped with loads of great photography features as well as useful guide modes to help novice users get to grips with it. The catalogue of Nikon F lenses is higely impressive, providing you with loads of potential for stepping up once you've got the hang of the basics. The battery life is also amazing, with Nikon promising up to 1500 shots on a single charge.
Any downsides? The LCD screen being fixed is understandable for a model in this category, but we'd still have loved an articulated version. The autofocus can also be a tad sluggish in a few situations, so bear that in mind if you're planning on shooting fast-moving subjects.
Find out more about the Nikon D3500 with 18-55mm AF-P VR Lens
Best Canon camera for beginners
Canon EOS 250D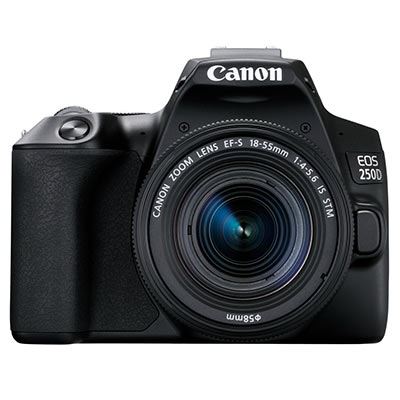 Good: Vari-angle touchscreen
Good: Well-engineered control layout
Bad: Other cameras more affordable
Why this camera? While we've already included a Canon DSLR on our list, the EOS 250D earns a spot as being the best choice for beginners who are willing and able to pay a little more. It's pitched as the ideal step-up for photographers looking to grow, perhaps from a smartphone or a compact; it's got loads of great features like a vari-angle touchscreen, Dual Pixel CMOS AF and 4K movies, but still includes lots of helpful guide modes for novice photographers.
Any downsides? We could have done with more than nine AF points when viewfinder shooting (this is an odd DSLR in that it's almost better in Live View using the LCD screen) and there's no getting around the fact that it's more expensive than other models on this list.
Best instant film camera for beginners
Polaroid Originals OneStep Plus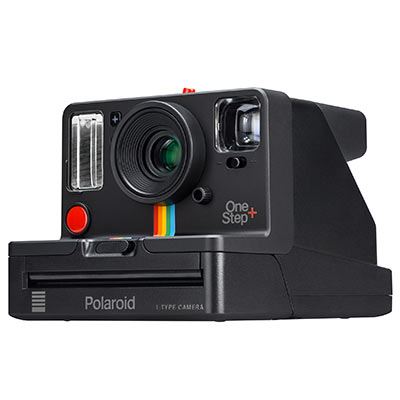 Good: Creates physical prints in seconds
Good: Lo-fi retro charm
Bad: More expensive to operate
Why this camera? Remember you don't have to just think digital! The Polaroid OneStep+ is the second camera to come from Polaroid's 21st-century revival, and it's a fantastic instant shooter that provides the best of both worlds – producing stylish analogue prints while also connecting digitally to your smartphone to allow you to take remote control via Bluetooth. This also enables the use of creative shooting modes like Double Exposure and Light Painting, further expanding the potential of this fantastic analogue camera.
Any downsides? Only the old issues of analogue photography: that it costs money to run as you need to buy the film!
If money was no object...
Canon EOS R5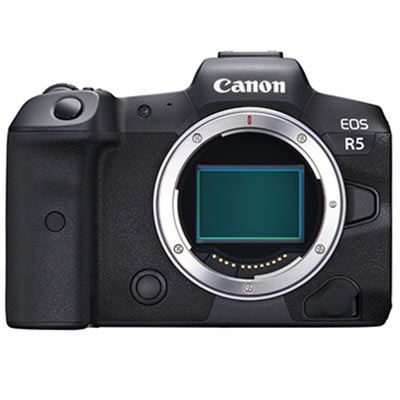 Good: One of the most revolutionary releases in years
Good: Amazing 48MP stills and 8K footage
Bad: Costs more than all the others on this list put together
Why this camera? Okay, we admit it, this probably isn't actually going to be anyone's beginner camera pick. But we couldn't help ourselves, as the Canon EOS R5 is one of the most exciting new releases in a long time, and if our hypothetical new camera shopper was buying with money as absolutely no concern, this is the direction we'd send them in. An amazing leap forward for mirrorless camera technology, the Canon EOS R5 allows photographers and videographers alike to take their shooting to the next level, with top-of-the-range features across the board. It's an incredible achievement in camera design, and we can't wait to see how it shakes things up.
Any downsides? Mostly just that we're not being entirely serious here.
How to choose the best camera for beginners
Finding and picking the best camera for beginners can be a little overwhelming, even if your friendly local camera retailer has helpfully put together a list of top picks. That's why we've put together a quick explainer of all the different types of cameras available, and a guide to which of our choices are best for each user.
Glossary:
DSLR – A digital single lens reflex camera with an ergonomic handgrip, based on a design that has served photographers well for decades. Is equipped with an optical viewfinder that works using an internal mirror mechanism, and can take any lens that fits its lens mount (e.g. Canon EF, Nikon F, etc).
Mirrorless – A smaller and more pocketable type of camera, lacking some features like an optical viewfinder, but making up for it with advantages like super-fast shutter speeds. Can also take any lens that fits its mount, such as Micro Four Thirds or Canon RF.
Compact – A camera with a fixed lens on the front, sometimes a zoom, sometimes a prime. Sacrifices versatility in favour of portability and convenience.
Camera awards – which is best for each user?
Each of the cameras on our list suits a slightly different beginner photographer. Take a look through our list of awards and see which one sounds most like it fits you!
Best all-rounder award – Canon EOS 2000D: This is the camera that does everything a beginner photographer needs in a tidy, affordable package. If you're not sure exactly what you need or want to try a bit of everything, start here.
Best for style – Olympus Pen E-PL9: This mirrorless camera is chic as hell, and is the best choice for photographers who want something that fits their aesthetic. No shame in it.
Best value – Sony Cyber-shot WX350: This tiny snapper offers loads of great features for a fantastic price, and is the best choice for anyone working with a tight budget.
Best for travel – Panasonic Lumix TZ80: This tiny compact with a big zoom is the ideal travel camera, able to shoot pretty much anything while slipping into a jacket pocket.
Best for extreme adventures – Ricoh WG-60: This waterproof compact can take a knock, and is best for those who plan to take their camera into some intense situations.
Best for learning the basics – Nikon D3500: The guide modes and tutorials make this DSLR a winner for anyone who needs to learn the fundamentals of photography.
Best for levelling up – Canon EOS 250D: If you've already got a little knowledge and are ready to take things to the next level, the slightly more advanced EOS 250D is a perfect choice.
Best for parties – Polaroid Originals OneStep Plus: Instant photography is always a hit in groups, and if you're a social photographer, this retro throwback will definitely be a winner.
Best for professionals who shouldn't be reading this article – Canon EOS R5: Seriously, just look at it.
Frequently asked questions:
Are Canon or Nikon cameras better for beginners?
Both are great! We've included cameras from both manufacturers in our list because they both have a great entry-level selection, and you won't go wrong starting out with either. Photographers can (and do) debate their relative merits until the cows come home, but the key thing to remember is that neither one is a bad choice in the slightest.
What should you look for when buying a camera?
These days, the key reason to buy a camera is that it provides a markedly, noticeably better photography experience than the device you always carry in your pocket – your smartphone. To that end, here are some key things to look out for:
Sensor size. Smartphones have small sensors, and cameras with larger ones will perform better in low light and have better dynamic range. A sensor that's APS-C sized is great for beginners if you can get it, but here's a good overview from Which? if you'd like to get your head around sensor sizes.
A zoom lens, or the capacity to use one. Smartphones tend to lack optical zoom capability, which gives cameras a clear advantage when it comes to shooting distant subjects.
Size and weight. Think about how you're going to carry the camera, and how much weight you want to be toting around all day! Camera makers are getting better and better at producing small cameras that can do amazing things, and we've included several examples in this guide.
How much should I spend on my first camera?
How much have you got?
Joking aside, if you're looking to buy a camera with the intention of seriously getting into photography then it pays to spend a little, but on the other hand there's no sense in paying over the odds for a camera stuffed with features you won't use.
As a very general rule of thumb, we'd recommend spending no less than £100, and no more than £500. Though there will of course be exceptions on either side.
Are mirrorless cameras or DSLRs better for beginners?
Here's a very, very general rule of thumb:
If you think you'll be shooting outdoors a lot, like the sound of an optical viewfinder, and want an ergonomic camera that fits your hand, get a DSLR.
If you want something not too heavy, like the sound of silent shooting, and suspect you'll be shooting video as well as stills, go for mirrorless.
But again, you really can't go wrong here!
About the Author
Jon Stapley is a professional journalist with a wealth of experience in a number of photography titles including Amateur Photographer, Digital Camera World and What Digital Camera. See more of his writing on Jon's author page.
Related articles