Which Canon cameras are best for shooting video as well as photos? We make our top picks of the best gear for both worlds
Finding the best cameras for shooting video AND photo is quite a tough task, but given that many creatives are today expected to be up to speed with both disciplines, it pays to do your research. If you can offer stellar video as well as sublime stills, you're in a much better position than if you only do one of the other. Same goes for amateurs – with video being huge on social media, being able to mix in a little video with your stills is a great way to be noticed.
We've divided our guide into sections based on the type of cameras most people are looking for, and you can use the quick links below to navigate to your chosen section.
Quick navigation:
Here we've also included a quick-reference table to allow you to compare the cameras side-by-side:
| | | | | | |
| --- | --- | --- | --- | --- | --- |
| Camera | Type | Best for | Lens / lens mount | Max video resolution | Weight |
| EOS 5D Mark IV | DSLR | Skilled video and photo enthusiasts | Canon EF mount | 4K | 890g |
| EOS 90D | DSLR | Enthusiasts, skilled amateurs | Canon EF-S mount | 4K | 701g |
| EOS R5 | Mirrorless | Professional shooters, prosumers | Canon RF-mount | 4K | 650g |
| EOS R6 | Mirrorless | Enthusiasts and prosumers | Canon RF-mount | 4K | 598g |
| EOS M200 | Mirrorless | Beginners, amateurs, travellers | Canon M-mount | 4K | 299g (with 15-45mm lens) |
| LEGRIA HF G50 | Camcorder | Video-dedicated prosumers | 20x zoom, f/1.8-2.8 | 4K | 875g |
| PowerShot G7 X Mark III | Compact | Vloggers | 24-100mm (equiv), f/1.8-2.8 | 4K | 304g |
| IXUS 285 HS | Compact | Casual snappers, families | 25-300mm (equiv) f/3.5-7 | Full HD | 147g |
And so, with no further ado, let's get to the cameras!
Best Canon DSLRs for video
1. Canon EOS 5D Mark IV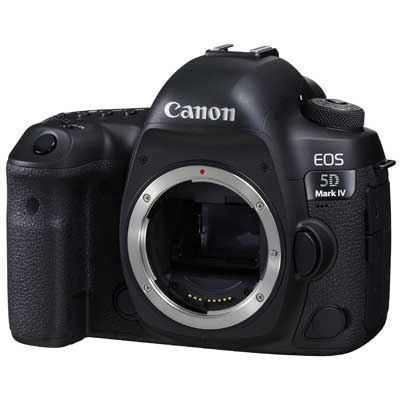 Good: High-quality 4K video
Good: EF-mount provides loads of lenses
Bad: Relatively minimal upgrade over predecessor
Why this camera? The EOS 5D series of DSLRs basically revolutionised filmmaking in the 2000s, and the most recent model continues in that fine tradition. It produces high-quality 4K video at 30fps and can shoot Full HD video at 120fps for super slow motion.
Having the full-frame sensor and the EF mount gives you access to the huge range of Canon lenses, meaning practically any imaging vision can be realised, and it's of course no slouch for stills either, boasting the ability to shoot at a maximum ISO sensitivity of ISO 32,000. For real hybrid shooting, it can even extract 8MP stills from 4K video, allowing you to effectively shoot both at once.
Any downsides? The EOS 5D Mark IV is the newest and therefore most expensive of the EOS 5D range, and for many users, one of the previous models like the EOS 5D Mark III or even the Mark II will do a perfectly decent job for a fraction of the cost. Indeed, some of the main criticisms of the Mark IV at launch were that it didn't represent enough of a jump from its predecessors. If you're looking to make a saving, browse our used range here to check current prices on an EOS 5D Mark II or III.
2. Canon EOS 90D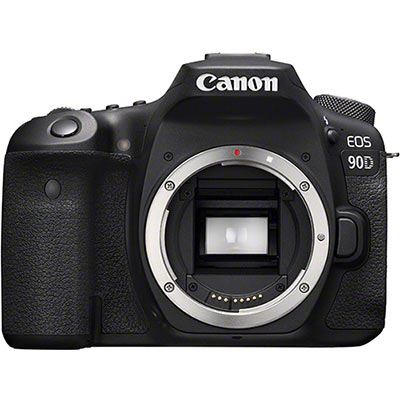 Good: Blends the best of DSLRs and mirrorless
Good: Sophisticated video features
Bad: Only one card slot
Why this camera? For a DSLR that's a little more affordable, it's worth taking a look at Canon's APS-C range. The EOS 90D is a prime example, boasting a 32.5MP sensor that produces superb images, aided by an autofocus system with 45 cross-type points, rendering it super-fast and accurate, even in low light – speaking of which, the ISO tops out at a respectable 25,600.
Video-wise, the EOS 90D can shoot in glorious 4K, and also benefits from such professional features as a microphone input, allowing you to significantly improve the sound of your video to professional levels. The bright, intelligent optical viewfinder is another feather in this camera's cap, delivering a useful, clear view that's comfortable to use for long periods. Whatever you're shooting, the EOS 90D will deliver a sublime experience.
Any downsides? There are a few premium-camera features that are missing or slightly below-par here. The most pressing of these, we'd have to say, is the lack of dual card slots; given the high volumes of data you'll be working through when shooting video and stills, putting all that on one card is a lot to ask.
Best Canon mirrorless cameras for video
3. Canon EOS R5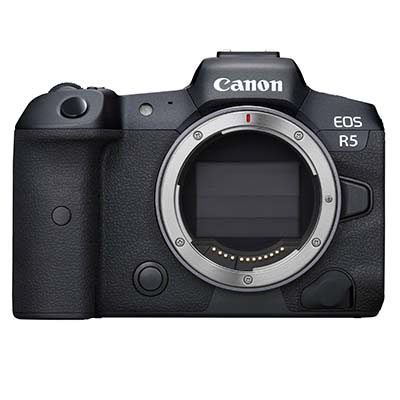 Good: Amazing 8K video
Good: 5-axis stabilisation
Bad: Short recording times
Why this camera? It's early days for this brand new release, but the Canon EOS R5 is looking like a truly monumental achievement in video and photo technology alike. Pairing an all-new 45MP CMOS Image Sensor with the DIGIC X processor, the EOS R5 can capture 8K footage in pristine detail, using the full width of its full-frame sensor, and also sports useful features like dual card slots (including CFExpress) and a top native ISO of 51,200. Also, for the first time, Canon has incorporated its five-axis image stabilisation technology into an EOS R body, meaning footage and stills will be smoother than ever before, even in challenging light conditions.
Any downsides? There are some strict time limits to video recording with the R5 due to potential overheating, not only when shooting 8K but also 4K at any frame rate higher than 30p.
4. Canon EOS R6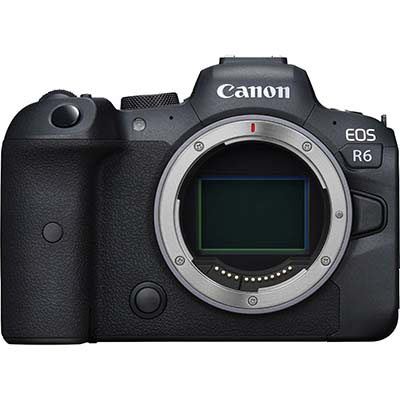 Good: Impressve in low light
Good: Excellent image stabilisation
Bad: Low resolution
Why this camera? Well, it's like the EOS R5, but missing a few features and available for a significantly lower price. But the EOS R6 isn't just a mini-R5; it's a more interesting prospect than that. For instance, while it has a 21MP sensor as opposed to the 45MP of the EOS R5, it actually outpaces its sibling in terms of low-light performance, with a maximum native ISO setting of 102,400, expandable to 204,800 (compared to 51,200 native, 102,400 expandable on the R5). The EOS R6 also includes Canon's world-beating image stabilisation, which can provide up to eight stops of compensation when used in tandem with specific EF and RF lenses.
Any downsides? While this isn't so much a problem for video, some commentators say that Canon has cut the resolution a little too heavily on this one, with both the EOS 90D and the EOS RP offering greater megapixel counts.
5. Canon EOS M200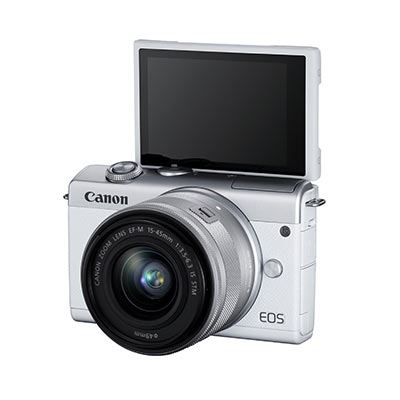 Good: Lightweight and capable
Good: Useful help for newbies
Bad: Native lens selection not great
Bad: Many compelling alternatives
Why this camera? For a more lightweight and significantly more affordable mirrorless option, consider taking a look at Canon's EOS M series. We'd recommend the Canon EOS M200 for stills and video hybrid shooters – its 24.1-megapixel APS-C sensor ensures pixel-perfect pictures full of vivid colour and detail, while it's also capable of producing 4K video as well as Full HD at super-slow-motion frame rates of 120fps.
The EOS M series has a decent (albeit not amazing) range of lenses going for it as well, so you'll have sufficient creative options for your shots. Furthermore, the fact that the body weighs a slender 299g means it's perfect for those who like travelling light. If you're a little new to the business of imaging then this is a solid choice, as it's equipped with lots of useful Creative Assist modes that help you get to grips with what the camera can do.
Any downsides? The EOS M range are in a hugely competitive space in terms of mirrorless cameras, and a lot of the competition from Fujifilm, Sony and more are doing things that are much more interesting. It's worth shopping around.
Best Canon camcorder for video
6. Canon LEGRIA HF G50 Camcorder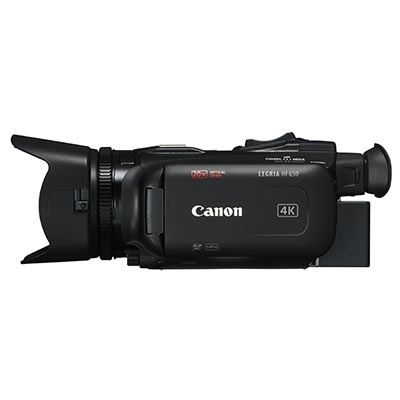 Good: Impressive 4K specs
Good: Controls can be customised
Bad: Highly specialised for average user
Why this camera? While camcorders can be extremely expensive, hefty things designed for the rigors and demands of professional video production, Canon also makes many excellent prosumer camcorders that are easy for a single person to operate. The Canon Legria HF G50 Camcorder is an excellent example, blending an impressive 4K-capable sensor with intuitive controls, a 20x optical zoom, a 3-inch touchscreen.
Any downsides? It represents quite an investment into sophisticated technology for the kind of shooting it's billed for, and as a camcorder it is of course quite specialised. It may be worth shopping around mirrorless cameras to see what you can get for a similar price.
Best Canon camera for vlogging and YouTube
7. Canon PowerShot G7 X Mark III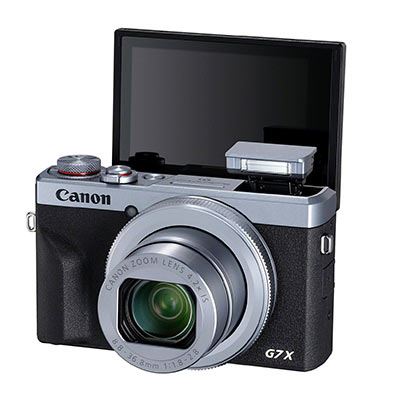 Good: Livestreaming capability
Good: Solid all-in-one video package
Bad: 10-minute 4K limit
Bad: Lens a little soft at points
Why this camera? One of the most popular cameras for vloggers, the Canon PowerShot G7 X Mark III is an all-in-one compact that offers loads of great video features without skimping on stills. Producing 4K movies and offering a mic input and a tilt-up screen that makes it easy to self-shoot, the G7 X Mark III also can make use of its Bluetooth and Wi-Fi connectivity to livestream movies directly to online platforms like Facebook, Twitch or YouTube. The 20.1MP sensor ensures gorgeous, dynamic results no matter what you're shooting.
Any downsides? There's a little softness at the wide end of the G7 X Mark III's lens, and it's also worth being aware before you make grand plans to livestream hours of 4K content that 4K shooting is capped at ten minutes.
Best Canon camera for families
8. Canon IXUS 285 HS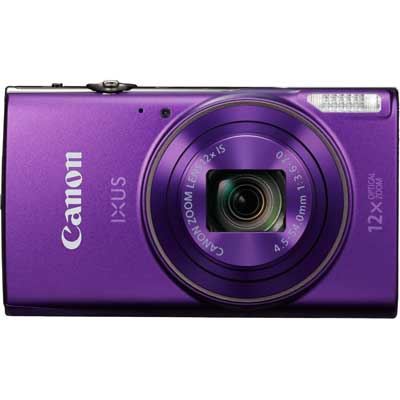 Good: 12x optical zoom
Good: Extremely affordable
Bad: Fairly unexceptional spec
Why this camera? If you're going to be capturing videos and images of the family, whether to preserve memories for the future or just to have fun, you're going to want a camera that can do more than your phone, but doesn't cost the earth (not least because rough play from little ones might cause it to break before its time). With that mind, we'd recommend the Canon IXUS 285 HS; it's a straightforward compact with a 12x optical zoom lens (something smartphones tend to lack), and it can capture Full HD movies in impressive quality, giving you all the tools you need for recording moments of family fun.
Any downsides? While it's impressively cheap, and the optical zoom does represent a genuine advantage over smartphones, otherwise this compact isn't a huge jump up from the device that's always in your pocket. If you're really looking for a step up, it can be worth spending a little more for something with more oomph.
Best Canon lenses for video
There are loads of fantastic lenses available for Canon users of all stripes, and space does not permit us to cover all of them. Below we've provided a quick selection of some of the most cost-effective options for different Canon lens mounts, including EF, RF and EF-M.
Canon 50mm f/1.8 STM Lens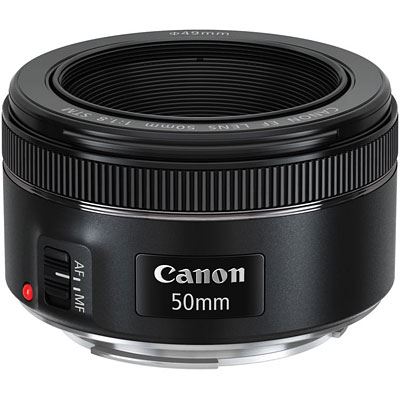 Good: Unbeatable value for money
Good: Sharp prime optics
Bad: No ability to zoom
Why this lens? Canon has done an outrageously good job of crafting a lens that provides superb image and video quality for a great price, and the famous nifty-fifty is a tremendous steal at its price. The prime-lens optics ensure superb image quality, while the f/1.8 maximum aperture is perfect for low light shooting. If you're making video solo on a Canon DSLR, picking up this lens is a no-brainer. Its all-purpose 50mm focal length is great for all sorts of situations, while the STM (stepping motor) ensures that autofocus is fast and quiet.
Any downsides? We try to be objective, but we're honestly racking our brains here. The f/1.8 maximum aperture is not f/1.4, we guess, so there's that. And it is a prime lens, so there's no zooming optically. If that bothers you, best look at Canon's extensive range of zooms.
Canon RF 24-105mm f4-7.1 IS STM Lens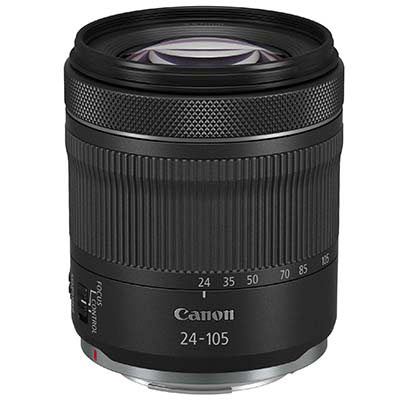 Good: Compatible with 5-stop image stabilisation
Good: Small and light
Bad: Disappointing maximum aperture
Bad: No weather sealing
Why this lens? Here's a lens that takes the opposite tack, running the gamut from wide-angle to telephoto. If you're likely to be shooting in all sorts of different situations, and won't necessarily know what's coming up for you, then a versatile lens like the Canon RF 24-105mm f4-7.1 IS STM Lens is the right pick to make. Like all RF-mount lenses, this one is impressively sharp, and it also benefits from the latest sophisticated image stabilisation systems for superior handling in all sorts of situations.
Any downsides? Being limited to f/4-7.1 is a little disappointing, curtailing the lens's low-light efficacy a tad.
Canon EF-M 18-150mm f3.5-6.3 IS STM Lens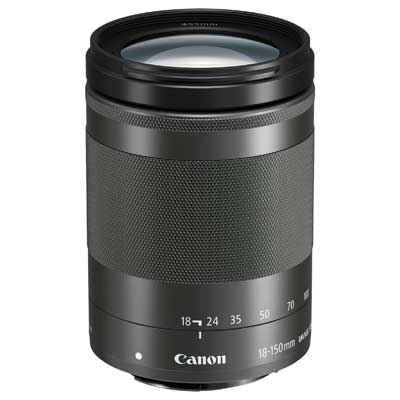 Good: Broad, useful zoom range
Good: Effective stabilisation
Bad: A little front-heavy
Bad: f/3.5 limited
Why this lens? Another broad zoom lens designed to cover all sorts of shooting situations, the Canon EF-M 18-150mm f3.5-6.3 IS STM Lens is an EF-M lens for the EOS M series of mirrorless cameras. It's an impressive optic, with a great line in image stabilisation that's effective up to about four stops of compensation, and sharpness is in general very good.
Any downsides? While this lens is generally well-balanced, on lighter EOS M cameras it can make the setup a little bit front heavy, so bear that in mind before haring off on an adventure.
Frequently asked questions:
What is the difference between mirrorless and DSLR for video?
Many people get tripped up over this one. The truth is that both "DSLR" and "mirrorless" are broad categories that cover a lot of different cameras, but here are some of the key differences you'll need to know about:
DSLRs (or Digital Single-Lens Reflex cameras) have optical viewfinders that work using a mirror and allow you to see in real-time what you are shooting; mirrorless cameras do not (hence, "mirrorless"). Mirrorless cameras may use electronic viewfinders instead, or not bother with a viewfinder at all and rely on the LCD for composition.
Mirrorless cameras tend to be smaller and lighter than DSLRs...
... but DSLRs tend to have a pronounced handgrip for ease of use, and are more likely to have weatherproofing.
While both types of camera can shoot video, mirrorless cameras tend to be more optimised towards it as they don't need to continuously lock a mirror up to shoot it. If you look at where major manufacturers are making the most interesting advancements in video, it tends to be concentrated in their mirrorless ranges (for example, the new Canon EOS R5).
However, DSLRs can often be a better choice for a user on a budget, with more thoroughly filled-out novice selections, as well as many more affordable lenses to choose from (as most DSLR systems are simply older and thus have built up more of a back catalogue).
There's more to it of course, but these are the key basics!
Do all Canon cameras shoot in 4K?
Not all, but it's becoming a more and more common feature to the point where we're seeing it on cameras pitched at lower-end users. With new cameras starting to shoot 6K and 8K, it may not be long until 4K video is simply seen as a standard feature for any new camera to have! For now, different models will vary, so make sure you check before hitting "buy" if 4K is an important feature for you!
Are DSLRs as good as camcorders for video?
The reason we've included both DSLRs and a camcorder on this list is because both are a great choice for video! They both have their advantages: a camcorder is optimised specifically for video and will be more intuitive to use for that purpose, as well as more cost-effective if video is all you're planning to shoot. A DSLR gives you interchangeable lenses and more versatility, and tends to be affordable than a high-quality camcorder. It's all about your priorities!
Do I need to shoot in 4K?
It depends, but very possibly not! If you're planning on shooting for professional clients, then it is absolutely best to at least have the ability to shoot in 4K; you don't want to be caught in a situation where someone is asking for something you physically cannot provide. If, however, you are shooting mostly for yourself, with a view to upload content onto social media or share with friends, then Full HD will be more than adequate.
Which lenses should I use for video?
Again, a complicated question! Lenses are divided into two broad types: prime lenses (which have a fixed focal length that can't change) and zoom lenses (which provide a broader optical zoom range). Prime lenses tend to be highe quality, while zoom lenses offer more flexibility. Deciding which of these is more important to you is key to sussing out which lenses you need. We've included a few of our favourite lenses at the end of this guide to give you an idea of the options available.
About the Author
Jon Stapley is a professional journalist with a wealth of experience in a number of photography titles including Amateur Photographer, Digital Camera World and What Digital Camera. See more of his writing on Jon's author page.
Related articles