See more of the best DSLR lenses:
We run through the best lenses for DSLRs released in 2018, from wide-angles to super-telephotos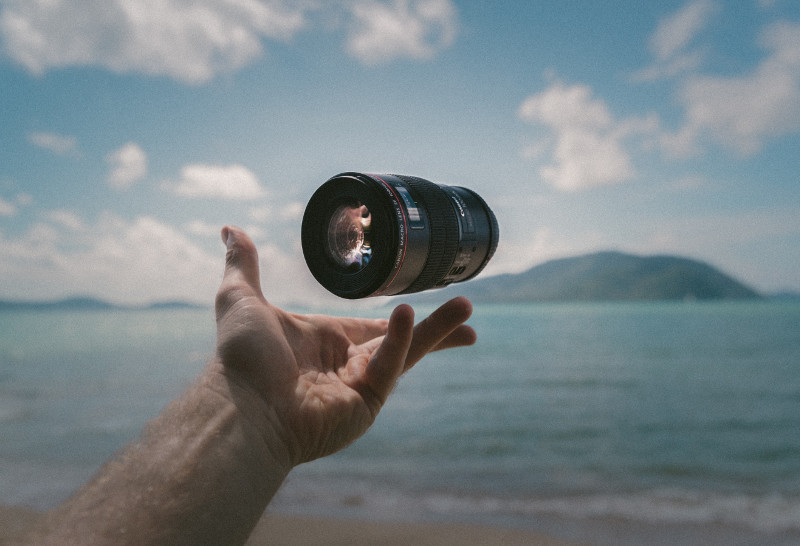 Whatever type of DSLR you use, and whatever your budget, there are loads of fantastic lenses out there for you. One extra-great thing about being a DSLR photographer, whether you prefer Canon, Nikon or Pentax, is that new lenses are being released all the time, and as well as a fantastic legacy of glass to choose from, you also have new optics with new technologies to play with on a regular basis.
The year 2018 was no exception to the rule, with an abundance of fabulous lenses coming in from major camera manufacturers and third-party lens makers alike. In fact, there were so many you could be forgiven for not keeping up! So, we're here to help – here we've compiled a selection of our favourite DSLR lenses from 2018. Whichever DSLR you use,whichever manufacturer you prefer, and whether you're working on a shoestring budget or buying the most high-end professional gear you can, there's something here for everyone, so let's get stuck in and count up our favourite DSLR lenses of 2018...
1. Sigma 14-24mm f2.8 DG HSM Art Lens (Canon and Nikon fit)
Part of Sigma's high-end, high-quality "Art" series of lenses designed to provide the ultimate in artistic expression and versatility, this premium wide-angle is available for both Canon and Nikon DSLRs. Its wide focal length is perfect particularly for landscape shooting, while its generous f/2.8 aperture is constant throughout the zoom range, making the lens a real contender in low light. Its rounded diaphragm blades deliver smooth defocused areas at shallow depth of field, with brilliant and vivid bokeh, and its high-accuracy autofocus with full-time manual override also means you can be confident you won't miss even difficult, fleeting subjects.
The lens is constructed of 17 elements in 11 groups, ensuring top-notch optical quality, and has a minimum focusing distance of 26-28cm, meaning you can also explore close-ups and make the most of the lens's exaggerated wide perspective.
Sigma 14-24mm f2.8 DG HSM Art Lens - Nikon Fit
Sigma 14-24mm f2.8 DG HSM Art Lens - Canon Fit
2. Tamron 17-35mm f2.8-4 Di OSD Lens (Canon and Nikon fit)
Though this Tamron zoom is designed for full-frame DSLRs, it'll also work with APS-C models, so all Canon and Nikon DSLR photographers can make use of this useful wide zoom. Measuring just 9cm in length and weighing just 460g, this is a fantastic lens for travel. The small profile of the lens is thanks in part to Tamron's OSD (Optimized Silent Drive) autofocus system, which enables fast and accurate autofocus while also being compact and silent.
The lens packs in plenty of other features that aid its standing as a multi-purpose travel optic. Its minimum focusing distance is an impressive 28cm, making it as useful for close-ups as it is for sweeping vistas, and its advanced coating technology combines with proprietary ghosting analysis simulation technology to thoroughly control backlighting and ensure smooth light transmission. A Fluorine Coating for the front element and moisture-resistant construction of the barrel also mean the lens is hardy enough for outdoor adventures.
Tamron 17-35mm f2.8-4 Di OSD Lens - Canon Fit
Tamron 17-35mm f2.8-4 Di OSD Lens - Nikon Fit
This high-performance 50mm standard prime lens from Pentax's "Star" series represents the very best of the firm's lens-making craft and promises the apex of performance for high-resolution imaging. Its state-of-the-art HD coatings minimise flare and ghosting, while its large maximum aperture of f/1/4 makes it perfect for all sorts of applications, from low-light travel shoots to stylish portraits. It produces vivid images with beautiful bokeh.
The quick, fast and accurate autofocus of the lens is provided by its Supersonic Direct-drive Motor, and the user can also instantly switch to manual focus by engaging the Quick-shift Focus System – simply twist the focus ring. This is a terrific companion for any K-mount DSLR, including its full-frame Pentax K-1 and K-1 Mark II models.
Pentax 50mm f1.4 FA* SDM AW Lens
Samyang's mid-telephoto prime lens is for full-frame Canon DSLRs, and is ideal for portraits, wedding photography and events work. Producing tremendously sharp images from edge to edge and corner to corner, this is a high-quality lens to match the resolution of full-frame Canon DSLRs. Its autofocus is fast, quiet and accurate, thanks to the upgraded LSM motor, and the generous f/1.4 maximum aperture makes it great for low-light work and creating a shallow depth of field with beautiful bokeh.
The construction of the Samyang 85mm f1.4 AF Lens is lightweight and compact, making it great for keeping a low profile or just travelling light. It also has a minimum focusing distance of 90cm. All of this adds up to make it a tremendously versatile lens, ideal for situations like weddings where conditions may not always be predictable. You'll get terrific images every time with the combination of the Samyang 85mm f1.4 AF Lens and a full-frame Canon DSLR.
Samyang AF 85mm f1.4 - Canon EF Fit
Tamron's beautiful high-performance telephoto zoom for Nikon DSLRs delivers a maximum magnification of 1:3.1, making it ideal for macro shooting as well as traditional telephoto functions like sports and wildlife photography. Thanks to its internal zoom mechanism it maintains a consistent length throughout its zoom range, meaning it's also great for travel, and it also provides outstanding Vibration Compensation, meaning it's easier to produce blur-free shots when using the lens handheld.
The ideal companion for a full-frame Nikon DSLR, the Tamron 70-210mm f4 Di VC USD has a fluorine coating to protect its front element from dust and smears, and also has a moisture-resistant construction that ensures it's hardy enough to handle the outdoors. Enjoy its generous workhorse telephoto lens and produce images with a fantastic look from corner to corner – the Tamron 70-210mm f4 Di VC USD makes it all look easy.
Tamron 70-210mm f4 Di VC USD - Nikon Fit
Canon's latest update to its phenomenally popular EF 70-200mm f2.8 L lens, this Mark III version adds Air Sphere Coating (ASC) anti-reflection technology, designed to reduce flare and ghosting to an absolute minimum and provide superior light transmission in all shooting situations. Robustly constructed, this L-series lens is suited to the rigours of professional photography and videography work, resistant as it is to dust and moisture. You can shoot handheld with confidence even in low light, enjoying the creative control of a constant f/2.8 aperture and a 3.5-stop image stabilisation system.
There are loads more features to list on this lens – its close focusing distance of 1.2m, its fast and near-silent autofocus, its 9-bladed diaphragm, the ring-type USM focusing motor… we could go on. Suffice to say, there's a reason why a lens like this finds its way into practically every pro photographer's kit bag, and this latest version is one of the best of the bunch.
2-year warranty
Canon EF 70-200mm f2.8 L IS III USM
This super-telephoto is designed for Nikon's FX-format full-frame DSLRs, and accordingly, it's among the best of the best for high-resolution imaging. Relatively small and light thanks to its adoption of Phase Fresnel element, the 500mm f5.6E PF ED VR AF-S Lens is also hardy and weatherproof to the standard demanded by professionals. Its internal optics also include three ED glass elements, ensuring pin-sharp and distortion-free images from edge to edge, while the Nano Crystal Coat means its images are free from flare and ghosting.
Designed for photographers working in fields like sports and wildlife who are demanding the very best, the Nikon 500mm f5.6E PF ED VR AF-S Lens is an outstanding optic in every department, and is the perfect way to ensure you're squeezing every iota of detail out of your FX-format DSLR's high-resolution sensor. Get up to date with the best of the best.
Nikon 500mm f5.6E PF ED VR AF-S Lens
Finally, we arrive at the very high end of lens technology with Canon's latest super-telephoto beast. This is the world's lightest 600mm prime lens, providing simply exceptional quality and performance and allowing you to get the absolute most out of a full-frame Canon DSLR. It offers a five-stop image stabiliser, as well as Air Sphere Coating (ASC) and Super Spectra Coating (SSC) to reduce flare and ghosting. Internally, the lens boasts two fluorite lenses and one Super UD element, ensuring images are pin-sharp and distortion-free, while its circular nine-blade aperture allows it to produce images with aesthetically pleasing defocused areas.
The inner focusing system with a Ring Ultrasonic Motor ensures that focusing action is fast and quiet, and thanks to the customisable electronic-focus ring, it's easier than ever to set the lens up to exactly your handling preferences. Shoot even the trickiest moving subjects with speed and accuracy, and get the most out of your full-frame professional Canon DSLR – this is the lens for the job.
Also consider: The Canon EF 400mm f2.8L IS III USM Lens, another super-telephoto monster at a shorter focal length.
Canon EF 600mm f4L IS III Lens
For more great content, visit our YouTube channel, Facebook, Twitter and of course, the Wex Blog.
About the Author
Jon Stapley is a professional journalist with a wealth of experience on a number of photography titles including Amateur Photographer, Digital Camera World and What Digital Camera. See more of his writing at jonstapley.tumblr.com
Related articles