Cameras with crop sensors are ideal for travel, but which lens should you use? We pick the best ones available for the best prices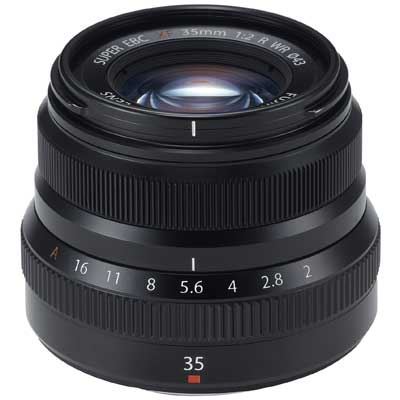 What do we mean by a crop sensor camera? Well, this term refers to any camera that has a sensor smaller than full-frame. The most common types of crop sensor include APS-C, which you'll find on some Canon DSLRs and Fujifilm X-series mirrorless cameras, and Micro Four Thirds, which is common to Olympus and Panasonic CSCs.
A smaller sensor has some disadvantages – the fact that is has less surface area means it can't gather as much light as a full-frame version, which means that images tend to be noisier at higher ISOs. However, a smaller sensor can also confer certain advantages – crop sensor cameras can be smaller and lighter, and what's more, a smaller sensor also alters the perspective of a lens, extending its focal reach further (this is what people mean when they talk about a lens having a "full-frame equivalent") focal length. So, for example, a lens that provides a 50mm focal length on a full-frame camera will provide an effective 75mm focal length when mounted on APS-C.
All this means that crop sensor cameras and lenses are great, cost-effective tools for travel photography. So which are the best travel lenses for crop sensor cameras? We've compiled a list of our favourites for different makes and models right here.
Mount: Fujifilm X
Different photographers want different things from travel lenses – some want quality, others want versatility. If you're more of the latter persuasion then the Fujifilm 55-200mm f3.5-4.8 R LM OIS XF Fujinon Lens is an optimal choice, as its broad focal length of 55-200mm covers a decent range and will see you through a lot of different shooting situations. Its equivalent focal range is 84-305mm, meaning it's a great choice for sweeping vistas and spectacular landscapes. It pairs really well with Fujifilm's X-series mirrorless cameras, from the X-Pro range to more affordable cameras like the X-T30.
Fujifilm XF 55-200mm f3.5-4.8 R LM OIS Lens
The Fujifilm 55-200mm f3.5-4.8 R LM OIS XF Fujinon Lens has been designed to provide pin sharp images across its entire focal range, as well as having a large aperture from f3.5-4.8. The lens is capable of high-speed autofocus acquisition thanks to two linear motors and has an in-built image stabilisation system that allows for shutter speeds 4.5 stop slower. The lens has been designed for use on Fujifilm's compact system cameras that have an X lens mount, such as the Fujifilm X-E3.
£579.00 View
Mount: Canon EF-S
Another lens that earns points for versatility, the Canon EF-S 18-135mm f3.5-5.6 IS Nano USM Lens is designed for Canon's range of APS-C DSLRs such as the EOS 90D. It provides an equivalent focal range of 29-216mm, so you can shoot everything from wide-angle architecture, standard-length street shots and telephoto vistas. It's equipped with Canon's Dynamic 4-stop Optical Image Stabiliser for smoother handheld shots, and Nano USM that provides super-speedy autofocus even with moving subjects. An all-around winner, this can quite comfortably be the only lens in your kit bag for most situations.
Canon EF-S 18-135mm f3.5-5.6 IS Nano USM Lens
From landscapes to portraits to movies, this versatile Canon EF-S 18-135mm f3.5-5.6 IS USM lens is an all-round zoom well-suited for travel. Nano USM technology allows the lens to focus smoothly and quietly, making it well-suited for movies as well as stills. Canon's 4-stop Optical Image Stabiliser technology counteracts camera-shake for steady handheld results in low light, and features a panning mode for tracking moving subjects. For movies, there's also Dynamic Image Stabiliser, which counteracts extreme movements as well as camera-shake, allowing for smoother footage when shooting handheld.
£484.00 View
Mount: Canon/Nikon/Sigma/Pentax
This standard zoom from Sigma is a great choice for wandering around a city, with an equivalent focal range of 25.5-75mm. The large f/2.8 constant maximum aperture means you can always gather a great deal of light and shoot with a reasonably shallow depth of field, while Sigma's Optical Stabiliser provides up to four stops of exposure compensation, making it easier to shoot handheld using the lens, even in challenging light. The minimum focusing distance of 28cm also makes the lens a great choice for close-ups.
Mount: Canon EF-S
The huge 11x zoom range of this lens doesn't mean that it skimps on quality – with a 16-element, 12-group construction, it produces images of superb quality all across its zoom range. It boasts a 4-stop image stabiliser as well as Super Spectra coatings to combat ghosting and flare, and its focal range is equivalent to 29-320mm in full-frame terms. Pairing superly with Canon's range of APS-C DSLRs, this is another great one-stop-shop travel lens, boasting a minimum focusing distance of 45cm, a circular aperture, zoom lock and a whole lot more besides.
Mount: Micro Four Thirds
Versatile and super-sharp, this Micro Four Thirds lens from Panasonic is a great choice for travel shooters in stills, video or both. The equivalent focal range in 35mm terms is 24-120mm, and when mounted on a Panasonic camera, the lens can use its own stabilisation in tandem with the camera's to provide a huge amount of effective stabilisation, expanding options in low light. It's got a rugged design that's protected against dust, splashes and even freezing temperatures, so if you're planning on venturing into challenging conditions, you're covered. Thanks to its silent operation, the lens is as capable for video as it is for stills, so you can take advantage of the high-quality 4K video in Panasonic cameras.
Panasonic 12-60mm f2.8-4.0 LEICA DG VARIO-ELMARIT POWER O.I.S. Lens
The Panasonic 12-60mm f2.8-4.0 Leica DG Vario-Elmarit Power O.I.S. Lens with Micro Four Thirds fit is a versatile zoom capable of smooth, silent operation for both stills and video. Suitable for a variety of shooting situations, its wide f2.8-4.0 aperture provides a beautiful defocus effect, whilst the POWER Optical Image Stabiliser compensates for blurring, allowing for handheld shooting even in dimly lit environments. The lens also features a compact, rugged, splash- and dust-proof design.
£799.00 View
Mount: Micro Four Thirds
The broad range and impressive resolving power of this lens makes it another solid all-rounder for travel shooters using the Micro Four Thirds system. Its full-frame equivalent focal range is 90-350mm, and its construction includes Extra-Low Dispersion elements to suppress chromatic aberration, ensuring that images are as sharp as they can be at every point of the zoom range. It's also got Panasonic's Mega O.I.S. stabiliser for handheld shooting in low light, so no matter where or when you're shooting, you can be sure this lens will get the job done.
Panasonic 45-175mm f4.0-5.6 LUMIX G X Vario Micro Four Thirds Lens
The Panasonic Lumix G VARIO 45-175mm f/4.0-5.6 is a compact telephoto zoom lens suitable for the Micro Four Thirds System and achieves high descriptive performance for resolution and contrast at entire zoom range 45-175mm (35mm camera equivalent: 90-350mm) without changing the overall length, making it an ideal compact zoom for all situations. In addition, the lens system features the inclusion of 2 ED lenses, which suppress chromatic aberration, contributing to high descriptive performance at entire zoom range. It incorporates Panasonic's Mega O.I.S. stabiliser, which makes it easy to shoot crystal-clear shots in a range of different lighting conditions, and removes blur caused by hand shake.
£379.00 View
Mount: Micro Four Thirds
Weatherproof and super-sharp, the Olympus 12-40mm f2.8 M.ZUIKO PRO Micro Four Thirds Lens provides an equivalent focal range of 24-80mm, giving you a nice flexible range for different types of shooting. It's compact and lightweight like the Micro Four Thirds cameras it's compatible with, and its seven-bladed diaphragm pairs well with its f/2.8 maximum aperture to produce images with a shallow depth of field and pleasing blur in the defocused areas.
Mount: Fujifilm X
You don't always need to use zoom lenses for travel – sometimes a high-quality prime can be a great shooting asset, encouraging you to think on your feet and explore the options of a limited perspective. Prime lenses also tend to be sharper, so your final images will be of higher quality. The Fujifilm XF 35mm f2 R WR Fujinon Lens boasts a weather-resistant construction and produces images of superb quality, with an f/2 aperture that allows for shallow depth of field and smooth shooting even in low light.
Fujifilm XF 35mm f2 R WR Lens - Silver
The Fujifilm 35mm f2 R WR Fujinon lens is a standard focal length prime lens which delivers sharp images with rich bokeh. The new lens offers a focal length equivalent to 53mm (35mm format equivalent), its angle of view is similar to that of the human eye, and it has a maximum aperture of f2.0. The optical construction of 9 elements in 6 groups (including two aspherical elements) achieves the perfect balance of high image quality and compact size. The lightweight is weather and dust-resistant and can work in temperatures as low as -10&degC. The XF35mmF2.0 features the smallest diameter in the XF lens line-up and thanks to the inner focus system and stepping motor, it achieves an autofocus time of just 0.08 sec.
£379.00 View
About the Author
Jon Stapley is a professional journalist with a wealth of experience in a number of photography titles including Amateur Photographer, Digital Camera World and What Digital Camera. See more of his writing on Jon's author page.
Related articles