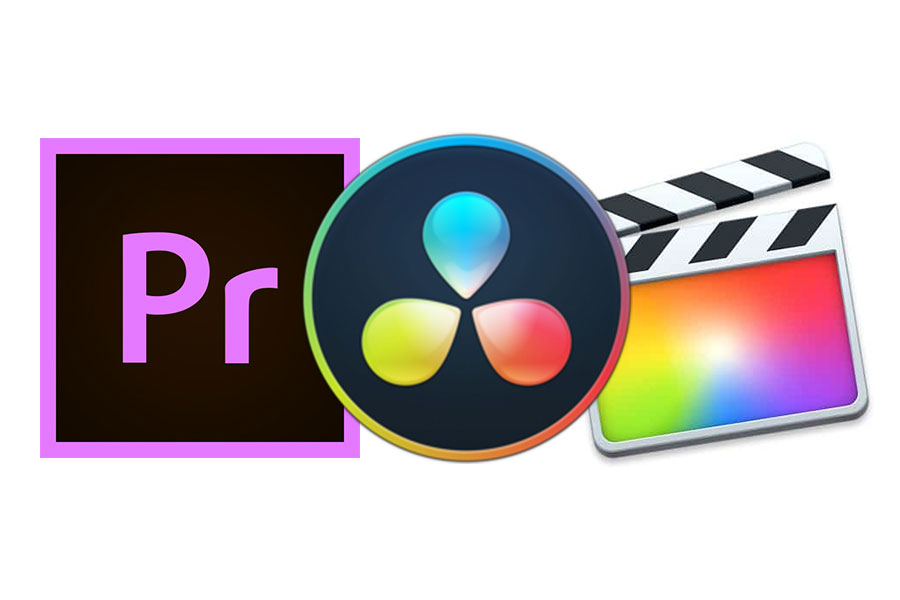 There are a few industry-grade editing software to pick from. Adobe Creative Suite is currently the most commonly used. It is fantastic for both industry professionals and beginners as most universities with a taught media-and-film course have decided to pay for it. The software facilitates both time-line editing and basic colour correction thanks to the built-in Lumetri Colour. Users can also perform rudimentary sound mixing in it. There are; however, other editing software that I am going to introduce to you. These are not ranked. I'm simply presenting you with a variety of options that you can choose from depending on your skill level and need. There are, of course, free of charge apps such as Apple iMovie. If you are looking to merely splice some iPhone footage together these will do just fine. Free software has become more advanced, offering more popular pre-sets. For example, iMovie delivers a selection of studio-quality titles, 10 creative video filters (including the popular vintage effect), as well as 4K video outputs. For a free piece of software, this is not a bad deal. The iMovie is available to download for iOS and macOS from the App Store. If you're looking for a free Windows alternative, I'd recommend using the official Microsoft Video Editor 10. It features handwriting layers that allow drawing directly onto the video making it perfect for educators and presentations. Jumping on the influencer train - Video Editor 10, also offers Instagram-inspired filters. Overall, iMovie is more superior to Video Editor 10 - something to keep in mind. With some of the free video editing software covered let's graduate to a few of the best editing software on the market.
1.

Adobe Premiere Pro & Adobe Premiere Elements



Premiere Pro Demonstration

There are two versions of Premiere; Adobe Premiere Pro and Adobe Premiere Elements. The biggest difference between the two is its audience. The first one has been created for professionals whereas the Elements range has been developed for beginners and enthusiasts. The price also reflects this as Adobe Premiere Pro costs £19.97 per month (individual) or £238.42 annually, whereas Elements only cost £85 for a lifetime. Alternatively, you can also purchase all apps in the Adobe Creative Suite for a healthy £49.94 a month. I think this is the best option for freelancers as you can also work with After Effects when subscribing to this plan. What I like about working in Premiere Pro is its wholesomeness. You can perform basic time-line editing, colour grade, and sound mix all in one handy program.


Adobe Sensei AI Technology facilitates the automatic creation of stunning photo and video slideshows and collages upon launch.
InstantMovie creates simple videos of your selected clips accompanied by music, titles, and effects.
Video Story allows you to pick an overall theme for your creation. Simply select the clips you want in each chapter and Video Story will do the rest for you including clip trimming, transitions, and music.
Quick Edit Mode takes you step-by-step through the video editing process.
Ideal for wedding videos, birthday collages, memories, and simple travel videos to share with your friends and family.


Key features of Adobe Premiere Pro:

It is the leading video editing software for film, television, and the web.
The app facilitates integration with other Adobe Creative Apps such as After Effects and Audition for a much faster and convenient post-production workflow.
Tools for sound mixing, colour grading, and graphics are included.
Premiere Pro comes with Lumetri Colour which makes colour correction simple yet powerful.
Users can dial down or remove background noise and reverb thanks to the Essential Sound Panel.
Infographics with Motion Graphics templates come in useful for web b2b videos and can be used as a much more simplistic alternative to After Effects.
This software is powerful enough to support the creation of end-to-end VR 180.
Keyframing offers precise control over your footage.
Feature films such as David Fincher's Gone Girl (2014) and James Cameron's Avatar (2009) have been cut on this software.
The interface is incredibly user-friendly with a simple and easy to understand design.
Finally, there are many plug-ins that can be incorporated into the software depending on your creative needs.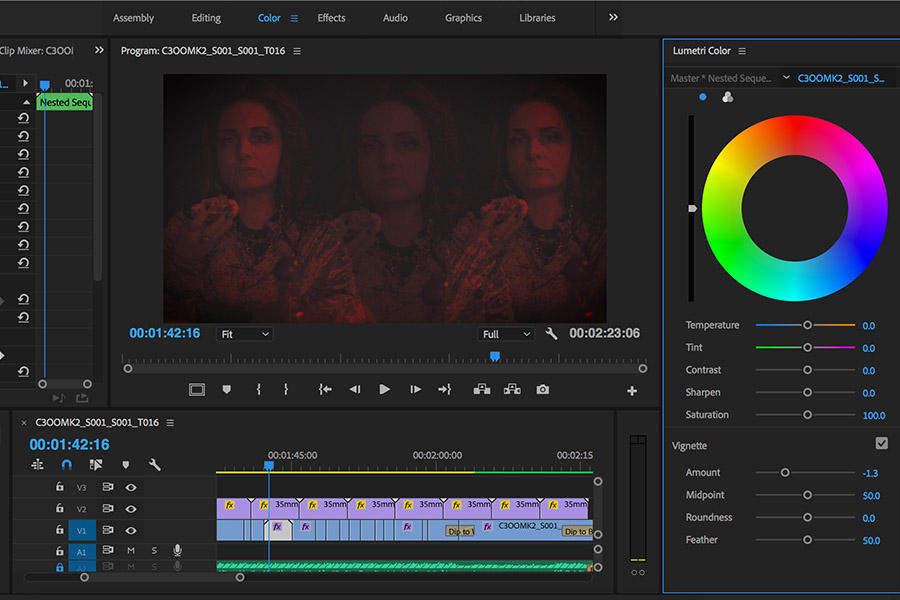 Lumetri Colour Wheels in use
As you can see there is a huge leap between Adobe Premiere Pro and Adobe Premiere Elements in both functionality and target audience. Without a doubt, Adobe is at the forefront of the industry and is the most commonly used software that supports broadcast-quality video outputs. I would highly recommend subscribing to the full Adobe Creative Suite All Apps plan if you can afford it. As I have said before it is perfect for both professionals and students, in-fact Adobe supports students and gives them a generous discount. Most universities offer it to their students free of charge making it a well-established software to learn on. This is a very clever idea on Adobe's part. If the new generation of filmmakers grows with Adobe Premiere Pro it will become the most widely used editing software in the industry as this is what they will more than likely continue to use throughout their creative careers.
Still from Follow Me Down (2016)


2. Blackmagic Design DaVinci Resolve Studio 16
Blackmagic Design's DaVinci Resolve Studio 16 is the latest iteration of the popular professional colour-grading software. Packed full of new features including collaborative multi-user tools, 4K and 120fps support, and de-noise tools; Studio 16 continues to grow into an integral part of any serious video editor's workflow. Some of the new features include collaborative multi-user tools, over 20 new FX (including advanced face enhancement tools), supports 4K and 120fps, stereoscopic 3D, optical quality mist and blue effects, film grain, and De-noise tools. The software is compatible with Macintosh, Windows, Linux operating systems as well as other editing software such as Premiere Pro, After Effects, Final Cut Pro, and Avid Media Composer. Basically, whatever software you choose, DaVinci Resolve is the perfect colour grading companion. You can, of course, colour correct in said software; however, DaVinci Resolve will deliver professional cinematic looks that the others simply cannot. Examples of films colour graded with DaVinci Resolve include Alien Covenant (2017) and Wonder Woman (2017).
This industry-grade colour grading software offers a combination of pro 8K editing, colour correction, visual effects, and audio post-production.
It has been designed for multi-user collaboration perfect for production houses. This allows editors, assistants, colourists, VSFX artists, and sound designers to work live on the same project.
The new upgrade has made it crystal clear that this is a powerful piece of software aimed at creatives working with broadcast outputs. It has been designed to facilitate fast turnaround on high-end work such as TV and news.
Some of the interesting functions include custom timeline settings, keyframe curve editor, image stabilisation, facial recognition, tape-style audio scrubbing, and smarter encoding.
There is a new Fusion VFX Feature added to the DaVinci Resolve 16 which is also impressive. It offers over 250 tools for VSFX thanks to the advanced 3D composing engine.
Moving onto what DaVinci Resolve is best known for, Colour Grading. The new upgrade includes ResolveFX Keyframe Track, Curves with Histograms, Auto Colour Balance and Matching, and much more.
It is an Emmy award-winning piece of image processing tech software that features deep 32-bit float processing and YRGB colour science ideal for the latest HDR and wide colour workflows.
The Blackmagic DaVinci Resolve Studio 16 is compatible with Fairlight Professional Consoles.
Supports Blackmagic RAW
The best thing is that you can currently download DaVinci Resolve 16 free of charge.
The latest DaVinci Resolve Studio 16 costs £299 and offers everything included in the free version in addition to more advanced DaVinci Neural Engine tools such as multi-user collaboration, stereoscopic 3D tools, ResolveFX, FairlightFX plugins, HDR grading, film grain, blur and mist effects. The list goes on.
One of the biggest advantages of using DaVinci Resolve is the lack of a subscription plan that has been championed by Adobe and used by Avid.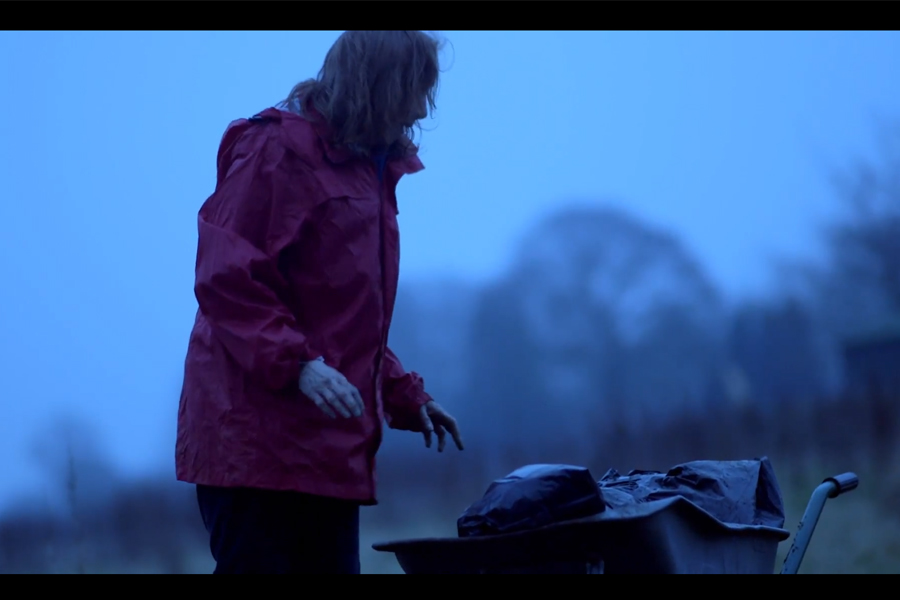 Still from Jessica (2017) colour graded in DaVinci Resolve

After some more research on the new upgrade, I think that the free of charge version is the perfect companion for colour correcting and the studio version might just be a fantastic alternative to Premiere, especially when working on more demanding, high-end projects.
3. Final Cut Pro X
Final Cut Pro has come a long way and become more professional-grade over the years, some would say it is of the same standard as Premiere Pro. I remember when I first used it during my A-Levels. It was pretty primitive but it has evolved. I think that it is still better for beginners, YouTubers, Vloggers, etc. but then again Premiere Pro is also great for such uses. It costs £299.99 for a lifetime which is a huge price difference from paying essentially the same amount (£238.42) for a yearly Premiere Pro subscription. I think that because of the price it would be ideal for creatives who want high standard video processing, with beautiful colour correction and SFX pre-sets but don't need professional filmmaking level software.
Key Features of Final Cut Pro X
No Country For Old Men (2007) directed by the Coen brothers has been edited using Final Cut Pro X as well as Cold Mountain (2003) edited by the legendary Walter Murch.
As with the other editing software, this one also supports editing, audio, and motion graphics in addition to advanced colour grading, HDR support, and ProRes RAW. 360-deg video editing and VR headset playback are also available. Other features include video editing tools, organisation tools, motion graphics, audio, and delivery.
The new Metal Engine accelerates graphics tasks run by Final Cut Pro X. In summary, it can stream up to 3 8K ProRes RAW, 12 streams of 4K ProRes RAW, and offers up to 3.2x faster ProRes transcode and 2.9x faster render.
The Multicam offered by Final Cut Pro X is one of the more advanced on today's market. It allows you to automatically sync up to 64 video angles that feature variants in formats, frame sizes, and frame rates.
Video noise reduction function eliminates unwanted grain from your footage.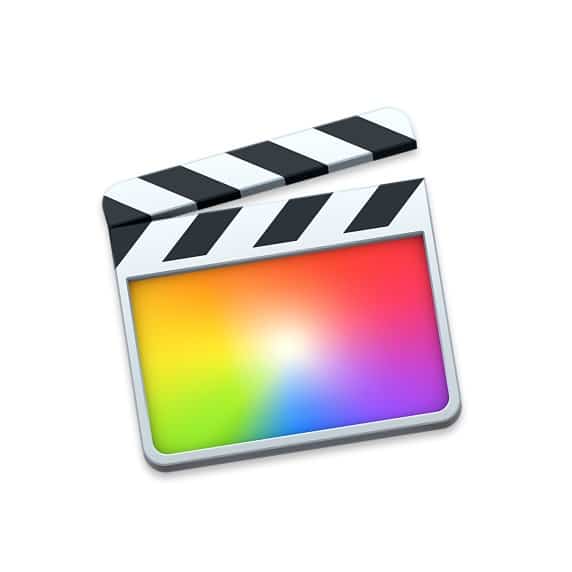 4. AVID
Avid is a beast of software capable of processing complex VSFX that Premiere Pro can't handle. It is professional-grade and is very much aimed at advanced editors. Films such as The Dark Knight (2008) directed by Christopher Nolan as well as a plethora of Oscar-winning and nominated films have been edited with Avid. There is a perception that if you want to make it big in Hollywood as an editor you need to learn Avid Media Composer. It is also the preferred editing software to teach students at the New York Film Academy. It has a more complicated interface that can put people off; however, it is very powerful. If you can master it you can pretty much edit on any other software I have mentioned in this blog post. The consensus is that Avid is far more advanced and professional with a long history of industry use. Feature films and TV broadcasts used Avid for years. I think there are a lot of employers who appreciate editors that have knowledge and experience of operating Avid Media Composer even if they, themselves, utilise Adobe, as it shows proficiency.


Avid offers three types of software; video, audio, and enterprise. Pro tools are ideal for composing, recording, editing, and mixing sound and music. It can be considered the Audition of Avid. Sibelius is also dedicated to music as it is a music notation software. This is important as sounds and music are vital in filmmaking. It is also an area that is mostly overlooked by videographers and filmmaking enthusiasts, even students. Bad sound design can outright ruin a masterfully shot film. Finally, Avid Media Composer is the video editing software.
Key features of Avid Media Composer

This is an Oscar and Emmy award-winning software.
Avid Media Composer offers a 32-bit floating-point colour pipeline, OpenEXR decoding, and ACES – Academy Colour Encoding System colour space support.
High-resolution HDR projects are supported by Avid Media Composer.
Avid Media Engine is not only capable of background rendering, transcoding, and live timeline editing but also native OP1a support. Thanks to this you can experience a much smoother editing experience and playback.
You can create some fantastic soundtracks in 7.1 surround within the Media Composer.
Any type of footage can be edited with this piece of tech including HD, UHD, 8K, 16K, HDR, stereoscopic 3D, and IMAX.
Avid Link allows you to connect with creators all over the world and collaborate.
Avid offers Emmy Award-winning Media Composer patented multicamera editing tools.
You can purchase Avid Media Composer for only £21 per month for a yearly subscription, a very similar price point to Premiere Pro. Alternatively, you can pay annually with £209 or pay £31 on a month to month basis. There are also additional licenses that you can add to your subscription such as TotalFX Full Licence for £649. I think that for an award-winning piece of software this is not a bad deal at all.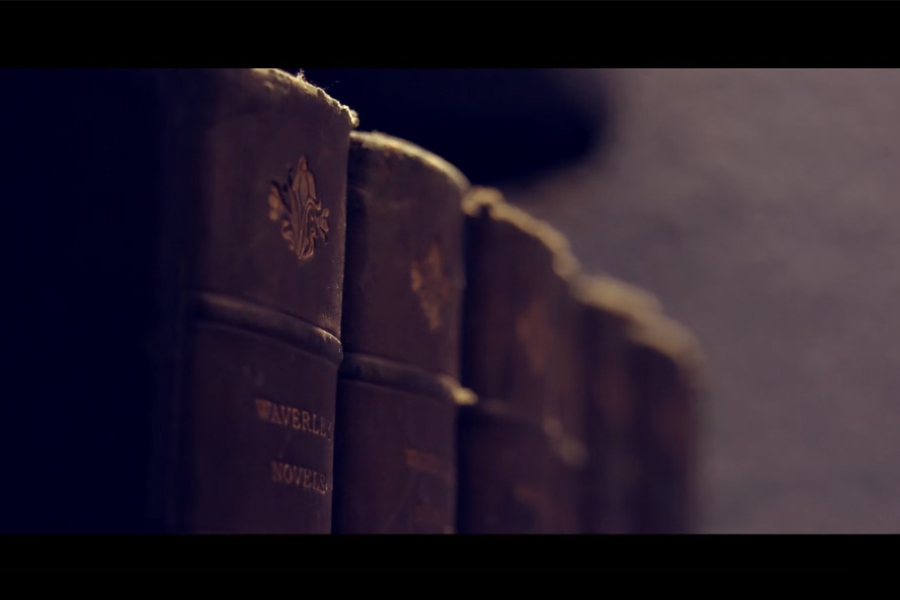 Screengrab from Prologue (2016) edited in Avid
In conclusion, Adobe is the preferred editing software for me although I would love to become more proficient at Avid. Adobe has established itself as the go-to for both professionals and enthusiasts. Even the price range is not criminal for the features that you receive. For me, I really do like to work with Adobe Creative Suite. I'm paying the full subscription plan for the entirety of it as I often use After Effects, Lightroom, Photoshop, and InDesign. Unfortunately, Premiere Pro can only be bought on its own or in the full package. It is a real shame that there is a photography bundle available from Adobe but not a videography bundle that consists of Premiere Pro and After Effects as these are often used together. I'm not sure if I'm biased with my opinion on Adobe being a number one choice as I was taught it since the first year of university and kept using it since. Perhaps if I was introduced to different software I would prefer it instead. I have previously edited one of my favourite documentary pieces, Prologue (2016), in Avid and have enjoyed it quite a bit but for one reason or another continued working with Premiere Pro. Either way, I encourage you to experiment with different software to find which one matches your workflow best and which one you feel the most comfortable with. Whatever you choose you can't go wrong with the free version of DaVinci Resolve 16. Just download it.


Screengrab from Prologue (2016) edited in Avid
About the Author
Patrycja Reimus is a Norwich based horror artist and an award-winning filmmaker. She is also our Technical Copywriter who frequently enjoys writing for our blog. For more information about her work please visit patrycja-reimus.squarespace.com. You can also follow her wonderfully weird and obscene imagery on Instagram @reimuspati_art or stalk her personal life @patrycja_reimus.