Keen to replace the kit lens that came with your CSC? Damien Demolder looks at the most suitable options for the most popular systems.
Camera manufacturers are always keen to ensure their camera kits appear as lightweight as possible. Obviously, this is to convince potential buyers that they will be able to carry their new acquisition everywhere they go without getting tired of lugging it about. This is especially important in the DSLR market, where the cameras are heavy themselves, but in the Compact System Camera (CSC) market there is the added expectation that the equipment should be tiny, featherweight and highly portable.
To keep weight to a minimum, the lenses that come as standard with both DSLRs and CSCs are often constructed with plastic barrels and components, and are designed primarily to be lightweight rather then to deliver optical excellence. CSCs deserve good lenses just as much as DSLRs do, however, and their sensors require just as much resolution and contrast to do justice to the capabilities of their pixels. That these cameras are small doesn't mean they can't produce images as exciting as DSLRs, but to do so it's essential they are given fine quality lenses that allow the photographer to be flexible and creative.
If you're thinking of upgrading the standard kit zoom that came with your CSC, here are some interesting options that you might consider.
Panasonic 12-35mm f/2.8 LUMIX G X Vario ASPH Power OIS
Fit: Micro Four Thirds
Panasonic has created the Micro Four Thirds equivalent of the DSLR photographer's favourite 24-70mm f/2.8 lens in this zoom upgrade. The X Vario series comprises Panasonic's premium zoom range, and as such the lenses are extremely well made and designed to deliver top performance for many years.
This is also the kind of lens that demonstrates just how much smaller Micro Four Thirds lenses are when compared with those of full-frame DSLRs; it weighs just 305g compared to the 805g of Canon's EF 24-70mm f/2.8L II USM and ultra-high refractive index glass has been used to keep the barrel as short as possible.
The small construction allows lightweight AF modules, which in turn means they can be moved more quickly to bring subjects to focus in a very short time. In common with most CSCs, Panasonic's Lumix G series models use a contrast-detection AF system that benefits a great deal from the extra light that a constant f/2.8 aperture provides, so AF speed is increased even in low light.
Work in low light is also assisted by the incorporation of the company's premium Power OIS (Optical Image Stabilisation), which compensates for both the high-frequency shakes typical of a human holding a long lens, and the low-frequency wobble that occurs when we press a shutter button.
Designed as much for video as for stills, this lens uses what Panasonic describes as 'silent AF', so the sound of working motors won't be heard in your movies. All in all, a first-rate lens that will complement any of the many Micro Four Thirds bodies available.
Olympus M.ZUIKO Digital ED 12-40mm f/2.8 PRO
Fit: Micro Four Thirds
The first in the new PRO lens line-up from Olympus, this premium 12-40mm optic delivers the same angles of view that you would expect from a 24-80mm lens fitted to a full frame camera. The constant f/2.8 wide aperture allows plenty of light into the camera, which will help an AF system that Olympus describes as 'unbelievably fast'.
The additional focal length at the telephoto end, beyond the more general-purpose 24-70mm range, also makes the lens ideal for head-and-shoulder portraits. And, with that f/2.8 maximum aperture, users will be able to create beautifully soft, out-of-focus backgrounds that concentrate attention on the subject.
The front element is made from a thin layer of high-refractive-index glass, which helps to keep the barrel compact and only 10mm longer than Panasonic's 12-35mm f/2.8. Remarkable features include a close focus distance of only 20cm – even at the longest focal length – and a completely sealed construction that protects it from dust and water.
Although obviously designed for use with autofocus, the lens offers a smooth manual focal feature when the main focus ring is pulled backwards towards the camera body. Modern Olympus cameras provide very helpful assistance for using manual focus, too.
An attractive lens, and one that obviously rivals the older Panasonic model for the attentions of Micro Four Thirds users.
Olympus 14-42mm f/3.5-5.6 EZ M.ZUIKO
Fit: Micro Four Thirds
Less of an upgrade in the optical sense than in pure functionality, the new Olympus 14-42mm is claimed to be the world's smallest zoom lens for interchangeable-lens system cameras. Although Olympus says the lens is sharper than previous models, it is the pancake size of this model that gets it the attention. When fitted to one of the company's PEN or OM-D cameras you'll really appreciate the benefit of using the Micro Four Thirds system.
With a focal range that matches a 28-84mm lens on a full frame camera, the lens measures only 22.5mm and weighs just 93g. Equipped with an electronically controlled zoom, focal length changes on the lens are smooth and jolt-free during video shooting – and if you are using a Wi-Fi-enabled camera you can use your smartphone to control the zoom position.
The lens uses only five blades in its aperture, but does offer high-speed focusing via the contrast detection systems of host Olympus cameras. And, what's more, it comes in either black or silver to suit the finish of your camera!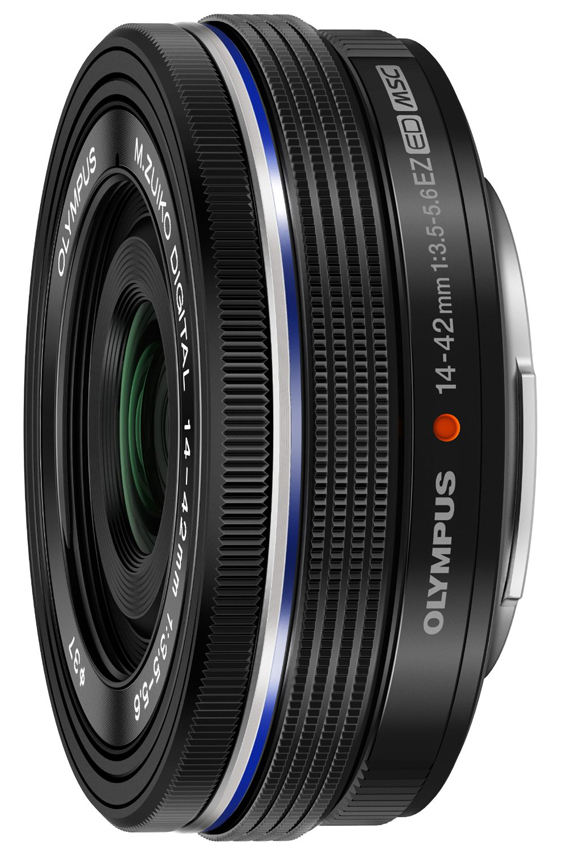 Samsung 16-50mm f/2-2.8 S ED OIS ED
Fit: Samsung NX
Recently announced, this is the first of a new line of premium 'S' lenses designed for Samsung's NX series of Compact System Cameras. These cameras use an APS-C sized sensor, so the focal lengths of this lens will appear as a 24-75mm lens would on a full frame model. At 622g it's quite a hefty piece of equipment, and weighs somewhat more than Samsung's heaviest camera bodies, but the advantage is that ultra-wide aperture range.
Although the aperture isn't constant across the focal range it's still impressively wide, and the nine-bladed iris should produce attractive out-of-focus highlights at all focal positions. A focal length of 50mm in this format is long enough for a nice waist-up portrait, and the f/2.8 aperture will lift the subject easily from even close backgrounds.
Samsung claims the optical image stabilisation system built in to the lens allows us to hand hold it at longer shutter speeds than would normally be safe, and that the environmental sealing protects it from moisture and dust. The lens also sports a unique iFn button on most of its lenses, which offers a shortcut to accessing many of the host camera's functions; it takes a while to get used to but which is handy once you do.
A weighty machine, with a 72mm diameter that we might expect of a DSLR lens, but it offers the widest maximum aperture of this group.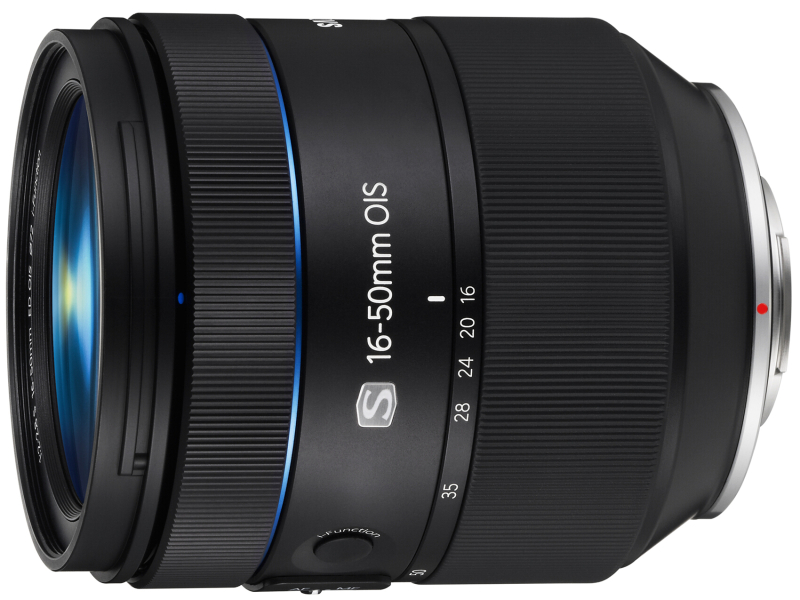 Sony Vario-Tessar T* FE 24-70mm f/4 ZA OSS Carl Zeiss
Fit: Sony E-mount (FE)
This is Sony's new premium standard zoom that's designed to marry with the full frame A7 and A7R Compact System Cameras. Having Carl Zeiss written on the barrel tells us that this will be a Sony-modern version of classic Zeiss designs – and in the past the collaboration between these two companies has produced great things.
The maximum, but constant, f/4 aperture is some way short of the f/2.8 we see on some other options, however, including the full frame version Sony produces for its Alpha SLT models, which some may think a bit disappointing. Being an FE mount lens, this model is also compatible with Sony's APS-C sensor NEX cameras, on which is performs as a 36-105mm (and where the f/4 aperture might seem more appealing).
The lens incorporates Sony's Optical SteadyShot image stabilisation system, and uses Zeiss T* anti-reflective coatings to reduce internal reflections, which cause flare. This is also a reasonably big and heavy optic, but one that promises great quality and sharpness. The SLR-style shape and grip of its intended host, the A7 and A7R, should certainly help to keep things balanced and comfortable though.
Sony Vario-Tessar T* E 16–70mm f/4 ZA OSS Carl Zeiss
Fit: Sony E-mount
Designed as a step-up for the Sony E-mount (APS-C) camera user, this Carl Zeiss Vario-Tessar offers a focal length equivalent to a 24-105mm lens on a full frame model. The Carl Zeiss name gives us an indication of quality and, with Sony's take on design, we can expect good sharpness across the image frame and high performance at all apertures.
Relatively lightweight and compact for a Zeiss lens, this model features the expected T* lens coatings that reduce flare and keep contrast and resolution high, making the most of the pixel-count of your camera's sensor and assisting the AF system. The aperture iris uses seven curved blades to form a circular opening that produces attractive out-of-focus highlights, and at the longer focal lengths users should be able to get plenty of benefit from that effect. And, although a maximum aperture of f/4 doesn't seem very exciting at the wider end of the zoom, it's a great aperture for portraits at the longer end.
Built-in Optical SteadyShot uses a vibrating optical group in the lens to compensate for shaking hands, and the smooth and near-silent autofocus system allows video recording without the zip-zip sound of an AF motor appearing on the audio. Overall, a good option for the photographer wanting a more creative and flexible lens for an APS-C Alpha – or older NEX –camera.
Fuji XF18-55mm f/2.8-4 R LM OIS
Fit: Fuji X-system
The first of Fuji's zoom lenses for the X series of Compact System Cameras, this lens was eagerly awaited and has proved itself equally well worth waiting for. Although this isn't the premium constant-aperture zoom that some other brands offer, it's a clear step-up from the standard Fujinon 16-50mm f3.5-5.6 XC OIS kit lens offered with some of Fuji's cameras.
That is doesn't maintain its f/2.8 aperture throughout the focal range is reflected in its price, but it's still significantly faster than the usual f/3.5-5.6 standard zooms. It also manages to be small and light, which fits very well with the philosophy of the Fuji X series.
The LM in the name denotes the use of a linear motor, which provides the near-silent AF that video makers will demand, and the OIS states that Fuji is using its Optical Image Stabiliser. OIS is claimed to allow shutter speeds of four full EV stops longer than usual, without the effects of camera-shake having an impact on the resolution of the recorded image.
The retro feel of X cameras is adhered to in the design of the lens, with the manual aperture ring that allows us to choose body- or lens-based aperture control. Although this lens seems slightly unspectacular in comparison to others in this group, it's a well-balanced upgrade for those using the 16-50mm lens – plus it has a more affordable price.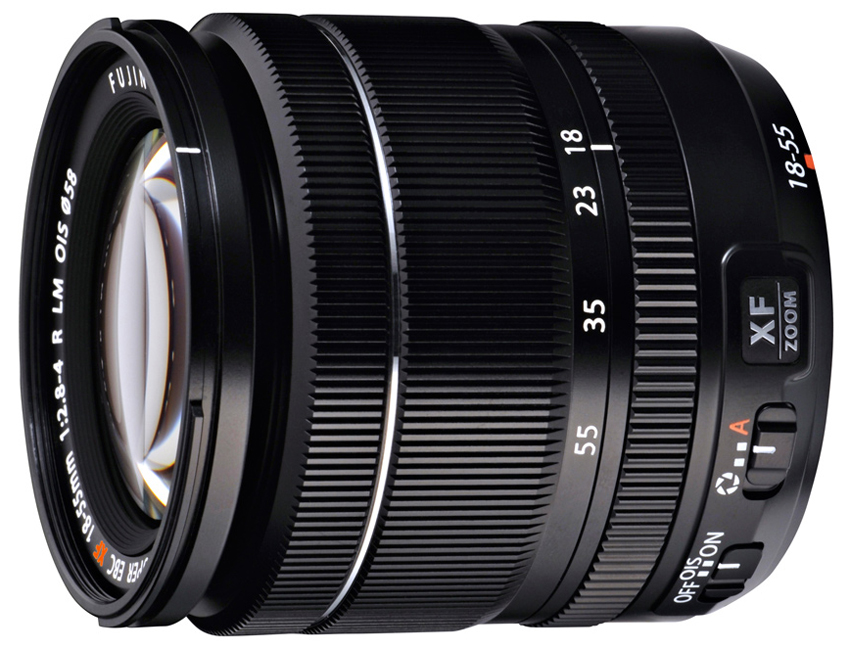 Fuji 16-55mm f/2.8 R OIS WR
Fit: Fuji X-system
Not available until winter 2014, this lens promises to be the premium standard zoom that users of the X series have been waiting for. With its constant f/2.8 aperture and a focal range that will act as a 24-84mm lens would on a full frame camera, you can bet it will come at a premium price too.
Details are few at the moment, but we can see that it will include a four-stop image stabilisation system, while the WR in the name suggests it will be weather-resistant as well – a step up from the usual moisture and dust resistance. Fuji's X-T1, with its WR status as well, will make the ideal partner, but maybe we'll see more hardy, weatherproof cameras in the future too.
About the Author
Damien Demolder is a independent photographic consultant and former editor of Amateur Photographer magazine. Damien also runs a number of photographic events and courses for photographers of all abilities. For more information visit his website.
Related articles