Most zoom lenses that come packaged a DSLR are fine for getting the new photographer started, but if you want to improve the way your images look it should be the first part of your kit you upgrade. Damien Demolder rounds-up the most popular options.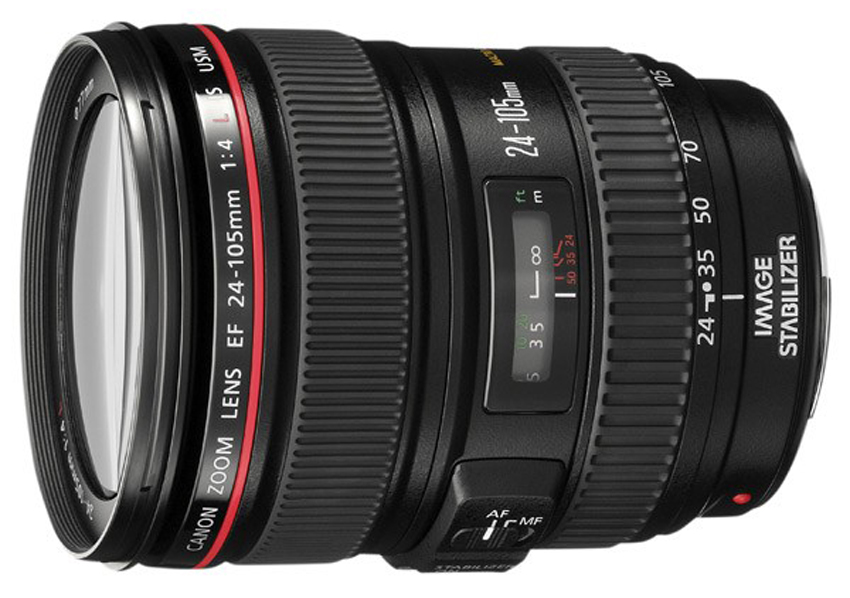 The quality of the typical zoom lens that comes in a kit with a DSLR body has improved dramatically over the last ten years, but still their principle purpose in life is not necessarily to produce stunning images. Lightweight and built to a price that won't make the camera kit seem expensive, these lenses are primarily designed to get the new photographer off the ground and shooting with his or her new camera, straight out of the box.
In undemanding conditions the usual 18-55mm f/3.5-5.6 zoom can produce first-rate images of a certain type, but it lacks the facilities to allow wide ranging creative photography. It will be plastic-bodied and not hard wearing, while the optical construction will almost certainly not make it easy to get the best from your camera's sensor.
I rarely suggest a new piece of equipment will improve anyone's photography across the board, but upgrading your everyday standard zoom from the one that came in the box will give you access to a new world of quality.
Here are the most popular options for users of all current DSLRs, together with the pros and cons of each to help you decide on the best lens for your needs.
Canon EF-S 17-55mm f/2.8 IS USM
Fit: Canon
Being marked EF-S, this lens is designed to be used on Canon's APS-C sensor EOS cameras, and will deliver a focal range equivalent to a 27-88mm lens on a full-frame model. This is a premium lens for this category, as it incorporates many of the features of the top-end EF 24-70mm f/2.8L II USM, but at a third of the price!
The constant f/2.8 maximum aperture is a major attraction, making it a great lens for low-light work as well as for shooting portraits with nicely out-of-focus backgrounds. This model also features Canon's Image Stabilizer, which will help users maintain lower ISO settings, and thus better quality images. Image quality is helped further by extensive internal Super Spectra coatings to ensure excellent contrast and resolution, as well as the same sort of Ultra- and Super-low dispersion lens elements used in the professional L lens range. The Ultra Sonic Motor (USM) that drives the AF system is fast, smooth and is also almost silent. Overall, an ideal high-quality upgrade for users of APS-C DSLRs.
Pros:
Wide maximum aperture
Image Stabilizer
High-quality optics
Cons:
Wideangle focal length restricted to 27mm, not 24mm
That's it!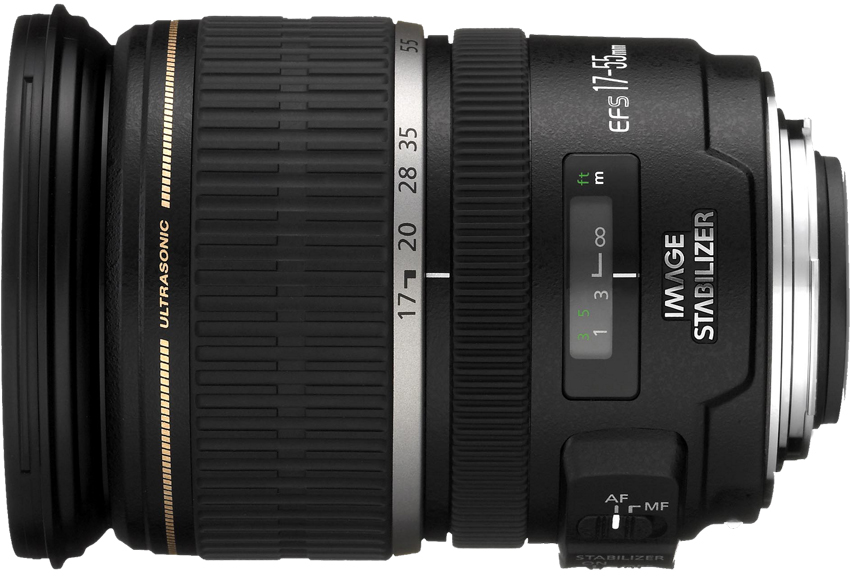 Canon EF 24-70mm f/2.8L II USM
Fit: Canon
This is the ultimate standard zoom for Canon EOS users, and despite its price it's an extremely popular lens. Although aimed principally at professional and serious enthusiast full-frame users, it can be used on APS-C bodies too, with relative focal lengths covering 38-112mm.
The lens is costly partly because its widest aperture is maintained throughout the zoom range – so you can use f/2.8 even at 70mm. This is useful for working in low light, but also for creating soft out-of-focus backgrounds in portraits, so your subject will stand out more. Canon uses a nine-bladed aperture too, so out-of-focus highlights are nicely rounded and tonal graduation is pleasantly smooth.
This is a tough metal-bodied professional-quality lens that's sealed against the weather and dust, and it uses Ultra- and Super-low dispersion lens elements that maintain sharp edges with low colour aberrations. All glass surfaces have the most modern Super Spectra coatings that reduce internal reflections, allowing clear, high-resolution images that have plenty of contrast.
Pros:
Exceptional image quality
Cons: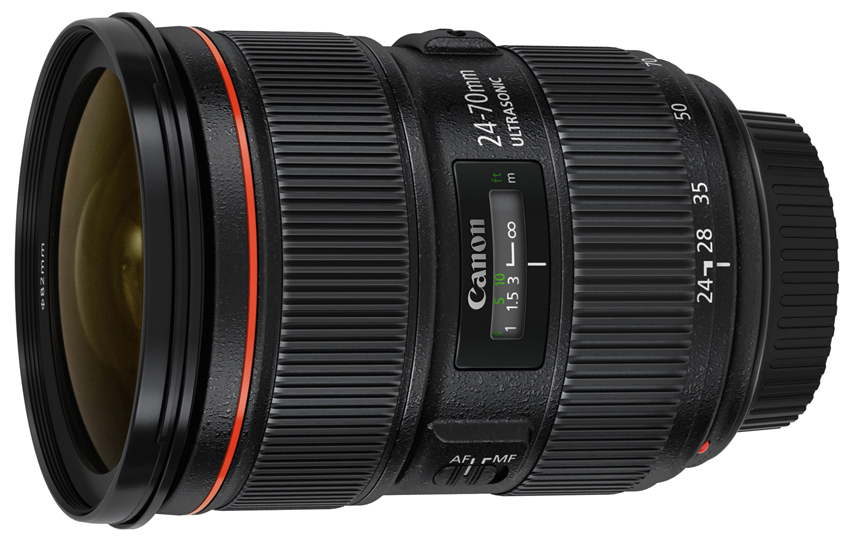 Canon EF 24-105mm f/4L IS USM
Fit: Canon
This is another lens from Canon's professional L series, but one that has a greater telephoto reach than the EF 24-70mm f/2.8L II USM. Although the extra 35mm at the long end might not seem much on paper, passing from 70mm to 105mm takes in the 85mm, 90mm and 105mm focal lengths that are traditionally used in portraiture. The extra focal length has prompted Canon to add its image stabilisation system to the lens, making it easier to shoot camera-shake-free images using shutter speeds three times longer than would be sensible without it.
This is also a much more affordable option than the EF 24-70mm f/2.8L II USM, but the compromise comes in the slower maximum aperture. Setting f/4 at 85mm and beyond for portraits is perfect, but those who like to use wider focal lengths in low light might find they are having to use higher ISO settings. Employing a shallow depth-of-field to highlight a subject at focal lengths wider than 50mm will also be more difficult.
Pros:
Great quality and a versatile range of focal lengths
More affordable than the EF 24-70mm f/2.8L II USM
Lighter than the EF 24-70mm f/2.8L II USM
Cons:
Relatively slow aperture at wider focal lengths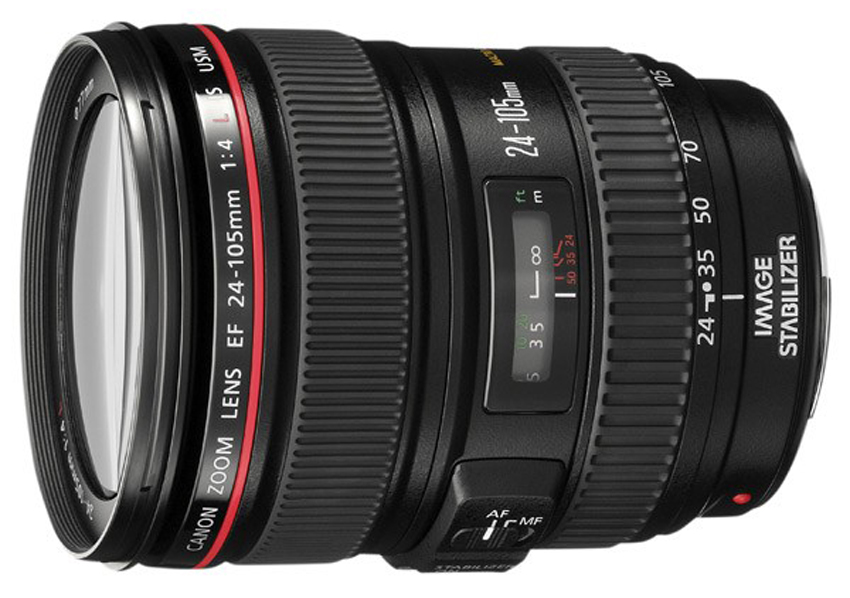 Nikon AF-S Nikkor 24-70mm f/2.8G ED
Fit: Nikon
This is Nikon's top-of-the-range standard zoom, which has been designed for professionals and serious enthusiasts. The lens covers the full-frame sensors of Nikon's FX cameras, but it can obviously also be used on DX APS-C cameras with effective focal lengths of 36-105mm.
As with the Canon equivalent model, the great attraction of this lens is the fact that its wide maximum aperture is maintained throughout the focal range, which makes a fast telephoto and a reasonably fast wide angle. The advantages are that delightfully shallow depth-of-field at 70mm, and an ability to shoot in low light without having to increase the sensor's sensitivity rating.
Nikon claims this zoom is almost as sharp and distortion-free as fixed focal length lenses, and numerous tests have borne that out. Nikon uses its premium Extra-low Dispersion (ED) glasses and multiple aspherical lenses, all layered with Nano Crystal coatings, to produce high-contrast, high-resolution images. A tough, professional lens that's designed to deliver first-class results.
Pros:
Fast maximum aperture throughout range
High-class glass and coatings
Super fast and quiet Silent Wave Motor (SWM)
Cons:
Weighty at 900g
No aperture ring for use on older camera bodies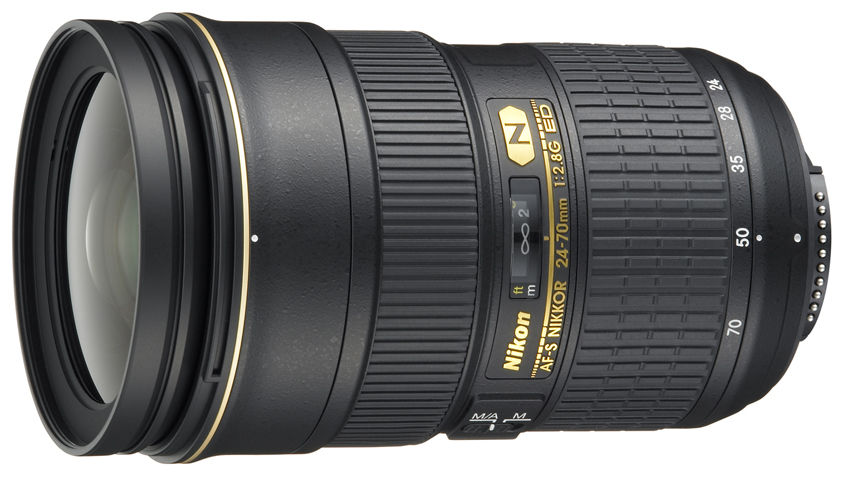 Nikon 18-105mm AF-S DX Nikkor f3.5-5.6 G ED VR
Fit: Nikon
This lens provides an easy upgrade for Nikon's DX APS-C sensor users, such as those with the D3200, as it is both affordable and will deliver the improved image quality required. The focal range of this 5.8x zoom is equivalent to a 27-158mm lens on an FX full-frame camera, although it's specifically designed for APS-C bodies. When used on an FX body that accepts DX-format lenses, the sensor's output resolution drops to accommodate the smaller imaging circle.
The focal range covers everything from landscapes to attractive middle-distance portraits, as well as the kind of sports that we can get quite close to. Although the maximum aperture at the longer end might be seen as a bit slow, f/5.6 is quite respectable for a 150mm lens, and the built-in Vibration Reduction makes that kind of aperture more than useable even in quite low light.
Nikon has used good glass and coatings to maintain high image quality, but with a less heavy-duty build the lens weighs only 420g. This is a lens that provides very good value for money, and which will open new avenues for those upgrading.
Pros:
Great focal range
Built-in VR
Light-weight
Cons:
Lightweight construction
Slower apertures at wide focal lengths
Good, but not 'best' image quality
Nikon 24-85mm f/3.5-4.5 AF-S G ED VR
Fit: Nikon
This lens represents a good quality upgrade for the full frame user coming from an older kit lens and for whom Nikon's top-end, and higher-priced, AF-S Nikkor 24-70mm f/2.8G ED is out of reach.
What the lens has to offer is a modern set of optics, with high-quality, well-coated glasses that are able to make the most of the detail gathering power of today's full-frame sensors. Although variable, the maximum useable aperture shifts only two thirds of an stop between the widest and longest focal lengths – and f/4.5 is still a very flexible aperture for the 85mm portrait or product photographer.
Nikon claims that, with its Vibration Reduction system enabled, we can risk shutter speeds four stops beyond the norm without camera shake (so, 85mm at 1/8sec, when 1/125sec would be normal), which makes lower ISO settings and lower light levels all very useable. The lens is light for its specification, and the variable apertures allow a compact barrel that won't take up too much room in the camera bag.
Pros:
Lightweight and versatile
Good quality optics
Useful focal range
Cons:
Relatively slow maximum aperture at wider focal lengths
Non-professional build quality
No aperture ring for use on older cameras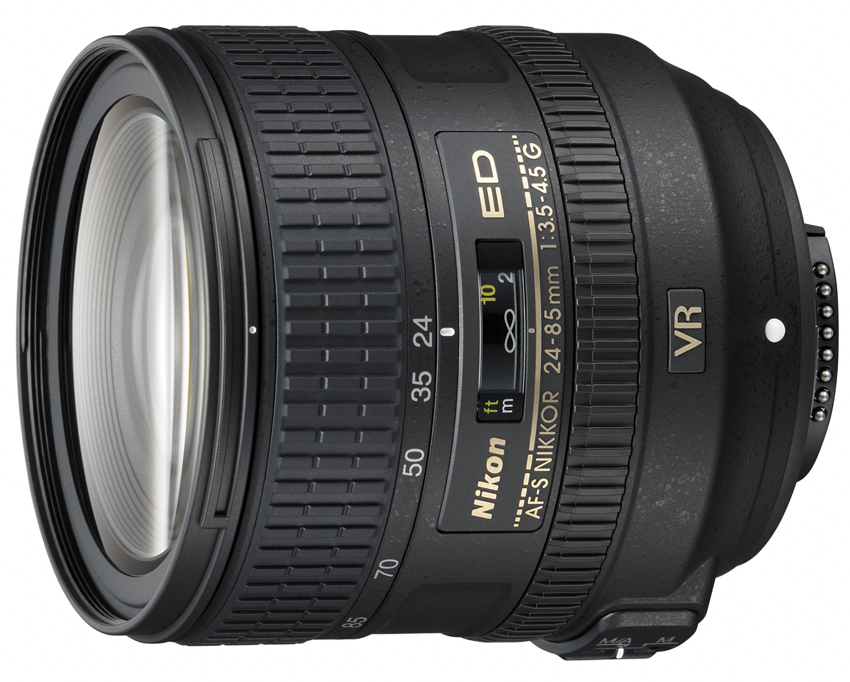 Sigma 24-70mm f/2.8 IF EX DG HSM
Fit: Canon, Nikon, Pentax, Sigma, Sony
Sigma designed its way out of a reputation as a secondary quality brand some time ago, and now offers independently made lenses that compete evenly with those of the camera brands' own. This model provides Canon, Nikon, Sigma, Sony and Pentax users with an excellent alternative, which will perform to standard and save them quite a lot of money. This may not be the most modern of the 24-70mm f/2.8 lenses on the market, but for the price it offers full-frame users an excellent value-for-money proposition.
Sigma has packed the construction with Extraordinary- and Super- Low Dispersion elements to help combat chromatic aberration, and uses three aspheric elements – and multi-layer coatings – to enhance resolution and contrast. HSM is Sigma's Hyper Sonic Motor, which drives the AF system quickly and quietly, and is the equivalent of Canon's USM and Nikon's SWM.
As you might expect from a lens with a constant f/2.8 maximum aperture across this sort of focal range, it is quite heavy, but at 715g it's somewhat lighter than similar models from Canon and Nikon.
Pros:
Affordable
Fast maximum aperture throughout the focal range
Professional build quality
Cons:
Older optical design
Still weighty at 715g, but to be expected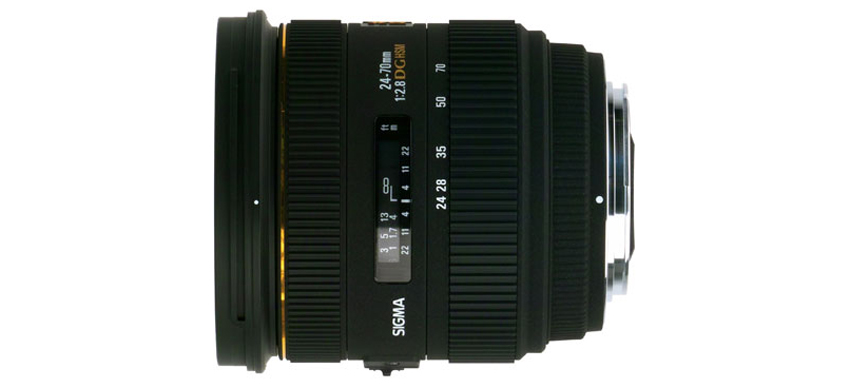 Tamron 24-70mm f/2.8 Di VC USD SP
Fit: Canon, Nikon
Tamron's premium 24-70mm is a relatively new lens, and uses the best of the company's technologies to create a fresh design, with new coatings, a new Vibration Compensation system and a new version of its Ultrasonic Silent Drive autofocusing motor. The lens is designed for use on the full-frame cameras of Canon, Nikon and Sony, but as always it is also compatible with APS-C sensor cameras from those manufacturers.
Tamron has thrown all its best glass at this SP lens, including three Low Dispersion and two Extra Refractive XR (index) elements, and image quality is, for all intents, at least as good as the more expensive models from the main manufacturers. Built to professional standards, the lens is rugged and designed to last, and, as we've come to expect from wide aperture zooms, it is as heavy as it is solid. It makes a very good choice for those wanting top-quality specification and performance, without the price tag associated with camera-brand optics.
Pros:
Great optical performance
Fast and quiet AF system
Very good price
Cons: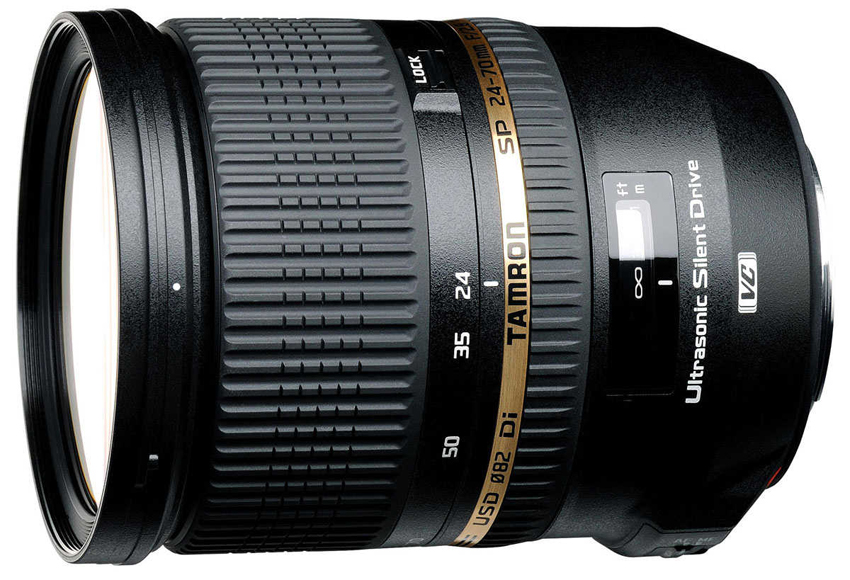 Tamron 17-50mm f/2.8 XR Di II VC
Fit: Canon, Nikon
This is another premium SP lens from Tamron, but this one is aimed at giving the APS-C sensor user a high-class standard zoom to mirror the 24-70mm f/2.8 models in the professional arena. Available in only two mounts, the lens acts as a 26-75mm for Nikon users and as a 27-80mm for Canon owners, but gives both a constant maximum aperture of f/2.8 throughout the entire focal range.
Although at the top end of Tamron's range it comes at a decidedly non-premium price, especially when you consider that it offers built-in Vibration Compensation and uses three of Tamron's best-quality Extra Refractive XR (index) elements. These elements help to keep the light path short in the barrel, so the whole unit can be made smaller and lighter (it weighs 570g and closes to 94.5mm).
Like the 24-70mm lens mentioned above, this lens is ideal for a massive range of shooting tasks – from landscapes, to group shots to still life and head-and-shoulder portraits. The wide maximum aperture permits great selective focusing via a shallow depth-of-field, and also allows users to work in low light without encouraging image noise through the use of higher ISO settings.
Pros:
Well-specified lens
Good price
Nice rubberised grip on the zoom ring
Cons:
Doesn't reach ultra wide angles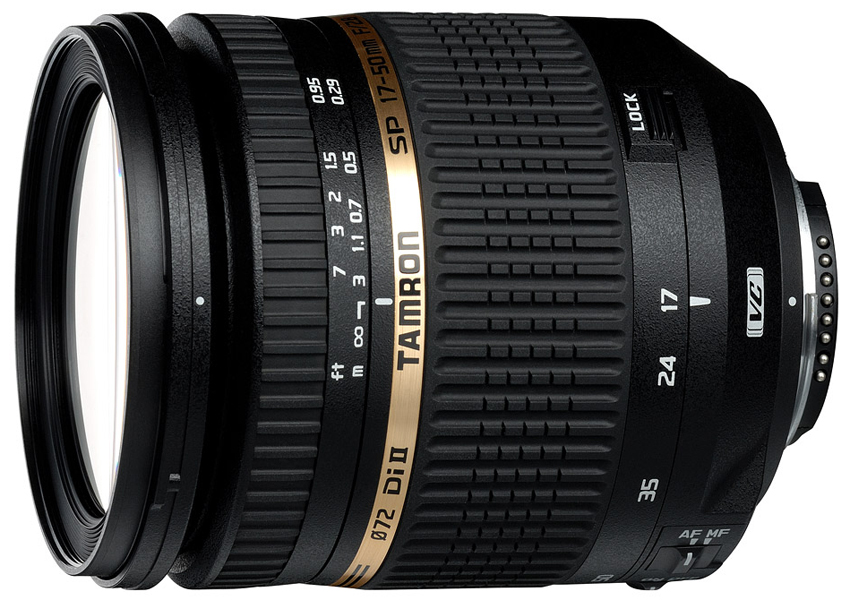 Pentax 16-50mm F2.8 DA* ED
Fit: Pentax
Pentax has yet to introduce a full-frame DSLR, so obviously this DA* model is compatible only with APS-C sensor cameras from the Pentax K range (as well as older Samsung GX bodies). Film bodies are not compatible. The DA* in the name also denotes that it is part of the Pentax weather-and-dust-protected range that more modern lenses declare with the 'WR' initials.
With an effective focal range equivalent to 25-77mm on a full-frame sensor, this model presents us with a similar shooting experience as the 24-70mm f/2.8 type lenses do in the professional classes. Pentax has used two Extra-low Dispersion, and three aspherical, elements to produce high-resolution images with minimal colour fringing. This was also the first lens in which the effective SDM supersonic focusing motor was featured.
This is a relatively expensive lens, but a great all-rounder for the Pentax user who likes to stick with the brand. Other manufacturers, including some of the independent makers, have introduced more modern designs since this model was introduced, but it still performs very well, especially at the longer focal lengths.
Pros:
High-level specification
Fast AF and maximum aperture
SP coating keeps front element clean
Cons:
Not most modern design
Quite pricey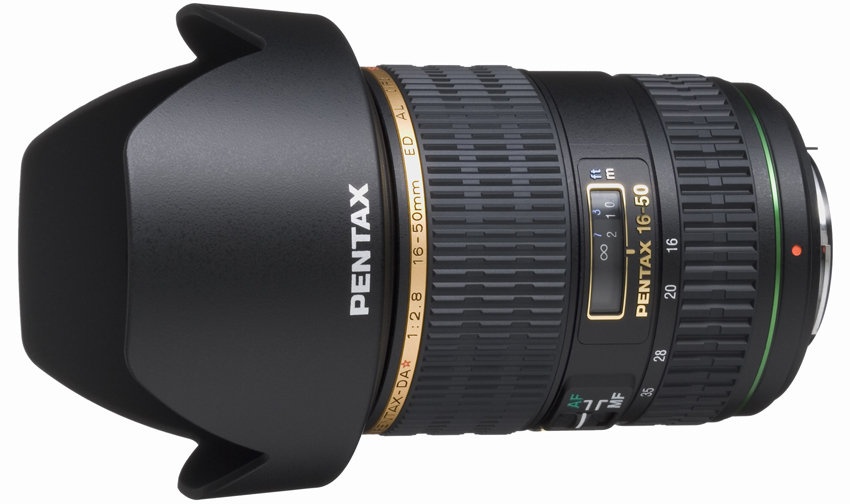 Sony 16-50mm f/2.8 DT SSM
Fit: Sony/Minolta
Designed to work with the company's APS-C Alpha range of DSLRs and SLTs (and in 'cropped' mode with the A99 and A900), this is Sony's prime offering for the standard zoom upgrader. Delivering the effect of a 24-75mm f/2.8 zoom, it is small enough and light enough that it really can be considered a go-everywhere lens, and for general work it can stay fitted to the camera body all the time. The zoom also features a locking mechanism that prevents the lens extending by accident when being carried face down.
Built to a modern design, and made remarkably well for a non-professional model, the lens uses plenty of top-quality glass and coatings to produce high-contrast and high-resolution images. Sony uses its SSM Super Sonic wave Motor to drive the focusing system, which is both fast and very quiet. The focal range is very useful, and though the use of only seven blades in the aperture (instead of nine as some others use) may lead to less-than-perfectly-circular bokeh at apertures between f/3.5-8, I'm not sure we all notice such things!
Pros:
Compact and quite lightweight
Good quality optics
Fast and smooth AF
Good price
Cons:
Maybe a nine-bladed aperture would have been better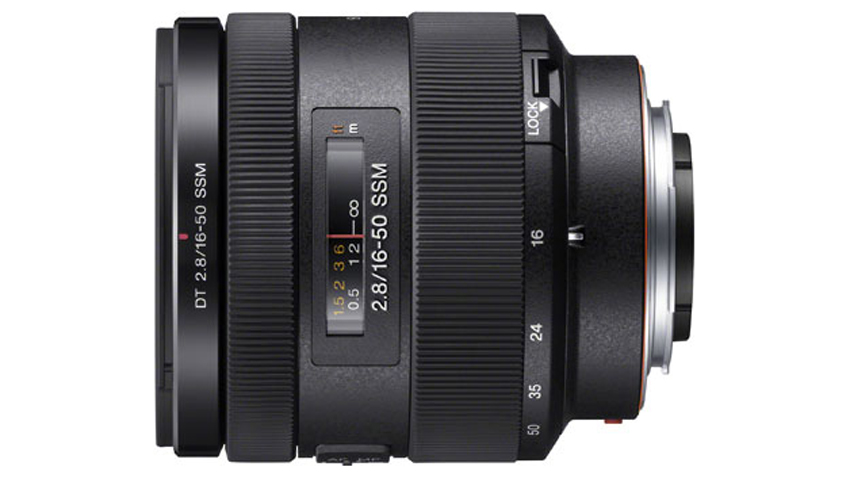 h2>About the Author
Damien Demolder is a independent photographic consultant and former editor of Amateur Photographer magazine. Damien also runs a number of photographic events and courses for photographers of all abilities. For more information visit his website.
Related articles