Keep your gear about your person and ready to use with a specialist photo vest. Giles Babbidge takes a look at three excellent examples
Photo vests have long been the kit-carrying choice of sports, event and press photographers alike. With multiple pockets and plenty of scope for personalisation, their appeal is clear to see. Pick the right one and it can be a comfortable, practical alternative to lugging around a camera bag.
Here, I'm taking a quick look at three brands who offer a variation on the theme.
Lowepro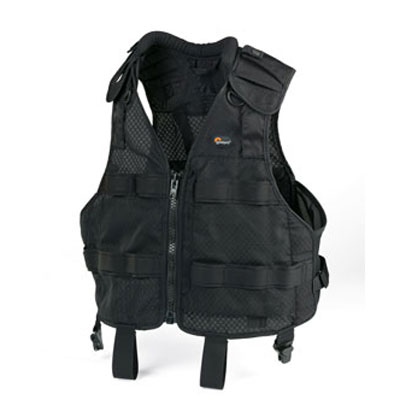 Lowepro S+F Technical Vest
Lowepro has been at the centre of camera bag development for many years, and its range has grown to include more lightweight alternatives to the humble shoulder bag or photo backpack.
Within the Street & Field series, you will find the durable nylon-and-mesh Technical Vest, which is designed to be used in conjunction with the S&F Deluxe Technical Belt or S&F Light Utility Belt.
Given that this is a more technical item, you get such things as fully adjustable shoulders and cinch-down straps, allowing for the best possible fit. There are numerous attachment loops on the front, hideaway D-rings, an internal cable port (handy if you shoot video and record audio) and even a place to store your jacket.
If you currently have items from the S&F system, this vest would be the perfect addition. You'll already be familiar with the style in which pouches attach to the belt (not to mention the kinds of features they have) and you can be sure that all items will work perfectly together, giving the best possible combination of practicality and comfort.
Vanguard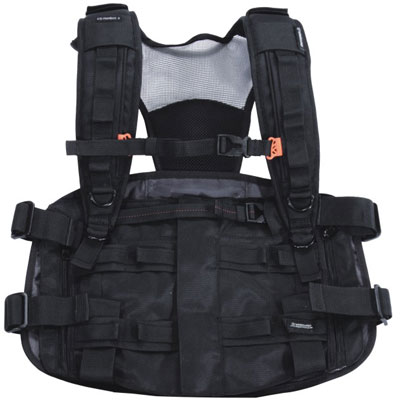 Vanguard ICS Vest
Vanguard takes a similar approach with the ICS Vest, but favours a somewhat stripped-down look. Essentially a pair of backpack-style straps and a front panel featuring multiple fastening points, this one allows you to attach your DSLR along with accessories. The perfect fit comes courtesy of a back adjustment system and dual side adjustable straps.
If you are the sort of photographer who likes to travel light, working with a minimum of kit, the ICS Vest is worth a look. It doesn't have the same extent of features as Lowepro's offering but, in a roundabout way, this could be one of its biggest selling points for you.
As a final point, if cost is a consideration, the ICS Vest has the most budget-friendly price tag out of all three featured here.
Billingham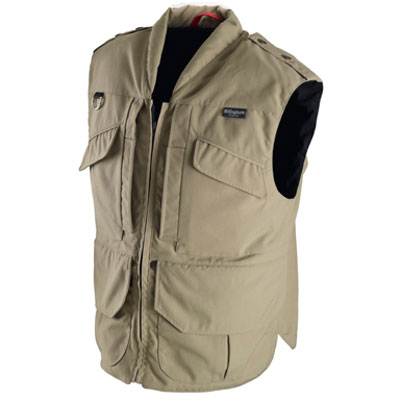 Billingham PhotoVest
For those who prefer the more traditional, less 'photo vest' look, the Billingham PhotoVest fits the bill. Taking a leaf out of the company's familiar classic bag styling, what you get here is a much more subtle garment than most photo vests. It is fully lined, water resistant and machine washable, and so is likely to appeal to wildlife photographers, keen bird spotters and outdoorsy types.
Features are not thin on the ground, either. Mesh lined vents increase airflow in warmer conditions and Billingham have deliberately made it shorter than most vests, meaning that items in the lower pockets don't bounce against your legs.
The interior features two large zipped pockets for securing small items like wallet, phone, keys etc. On the outside, there is plenty of space in a number of large pockets which will comfortably house camera bodies, lenses or flash guns. Either side is a zipped pocket which extends from just above the waist up to the shoulder – perfect for longer items up to 60cm.
If you are keen on travel, this vest is likely to appeal. Its styling is subtle, so it doesn't attract attention, and its plain-weave textured nylon is great for long, hot days spent sightseeing.
About the Author
Giles Babbidge is a commercial and editorial photographer based in Hampshire. He travels all around the UK and works with a wide range of clients – you can find out more about his day-to-day activities over at his website.
Related articles