Make your wildlife photography easier, more effective and more enjoyable with these accessories
Wildlife photography isn't all about spending huge amounts of money on the fastest cameras and the longest lenses. They help of course, but there are loads of great little additions, that can be a great help when you're working out in the field, in pursuit of that perfect shot. Many of which you'll wish you'd have picked up sooner!
1. Remote release
Remote releases help you to position your camera close to the action, reducing the need for long lenses
When you're starting out with wildlife photography, it's easy to get blurry eyes and become attracted to those huge shiny lenses that you think you need. Instead why not get into wildlife photography in a different way and move your camera closer to your subject whilst keeping your distance? The great thing about this way of shooting is you probably don't need a new camera or lens, but instead just a remote release.
Now these little accessories come in a variety of models and range in prices from tens to hundreds of pounds, but all work around the basic principle of transmitting the triggering signal from a handheld unit to a camera positioned where you think your subjects will appear. You will most likely want a radio trigger as they work over longer ranges and don't require line of sight to work, perfect for outdoor use or for tricky positions.
If you want to get a little more technical, more recent cameras and systems can also transmit the live data from the camera to a handheld device. Products such as the Manfrotto Digital director or CamRanger system allow you to alter and change exposure setting, focus points and more through live view for the perfect shot.
Triggering from distance is a great way to get close up wildlife images
2 + 3. Reflector + Wimberley plamp
Nature photography covers all types of subjects and for those of you interested in the smaller creatures and plants of the world, a reflector can be an excellent way of throwing some additional light into your subject for creative images.
Simple and relatively cheap, these fold-out disks have a reflective surface on either side (often in a variety of colour casts) for adding light to your images. For most purposes, a gold/white reflector creates the most natural-looking results, as silver reflectors throw a harsher, punchier and less natural looking light.
With reflectors being rather large and unwieldy at times, holding them in position (if you don't have an assistant handy) can be tricky. Wimberly has come to the rescue, however, with the Plamp. It's a small clamping arm that can help hold accessories like a reflector in place, leaving your hands free for composing and working the camera.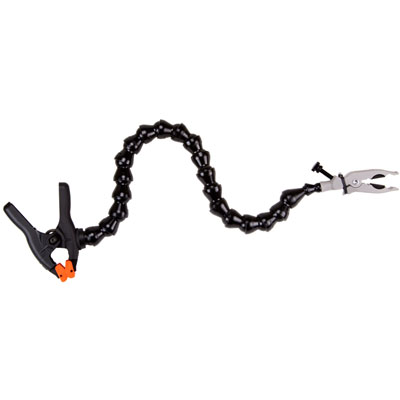 The Wimberley Plamp, useful for holding bits and pieces in place
4. Bum Bag
Hear me out on this one… I know it's a bit of an 80s or 90s blast from the past, but a bum bag is honestly a fabulous addition to your camera bag selection.
If you enjoy working low on the ground and crawling around on beaches, through fields or ditches as I do, then one of these is just the ticket. Staying firmly in place, they are just excellent when you are crawling on your front. Holding all you need in a non-bulky easily accessible location, larger models will hold a teleconverter, spare small lens or even a whole camera, as well as standard accessories such as memory cards, waterproof cover, snacks, etc.
They minimise weight and bulk and allow you to move freely without having to either drag a heavy camera bag along behind you or struggle with it on your back!
Just maybe don't wear them out and about around town…
5. Low-angle finder
When working low on the ground for long periods of time, be shooting at a distance with a long lens or doing close ups and macro work, you can easily start to develop pains in the neck. There is nothing that saps creativity like pain. If you want to help avoid this unnecessary inconvenience, think about getting hold of a right-angle viewfinder.
These allow you to look straight down rather than horizontally, providing a more comfortable position for framing when close to the ground. They also make it possible to get even lower than ever before, as you are no longer limited by the height of your own head from the ground giving you more possibility for those ultra-low, bokeh-licious images!
Of course if you have a DSLR or camera with a tilting LCD, you can use this to create the same effect, but of course this has the downside of being hard to see in strong sunlight.
6. Bag hide
Bag hides are lightweight, portable and great accessories for blending into the environment
With some subjects, it's important to stay concealed in order to get close-up images. Wearing camo clothing often isn't fully effective, as even though the patterns help you to blend into the environment, they still don't conceal your body shape – this is where a bag hide comes in!
Bag hides are bags that, well, hide you. A throw-over, cape-style design made of camouflage material, they are positioned over the photographer and tripod, disguising the body shape, blending you into the background. Designs come in waterproof or lightweight models (I prefer the lightweight one as they can always be thrown in the bag for impromptu use) and are great for staking out subjects. Use them with a compact folding chair or ground level chair for added comfort and you'll be able to work for hours at a time. Another benefit is that bag hides create a small internal micro-climate, meaning they'll also keep you warmer on those cold days out on location! Add a flask, lunch box and you're ready for a great day of wildlife photography!
So there you have it, six accessories to add to your camera bag that won't break the bank and will help you when you're out producing images of nature!
Do you have any suggestions of kit you couldn't live without in your wildlife photography bag? There are so many great things to mention, but what do you find yourself using on every trip?
About the Author
Tom Mason is a wildlife photographer and journalist, and is also the host of our Life in the Wild series. Keep up with him on Twitter, @TomMasonPhoto, or visit his website for more.
Related articles