Create studio-quality prints of your images at home with our picks of the best printers to suit every budget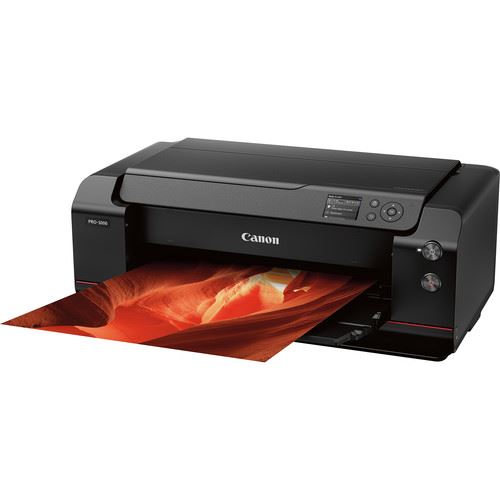 Want to print your images at home? It doesn't have to be a great expense!
Being stuck at home is the perfect time to get started on that project you've always been putting off – making prints of your best images. Digital files are fleeting things, and when it comes to making memories that'll last for many generations, nothing beats a high-quality physical print.
Which printer to choose? There are models out there to suit all different needs and budgets – some designed to work with desktop computers, others that are more geared to work with smartphones. We've assembled this list of the best on the market right now to help you sort through the noise and find the printer that's right for you. Whatever your needs, aims and budget, we're confident that somewhere here, we'll have the printer for you.
So let's get started!
For those with a bigger budget and bigger prints in mind, this pro-grade A2 printer from Canon should fit the bill nicely. Render your images in glorious professional colour and detail with this printer that boasts a 12-ink pigment-based system – it's especially good if you're already a Canon EOS user, as you'll be able to take advantage of the new 'Crystal-fidelity' functionality to produce prints of unmatched sharpness.
Even if you're not a Canon user, there's still plenty to recommend here. The printer offers Wi-Fi and Ethernet connectivity that allows you to download updates as well as sending images directly to the printer, and its 3-inch display makes operation easy for even the novice user. The printer has been designed with today's high-resolution sensors in mind, and accepts 1200ppi high resolution image data for smooth, fine lines.
Canon imagePROGRAF PRO-1000 Inkjet Printer
0% Interest Free Credit Available
The Canon imagePROGRAF PRO 1000 is a professional inkjet A2 printer designed for art schools, graphic artists, designers, and professional photographers. Boasting an advanced 12-ink pigment based system, as well as a new 1.28" print head and processing engine, the imagePROGRAF PRO 1000 produces stunning quality prints up to A2 in approximately 6 minutes. A new 'Crystal-fidelity' feature ensures photos taken with Canon EOS cameras can be faithfully reproduced with exceptional precision. In addition, wireless and cloud connectivity offer users the freedom to print from a variety of devices and popular apps. Please note: Due to the size and weight of this printer we can only ship this item to UK destinations on a 48 hour delivery service via FedEx (£7.95).
£949.00 inc. Cashback View
If you've got an eye on selling your prints, then the PIXMA Pro 10S from Canon is a great choice for an affordable printer that produces prints at excellent quality. It uses a 10-ink pigment-based system to spit out prints at gallery quality, and with three dedicated monochrome inks, your black and white prints are guaranteed to look just as good as your colours. The Pro 10S uses LUCIA and Chroma Optimizer inks, resulting in a finished product of dazzling quality.
It's also fully connected and cloud-enabled, making it easy to slot the printer into an existing digital workflow. Before you know it you'll be shooting, editing and printing in a steady cycle, cranking out more terrific images than you know what to do with! Import images from Facebook, Dropbox, Google Drive or OneDrive – the PIXMA Cloud Link system makes it easy, and thanks to the PIXMA Printing Solutions app, you can also easily print directly from your iPhone or Android smartphone.
Also consider: The Canon PIXMA Pro 100S Printer, which is available for a lower price, and uses an 8-ink system.
Bet you didn't think you could get a high-quality A3 printer for a price as low as this! The Canon PIXMA iP8750 Photo Inkjet Printer may be an absolute steal, but it's also a highly capable wireless printer, able to make use of a sophisticated six-colour system that also makes use of grey ink for excellent monochrome prints as well as colour ones.
Accepting paper in various sizes and thicknesses, the PIXMA iP8750 Photo Inkjet Printer is a reliable printer that will suit most photographers' purposes and do so impressively quickly – it's capable of producing a lab-quality borderless photo measuring 10x15 cm in approximately 36 seconds.
Wireless connectivity is present and correct for easy image transfer, and the printer also has a handy single-ink system with individually replaceable cartridges, meaning you only have to top up the colour that runs out and can stand to save a fair bit of money on cartridges. All this adds up to make this the best printer for those on a budget.
Canon PIXMA iP8750 Photo Inkjet Printer
The Canon PIXMA iP8750 Photo Inkjet Printer is an A3+ wireless printer ideal for photo enthusiasts looking to step up and print high quality images from home. The iP8750 produces exceptionally stunning colour photos and smooth gradations in mono prints using its 6-ink system, which includes an individual grey ink, and its FINE print head technology with up to 9600 dpi resolution. Furthermore, by downloading the Canon PIXMA Printing Solutions app, users can select photos to be printed direct from a smartphone or tablet. The Canon PIXMA iP8750 will accept a variety of paper in a range of sizes, from 10x15cm up to A3+ (not canvas).
£199.00 inc. Cashback View
Anticipate putting your printer through a lot of work? The reliable Epson SureColor SC-P800 Printer is an ideal choice for heavy users, with generous 80ml cartridge sizes that are ideal for extensive runs of professional-grade prints at sizes of up to A2. It also has a roll paper option for printing on roll media up to 17 inches in width, and its compact footprint means it won't take up too much space in the home or studio.
The SC-P800 uses 9-colour UltraChrome HD inks, producing images with a wide colour gamut and incredibly high black density. Prints are guaranteed to look great and last a lifetime thanks to the inks' improved light fastness. With three paper paths available, you can load up multiple types of media at once, and the printer is also quick to set up and easy to use.
The Epson ET-7700 EcoTank A4 Printer strikes an excellent balance between quality and cost, and is a great printer to choose if you're thinking long-term. It's capable of producing up to 3,400 photos (size 10x15cm) with the included ink before it requires a change, and once you finally do need to refill, the process is refreshingly uncomplicated and doesn't make a lot of mess.
The five-colour ink system of the ET-7700 EcoTank A4 Printer produces prints that the manufacturers say can last up to 300 years in a photo album if properly stored. The printer also has an SD card slot if you want to print straight out of camera, as well as Wi-Fi and Wi-Fi Direct connectivity, giving you the option to send files from smart devices via the Epson iPrint app.
When you think of printers, you don't necessarily just need to consider desktop models – why not try a dedicated smartphone printer? The Canon SELPHY Square QX10 Printer is a small, portable, square-format printer that you can carry around with you and whip out at a moment's notice to quickly produce 2.7x2.7-inch prints of images sent via Wi-Fi. This makes it great fun for parties or days out – performing a similar function to an instant camera.
The printer can be quickly charged via USB if needed, and thanks to the Canon SELPHY Photo Layout app, you can also quickly assemble stylish collages for print if you so desire. The QX10 uses the dye-sublimation printing technique, which uses heat to transfer ink to paper for fast, long-lasting results.
Canon SELPHY Square QX10 Printer - Pink
The Canon SELPHY SQUARE QX10 instant smartphone printer provides you with a portable tool to immortalise those important moments with in the form of vibrant, rich photo-prints. These will last you for up to 100 years - so that generations can enjoy and live through your memories with you. The printer is easy and convenient to use; simply operate it through your smartphone to create 2.7 x 2.7-inch prints.
£149.00 View
A particularly good printer for portrait photographers, the Epson Expression Photo HD XP-15000 Printer uses six-color Claria Photo HD inks to produce images with smooth tonal gradation and excellent skin tones. Producing professional-quality borderless prints up to 13 x 19 inches in size, so if you want glorious A3 prints of your images, look no further.
Able to handle plenty of different types of photo paper, the Epson Expression Photo HD XP-15000 is simple to set up and easy to use, and thanks to its relatively small footprint, you don't have to worry about it taking up too much space on your desktop. Printing speeds are fast too, which is handy if you anticipate producing lots of copies of your images, and it has both wired and wireless connectivity.
Epson Expression Photo HD XP-15000 Printer
The Epson Expression Photo HD XP-15000 is a wireless wide-format A3 printer with 6-colour Ultra HD inks for delivering pro-quality borderless prints up to 13"x10". The HD XP-15000 features a red and grey ink for an ultra-wide colour gamut and enhanced black and white prints, in addition to automatic two-sided printing, a large 50-sheet rear tray, a 2.4" colour LCD, and wireless connectivity.
£279.00 View
This is the latest in Epson's professional-quality line of printers for studios, so as you might expect, it has all the most up-to-date features and technology, with a 10-colour UltraChrome Pro 10 system that produces some of the deepest blacks on the market. Your images will look fantastic on paper, and thanks to the easy-to-use interface, you won't have to bury yourself in manuals to figure out how to do it.
The generously sized 4.3-inch touchscreen makes operating the printer a breeze, and it has all the connectivity features you'd expect from a modern printer, allowing you to send images via Wi-Fi for quick printing from a smart device. You can print at up to A2 size, so dream big, and make those gorgeous home prints of your photos a reality!
Epson SureColor SC-P900 Printer
The Epson SureColor SC-P900 Printer is the next in line of Epson's professional-level quality printers. It offers accuracy and high printing performance for home, office and studio use, printing up to A2+ paper size; all encased in a sleek, clean and compact design. The new innovative design features a 10 Colour UltraChrome Pro 10 system and offers the deepest blacks tones currently on the market. It's easy-to-use with a customisable user interface, accessed by the highly-intuitive 4.3-inch LCD optical touchscreen.
£1,079.00 View
Another portable smartphone printer, the Instax Square SP-2 is a perfect tool for producing quick, credit card-sized prints of images sent directly via Wi-Fi. With a smartphone or compatible Fujifilm camera, you can be holding a print in your hand in as little as 10 seconds, and with resolutions of 800 x 600 dots and 320 dpi, it'll look great too!
The design of the printer is sleek and compact, perfect for carrying around whether as a professional tool (for wedding photographers, say) or just for fun. Bring Instax magic to your digital photos, and create a whole new world of possibilities with your images.
Related articles