Get more from your smartphone and dedicated camera with these must-have apps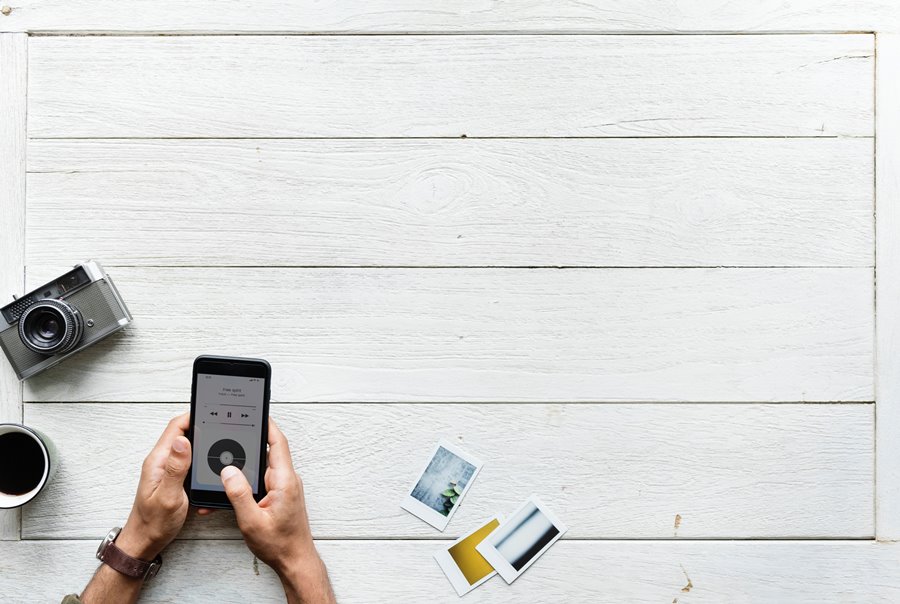 Photo by rawpixel.
Smartphones are suitable for far more than just a few candid snaps and some quick edits. Whether you're an Android or iOS user, both operating systems can be paired with a variety of tools, so you can get the very best shots from the camera that never leaves your side. Even if you don't take pictures on your smartphone, you'll find a variety of apps that can turn your device into a useful accessory in its own right. Here, we round up our favourite applications that will turn your smart device into a kit bag essential…
1. LEE Filters – Stopper Exposure (Free)
Shooting landscapes with a 10-stop ND filter to produce streaky skies and ethereal-looking water has become a hugely popular technique over the past few years. But, calculating the massive difference these light-reducing filters make to exposure times can become somewhat confusing, and often results in a trial and error approach to image taking. Simplifying this process is LEE Filters' Stopper Exposure, an intuitive and free app that automatically calculates the exposure time required when using filters. Simply select the exposure time you would use without the filter and input the strength of filter you're going to use (6-, 10- or 15-stop). The app will then calculate the new setting needed for the perfect image.
2. PhotoPills (£9.99)
The PhotoPills app provides a range of tools to help you realise the photos of your dreams. Want to know exactly when the stars will align behind that mountain or when the sun will set between those rocks? Simply design your shot through the app, and it will calculate the day and time you need to visit your location to make your capture come to life. With augmented reality, you can stand at your location and see how celestial bodies will move in front of you over the coming hours.
Want to get notifications as to when that next killer shot is coming up? You can build a database of the images you want to capture, as well as your favourite locations and points of interest, ready to be utilised on your next trip out. With other useful features like field of view and subject distance calculators, star trail simulators, time-lapse interval and hyperfocal distance tables, every part of your shoot can be planned and visualised.
3. Easy Release – Model Release App (£9.99)
Getting a model and/or property release signed is an essential part of any photoshoot where you intend to publish or sell the images that you've captured. But, dragging around bundles of paper contracts can be inconvenient and digitising them once you've returned home is yet another job to add to the list of things to do. Streamlining the process for all involved is the Easy Release - Model Release App.
This iOS and Android app enables you to collect all necessary data and signatures on-location (and via a touch-sensitive device). You can then email a PDF or JPEG of the completed form directly to yourself and everyone else involved. It comes with industry standard model and property releases in 17 languages, and provides the user with a number of options including the name of the release, its title, branding and legal text for total customisation. With automatic backup to either Dropbox or Google Drive as well, the Easy Release - Model Release App is a more intuitive and secure way to avoid unwanted legal surprises in the future.
4. LightMeter Free (Free)
Whether you're shooting analogue photography and need an accurate reading for your film shots, or just want to check ambient light levels before starting a digital shoot, LightMeter Free is a surprisingly accurate app that turns your smart device into a light meter. It can read incident light levels on all compatible phones and tablets, while reflected light and spot metering are also possible with many as well. Unfortunately, this particular application is only available for Android, but similar apps can be downloaded for iPhone and iPad. A paid version removes adverts and adds additional features.
5. The Photographer's Ephemeris (£2.79/£8.99)

If you're a landscape or travel photographer looking to produce that award-winning image, then this app could make your life a whole lot easier. The Photographer's Ephemeris [TPE] is a map-centric sun and moon calculator. The app allows you to see how light will fall on land – be it day or night – almost anywhere on Earth. This allows you to judge where the sun and moon will rise and set, and there's even a light pollution overlay, so you can judge just how visible those stars will be at a given location. Once you've adopted TPE as part of your planning process, you'll wonder how you ever managed without it.
6. 500PX (Free)
If you're looking for an alternative to Instagram, want some inspiration for your next shoot or intend to start selling your images, 500PX might just be the solution. This image sharing platform is home to some of the world's best images and hosts a community of passionate photographers, photo buyers and fans. The 500PX app allows you to search and explore images, upload your own (for both feedback and sale) and start networking with fellow photographers.
7. Tides Near Me (Free)
If you're taking photographs by the sea, the tide can have a massive influence on your images. Maybe you want to know the best time of day to produce a big-stopper image of a ruined pier. Perhaps you want to avoid visiting the coast and being greeted by a mile-wide stretch of beach. If either scenario sounds at all familiar, then Tides Near Me could prove extremely useful. But it doesn't stop there; the app can also notify you of moonrise, moonset, sunrise and sunset from specific locations too. Tides Near Me is an intuitive reference tool, which could save you from heading out in the early hours of the morning for nothing.
8. Steller (Free)
Looking to showcase your work in a dynamic new way? Steller enables you to turn your photos, videos and words into mini-magazines – perfect for sharing via Facebook and other social media platforms. A variety of clean and professional themes collect your content into appealing packages to encourage engagement. You can even discover and follow fellow creatives and their creations, networking within a hub of visual storytelling.
About the Author
Matt Higgs has worked for Practical Photography and Digital Photo magazines, and his live music images have been featured in numerous respected music publications including Rock Sound, Guitarist, Guitar Techniques and Akustik Gitarre. www.matthiggsphotography.co.uk.
Related articles