All the kit to take your videos to the next level! We pick our favourite video accessories available right now…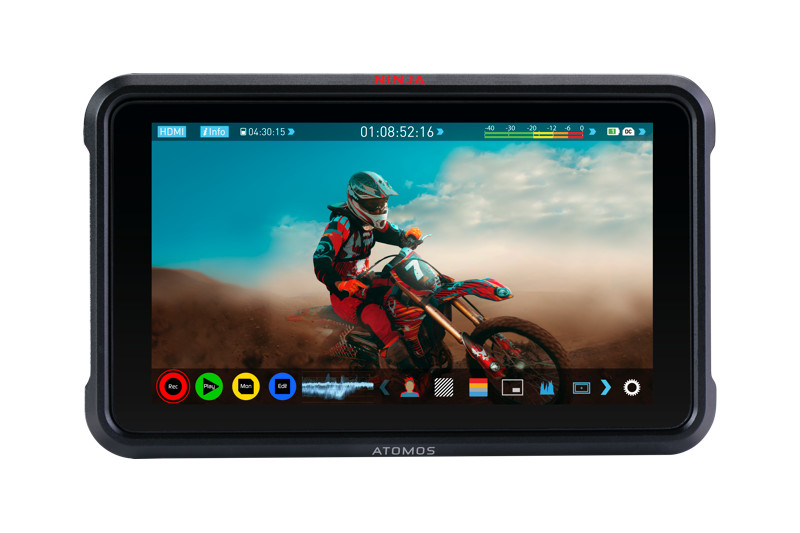 Whether you're looking to make your productions stand out more or just make things that little bit easier, a single accessory can breathe new life into your filmmaking projects.
2018 has provided no shortage of terrific tools for filmmakers and since there are too many to list comprehensively, here are a few of our favourite accessories that will make a real difference to your filmmaking...
1. Atomos Ninja V
An external recorder can expand your filmmaking potential in all sorts of ways – there are plenty of cameras that won't shoot their highest resolutions internally and require a recorder to do so. For our money, the best recorder for its price on the market right now is the superb Atomos Ninja V. It offers high-quality HDR video recording, and monitoring for DSLR and mirrorless systems, with 4K 60p 10-bit compatibility, meaning it'll work with pretty much every camera in the class it's aimed at. Thanks to its HDMI 2.0 connection, you can transfer files quickly and efficiently, while the 1,000-nit, 5-inch screen on its rear is bright, even in daylight. This is a truly excellent piece of kit, and you'll be amazed at the difference it makes to your filmmaking.
Read more about the Atomos Ninja V here...
2. LaCie DJI Copilot
Despite its name, the Copilot hard drive doesn't necessarily have to be used with a drone, though it certainly works well with one. The device is a useful high-capacity hard drive for backing up your footage while you're out shooting. It boasts 2TB of capacity (enough for up to 60 hours of 4K video), fast transfer speeds and a display that allows you to review the progress of your transfers, your available capacity and battery life. It's built to be durable and weather-resistant, and can also function as a backup battery pack for USB-chargeable devices. The assistant you never knew you needed, whether you're flying high or staying on the ground.
Read more about the LaCie DJI Copilot hard drive here...
3. Omnicharge Omni 20
The more gear you have, the more power you need and this just increases the possibility that one day you're going to be embarrassingly caught out when some vital device or another dies mid-shoot... Put that fear to rest by picking up an Omnicharge Omni 20, a universal charger designed to power up everything you'll likely have in your filmmaking kit. Packing in a whopping 20,400mAh worth of power (equivalent to around twenty Sony Alpha NP-FW50 batteries), the Omni 20 can be used to charge cameras, laptops, drones, recorders, phones and more, as well as being used to power lights or even a large TV if you happen to be carrying one around (you never know). Before you know it, the Omnicharge Omni 20 will become indispensable.
Read more about the Omnicharge Omni 2 here...
4. SmallHD FOCUS OLED
SmallHD's FOCUS monitors have a deserved reputation for their gorgeous displays. The wide-gamut FOCUS OLED is able to reproduce colours accurately and faithfully on its full HD screen. It also features a 7.2V power output that allows it to power DSLRs and mirrorless cameras, as well as an integrated Sony L-Series battery slot. Included in the package is SmallHD's FOCUS Tilt Arm mounting accessory, which allows you to position the monitor exactly as you want for any given setup.
Read more about the SmallHD Focus 5.5 inch 1080p OLED HDMI Monitor here...
5. DJI Ronin 2
The grandaddy of portable gimbals is back! DJI's Ronin 2 builds on the success of its predecessor – the 3-axis handheld gimbal boasts more stabilisation power than ever, thanks to upgraded high-torque motors and enhanced intelligent algorithms that can compensate for all kinds of camera movement, resulting in footage that's delectably smooth. Its maximum payload capacity of 13.6kg makes it suitable for even high-end setups, and the detachable grip adds an element of customisation that expands its utility in a range of shooting systems.
Read more about the DJI Ronin 2 here...
6. Kino Flo Diva-Lite 21
Being able to control your own light when you need to is a must, and the Kino Flo Diva-Lite 21 is a highly versatile and tunable LED panel, with dial-in Kelvin control between 2,500K-9,900K. It allows you to save presets, so when you find settings that work well in particular situations you can keep them handy. The Diva-Lite 21 also maintains colour correct colour temperature throughout the full dimming range, so there's no colour shift while you're dimming it, as can happen with cheaper panels. It's both energy efficient and equipped with universal power inputs, and there are even presets and special effect modes to play with, which is a nice addition.
7. Blind Spot Gear Scorpion V2
Another handy lighting solution, the Scorpion is designed to be flexible, portable and easy to use. It's ruggedly built and designed to be able to attach to almost anything, thanks to its 16mm spigot, allowing for creative setups. This V2 version is significantly brighter than its predecessor, putting out up to 2,400 lux at one metre. You can pick up the V2 in a pair or quartet depending on your needs – either way you're getting some seriously good lighting tech.
Thanks for reading! See you next year, and stay with us for all the latest video accessories and tech.
For more great content, visit our YouTube channel, Facebook, Twitter and of course, the Wex Blog.
Related articles