We round up the best video cameras you can buy right now, from budget models to pro-spec camcorders
With video on consumer cameras getting better all the time, choosing the best cameras for video right now is a hard task! Luckily we felt up to the challenge, as have put together this guide to help anyone who is in the market for a new video camera.
We've engineered this list to cover the full range of video options on the market right now. As such, we've included mirrorless cameras, a DSLR, professional-grade camcorders and a compact camera or vlogging, as well as a waterproof action camera and even a drone! Whatever kind of video you want to shoot, the models on this list should have you covered, and we've factored price into our choices as well, so you can be sure you'll be getting value for money.
We'll keep this list updated, so you can be sure it's replete with current models. So without further ago, let's dive right into the best cameras for video right now!
1. Sony A7S III
Key specs:
Exmor R 12MP Full-Frame BSI Sensor
4K 120p + 4:2:2 10-Bit Internal
FHD 240p with AutoFocus
16 Bit RAW transfer via HDMI
S-Log Fx9 Colour Matching
New codecs: H.265, X-AVCHS
Mirrorless video shooters have been singing the praises of the Sony A7S series ever since the first one arrived all the way back in 2013. The wait for the A7S III was long, but from the looks of the spec it's definitely been worth it, with this highly sensitive model being more attuned than ever to the needs of video producers.

Equipped with an Exmor R 12MP full-frame BSI sensor, the Sony A7S III sports a native ISO range of 80 to 102,400, expandable to 40 to 409,600. The first camera made headlines for literally turning night into day, and this one continues that noble tradition, with the addition of a BIONZ XR Processing engine that improves its performance eightfold over previous models.
The A7S III offers 4K 120P (4:2:2 10bit) and FHD 240P recording, as well as S-Log FX9 colour-matching, 5-axis stabilisation, a 759-point autofocus system, and lots, lots more. Unmatched in speed and sensitivity, the A7S III is a game-changing mirrorless camera for video shooters, and one we expect to see a lot of content shot on in the years to come.
Who's it for? Pure video shooters and hybrid content creators alike; anyone who likes shooting in low light
Who isn't it for? Those who want high megapixel counts
2. Panasonic LUMIX GH5S
Key specs:
Cinema4K video in 4:2:2 10-Bit, or 4K in 8-Bit up to 60fps
Increased ISO Range of 160-51,200
3.5mm audio jack can be set to line level
Autofocus up to -5EV
Pixels 1.9x larger than GH5
V-LogL built in
Panasonic's LUMIX GH cameras have always been video/stills hybrids with a firm emphasis on video, but the GH5S – an update to the GH5 from 2017 – cranks this up further. It slashes the resolution of the GH5's Micro Four Thirds [MFT] Live MOS sensor in half, from 20.3MP to 10.2MP. This means there is more room on the sensor for the megapixels, which are up to 1.96x larger than those on the GH5, meaning the GH5S can gather light much more efficiently, to the tune of 2.38x more sensitivity than its predecessor. Other advantages include up to 25% less noise, an improved signal to noise ratio of up to 1.5 stops and faster readout from the sensor, which means reduced rolling-shutter distortion.
So while this isn't the camera to buy if you're planning to make prints from stills, for video shooters it's optimised practically to perfection. It shoots 4K in 10-bit 4:2:2, internally, recording Cinema 4K (DCI 4K) at up to 30fps in 10-bit 4:2:2 or up to 60fps in 8-bit 4:2:0, and it also improves upon the GH5's slow-motion capabilities, with the ability to shoot in Full HD at a super-slow 240fps, rather than 180fps.
There's loads more to talk about on this superb camera. It comes with Panasonic's flat gamma profile V-Log L built in – no need for firmware updates – and has a multi-aspect sensor, meaning no matter what aspect ratio you're shooting in (4:3, 16:9, etc) you'll always be using the full width of the sensor. All this is housed in a rugged body that's well equipped for outdoor shooting, making the Panasonic LUMIX GH5S an all-around superb, enticing prospect.
Who's it for? Any video shooter who wants a fantastic, reliable camera with great features and a huge range of lenses.
Who isn't it for? Those who don't like mirrorless-style controls.
3. Nikon D780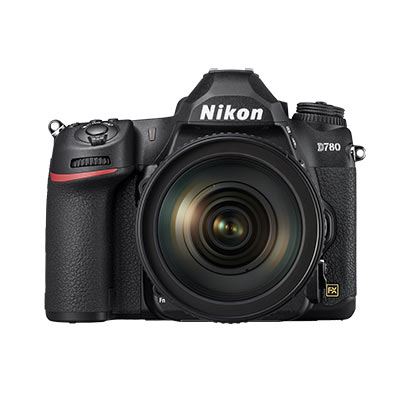 Key specs:
24.5 Megapixel Full Frame CMOS Sensor
EXPEED 6 image processor
51-point Phase-Detection AF via Viewfinder
273-point Hybrid-AF system in Live View
4K/UHD footage at 30p/25p/24p with zero crop factor
Dual SD card slots
One of the best DSLRs around right now, blending the best of DSLR and mirrorless technology, the Nikon D780 is one of the best DSLRs you can choose for video shooting. It's able to use its 6K imaging sensor to output ultra-high-resolution 4K/UHD footage at 30p/25p/24p, with none of the pesky crop factor that plagues many similar cameras.
The D780 also allows the user to record in Hybrid Log Gamma (HLG) footage when it's paired with an external recorder, and can record N-Log internally. There's also an impressive sensitivity range to play with, with ISO settings expandable to 50-204,800.
Who's it for? Hybrid stills/video shooters; anyone who likes the form factor of a DSLR.

Who isn't it for? Pure, high-end video shooters.
4. Blackmagic Pocket Cinema Camera 4K
Hotly anticipated by huge swathes of the industry, the Blackmagic Pocket Cinema Camera 4K arrived with our expectations at a fever pitch and it did not disappoint. With a small form factor (though 'pocket-sized' is up for debate), the BMPCC shoots 4K 60fps in 12-bit RAW with a full-sized Micro Four Thirds sensor, meaning none of the unfortunate crop factor that blighted the original, and also means that with the aid of a Metabones adapter, users can now take advantage of the enormous MFT lens range.
We stuck a Panasonic 12-35mm f/2.8 OIS lens on the front of the BMPCC 4K to shoot the test footage, and you can judge the quality for yourself in the video above. The new BMPCC 4K also introduces some popular new features to the Blackmagic line, including dual native ISO, allowing users to shoot at higher ISOs without compromising on quality. An all-around winner from Blackmagic – full marks!
Who's it for? Anyone who wants a great-value 4K camera.
Who isn't it for? Top-range pros.
5. Canon PowerShot G7 X Mark III
Key specs:
4K movies
120fps Full HD movies
3.5mm mic input
24mm 4.2x zoom lens
20.1 megapixel 1.0-type stacked CMOS sensor
Livestreaming capability
One of the best cameras for vloggers available right now, the Canon PowerShot G7 X Mark III may look like a tiny compact, but it's got the capacity to shoot glorious 4K video, as well as Full HD movies at a super-slow 120fps.
Add all this to full connectivity features like Wi-Fi and Bluetooth, as well as a slim form factor and a 4.2x optical zoom lens, and you can see why vloggers have flocked to this self-contained shooting package. It's even got the capacity for livestreaming, allowing you to give your Facebook Live videos that little professional polish you won't get from recording on your smartphone.
Who's it for? Vloggers, travelling video shooters, anyone on a budget.
Who isn't it for? Pros who need the best in quality; anyone who needs more flexibility than is provided by a 1-inch sensor and a 4.2x zoom.
6. DJI Osmo Action
Key specs:
Duаl LСD dіѕрlау
RосkЅtеаdу Іmаgе Ѕtаbіlіѕаtіоn
4К/60fрѕ НDR vіdео аt 100Мbрѕ
1080р vіdео аt 120p
8х Ѕlоw Моtіоn wіth 1080р аnd 240fрѕ
Wаtеrрrооf uр tо 11m
If you're looking for a video camera that'll stand up to being dropped, frozen, submerged in water and more, then action cameras are the way to go. We'd recommend the DJI Osmo Action, a fantastic action camera from a company previously best known for its drones, able to shoot 4K 60p HDR video at 100MBps and – thanks to its algorithm-powered RockSteady Image Stabilisation system – able to keep it looking smoother than smooth even in bumpy situations.
Dual LCD screens help with monitoring no matter which way the camera is facing, and with up to eight-times slow motion in Full HD, you can create super-stylish footage of all your adventurous exploits.
Who's it for? Adventurous filmmakers, underwater filmmakers.
Who isn't it for? Anyone scared of getting their feet wet.
7. Sony FS5 II
Key specs:
4K RAW up to 120fps (in 4 second bursts), continuous 240fps in 2K RAW, or continuous 4K 60fps to an external recorder
Instant HDR workflow
10 different picture profiles
Improved colour science
A long list of tweaks and upgrades meant that the Sony FS5 II was a welcome upgrade to its predecessor, the FS5. Chief among these was improved colour science, which meant greatly improved skin tones straight out of the camera, as well as an instant HDR workflow.
Also on the upgrade list – no more would we need to fiddle with expensive firmware updates to get features like RAW and high-framerate shooting, which were now included in the base firmware along with 4K RAW shot at up to 120fps (in four-second bursts), continuous 240fps in 2K RAW or continuous 4K 60fps to an external recorder. Internally, the FS5 II would shoot 4K, Full HD 10-bit 4:2:2 up to 240fps with an eight-second cache, with the option of up to 120fps in Full HD Instant HDR too. This is just the start, and overall we can say that Sony took customer feedback on board and came out with a real quality upgrade in the FS5 II.
Who's it for? Pro filmmakers who want exceptional reliability and quality.
Who isn't it for? Filmmakers on a budget.
8. Canon XF405
Key specs:
4K up to 50fps; 1080p up to 100fps
15x zoom lens
3-second pre-record function
SDI and BNC connectors
Built-in ND filters
One of a trio of new video cameras from Canon released in late 2017, the XF405 offers the most comprehensive spec, packing a 1.0-type CMOS sensor that records 4K UHD 50fps footage internally to an SD card, along with a HD-SDI output via a BNC connector.
Other bells and whistles include 15x optical zoom (up to 30x in full HD), 5-axis image stabilisation, Canon's legendary Dual Pixel AF system for whip-quick autofocus, a built-in three-stage ND filtration system and the option to shoot HD at up to 100fps if you need to slow things right down.
Who's it for? Run-and-gun filmmakers, anyone who needs a reliable workhorse camcorder.
Who isn't it for? Filmmakers who prefer interchangeable lenses.
9. DJI Mavic 2 Pro
Key specs:
Hasselblad 28mm F2.8 EQV camera with 1-inch CMOS sensor
45mph top speed
Battery life of 31 minutes
4K at 30fps
3-axis gimbal
Intelligent Flight modes
And finally – come on, it'd be deeply irresponsible for us to put together a list like this without including a drone. The DJI Mavic 2 Pro houses a Hasselblad camera with a 1-inch CMOS sensor that allows it to record 4K UHD at 30fps, 2.7K at 60fps and full HD at up to 120fps. Pair this with a 31-minute flight time, a top speed of 44mph and the ability to transmit full HD 1080p video up to ranges of five miles away, and you've got a drone that excels in all areas – although, to borrow a favoured maxim of our former Pro Video technical editor Kriss Hampton: Just because you can fly it five miles away, doesn't mean you should. This aside, the DJI Mavic 2 Pro is a ridiculously good drone for its price, and proof (if proof were needed) that DJI is at the top of what it does.
Who's it for? Any filmmaker who wants to incorporate aerial shots into their work.
Who isn't it for? Any filmmaker who doesn't want to do that.
Read more about the DJI Mavic 2 Pro here...
For more great content, visit our YouTube channel, Facebook, Twitter and of course, the Wex Blog.
Related articles