The Zeiss Milvus lenses are perfect for the serious DSLR photographer in your life – here's our guide on which to choose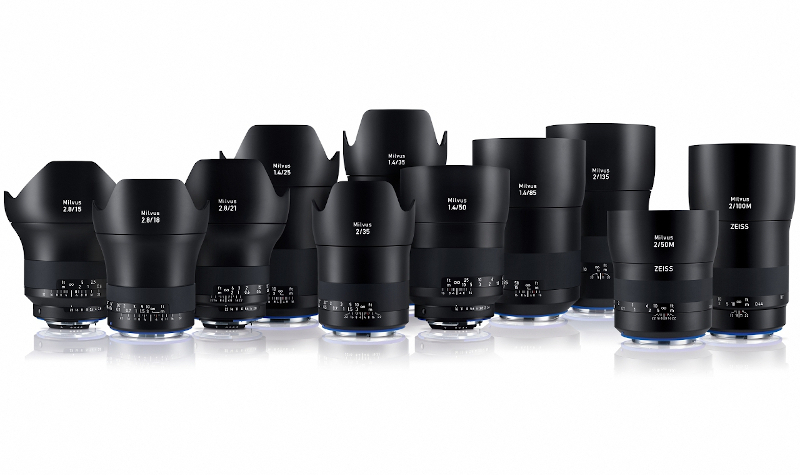 Stuck thinking of a premium gift for a DSLR photographer? Look no further – the Zeiss Millvus range of beautifully engineered lenses features a stack of ideal choices. From wide-angles to telephotos, these prime lenses are all manual focus only and are all available to fit Canon and Nikon DSLRs.
Why choose Zeiss Milvus, you may ask, especially when there's no autofocus functionality? Well, these lenses are designed to deliver the uncompromising utmost in image performance. Precise optical engineering, of the type Zeiss is famous for, has been used to create lenses that produce images sharp from edge to edge, and corner to corner. All of them have sophisticated coatings to reduce stray light, delivering high-contrast images, and also provide focus rings with an exceptional level of play, allowing the user to be extremely precise with their focusing.
The Milvus lenses are built to be used for years and years. Constructed to the highest of standards and built to be weatherproof, they provide a sublime user experience that any Canon or Nikon DSLR shooter will enjoy for years to come
We've put together your complete guide to the Milvus lenses right here, and with loads of great cashback offers, there's never been a better time to buy. Find the focal length that's right for the DSLR shooter in your life, and give them a gift they'll never forget!
1. Zeiss 15mm f2.8 Milvus
The widest in the family, the 15mm f/2.8 is an ideal choice for any avid landscape or architecture photographer. It may offer a super-wide perspective with an angle of view of 110°, however, Zeiss's careful engineering ensures that images are still as clear and sharp as anything, with a top-quality focusing mechanism that moves smoothly and is a joy to use. Image performance is equally stellar throughout the focusing range, in large part thanks to a floating elements design.
2. Zeiss 18mm f2.8 Milvus
Another amazing wide prime that's perfect for landscapes and architecture, the Zeiss 18mm f2.8 Milvus is a great contender for any DSLR photographer using Canon or Nikon bodies. The weather sealing is extra welcome for these kinds of applications, as the photographer doesn't have to worry about a little rain coming down and spoiling their shoot. Hardy and optically near-flawless, the Zeiss 18mm f2.8 Milvus is a fabulous tool that'll bring years of imaging joy.
3. Zeiss 21mm f2.8 Milvus
Moving up the scale, we have the Zeiss 21mm f2.8 Milvus. Like its previous siblings, it benefits from an f/2.8 maximum aperture that gives a lot of leeway for shooting in low light as well as creating shallow depth of field. As you'd expect from a Milvus, the 21mm lens is highly optimised to reduce flare and ghosting, producing images that are full of contrast and clear as a bell. The fact that its perspective isn't quite as extreme as the 15mm and 18mm also puts it in play for street photography.
4. Zeiss 25mm F1.4 Milvus
While it isn't a whole lot longer than the 21mm in terms of focal length, what really sets the Zeiss 25mm F1.4 Milvus part from many of the other lenses is that it's the first to offer and f/1.4 aperture. This is a considerable jump, and if you're buying for someone who likes to shoot at night or in the evening, it confers a significant advantage. This also helps a main subject stand out vividly in an image thanks to the shallow depth of field it creates.
5. Zeiss 35mm f1.4 Milvus
Another outstanding f/1.4 lens, the 35mm Milvus is a great tool for general-purpose and documentary shooting. If you're buying for the kind of shooter who just likes to pound the pavement without necessarily knowing what's going to appear in front of their lens, this is an outstanding choice. Amazing resolving power meets a wide maximum aperture and dependable, durable construction. This is the all-purpose, all-weather lens.
Also consider: For a similar option that's easier on the wallet, try the Zeiss 35mm f2 Milvus, available for Canon and Nikon.
6. Zeiss 50mm f1.4 Milvus
Who doesn't love a nifty fifty?! The Zeiss 50mm f1.4 Milvus gives a naturalistic, "real-life" perspective that's ideal for everyday shooting, with an f/1.4 maximum aperture that puts low light and portraiture in play. A hugely versatile focal length, 50mm is as useful in countryside landscapes as it is for shooting in the streets of a city. Any DSLR user will find this to be an immensely rewarding lens.
7. Zeiss 85mm f1.4 Milvus
Highly precise and optically near-flawless, the Zeiss 85mm f1.4 Milvus is a perfect portrait lens. The mid-telephoto focal length of 85mm provides a flattering perspective for the faces of human subjects, while the f/1.4 maximum aperture allows them to vividly pop out of the image with a shallow depth of field. Focusing action is smooth as a dream, and the lens is also well protected against the weather.
8. Zeiss 100mm f2 Makro-Planar Milvus
What's great about this lens is how multi-functional it is – not only does it work really well as a macro lens for getting up close and personal with tiny subjects, but it's also a short, sharp telephoto that's again great for portraits. If you know a DSLR photographer who loves to do a bit of everything, this would be a terrific addition to their kit bag, opening up new opportunities in all sorts of genres.
9. Zeiss 135mm f2 Milvus
The longest telephoto in the Milvus range, the Zeiss 135mm f2 Milvus brings distant subjects within the user's reach, while also performing well in low light thanks to its f/2 maximum aperture. Painstakingly crafted with precision optics, the Zeiss 135mm f2 Milvus is ideal for portraits at a medium distance, as well as shooting in any environment thanks to its sophisticated weather sealing. A joy of a lens, inside and out.
About the Author
Jon Stapley is a professional journalist with a wealth of experience in a number of photography titles including Amateur Photographer, Digital Camera World and What Digital Camera. See more of his writing on Jon's author page.
Related articles