Starting someone out on their photography journey? Let us lend a hand with the perfect beginner cameras for Christmas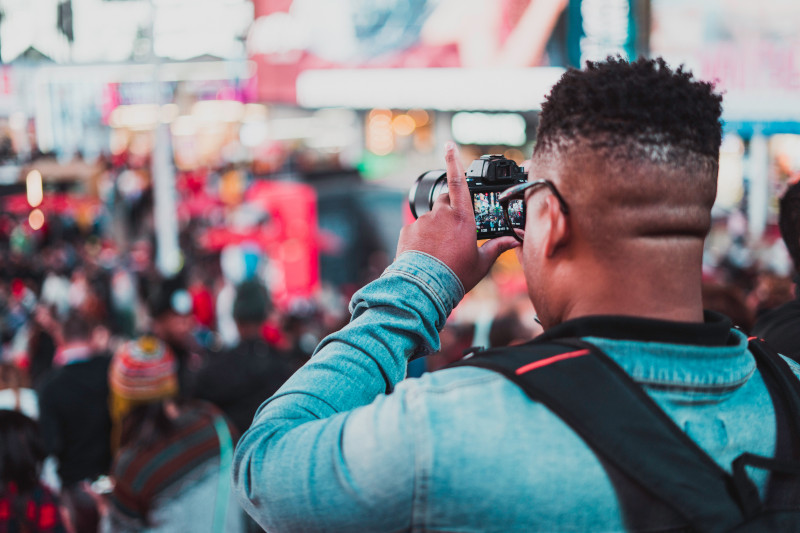 Got an aspiring photographer to buy for? Christmas is an amazing time to give someone the gift of a new hobby, and there are loads of cameras out there that are perfectly suited to beginning photographers young and old. Here, we've sorted through a few of the best ones for you, to hopefully make your Christmas shopping go a little more smoothly.
We've included all different types of cameras in our guide. We've got the latest DSLRs and mirrorless cameras, which allow for interchangeable lenses and offer a great deal of learning potential while still being easy to pick up and master. There are also some compact cameras on the list – cameras with fixed lenses, self-contained packages for the shooter who doesn't want to have to think too much about packing their kit bag and would rather just point and shoot. We've included one of our favourite action cameras for the more adventurous types, and even an instant film camera for the retro-minded.
So, lots to get through. Let's get cracking and run through the top ten cameras for photography beginners...
This is one of the finest beginner cameras around, a hugely impressive DSLR in its own right, and for our money it's the best beginner's camera around right now. Though it's sophisticated and capable of producing fantastic images thanks to its 24.2MP sensor, the D3500 also has loads of useful Guide modes to help the novice user understand its systems and how to shoot perfect images with it. This version comes with a 18-55mm AF-P VR Lens that works for all sorts of shooting purposes, so any new photographer will find themselves well equipped. Highly refined and ergonomically designed, the D3500 is a superb choice for any beginner photographer.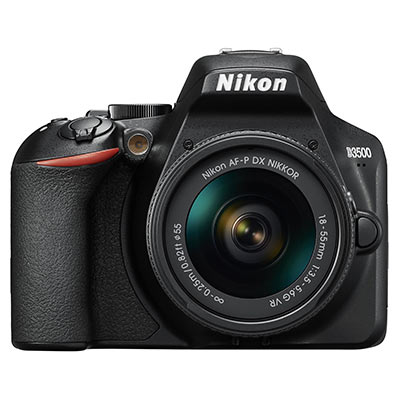 Nikon D3500 Digital SLR Camera with 18-55mm AF-P VR Lens
The Nikon D3500 is a compact entry-level DSLR with a large 24.2-megapixel APS-C CMOS sensor. Combined with the versatile 18-55mm VR zoom lens, this set up is perfect for everyday photography. The D3500's ergonomic and lightweight body features an 11-point autofocus system, 5fps burst shooting, 1080/60p video, an easy-to-use Guide Mode and a battery life that offers approx. 1500 shots on a single ...
£415.00 View
Canon's beginner DSLR (one of several, but this is our favourite) does have a distinct advantage over the D3500 – it shoots 4K video, so if you're buying for a beginner interested in learning video shooting as well as stills, it's a great buy. It's packed with tech and benefits from Canon's tremendous Dual Pixel Autofocus system, which is great for shooting fast-moving subjects. This version comes with the EF-S 18-55mm f4-5.6 IS STM Lens, a fantastically lightweight all-purpose zoom.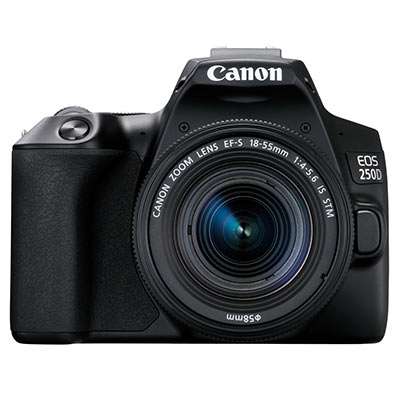 Canon EOS 250D Digital SLR Camera with 18-55mm IS STM Lens - Black
The Canon EOS 250D with 18-55mm IS STM Lens is an incredibly lightweight and compact DLSR with a 24.1-megapixel APS-C sensor, vari-angle screen, 4K video recording, and Dual Pixel CMOS AF. Easy to use and packed with the latest technology, the 250D is an entry-level digital SLR aimed at users looking to step-up from smartphone photography or upgrade from their existing compact.
£549.00 View
Mirrorless cameras may not have the iconic photographic look of DSLRs, but they have loads of advantages of their own, and any beginning photographer would do well to consider learning on one. The Sony Alpha 6000 is a prime example from one of the best in the business – a fast, capable camera that shoots at up to 11 frames per second, ensuring the photographer never misses a moment. This version comes bundled with the 16-50mm f3.5-5.6 OSS Lens, a powerful zoom that's well-equipped for travel and adventure, complementing the slim profile of the camera perfectly.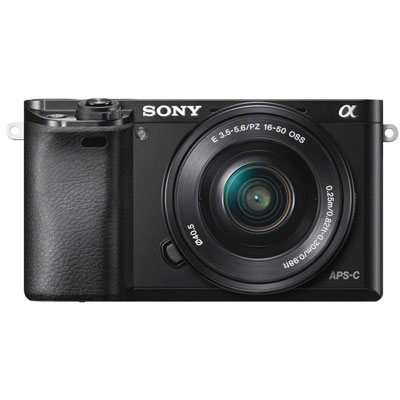 Sony Alpha A6000 Digital Camera with 16-50mm Power Zoom Lens - Black
The Sony Alpha A6000 is a compact digital camera that is packed with power and unique features. It uses a large 24MP Exmor APS HD CMOS sensor and the powerful BIONZ X Processor, both of which will enable you to capture stunning quality and detailed images, bursting with accurate colour reproduction and clarity. The body features a fast hybrid AF tracking system, built-in flash, multi-interface ...
£479.00 View
If the budding photographer you're buying for is also style-conscious, then we'd recommend picking up the chic Olympus Pen E-PL9 with a 14-42mm lens to go with it. This fashion-focused shooter is not just a pretty face however – capable of capturing 16MP stills and 4K video, it benefits from such features as a 121-point focus system and a tilting touchscreen. Advanced Photo (AP) mode takes some of the mystery out of the camera's functionality for new users, and makes it a matter of simplicity to create striking images with dazzling effects. It also pairs well with a smartphone thanks to the OI.Share app – this is definitely one for the avid Instagrammer in your life.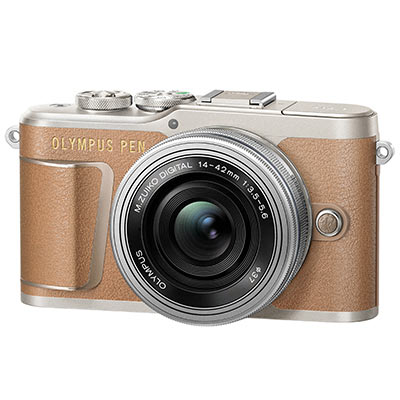 Olympus Pen E-PL9 Digital Camera with 14-42mm Lens - Brown
The Olympus E-PL9 builds on the previous E-PL8 model and is an ideal camera for those wanting to take a step up from the camera on their phone. This versatile compact system features a 16MP CMOS sensor, allows for 4K 30P video, features an upgraded 121 point AF system, and contains the same TruePic VIII processor as inside the OM-D E-M1 Mark II. Comes with the Olympus 14-42mm lens.
£524.00 View
Fujifilm make absolutely sublime cameras that take great shots and look good while doing it. Eminently small and light, the Fujifilm X-A5 is here paired with the XC 15-45mm lens for a fearsome photographic combination – it's highly capable in low light, boasts a sophisticated autofocus system and produces gorgeous image straight out of camera. The tilting rear screen can also flip around – perfect for selfies! The X-A5 is an ideal first camera, one that introduces the user to the capabilities of the Fujifilm X system. From here, the only way is up.
For a powerful interchangeable lens camera that also slots into a pocket, you really can't go wrong with Panasonic's Lumix range. These Micro Four Thirds cameras are designed to be tiny but powerful, boasting loads of great functionality and the ability to shoot pristine 4K video. The GX880 is a nippy little speedster that's also great for vlogging, and it has access to a huge catalogue of lenses thanks to the Micro Four Thirds system, so any beginner who starts with it has plenty of room to grow.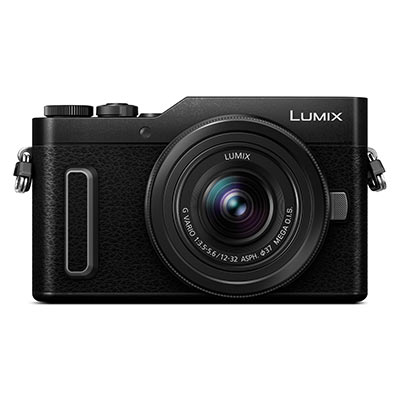 Panasonic Lumix GX880 Digital Camera with 12-32mm Lens - Black
The Panasonic Lumix GX880 is an interchangeable lens camera designed for hobbyists who want to take high quality travel pictures and selfies. Built around a 16.1-megapixel Digital Live MOS sensor, the travel-friendly GX880 is perfect for all occasions and comes with a host of features, including 4K Photo, Wi-Fi for easy image sharing, and a built-in flash and 3.0" flip-up screen.
£329.00 View
A compact camera can be a perfect gift for any budding photography lover! It's a complete self-contained package, ready to shoot the moment it's pulled out of the box. There's no need to fiddle with changing lenses, and the average compact tends to be more affordable than its DSLR and mirrorless counterparts. For the beginner, we'd recommend taking a look at the Fujifilm XF10, a super-lightweight compact that produces gorgeous image straight out of camera – a perfect choice for the kind of photographer who doesn't want to do too much post-capture editing.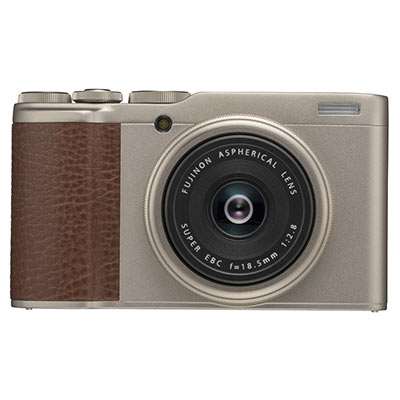 Fujifilm XF10 Digital Camera - Champagne Gold
The Fujifilm XF10 in Champagne Gold is an ultra-lightweight, travel-friendly premium compact camera with a 24-megapixel APS-C sized sensor. Featuring enhanced Bluetooth connectivity, the XF10 allows photographers to transfer images to a smartphone after shooting, making it the perfect companion for smartphone users and photo enthusiasts alike.
£399.00 View
If you think the photographer in your life would prefer a decent zoom lens on a compact camera, then behold the Panasonic Lumix TZ90. Part of a long-running series of travel-oriented compact cameras. Its zoom lens covers a massive 30x range, allowing the user to bring even the most distant subjects right up close. It's also a pleasingly small camera, easy to fit in a travel bag or coat pocket, so is an ideal gift for the adventurous photographer who loves to travel. It produces great 4K video, too, so memories can be recorded in pristine detail.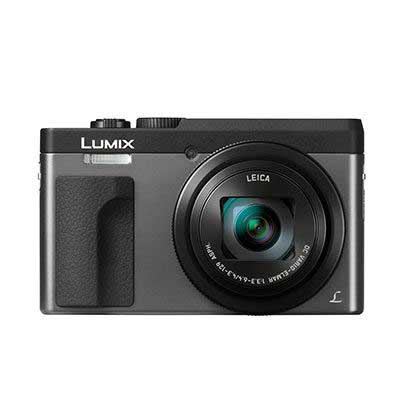 Panasonic Lumix DMC-TZ90 Digital Camera - Silver
Panasonic has launched a new camera in its Travel Zoom series, featuring a 20.3-megapixel MOS sensor and a flip-up 3" touchscreen display together with the Panasonic Depth-from-Defocus AF system. An impressive host of other features - such as 4K capability, a powerful zoom, and a suite of creative modes - make this travel-friendly, ultra-compact camera a versatile choice.
£269.00 View
Buying a gift for a real intrepid explorer, or adrenaline junkie? Consider an action camera! The DJI Osmo Action gets our vote, a fantastic waterproof little unit, built GoPro-style with extensive protections. It's also got a little extra LCD screen on its front, making it great for selfies and vlogging, and its extensive video stabilisation technology ensures that video looks great no matter where or how it's shot – mounted to a bike's handlebars, hanging off the side of a white-water raft, on the helmet of a skydiver, or whatever else!
Free SD Card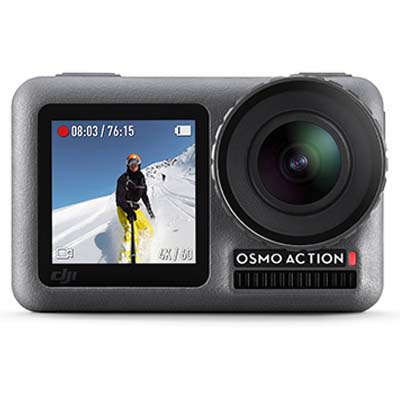 DJI Osmo Action
Free Filter Worth £34.99
The DJI Osmo Action camera sports a dual LCD display, advanced stabilisation and 4K/60p HDR video recording, with 120fps shooting available at 1080p. The Osmo Action is waterproof at depths of up to 11m and features RockSteady stabilisation, which combines EIS with complex algorithms, delivering stable, shake-free footage. It also comes with 8x Slow Motion, Timelapse and Voice Control. This ...
£309.00 View
Lastly, for the retro-minded Instasnapper, try the Polaroid OneStep Plus Instant Camera, a fresh 21st-century update to the Polaroid cameras of days gone by. It produces fantastic-looking physical prints at the touch of a button just like an old-style Polaroid, however, unlike the older cameras, it can also connect to a smartphone for loads of great shooting modes and instant Instagram sharing. It's an awesome camera and one of the best of the instant film renaissance. A perfect surprise to open on Christmas Day and start making some memories.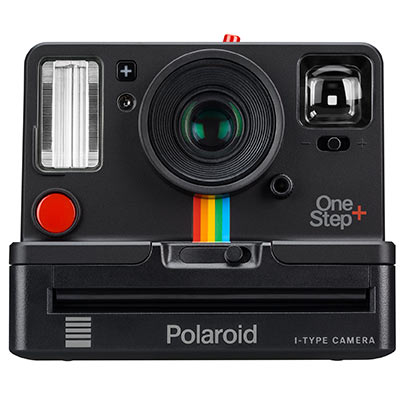 Polaroid Originals OneStep Plus Instant Camera - Black
The Polaroid OneStep+ is a new analog instant camera that connects to your smartphone, unlocking a world of creative photography. Use the integrated Polaroid Originals app to explore fun techniques like double exposures and light painting, take full creative control with manual mode and a remote trigger, or frame your perfect close-up with the additional portrait lens.
£119.00 View
About the Author
Jon Stapley is a professional journalist with a wealth of experience on a number of photography titles including Amateur Photographer, Digital Camera World and What Digital Camera. See more of his writing at jonstapley.tumblr.com
Related articles