Photograph a London Routemaster adorned with a Wex Photo Video banner and you could win a Canon M50 camera and lens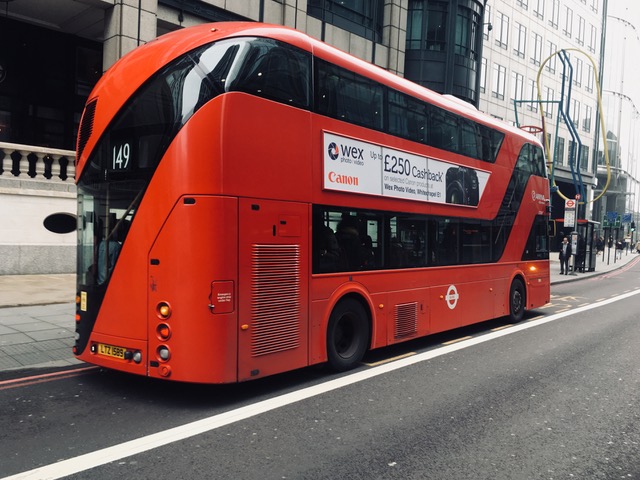 Get creative and snap the best image you can of a London Routemaster adorned with our Canon cashback banner (above).
Have you spotted a London Routemaster bus with a Wex Photo Video banner? Take a photograph of one, and you could win a Canon EOS M50 camera with a 15-45mm lens (that's nearly £650 worth of kit).
To be in with a chance of winning, simply Tweet an image of a Routemaster carrying our Canon cashback banner, along with the hashtag #CatchTheWexBus. The most exciting entry will be crowned the winner and two runner-ups will receive a £25 Wex voucher.
The prizes
Winner: Canon EOS M50 (in white) with 15-45mm lens
Runner-up one: £25 Wex Photo Video voucher
Runner-up two: £25 Wex Photo Video voucher
Terms and conditions
1. The Promoter is Wex Photo Video, 13 Frensham Road, Norwich, NR3 2BT.
2. Each entrant is allowed up to three entries to the #CatchTheWexBus competition. If an entrant submits more than three images Wex Photo Video will only consider the first three submitted.
3. Multiple entries over the limit of three images from different accounts will not be permitted, nor will joint entries or entries from accounts that represent multiple users. Only entries from Twitter accounts that clearly identify a single photographer will be eligible for entry.
4. The winner and two runner ups will be picked at Wex Photo Video's discretion. The winner will receive a camera, the Canon EOS M50 Camera body + 15-45mm kit lens in white. The runner ups will receive a gift voucher for use at Wex Photo Video to the value of £25 each. Prizes are as stated only and no cash alternatives will be given. However, Wex Photo Video retains the full and free right to alter prizes should circumstances change beyond our control. Wex Photo Video will endeavour to have all prizes delivered before the 20th June 2018 where possible.
5. Images submitted to the weekly #CatchTheWexBus competition must be in the JPEG format. Videos, graphics or images in any other format will not be accepted.
6. Images can be submitted anytime from Tuesday 17th April 2018 until midnight on 29th April 2018. Images submitted outside of this date range will not be eligible for entry.
7. Judging of entries for the #CatchTheWexBus competition will be carried out by employees of Wex Photo Video.
8. By submitting images to the competition you confirm that you are the copyright holder of the image and that the image is your original work. Wex Photo Video reserves the right to ask entrants to supply a high-resolution and/or RAW version of any submitted image (with metadata embedded) in order to verify any images it suspects may not be the photographer's own work. Anyone found to entering images belonging to others will be immediately disqualified.
9. Entrants retain all copyright over any images submitted, although by entering you agree for your images to be used by Wex Photo Video for the purpose of promoting the competition online. Winning images may also be displayed in our stores, on our website, and through our social media platforms following the end of the competition; it is the entrants' responsibility to ensure they have a high-resolution version of any submitted image (ie suitable for printing to a reasonable size).
10. The #CatchTheWexBus competition is open to all UK residents aged 16 years or over as of 13th April 2018, except employees of Wex Photo Video, the companies or organisations with whom the competition is being run, their agents or anyone directly connected with the competition.
11. All entrants to competitions and offers are deemed to have accepted these rules and agree to co-operate in any future publicity that may arise. The winner's announcement will be made on Twitter and other public content distribution platforms, such as the Wex Photo Video website and Facebook page.
12. Reasonable efforts will be made to contact the winner, although if the winner cannot be contacted within 28 days of the competition closing, Wex Photo Video reserves the right to offer the main prize to the runner up, 2nd place to the entrant with the third highest number of points from the #CatchTheWexBus contests and the 3rd place to the entrant with the fourth highest number of points.
13. No purchase necessary to win nor enter.
14. The judges' decision is final and no correspondence will be entered into.
15. Wex Photo Video reserves the right to disqualify entrants found to be breaking any of these conditions. Those found to be breaking these conditions will be disqualified from the competition.
16. The competition is subject to the general terms and conditions found here.
17. Wex Photo Video reserves the right to modify these terms and conditions at any time.
18. Participants enter the #CatchTheWexBus competition at their own risk and are solely responsible for their own health and safety. Wex Photo Video does not accept responsibility for any repercussions that may arise during or after images have been taken.
19. Wex Photo Video is not responsible for any costs or expenses incurred by entrants in the process of creating and submitting their photographs.