This month's competition on our Facebook page was titled 'Flight'. We had a record number of entries, which made it very difficult to decide who should make the shortlist - nevertheless, after much discussion we picked our favourites and chose three winners. And they are...
First place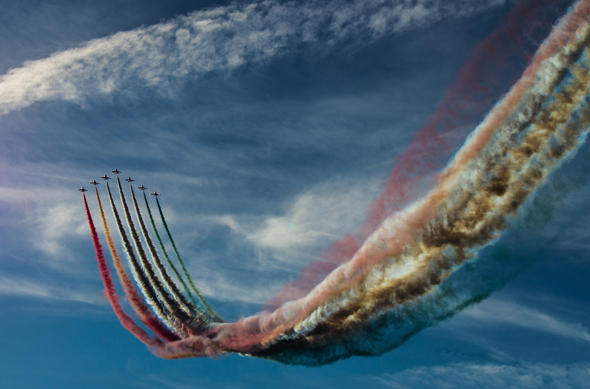 It's hard not to be impressed by Kevin's image. By combining an unorthodox viewpoint with colour and dramatic smoke trails, Kevin impressed us the most this month with this stunner. Well done, Kevin!
About the photo…
The photo was taken at Chatsworth Country Fair in Derbyshire. I like the detail in the trails and the way they show the precision of the flight. It was taken with my Canon EOS 550D together with my my EF-S 55-250mm f/4-5.6 IS lens.
You can find more of Kevin's work on his Flickr page.
Second place
Panning shots take a bit of practice to get right, but, as Jeremy's image shows, once you've mastered it you can achieve great effects. The blur in the sky here is just right to add drama while still being smooth enough to contrast with the sharp glider.
About the photo…
Having had a passion for flight since I was young, I took up gliding once I was earning my own money and could justify the expenditure. This was taken during a practice competition finish at my local gliding club. It's such an amazing practice to watch and be a part of because these things can cross the finish line at heights of less than 15 feet, at very impressive speeds for an un-powered aircraft. I used a Canon EOS 5D MkII with an EF 70-200mm f2.8 IS lens to capture it.
You can find more of Jeremy's work on his website, Flickr page and on Twitter.
Third place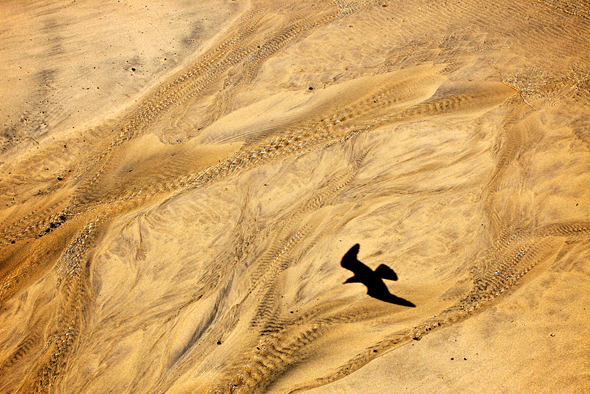 Finally, third place goes to Andy Russell for this capture. Even though it wasn't the only bird-related shot that was submitted, its originality made it stand out. We loved the composition and contrast between the intricate details in the sand and the shadow of this seagull.
About the photo…
The photo was taken on my friend Al's stag do in St Ives, Cornwall. I sat on the end of the harbour wall and saw the shot I wanted, but I had to wait a while for a solitary seagull to fly overhead and cast the shadow on the sand below. What I like about this shot is that the shot I had envisaged actually came off! I shot it with my Canon EOS 30D and EF 17-40mm f4L lens.
You can find more of Andy's work on his 500px and Facebook pages, as well as on his website.
Thanks to everyone who entered the competition! September's Photo Challenge with the theme 'Close-Up' is still open for entries - head over to our Facebook page for more information.