This month, the theme for our Facebook competition was "Night Sky". Here are the seriously impressive top three shots
First place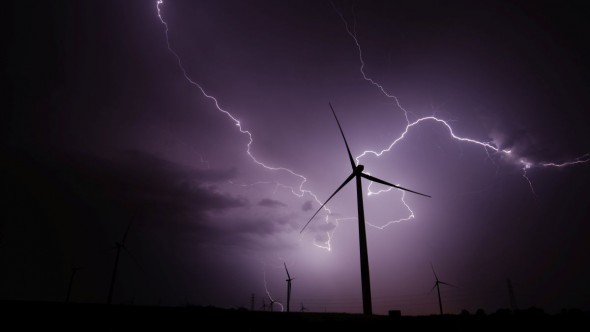 By Sven Roden
Sven's striking, dramatic shot crashes into first place. A tremendous capture of a fleeting moment that crates a fascinating juxtaposition of the natural and the man-made. Congratulations, Sven!
Sven talks about his shot:
I often drive past these wind turbines, and many times I've thought about how good they would look with the right sky as a backdrop. When the nice weather people at the BBC predicted thunderstorms would roll in, I couldn't resist going out with the camera. I arrived on location at about 11pm, set up the camera, and started snapping. A few minutes later I got totally drenched as the torrential rain hit. But it was worth it to be able to watch the amazing light show.

I used a Nikon D7000, a Nikkor 10-24mm set to 15mm, and a Manfrotto tripod. ISO 100, f/5.6, 13 sec.
You can follow Sven on Flickr to see more of his images.
Second place
By Paul Howell
Paul's beautiful shot of the Perseids meteor shower is expertly captured and makes the most of this incredible phenomenon. Did he read our guide to capturing the meteors perhaps? We don't have official confirmation so we're forced to assume that yes, yes he did.
Paul discusses his shot:
The photograph was taken on Exmoor near Dunkery Beacon. This was my second night out trying to capture the Perseids, and I was fortunate to have a very bright one pass overhead. At the time I wasn't aware that I had successfully captured it, as the camera was set up with an intervelometer attached and was set to continue taking photos for several hours.

I used a Canon 6D with a Tamron 10-24mm lens set to 14mm, and a Manfrotto MT055B tripod with a 327RC2 head.
Keep up with Paul's photography at his Facebook page.
Third place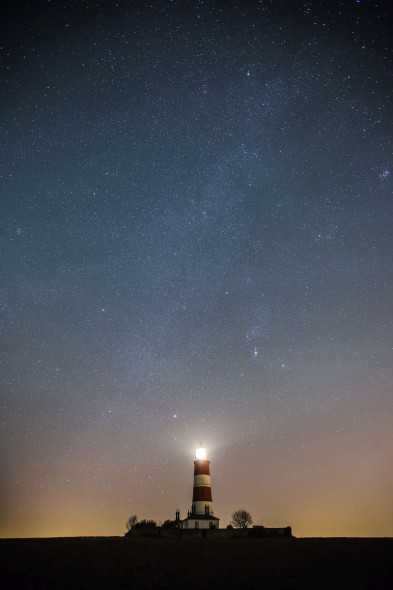 By Adam Blenkinsop
Adam's well-composed image is one you can lose yourself in. The sky is the star, and it makes for a worthy third place. Well done, Adam!
Adam talks about the image:
I shot this on a VERY cold and dark winter's night. So dark, in fact, that manually focusing on the lighthouse was only possible for the second or so that its light occasionally shone in my direction and illuminated the building in my viewfinder!

I shot this with a Canon EOS 5D Mark III, a Canon 16-35mm L Mark II f/2.8 lens set to 16mm. ISO 3200, f/2.8, 15 sec.
Thank you to everyone who took part in our January competition! Visit our Facebook page for details of this month's contest.