Our November Facebook Photo Challenge received some great street shots, with some very interesting subjects. Did you win? Read on to find out…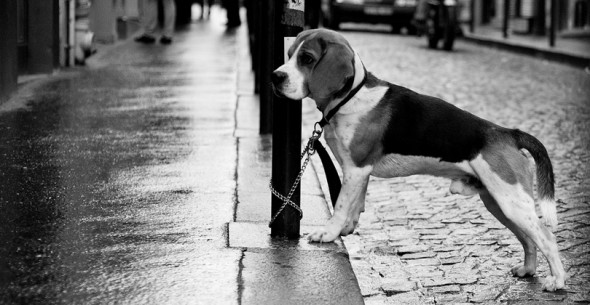 The rise in popularity of small, powerful cameras, together with camera-toting smartphones replete with much the same functionality, mean that street photography is more popular than ever. For this month's Facebook competition we asked for your best shots that fit the genre – here are the winners.
First Place
by Simon Halstead
First place in this month's competition goes to Simon Halstead. Part of street photography is picking up the emotion and feelings of the scene. Although we cannot see the man's face, his stance shouts that he is not looking forward to the task ahead. This shot was well timed to capture the subject's pause before tackling the stairs ahead, while the monochrome conversion emphasies the shapes and leading lines.
Here's what Simon has to say about his image:
The photo was taken in the Liverpool One shopping centre in Liverpool, Merseyside. I spotted the steps while intentionally out doing some street photography and originally had the idea of a single person passing by the steps, possibly taken with a slow shutter speed to show movement. As I prepared for the shot, the old man came into view carrying his shopping. It was a mad scramble to change my camera settings when he stopped there and looked up the steps. It just goes to show that you need to be ready to change your idea at the drop of a hat. Any slower and I would have missed the shot.
I shot this with my Canon EOS 7D on a tripod, with a Tamron 55-200mm lens. The lens was set at 128mm at f/8, while my shutter speed was set to 1/100sec and my sensitivity to ISO 500.
For more of Simon's work you can visit his website.
Second Place
by Lee Pelayo
Second place goes to Lee Pelayo with his 'South Bank Reflection' image. We loved this slightly more abstract shot, with a strong combination of a recognisable landmark and a human element to create something different from the norm.
Lee talks us through how he got his shot:
This picture was taken on London's South Bank, one of my favourite places to shoot some street photography. As I was walking along, I noticed the London Eye's reflection in the puddle of water and thought it would make a good picture. Better yet, I thought it will be more interesting having someone's reflection in it, too. I waited for that moment and managed to capture a couple walking by.
The photograph was taken with my Pentax K5-II with a Sigma 30mm DC HSM f/1.4 lens. The lens was set at f/8, while the camera was programmed at a shutter speed of 1/250sec and sensitivity at ISO 80.
Visit Lee's Flickr page for more of his photographs.
Third Place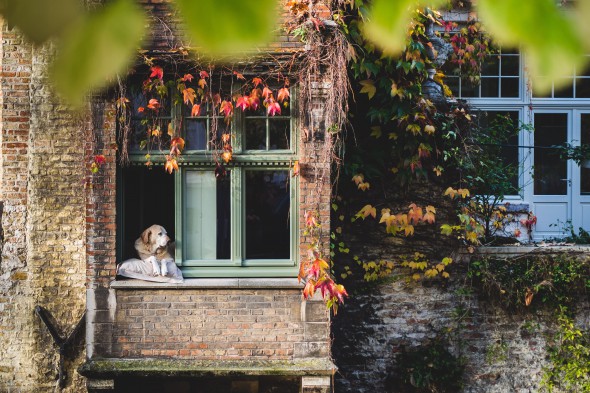 by Andy Davison
Andy Davison takes third place with his autumnal window shot. The colours work really well throughout the image, while the leaves along the top help to frame the shot and place focus on the subject.
Andy talks us through his shot:
The photograph was taken on a late autumn afternoon, along the canals in Bruges. Aside from the colours and tones in the image, and the framing of the dog which immediately caught my eye, the chilled atmosphere of the late-in-the-day setting was encapsulated in the serenity and sleepiness of the dog, casually watching passers by on horses, boats, bike and on foot.
I was using an Olympus OM-D E-M10 with the Olympus M.Zuiko 45mm f/1.8 lens.
Visit Andy's website for more of his photographs.
Thank you to everyone who took part in our November competition! Visit our Facebook page for details of this month's contest.