The latest theme of our Facebook competition was 'Contrast'. See which photographers came out on top as we reveal our top three entries
First place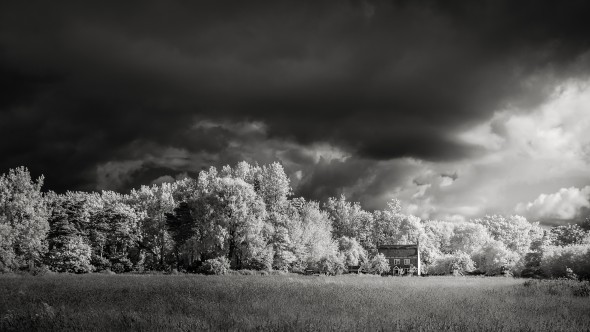 By Lee Acaster
Lee's wonderfully toned infrared image makes the most of a dramatic sky to create a striking image. Conventional wisdom generally tells us get close to our subjects, but here Lee has correctly realised that keeping the cottage small in the frame makes for a more interesting composition. Excellent stuff, Lee!
Lee discusses his shot:
I was driving back from shooting the Norfolk coast at Winterton when the sky turned took a dramatic turn with some intense light. I pulled over into the car park at Horsey Mill just as this cottage was illuminated. Knowing that I didn't have long, I had to take the shot handheld, using the manual focus only lens I had on the camera.

Canon EOS 5D mark II (infrared converted) and Canon TS-E 45mm f/2.8 Lens
See more of Lee's images at his website, follow him on Facebook and Flickr, and you can find him on both Twitter and Instagram as @jellyfire1.
Second place
By Paul Hand
Of course, now we have somebody demonstrating that getting in close can be the exact right thing to do! When Paul spotted a stand selling parasols he took the opportunity to create an abstract composition with a strong contrast of light and dark.
Paul talks about his shot:
I took the picture back in the summer at the Taunton flower show. I noticed a stand selling parasols and I was taken by the strong colours, graphic design of the shot and the simple composition. I liked the dark ribs contrasting with the bold colours of the parasols. It was a wonderful event to photograph.

In terms of the equipment, I was using a Nikon D7100 with a Tamron 70-200mm lens, set to 200mm with an aperture of f6.3, and 1/100sec shutter speed.
Paul is a member of Taunton Camera Club.
Third place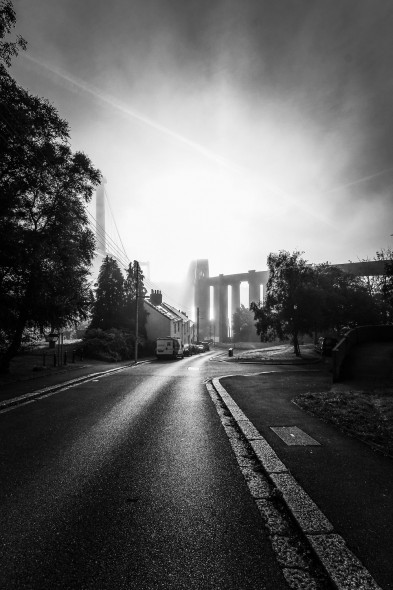 By Dominic Parnell
Dominic's dramatic monochrome shot makes excellent use of leading lines, as our eyes travel towards the mist-shrouded bridge in the distance we're guided first by the kerb and then by the texture of the road. A tremendous shot and well-deserved third place.
Dominic talks about the shot:
This was taken in Saltash and shows the Royal Albert Bridge, which spans the Tamar river. It was a completely unplanned shot, as I had driven across the Tamar bridge and realised the river was shrouded in mist so stopped off and went for a walk around with my camera. This was the first one I took, and I like it so much I now have a landscape cropped version hanging up in my front room, 750 X 500! I think the reflections on the road work beautifully, leading your eye to the bridge which is just looming through the mist.

Shot handheld with my Canon 600D and Canon EF-S 10-22mm. 10mm focal length, 1/250 sec at f/10, ISO 100.
You can follow Dominic's photos at his Flickr page.
Thank you to everyone who took part in our November competition! Visit our Facebook page for details of this month's contest.