From intricate detail that caught your eye to the wider view of the structure, October's theme 'The Great Indoors' can be portrayed in any environment – old, modern or a combination of the two. The theme offered plenty of ideas to get you snapping, whether it be the inside of your local church, an abandoned apartment block or a five star luxury hotel. So without further ado, here are the lucky winners:
First Place
Congratulations to Jarrad Marks who takes first place this month with this dynamic shot of the Lloyd's building. We loved the combination of the dramatic perspective against the black and white tones, and the subtle highlights of colour in the escalators. The pipes lead your eyes down the photo and give you a true sense of scale of how impressive this building really is.
About the photo…
The photo was taken inside Lloyd's building during this year's London Open House weekend. I have taken many photos of it from the outside but had never been inside until this visit, which was something special. It was nice as a photographer to be allowed to take as many photos with whatever camera and not get harassed by security for a change! I used a Nikon D700 with a Nikkor 14-24mm f/2.8 lens attached.
Jarrad's work can be found on his Facebook and Flickr pages, as well as on his website.
Second Place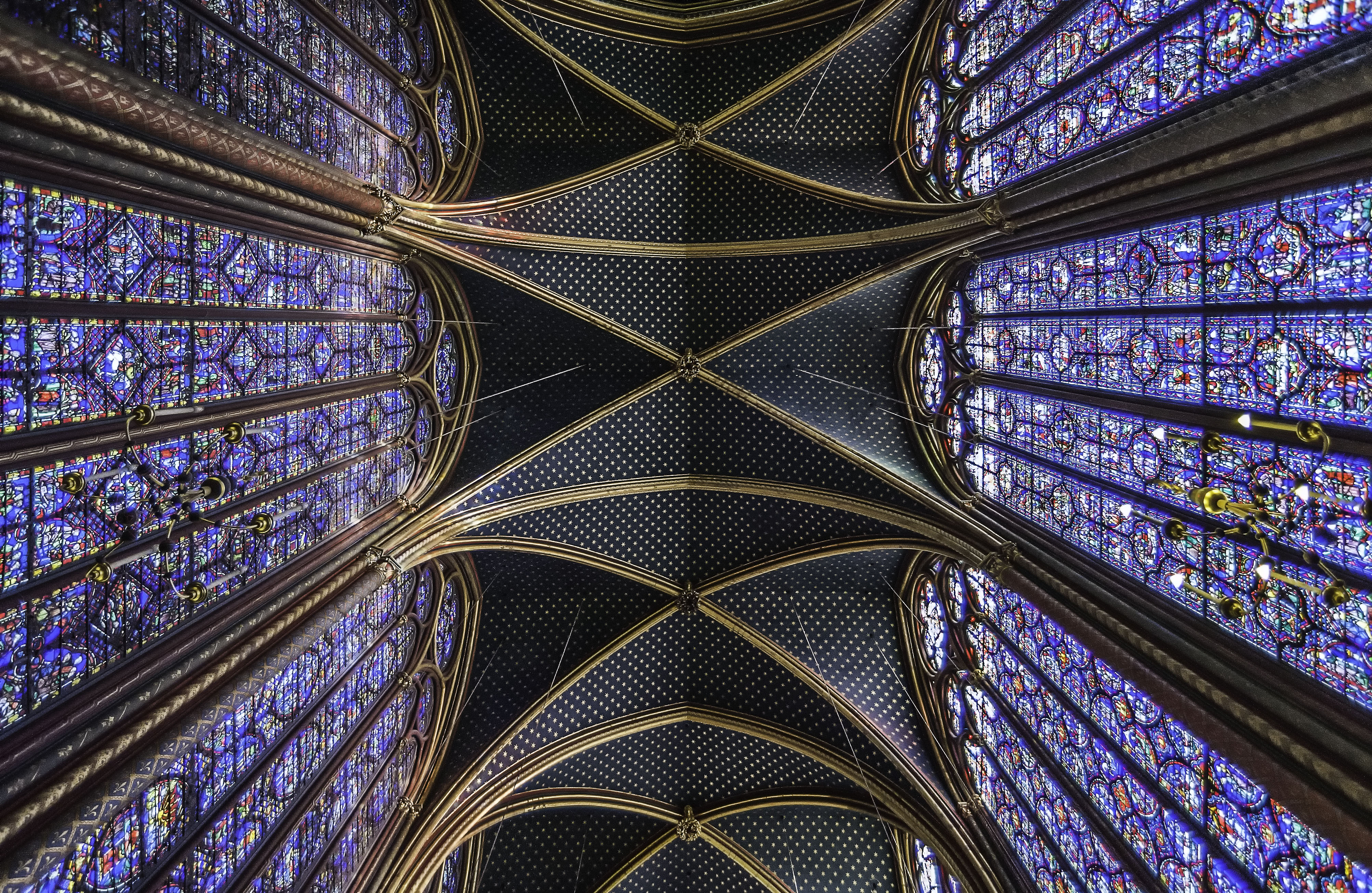 Well done to Mark Payne who comes in at second place with this striking hand held shot of the ceiling and stained glass windows at La Sainte-Chapelle. It's been exposed beautifully and the unique perspective makes this shot stand out.
About the photo…
This image was taken at La Sainte-Chapelle (The Holy Chapel), a royal medieval Gothic chapel located near the Palais de la Cité in the heart of Paris. The image is of the ceiling and side windows; the altar was under renovation so I took the shot in this way to avoid it being in the frame. It's also one of the few ways not to get the crowds of people milling around the building in shot. I used a Nikon D700 with the Nikkor 18-35mm f/3.5-4.5 lens. This was shot handheld at f/3.5, with a shutter speed of 1/10sec, ISO 200 and processing in Adobe Lightroom afterwards.
More of Mark's work can be seen on his website.
Third Place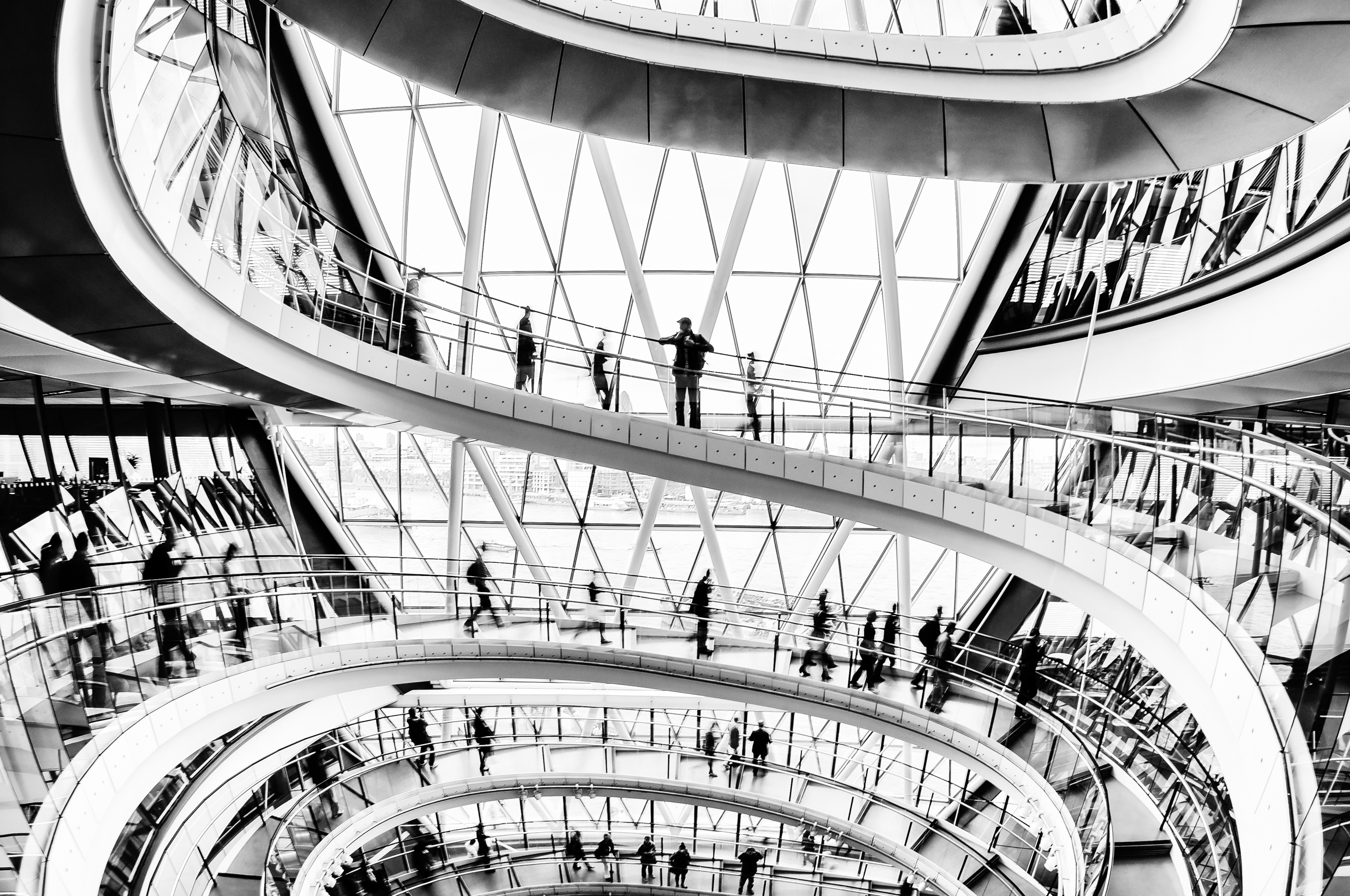 Finally, Aaron Yeoman wins third place with this unique black and white image of a sweeping, spiral staircase at London City Hall. We loved Aaron's choice of shutter speed to portray the movement of people walking past.
About the photo…
This was taken at City Hall in London as part of last year's London Open House weekend. I used my Samyang 8mm fisheye lens on my Sony A700 to really exaggerate the curves and bends of the staircase within the building – this is my favourite part of the image. The lens is so wide that it really captures everything, but I also wanted to capture the human element too. After all, a staircase is meant to be used by people! I waited for the right moment when the most central figure was standing right in the middle of the frame before taking the image, while the slightly slow shutter speed of 1/5 second lent the other people a sense of movement. I converted this to a 32bit HDR image and then imported into Silver Efex Pro 2 to give it that clean, high-key feel. I then imported it back into Adobe Lightroom, where I straightened it and sharpened it a little. I used a Sony A700 and Samyang 8mm f/3.5 fisheye lens at f/8.0, at a shutter speed of 1/5sec and an ISO of 100.
You can view more of Aaron's photographs on his website.
A big thank you to everyone who entered October's theme! There is still time to enter in November's Photo Challenge with the theme 'Night Time'.