When shooting monochrome, shape and form are of paramount importance. Find out who has the keenest eye for composition as we reveal the winners of this month's Facebook competition.
First Place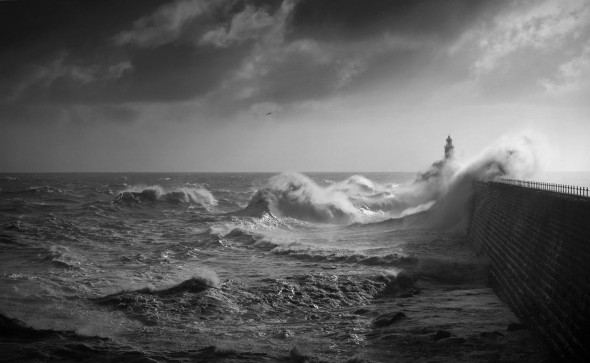 By Ross Pichler
Ross's dramatic shot has a great sense of scale and drama, but the smaller details are no less impressive. It's a perfect choice for a monochrome conversion, with the limited palate allowing the shapes and lines to take greater prominence. Well done, Ross!
Ross talks about his image
The photograph is of the North Pier Lighthouse in Tynemouth on a stormy day. I like the shot because it almost reminds me of an oil painting – with its flowing movement and lots of texture. There was a gap in the clouds that morning which allowed for sunlight to cast strong shadows on the pier and water. Waves crashing over the pier are quite a regular sight here in Tynemouth, but on this day the conditions were a little more favourable.

I used a Canon 60D, 50mm lens, f/10, 1/1000sec, ISO 100, handheld.
To see more of Ross's work take a look at his website, www.rosspichler.co.uk
Second Place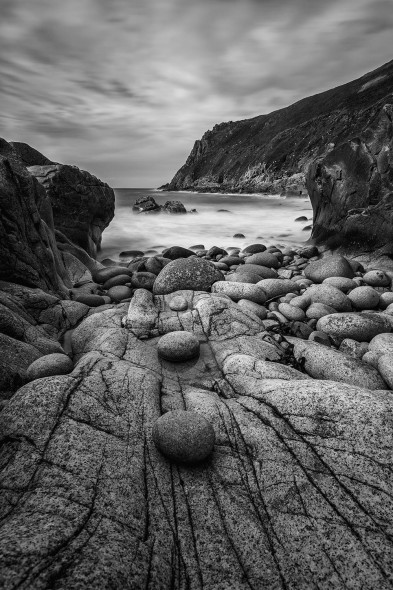 By Dave Ball
With tremendous foreground interest and canny use of leading lines, Dave's long-exposure image was a favourite among the judges. Check out the dramatic shape of the coast against the smooth blur of the clouds.
Dave discusses his image
Whilst recently on holiday in North Cornwall's St Just, I headed down to Porth Nanven cove. I had seen so many pictures of this stunning cove, which is famous for sunsets and its dinosaur-looking eggs, but still didn't know what to expect.

I came across this stunning piece of curved shaped rock, which had great texture and detail and also some great leading lines that headed towards the sea. I started shooting and the rest is history. What i will say is that I came away very happy in my mind that I achieved what I set out to do and got something unique and different.

I used a Canon 6D, 17-40mm lens. I shot a 60sec exposure at f/16, ISO 100, using a Lee Little Stopper.
You can follow Dave on Facebook, find him on Flickr, and see more images at his websitedavidballphotography.co.uk.
Third Place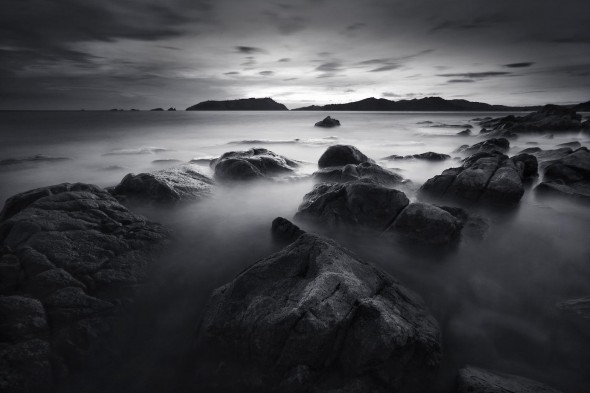 By Ross Pichler
Jefferson's dark and ominous image is starkly effective – what could have been a gentle scene is rendered as something else entirely, with a terrific use of light and shade. This was a hugely strong month for the competition and we were massively pleased to give Jefferson's shot third prize.
Jefferson tells the story of his image
Photo taken in Mariveles, Philippines, at twilight hour. This hour was always my favourite time when shooting landscapes – the light gives a mysterious mood to a place. I used a graduated ND filter to balance the exposure of land and sky, and a regular ND filter to make a long exposure shot for a misty water effect.

I used a Canon EOS 60D with a 10-22mm lens. Settings: 120 secs, f/11, ISO 200.
Follow Jefferson on Flickr, or visit his personal portfolio website at jeffersonguecophotography.weebly.com.
Thank you to everyone who took part in our September competition! Visit our Facebook page for details of this month's contest.