June's Google+ competition was titled 'Above and Below the Waves', which attracted a range of interesting submissions, from sweeping seascapes to all manner of life underwater.
Everyone who takes part in our competitions has three shots at success, and this month proved to be particularly fortunate for one lucky winner who managed to have two of his images make it into our top three. So here they are...
First place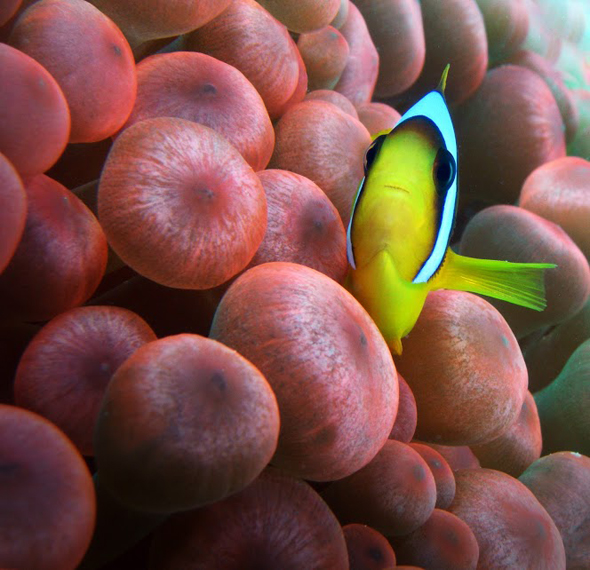 A big congratulations to Sven Roden, who's image of this clownfish was our top pick. We loved the bold colours in this image, as well as the square crop and excellent use of depth of field. Sven explains...
More about the image...
This Red Sea clownfish (Amphiprion bicinctus) was watching me intently from the tentacles of his host sea anemone, probably thinking, "Is this a predator? Or just another diver looking for the classic 'Nemo shot'?" With little manual control on this old camera, I mainly had to use the strobe to control exposure and colour balance. Colour fine tuning was done in Photoshop, along with some cloning and curve adjustments. I used a Nikon Coolpix 7900 in Ikelite housing with the Ikelite DS50 strobe.
You can find more of Sven's photographs on his Flickr page.
Second place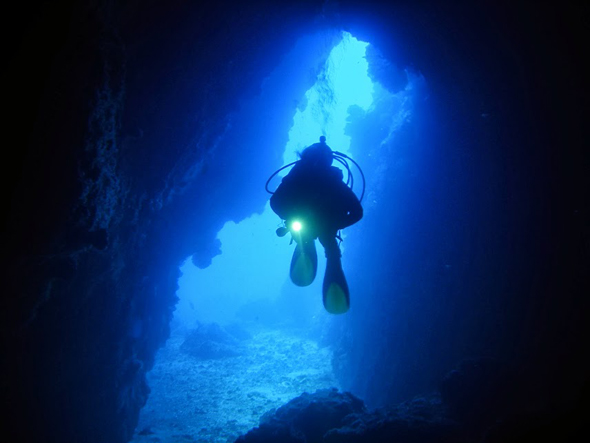 'Tunnel Blues' impressed us enough to take second place this month. This image scores many points from a technical perspective, with great use of natural framing and the darker peripheries concentrating the viewer's focus on the diver - and we think the result is excellent!
More about the image...
This dive trip to the Sea of Cortez, Mexico, was the first time I dived with an underwater digital camera (Nikon Coolpix 7900 in an Ikelite housing). Despite its general lack of manual control, the little camera behaved pretty well, but I had to feel sorry for my poor wife – I made her swim though this tunnel a number of times before I was happy with the shot. Oh the heaven of digital media - instant playback!
You can find more of Sven's photographs on his Flickr page.
Third place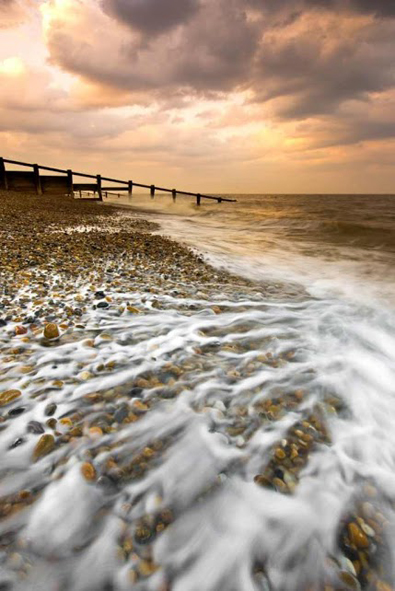 Third place this month goes to this shorline capture by Tom Harvey. By combining a slow shutter speed with an ultra wideangle lens, Tom managed to capture a great balance between soft, flowing water and plenty of contrasting static elements all the way up to the camera.
A few words from Tom...
I headed down to Aldeburgh for sunset as the sky look promising with broken cloud and some nice sunlight. When I set the shot up I decided that I would drop the camera close to the ground so that I could capture the detail on the water washing back over the gravel. Using an exposure of around 0.6 sec I was able to catch the movement of the water.
More of Tom's work can be viewed on his his Flickr stream
Congratulations to our lucky winners! The results from our July competition titled ' Transport From A to B' will be announced over the next couple of weeks. In the meantime, why not enter our August Google+ competition? The theme is 'Sunset/Sunrise' - for more information click here.