We take a closer look at two new 4K-capable recorders from Atomos
Field Recorder specialists Atomos have announced two new recorders to their 4K-capable range: the Shogun Flame and Ninja Flame. Both of these build on the success of the existingShogun and Ninja Assassin recorders by strengthening and enhancing both their builds and feature-sets to create a superior combination of recording and monitoring solution.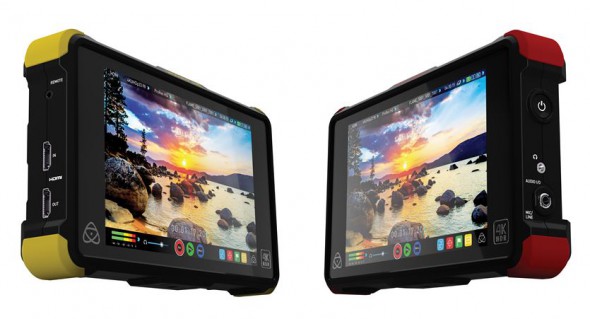 The Atomos Shogun Flame and Ninja Flame Field Recorders
Getting the best from your sensor
A great many filmmakers use Atomos' Field Recorder solutions to get the best from their cameras by bypassing the often limited on-board recording codecs, instead acquiring their footage in the superior Pro Res and Avid DnX formats. Whether that's broadcast-quality HD Pro Res recorded onto the Ninja Star from the Canon C100 Mark II or beautiful 4K Pro Res recorded onto the Ninja Assassin from Sony's A7S II mirrorless camera, the Atomos range have enabled filmmakers to achieve the high bitrates and "options in post" footage they require without having to look to top-end cinematic camcorder technology costing tens of thousands of pounds.
Building on solid foundations
The new Shogun Flame and Ninja Flame recorders share the same high-bitrate recording capabilities as the existing Shogun and Ninja Assassin along with an equivalent connectivity. So all the Pro Res and Avid DnX recording capabilities that we're used to, with the Shogun Flame having 3G-SDI connectivity and the Ninja Flame being the HDMI-only model. However, the new Flame series also have integrated XLR inputs, removing the requirement for XLR adapter cables or external audio recorders when shooting with smaller cameras like the Sony A7 series. This is a neat addition.
Responding to user feedback, these new models have an upgraded, robust frame made with hardened plastic and rubberised corners. In the hand they feel battle-ready and rugged, like a product that understands the rigours of field use and one you'd feel confident to rely on in the rough and tumble of everyday shooting.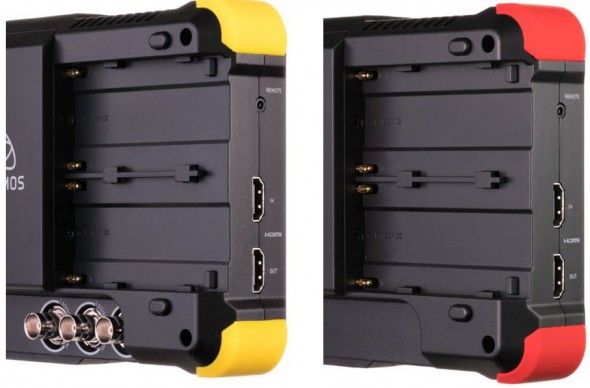 The Shogun Flame's SDI/HDMI inputs and the Ninja Flame's HDMI inputs. Two slots for NPF batteries and rubberised protection on corners
Speaking of "field use", Atomos have also responded to user feedback by adding a second L-Series battery slot. This is a welcome and practical addition. What's more, the batteries are hot-swappable so you can shoot continuously.
Future-Proofing: High Brightness, 10 Bit Processing and the AtomHDR Engine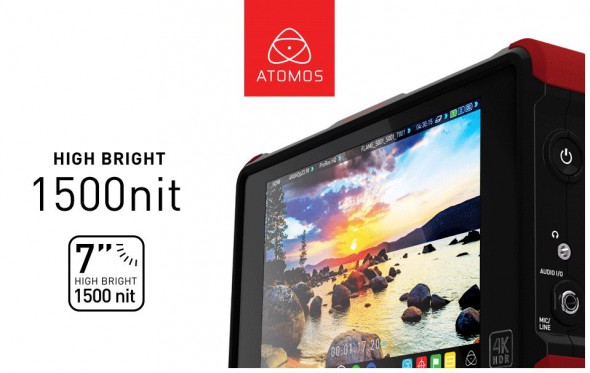 What sets the Flame series apart from its predecessors and indeed the competition is the LCD screen technology and Atomos' AtomHDR Engine. The High Bright, Full HD 7-inch LCD panel used in the new models delivers 1500nits brightness with upgraded 10 Bit Processing. What does this mean in practical terms? Well, first of all the enhanced brightness means the monitor performs well in outdoor conditions and second of all the 10-bit processing now resolves 1.07 billion colours – substantially more than the previous 8-bit panels that resolved 16.7 million colours and as such were prone to colour banding.
We still have the same LUT presets as before, so there's support for Log profiles from Canon, Sony, Panasonic, JCV, Arri and Red cameras in Log mode. However, Atomos' secret sauce in these new models is the AtomHDR engine, a mode that takes full advantage of the 1500 nit brightness screen by enabling 10 stops of dynamic range to match 10-bit log footage. This is essentially a High Dynamic Range mode that reveals shadow and highlight detail usually clipped on a traditional monitor incapable of such a range of light and dark.
Looking forward: What HDR means for you
Although HDR screens and processing are still mainly a high-end cinema technology, the large sensor cameras and camcorders of today have the capability to deliver a wide dynamic range image and it makes sense that display technology has been evolving to demonstrate this enhanced understanding of shadows and highlights. Indeed, HDR display technology is likely to be the next advancement for monitors and screens, complementing todays UHD/4K resolutions with a similarly lifelike interpretation of light and dark.
With the Flame recorders, Atomos has combined its experience and expertise in high-end codec Field Recorders with an intelligent, forward-thinking approach to display technology: A combination hitherto unseen on the market.
Both recorders are available to pre-order through Wex, just click the following links:
The Atomos Shogun Flame will be available at £1554 and the Ninja Assassin at £1194. They will be hitting these shores in 10-14 days.
Related articles