At the start of November we asked you to capture an image that best represents The Sea.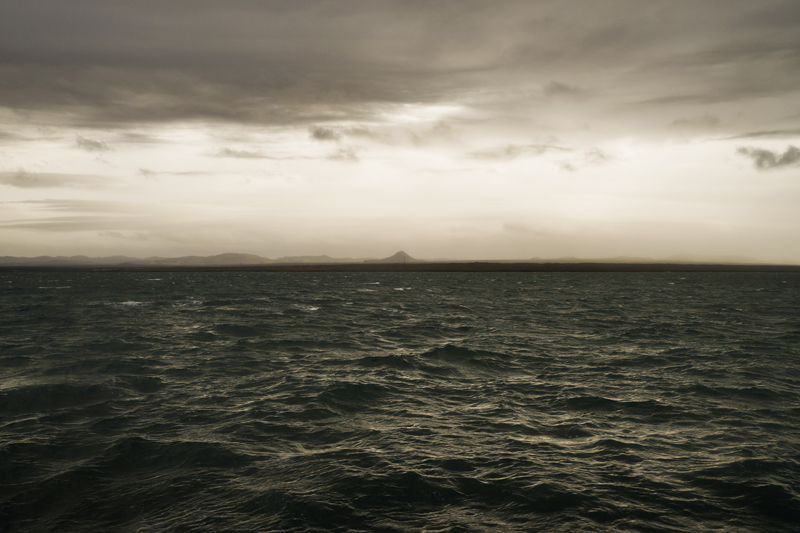 The sea triggers all sorts of senses, evocative associations and memories; the cold brush of water and sand between your toes, rock pooling as a kid in the summer holidays, and the sounds of the stones as they're washed back and forth by the current, to name a few. Sea can be our friend, our foe, a place of relaxation, of romance, of adventure and mysterious intrigue – in short a hugely versatile backdrop to all manner of activities. Furthermore, it can be captured using a variety of photographic techniques; a slow shutter speed will create a smooth, blurred-motion effect, whereas a faster one will freeze the sea's movement – a great way to emphasise its force and power. For most of you the sea was best portrayed at two extremes, at sunrise or sunset, or on a stormy, atmospheric day.
First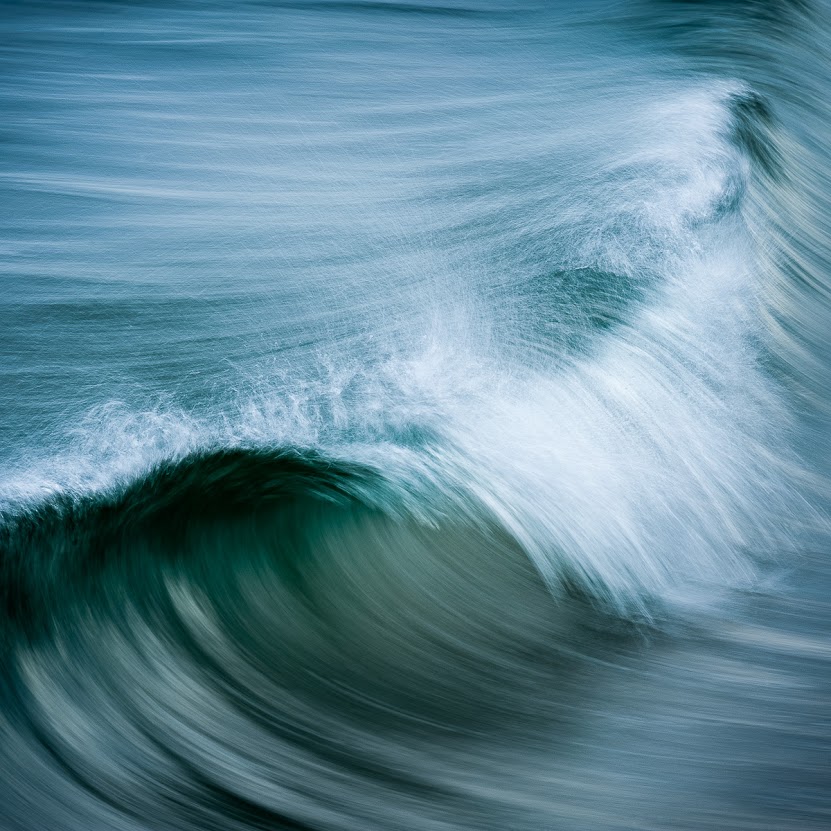 This month's winner is Andy Gray, with this beautiful capture of a breaking wave.
About the image…
Recently I've been capturing images of waves using panning techniques, as well as filters to reduce the light entering the camera (to allow capture of more movement). The day I captured this image (on the iconic Bamburgh beach, Northumberland) I'd stupidly forgotten to pack my adaptor ring for my filter system. Luckily it was an overcast day, so setting the camera to its lowest ISO and the f-stop to f/22 still allowed me to get an exposure of around 1/8sec without blowing out the highlights of the breaking waves. Naturally, when shooting such subjects as waves you take many many shots, but this one leapt out when looking through the results of the day. So, with my favourite square crop and some tweaking in Lightroom 5 and the NIK Collection plug-in, the final version came together. I used a Nikon D700 with a Nikon 70-200mm f/2.8 VRII lens, at ISO 100 with a shutter speed of 1/8sec and an aperture of f/22.
More of Andy's work can be found on Store, Portfolio, Google+, Flickr and Twitter.
Second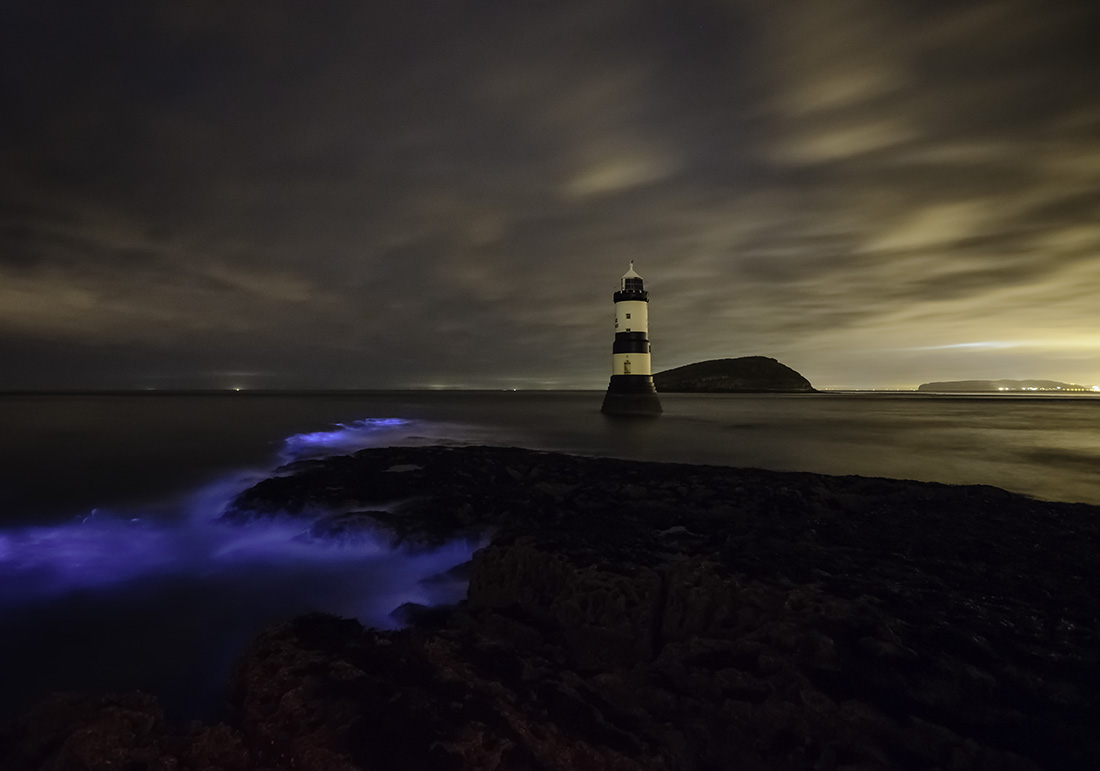 Second place this month goes to Kris Williams, with this magical shot of bioluminescent algae in the sea at night.
About the image…
This shot was taken at Pennon lighthouse on Anglesey at the end of November, using a Sony A99, Carl Zeiss 16-35mm lens and a 3 Legged Thing tripod. I had gone down to the point as it's close to home and one of my favourite spots for night-sky shots. I was actually hoping for a shot of Comet Lovejoy, but when I arrived I noticed that there were bioluminous lights flashing out in the channel off the headland. I'd been lucky to see them from afar once before and when I headed nearer the lighthouse, where the waves are stronger, the lights became a lot more visible. It's one of the most incredible sights I've seen in a long time, like electric-blue lightning charging through the rolling waves.
More of Kris's photographs are on his Facebook page.
Third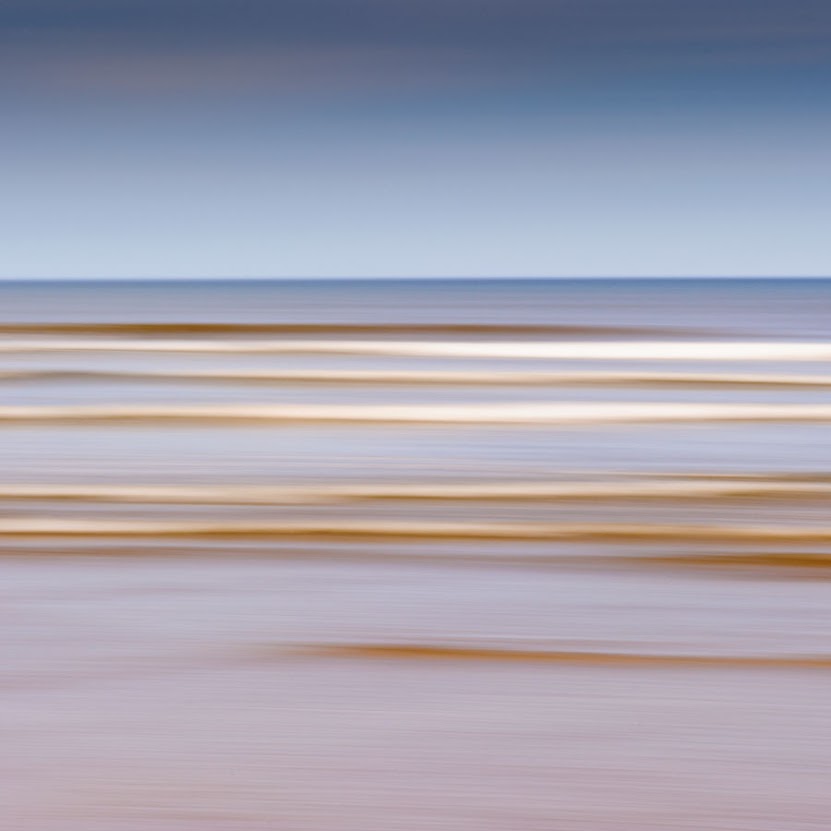 And finally, David Queenan wins third place with this creative, pastel coloured blur of the sea.
About the image…
This shot was taken at The West Sands, St Andrews. I took the photo using a Nikon D200 and Nikkor 17-55mm lens, at an aperture of f/22 on a tripod. A shutter speed of 1/15 sec was used whilst panning the camera to create the blurred effect in camera.
More of David's photos can be viewed on his website and Facebook page.
Thank you to all who took part! December's theme 'Creative Blur' is now up and running. For more information on how to take part click here.