Tweet your best images on the theme 'Communities, Collectives & Collaboration' and win up to £100 worth of Wex vouchers!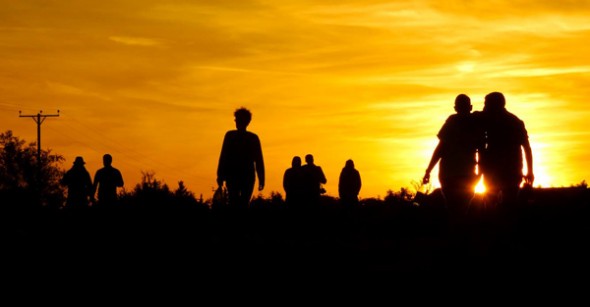 To celebrate our sponsorship of the internationally renowned Brighton Photo Biennial 2014, the UK's largest festival of photography, Wex Photographic is launching a brand new competition based on the theme of this year's event, Communities, Collectives & Collaboration.
Running from Saturday 4 October to Sunday 2 November, the Brighton Photo Biennial attracts over 100,000 visitors to the Brighton and Hove area and beyond, who gather to celebrate photography in all its forms - as prints, projections, pixels and pages. Based on the theme Communities, Collectives & Collaboration, BPB14 is an ambitious array of exhibitions, events, talks, tours, workshops and screenings, taking place in public spaces, galleries, pop-up venues and online. As part of the festival's unique 'learning and participation' programme, the Wex team will be hosting two distinct workshops at the University of Brighton's Faculty of the Arts.
To enter the competition, simply tweet up to five images that reflect the theme, and make sure to include #WexBPB14 so that we can find your entry. Your images do not have to be taken at the festival itself, so feel free to submit any of your images that you feel best fit the theme. Alternatively, post your images to our Facebook page, using the same hashtag. Click here for more information on the festival.
See below for full terms and conditions. Good luck!
Terms and Conditions
1.1 The promoter is Wex Photographic, 13 Frensham Road, Norwich. NR3 2BT.
1.2 The competition is open to UK residents over the age of 18; exceptions are employees of Wex Photographic and anyone connected with the prize draw.
1.3 Each entrant is allowed to submit a maximum of five images into the competition.
1.4 The competition opens at 9.30am 03.10.14 and closes at 23:59 on 09.11.14. Submissions received after this point will not be entered into the competition.
1.5 Entrants must tweet their own images and include #WexBPB14 to enter. Alternatively, users may upload images to the Wex Photographic Facebook page but must include the same #WexBPB14 tag to enter. Links to online portfolios, websites and other image-hosting sites will not be entered into the draw, nor will tweets from private accounts.
1.6 The draw will be made on 10.11.2014 by a Wex Photographic representative (Judge). All images will be judged on their technical merit and representation of the theme. The entry selected will be deemed the winner by the Judge.
1.7 The prizes are as follows: 1 x £100 Wex Photographic voucher; 1 x £50 Wex Photographic voucher; 1 x £25 Wex Photographic voucher.
1.8 The prize cannot be exchanged for cash, nor an alternative offered, unless there are circumstances beyond our control, in which case a prize of equal value will be offered. 1.9 Winner will be notified of their win within two weeks of the closing date
1.10 If the winner cannot be contacted within 28 days a new draw will be made from the completed entries.
1.11 The Judge's decision is final and no correspondence will be entered into.
1.12 By entering the prize draw you agree to participate in any reasonable promotional activity or press material regarding the competition when required by Wex Photographic.
1.13 Wex Photographic will not pass on your personal details to any third party companies.
1.14 All standard T&Cs and the Wex Photographic privacy policy apply - see www.wexphotographic.com for more details.