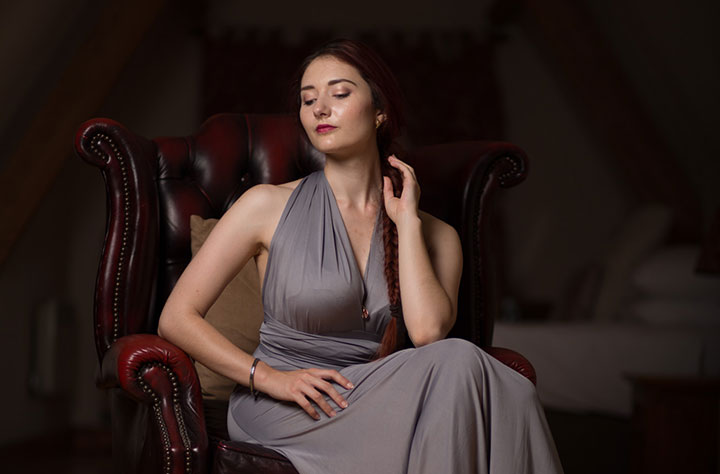 Looking to develop your confidence as a photographer, develop your experience using manual settings or for advice on portraiture photography? This is the workshop for you!
If you enjoyed our 'The Basics' workshop and want to build upon what you learnt then we're excited to bring you our 'Next Step' series of intermediate workshops! These workshops, covering a range of subject matter, aim to build on the basics and help you develop your photographic style.
Join us with your camera and enthusiasm for a brilliant half-day workshop at the beautiful Park Farm Hotel. Staff photographers and The Basics workshop leaders, Josh Brown and Dibs McCallum will teach you the fundamental techniques of portraiture, supported by professional model Bernadette Lemon. It's all about improving your confidence and developing your photography!
The Itinerary:
Introductions
Briefing on the lighting kit available at the workshop (covering lights, modifiers, battery packs, triggers and reflectors)
Talk on camera kit and lenses (including the pros and cons of telephoto and prime lenses)
Demonstration on how to correctly assemble lighting equipment
Setting up your camera (including discussion of shooting in RAW, rule of thirds and composition)
Let's start shooting!

Meet model Bernadette Lemon
The importance of using a tripod
Using live view and the viewfinder
Balancing ambient and artificial lighting
Working indoors and outdoors

Break for a cuppa
Back to the studio!

Directing the model
Introducing reflectors
Manipulating light and angles
Controlling your lighting heads
Using different modifiers

Recap and Q&A
Event Information
Event: Getting Started with your DSLR: The Next Step – Portraiture
Date: Friday 14th October 9.30am-2.30pm
Location:Park Farm Hotel - Norwich Road Hethersett, NR9 3DL
Please note that tickets for this event are being made available via Eventbrite. Clicking 'Register' will take you to the Eventbrite website where you can register for a ticket.
See our Events index for a full list of events planned in the near future. If you would like more information on any of the events or you would like to make some suggestions for possible events please send us an email to [email protected].