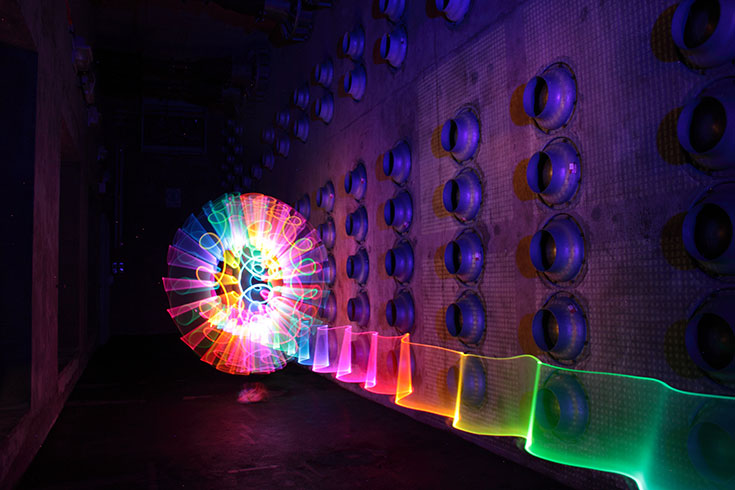 Wex Photographic is happy to announce an exciting workshop for those of you keen to get creative and hone your skills in the very artistic medium of painting with light. With a maximum of 8 photographers per session, and led by enthusiastic and talented light painter, Claire Harper and Wex Event leader, Tom Stone, you will gain some specialist insight into the light-painting process as well as being able to create your own beautiful light paintings.
In terms of kit you will need a tripod, a remote shutter release, any spare batteries and memory cards you have, and of course your camera. With regards to lenses, a standard kit lens or wide-angle lens will suffice. You're also very welcome to bring your own light painting tools, although there will be a wide range of tools to use on the day.
About Claire Harper
Claire Harper, member of the Light Painting World Alliance and Wex Photographic blog contributor, leads light painting events around the country and recently gained international recognition in the LPWA International Light Painting Awards, where she featured in the top 100 light painters up against submissions from photographers in 43 countries around the globe. To see more of Claire's work and read her blog, please click on the links below.
www.facebook.com/claireharperlightpainting
www.wexphotographic.com/blog/learning-to-light-paint-claire-harper
So book now to avoid disappointment!
Wex Workshop: Light Painting with Claire Harper
Event: Wex Workshop: Light Painting with Claire Harper
Date: Thursday 3rd November, 5pm - 7pm OR 7.30pm - 9.30pm
Price: £50 per person
Location: The Pennoyer Centre, Station Road, Pulham St Mary, Norfolk. IP21 4QT
Please note that tickets for this event are available via Eventbrite. Clicking 'Register' will take you to the Eventbrite website where you can register for a ticket.
See our Events index for a full list of events planned in the near future. If you would like more information on any of the events or you would like to make some suggestions for possible events please send us an email to [email protected].