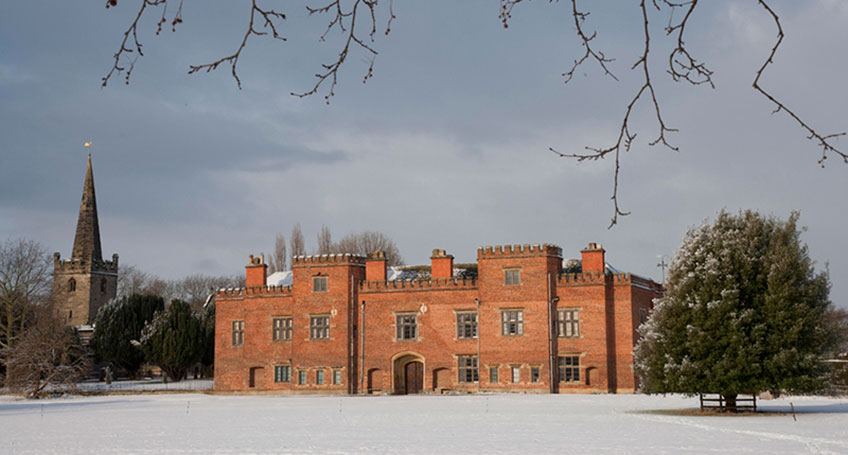 Join us as we take a walk around the historic Holme Pierrepont Hall in Nottingham for an architectural photo walk. With support and insight from professional photographer and Manfrotto Ambassador, Martine Hamilton Knight, and Wex Event Leader, Dibs McCallum, you will gain the opportunity to capture some stunning photographs of this beautiful Tudor house and gardens built in 1536.
In terms of kit we recommend a tilt-shift, perspective control, or wide-angle lens, a tripod, plenty of memory cards, spare batteries, and - of course - your camera. But don't worry if you don't have everything on the list, this event is for photographers of all abilities as much as it is about trying something new and pushing your existing kit to new levels.
The day will include working indoors and out, so please be sure to wear clothing appropriate for outdoor photography in the late February weather, as well as comfortable shoes or boots for outside and clean indoor shoes for the inside sections. Please also bring along any refreshments you will need for the day, as the Hall's rural location means there are few shops nearby.
Unfortunately, as the building is under Grade II listing, some areas of the hall are not accessible by wheelchair.
Please arrive at the main entrance of Holme Pierrepont Hall 10 minutes before your chosen walkabout time to ensure a prompt start. Free parking is available in front of the nearby Church.
This will be about celebrating architectural photography, learning new tricks, and meeting likeminded photographers. So book now to avoid disappointment!
About Martine
Martine is an award-winning architectural photographer based in Nottingham, and is also an international brand ambassador for Manfrotto. Her images have been published internationally and regularly feature in architectural books and journals. In addition to travelling around the country doing architectural photography for her clients, she teaches in Higher Education at Nottingham Trent University running workshops for their undergrads.
View more of Martine's work here.
WexWalkabout: Architectural Photography with Martine Hamilton Knight
Event: WexWalkabout: Architectural Photography with Martine Hamilton Knight
Date: Monday 27th February 9am-12pm or 1pm-4pm
Price: £20.00
Location: Holme Pierrepont Hall, Holme Pierrepont, Nottinghamshire, NG12 2LD
Please note that tickets for this event are available via Eventbrite. Clicking 'Register' will take you to the Eventbrite website where you can register for a ticket.