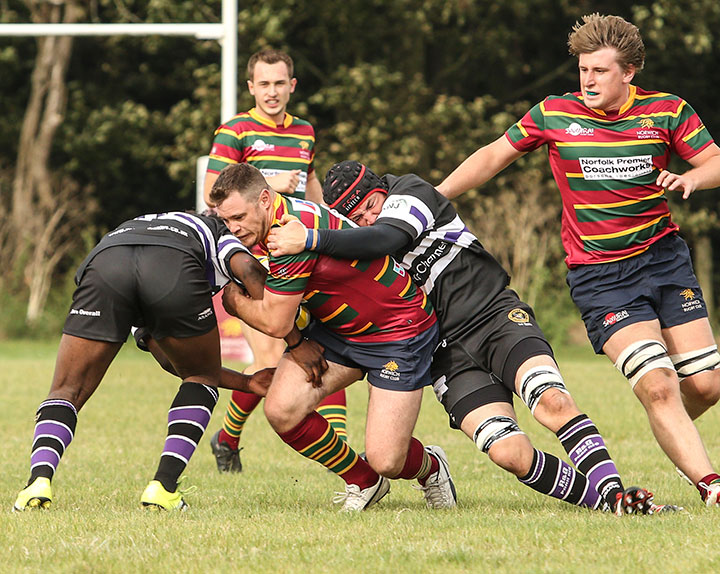 Image copyright Andy Micklethwaite 2017
Join us for an unmissable sports photography edition of our Wex Walkabout programme led by our very own Dibs McCallum.
We will be meeting in the club house at 1:30pm for a quick brief and a chance for you to ask any questions before the Norwich Lions vs Norwich Medics 1.45pm kick-off.
This Walkabout is aimed at introducing you to the challenging subject of sports photography, whilst also enjoying what will be an intense game of rugby.
In terms of kit we recommend:
Your DSLR with lots of memory and a spare battery - of course.
Any wide angle lenses you have
Any telephoto lenses you have
A lens cleaning kit in case of muddy conditions
A UV filter to protect your lenses
A storm jacket for your camera just in case of wind and rain
A monopod, OR tripod with gimbal head
However, it doesn't matter if you don't have all of the above. These events are just as much about pushing your existing kit to new levels as they are about getting the best pictures possible.
Please dress in warm clothing for cold March weather including sturdy footwear in case of mud. There are toilet facilities onsite and a place to get a drink if you wish, otherwise please bring along any refreshments you will need for the day.
What is a Walkabout?
After a hugely successful two years we will be repeating our Walkabout programme in 2017.
Walkabouts offer you the opportunity to get out and about with your camera, meet up with your local photographic community and learn a few new skills whilst you're at it. Every month, the Wex team will be at a new venue with a different lead photographer, focusing on a different subject with a unique set of challenges. Walkabouts are all about enjoying and developing your photographic hobby in a relaxed, informal environment.
Unlike our photography workshops, Wex Walkabouts are completely informal, have no minimum group size and are not dependent on your ability or gear – wherever possible, we will bring along a range of kit you can borrow. All you need is your DSLR or compact system camera and some clothing suitable for the great outdoors! There are no specific steps or learning outcomes – the walkabouts will give you the challenge of a new environment and a new subject, all supported by an experienced pro photographer.
Regardless of your skill level or kit, Wex Walkabouts are for you – whether you want to try something new or just meet other likeminded enthusiasts!