Think you know Birmingham? Dave Musson runs through the city's greatest photographic spots
What do you think of when you hear Birmingham being mentioned? Black Sabbath and heavy metal? The city's football teams? The Bullring shopping centre?
How about its photographic potential?
Scratch the surface a little, and you'll find Birmingham to be quite the exciting place to point your camera and bag some fantastic frames, as there is so much to see and explore. Whether it's the modern architectural masterpiece that is the second city's new Library, the hidden beauty of Digbeth's industrial past or the people watching potential of the central markets, there's something for every urban photography enthusiast to be found in the heart of the West Midlands.
All of which perhaps explains why there is such a vibrant and exciting photography community that is growing influence in Birmingham – driven in no small part by a buzzing community of Instagrammers who put on an abundance of events all year round to pull local photographers together.
In short, there's lots of great stuff to see and shoot, and as the city centre heads into an exciting new future at full speed, there's always something new to explore on your next visit.
1. New Street station/Grand Central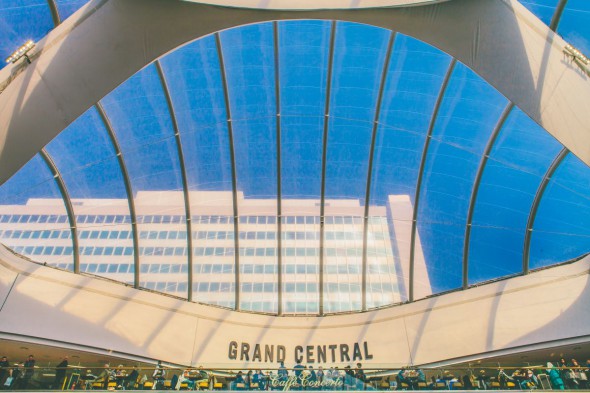 What is many people's entrance to the second city also offers a fantastic first photographic opportunity. While the underground station bit of Birmingham New Street is still pretty grim and claustrophobic, what awaits you when you make it up to street level is a whole new level of brilliance. The glorious roof that sits proudly atop the Grand Central facade – opened in autumn 2015 – floods the station with light, looking like a cross between a tortoise shell and an Eden Project reject. It's well worth pointing your lens at.
2. The Mailbox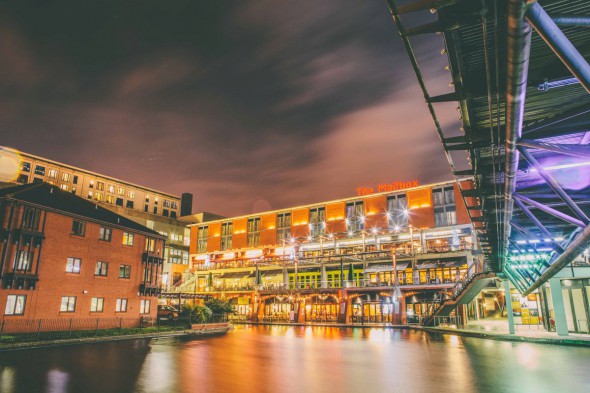 Another icon of modern Birmingham is the Mailbox, home of various outlets including Harvey Nichols, the BBC and the marvellous Everyman Cinema. It's worth taking your camera for a look at its blend of straight lines, steel and weird statues of Doctor Who-esque children that can be found around and above you. It's also a great place to start exploring the second city's canals, of which we have more than Venice, as any local worth their salt will tell you.
3. Victoria Square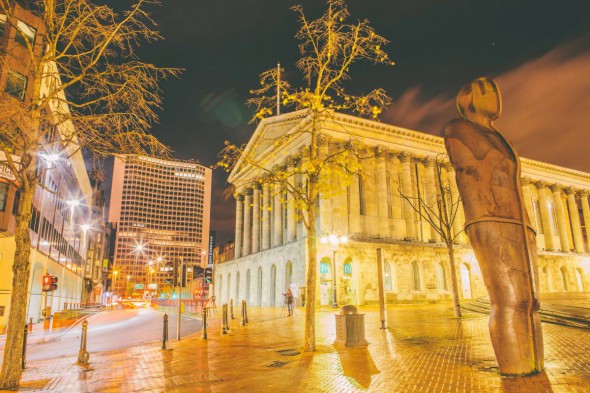 This borders on being a bit touristy, but you really should ensure your visit to Birmingham includes a stop at Victoria Square, purely because there's loads to see. In this one square alone, you'll find the beautiful Council House, the majestic Town Hall, the infamous Floozie in the Jacuzzi (well, in the flowerbed as she is now) and, my favourite, the Iron Man statue – an imposing Anthony Gormley piece influenced by the classic Black Sabbath song of the same name.
4. The Library of Birmingham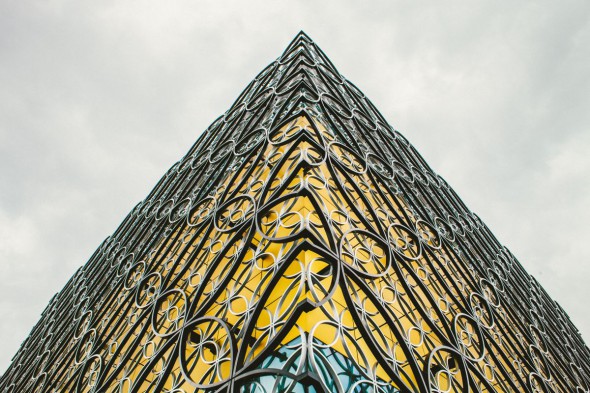 If you're coming to Birmingham you simply have to swing by its wonderful Library. This beautiful building opened in 2013, and its bold architecture and colours have turned it into arguably the most recognisable part of modern Birmingham's skyline. And don't just take pictures of it from ground level – as marvellous a sight as that is. Go inside and check out the cool escalators and the shelves upon shelves of books, before heading up to the balcony gardens on top of the building and being rewarded with amazing views across an incredible city.
5. Digbeth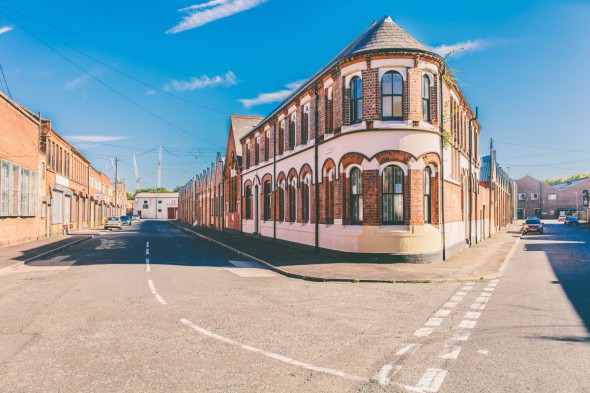 Chances are you've probably heard of Digbeth because of the Custard Factory – home to numerous creative and independent businesses – and a whole load of amazingly colourful street art. Now, don't get me wrong, these both make for terrific photographic material and you should definitely take a look, but my favourite parts of Digbeth to shoot are a little less sexy. Call me strange, but I love taking in Digbeth's crumbling old relics of its industrial past – lots of Victorian detail, weathered doors and beautiful brickwork. Marvellous!
6. Great Western Arcade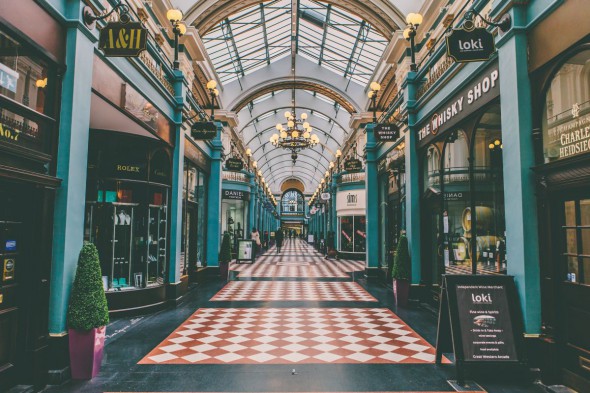 The area around Snow Hill and St Phillip's Cathedral is another must-see. Not only do these places offer plenty of photo-opps themselves, but this part of town also is home to the Great Western Arcade, a beautiful little mall full of character and quirky shops. It is just a joy to look at.
7. The Jewellery Quarter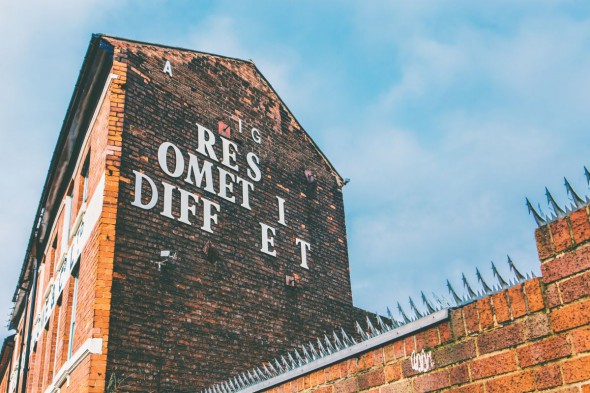 Like Digbeth at the other end of the city, photographing the industrial part of the Jewellery Quarter is one of my favourite things to do in the second city. Whether it's the view back over the city looking down Legate Hill, or the beauty of St Paul's Church, the eerie Brookfields Cemetery or – the real treats – just exploring its many winding side streets, you definitely need to allow yourself a couple of hours to go round this glittering part of Birmingham.
8. The Markets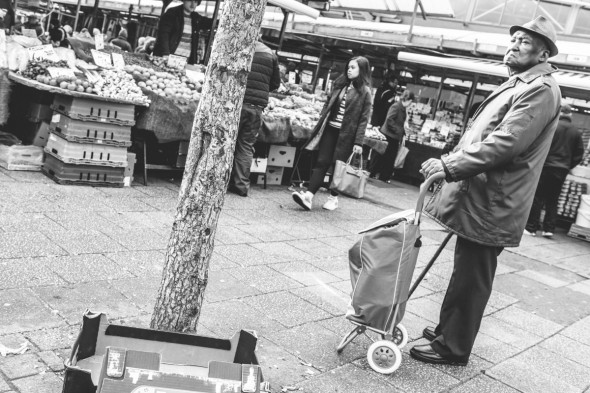 If street and people photography are your thing, then be sure to swing by Birmingham's markets, which are just down from the Bullring. The characters on offer here are a visual delight, the hustle and bustle is a joy to drink in and it's easy to blend into the background and watch from afar, or get right up close in the thick of the action.
9. The Rotunda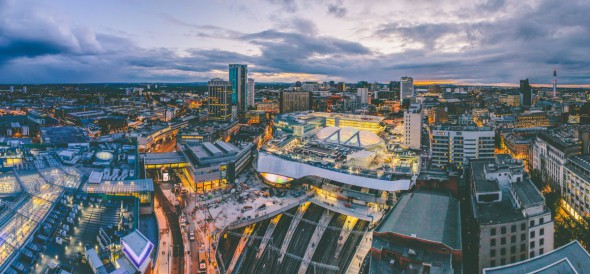 If you're looking for somewhere to stay overnight and don't mind spending a little extra, give the Rotunda's super cool serviced apartments a try. Not only does it offer luxurious accommodation, you get a quite terrific view across the city that is every bit worth the money, especially as the city moves from day to night.
10. The Bullring/Selfridges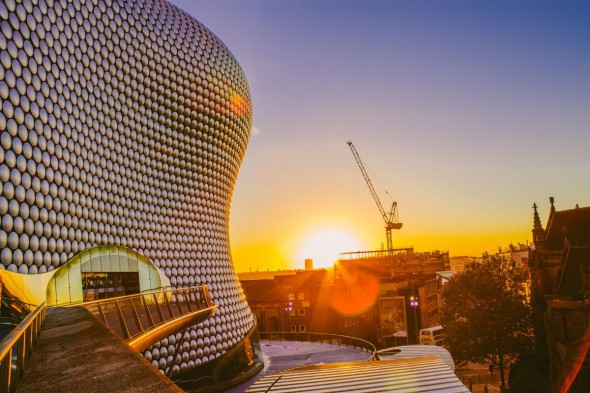 As a shopping experience, the Bullring can be terrifying, but as a photographic subject it is great – especially the famous curves and bubblewrap look of Selfridges, which still looks as fresh and space-age as it did when it first opened back in 2003. If you get there early enough, it makes for one of the best spots in the whole city to take in the sunrise.
About the Author
Dave Musson is a music photographer based in Birmingham. His website is davemusson.com
Related articles