Tim Coleman provides an expert's guide to one of the Lake District's most popular and photogenic regions – Derwent Water
For ten years, relatives of mine lived by Derwent Water, Keswick, in the Lake District National Park. A few times each year, I took the opportunity to make the long journey to visit them and explore the area.
Being outdoorsy and a lover of landscape photography, I've found visits to the region to be a dream.
I've explored most parts of the Lake District and for me Derwent Water and its surrounding area are second to none, boasting exceptional beauty and a host of outdoor pursuits while also being close to the hustle and bustle of Keswick. Throw all that together and the photo opportunities are plentiful.
Derwent Water is the third-largest lake in the National Park. If you hike all the way around you'll cover approximately 11 miles, and you'll need the best part of the day to it. However, there are further options for exploring, plus shortcuts to other sides of the lake. There's the foot passenger boat service called Keswick Launch, there's rowboat and kayak hire, and it's also perfectly possible to drive your way around (more details on those options to come).
Times of day, seasons and weather conditions are all factors that dramatically change the feel of all Lake District pictures. The same views are always changing.
Many that are familiar with the area will have their favourite spots around Derwent Water that are not featured in this article, so rich is what is on offer here.
If I were asked to recommend a single region to explore in the Lake District, I would not hesitate to say Derwent Water and I hope you get the chance to enjoy the region as I have.
1. Keswick Launch: Jetties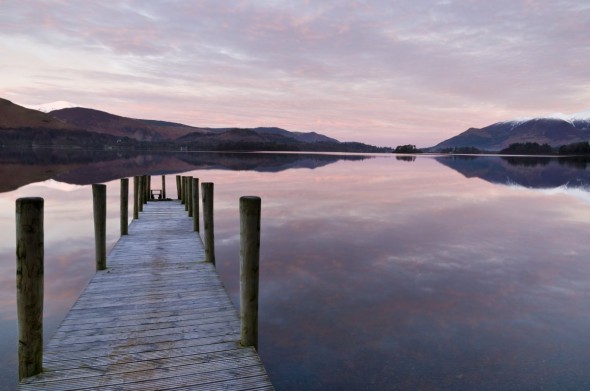 Keswick Launch travels to seven stops that cover all sides of Derwent Water: Keswick (home of the Launch company), Ashness Gate, Lodore, High Brandelhow, Low Brandelhow, Hawse End and Nichol End. As such, there are numerous jetties on the lake.
What better feature to provide a leading line for a picture than a jetty, drawing the viewer into the scene?
Camera by one's side, the most obvious jetty to start with is Ashness Gate – possibly the most photographed spot in the Lake District. It's easy to see why it's so popular!
As the jetty is on the south-east side of the lake, the water is shallow and rather sheltered, so on a still morning there are perfect reflections of the rolling hills.
Keswick Launch's earliest departure is around 10am, depending on the season. So, to get those early morning shots, you'll need to drive or walk. Even at dawn, be prepared to share the jetty with other photographers!
If you do take the Launch in the day, it's possible to disembark at your chosen point and then to wait for others to move along, giving the water a chance to become still again so you can get your pictures.
2. Going out on the lake: kayaking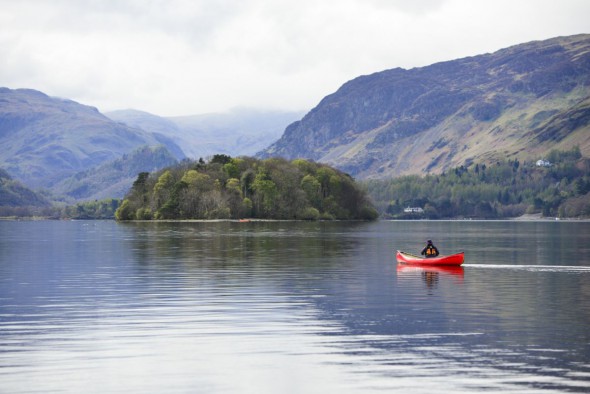 A really fun way of spending a few hours on Derwent Water is to hire kayaks from Nichol End Marine on the north-west point of the lake and paddle down to Herbert Island.
Once you've pulled your kayak onto the island shore, you can relax in the sun (if you're lucky!) and walk around the island – which doesn't take long! There are great views from the island's position in middle of the lake – you'll get a new perspective than you would if you were simply sticking on the mainland.
There are also wooden rowboats available from the main Launch area in Keswick, but if you embark in one I wouldn't expect much time with the camera – these boats are cumbersome, requiring all your efforts to control!
3. Reflections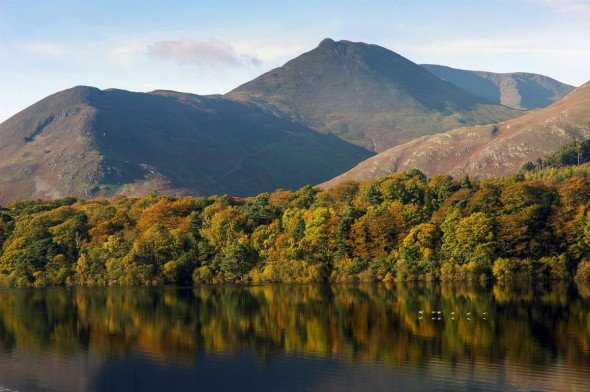 Reflections are only worth their salt based on what is being reflected. The shores of Derwent Water provide a spectacular backdrop.
I have this picture, taken using a Nikon D70 in 2005, printed large and framed in our house. Sometimes as a photographer you need very little skill, and it's just a matter of being somewhere at the right time! The birds flying low over the water definitely provide the finishing touch to an iconic view that's still etched in my mind.
4. The shoreline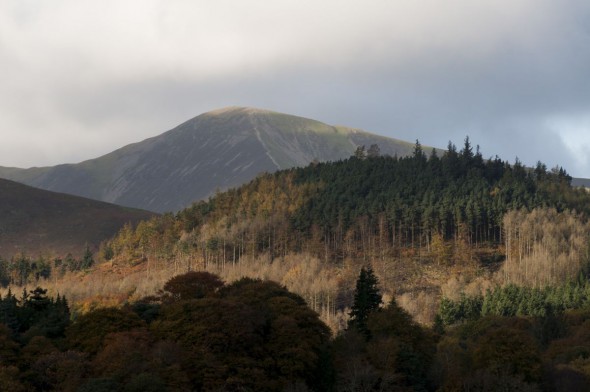 On the shores of Derwent Water are hills layered with trees, which in themselves can provide lovely detail if you're using a telephoto lens from the opposite side of the lake. As the seasons and weather conditions change, so too do these details – shafts of light on particular parts of a hill and the wondrous autumn colours are but a couple of the sights to behold.
For those who love a good lone tree, the occasional one can be found halfway down the east side of the lake too.
5. Time-lapse
In as little as an hour, one can experience the full spectrum of weather conditions in Derwent Water. This means time-lapses of the area can be mesmerising.
In the example above, the lake goes from still to rippling as boats and breezes dance over the water. Clouds are formed and evaporate, and the sun licks the hills (called Cat Bells) in between shadows.
What this time-lapse also reminds me about the Lake District is that its familiar landscapes are new every day.
Gradually, over many visits to the Lake District, I learned one valuable landscape photography lesson – don't take the weather forecasts as gospel. And even if they are proved correct, it takes but a moment of sunshine bursting through the rainclouds to create a spectacular moment.
Sun may often be fleeting, but things are never dull for a photographer in the Lakes.
6. Hiking trails and hills: Cat Bells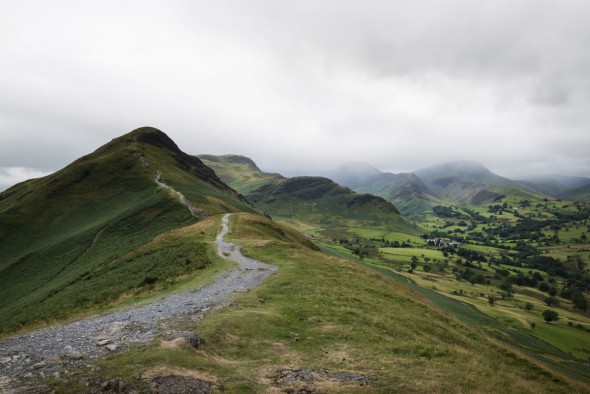 The Lake District and hiking go hand in hand.
As mentioned, it's possible to walk all the way around Derwent Water, though at approximately 11 miles, most of which is off-road, you will need the best part of a day to do it. There are smaller loops that stick to a single side of the lake, working their way inland.
A favourite walk for many, Cat Bells can be conquered in less than an hour from the nearby Hawse End launch or the closest car park.
At the top, one enjoys wonderful views back down to Derwent Water and beyond, including neighbouring Bassenthwaite. From the top one can retrace their steps. The alternative is to carry on along the ridge and then down to Brandelhow launch to then complete a loop, though another hour should be allowed for this.
Many of the trails at the more exposed south end of the lake provide clear leading lines into the scenery. There will also be people out and about.
7. Watendlath Tarn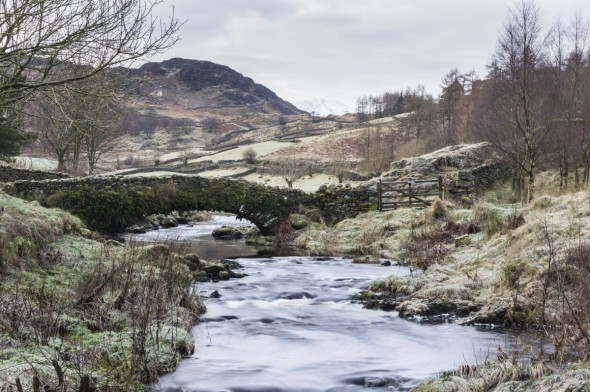 Perhaps lesser known, Watendlath is a tarn found at the end of a dead-end road which begins on the east side of Derwent Water. The road is fun in itself as it climbs the hill. You'll squeeze over Ashness Bridge, gain an elevated viewpoint of Derwent Water through the trees, and then park up by Caffle House Tearooms. Don't take this trip if you're in a hurry!
There is a walking trail from Lodore – another point that can be reached by Keswick Launch or by car. Lodore features a fun walk, taking in an impressive waterfall within woodland, though I've not had great success with a camera along the stream. Once you've got through the woodland's sharp ascent, the view begins to clear and one can follow the stream all the way up to the tarn.
The water in Watendlath lake is often still, as it's quite sheltered, and there is fantastic walking in the area. There are some good angles to work with of the picturesque Packhorse footbridge just downstream from the lake.
8. Castlerigg Stone Circle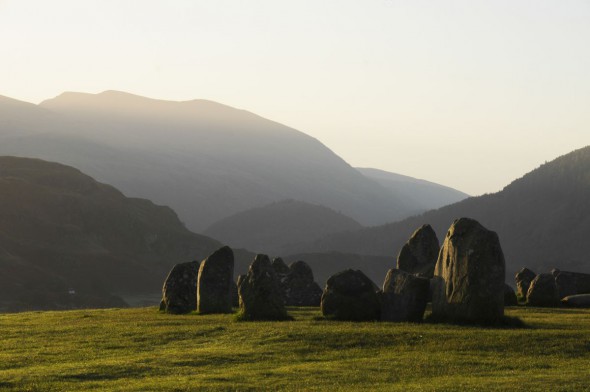 Approximately 2km from Keswick, and part of a lovely 6km circular walk that takes in town and country, Castlerigg Stone Circle pulls in many visitors. Having been to the location a few times, I've not found it easy to photograph the stones effectively – they are spread out and need a wide-angle lens to all fit in a single picture, which can be detrimental to composition and perspective.
What actually catches my eye in this spot, is the view beyond the stones – a valley with multiple hillsides cascading into its belly. During sunset when sunbeams pour through the gaps in those hillsides there is a great sense of depth. Throw in one or two of the stones for foreground interest and you have something.
About the Author
Tim has worked primarily as a wedding photographer and cameraman, but enjoys every kind of photography. He has worked for Amateur Photographer magazine as the Deputy Technical Editor, writing everything from camera reviews to advice on good photographic practice. You can view more of his work here.
Related articles