A look at some of the best photo locations that Manchester has to offer
The sprawling, vibrant and generally loud hub that is Manchester is arguably the jewel in the north west's crown. In one city you have a bit of everything – sporting prowess, important media connections, some excellent Universities and a long list of famous musical exports.
It's also a great place to wander around with a camera. I actually lived just outside Manchester for six months a few years ago, but never really explored its photographic potential as much as I should have done.
So, I was delighted to finally get the chance to make up for lost time by joining a city photowalk, which was organised as part of a conference I attended recently.
In short, there is a lot to point your lens at – stunning Victorian architecture weaves in and out of modern architectural statements. The following guide only covers a handful of Manchester's photographic opportunities, and I'm definitely to go back and explore it some more.
1. The Midland Hotel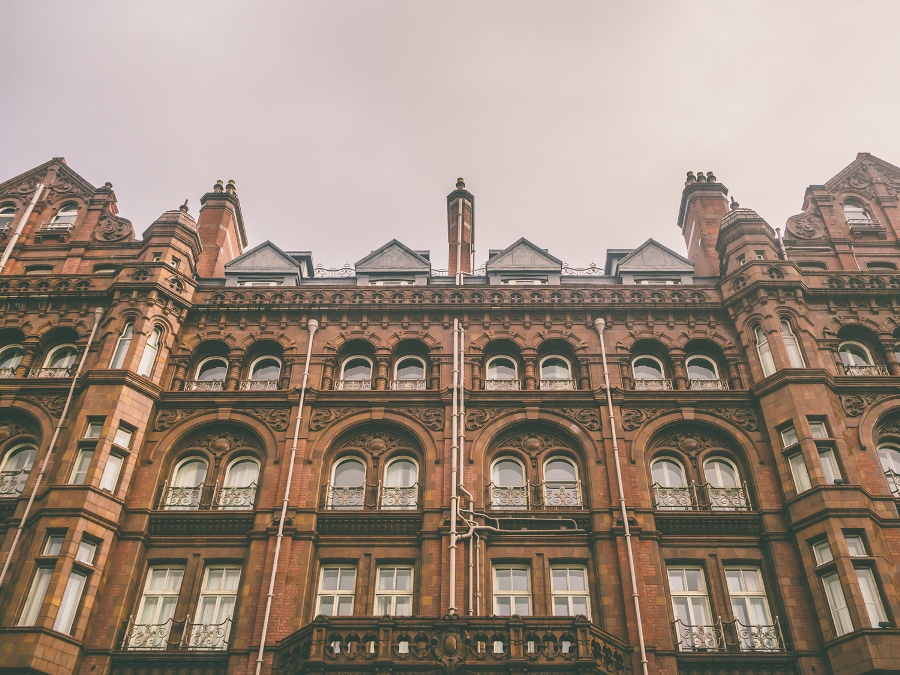 Standing proudly over St Peter's Square, this majestic building was opened in 1903 and was built by Midland Railway to serve Manchester Central railway station. If its walls could talk they would have plenty to tell; apparently Hitler fancied it as a possible Nazi HQ in Britain, and the Beatles were famously denied access to its French restaurant for being inappropriately dressed. Its rows of perfectly aligned and beautifully shaped windows are just a joy.
2. Manchester Central Library – inside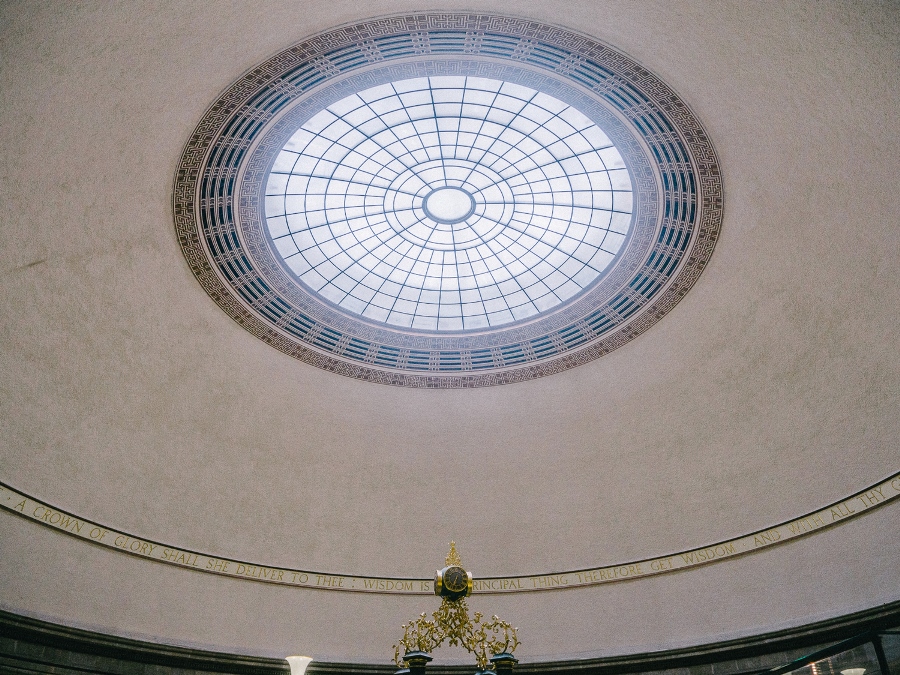 The wonderful circular hub of books that is Manchester Library is a fine photographic subject from the outside, but you should also definitely venture inside and snap a few frames. The library was renovated between 2010 and 2014 and the result is spectacular, especially the magnificent central Wolfson Reading Room.
3. Town Hall Extension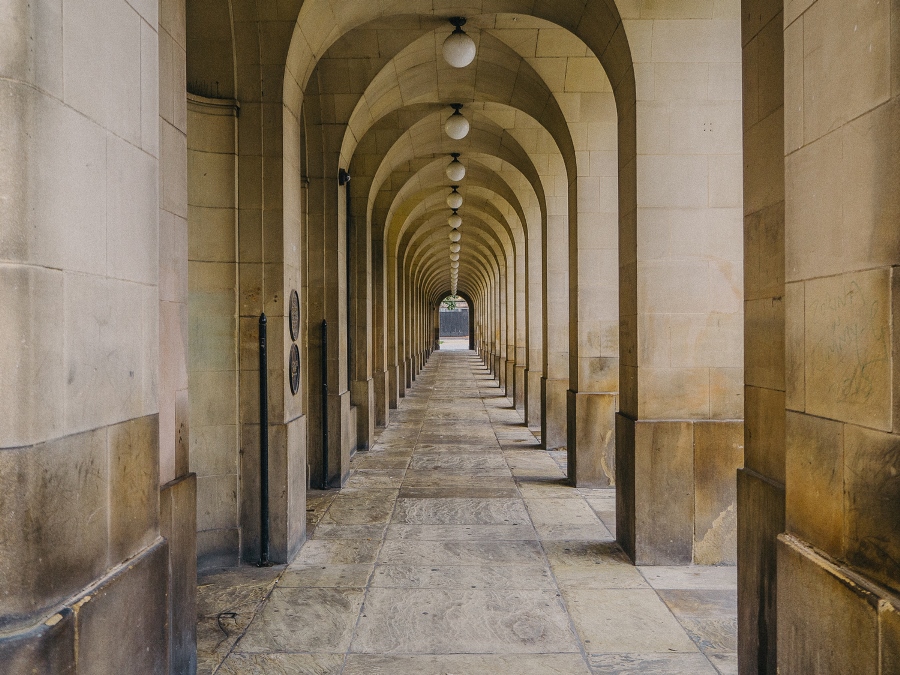 If you're nosing around the library anyway, then do have a quick look at the back of the Town Hall Extension, purely for a stunning walkway of arches that just seems to go on and on and on forever. Marvellous.
4. County Street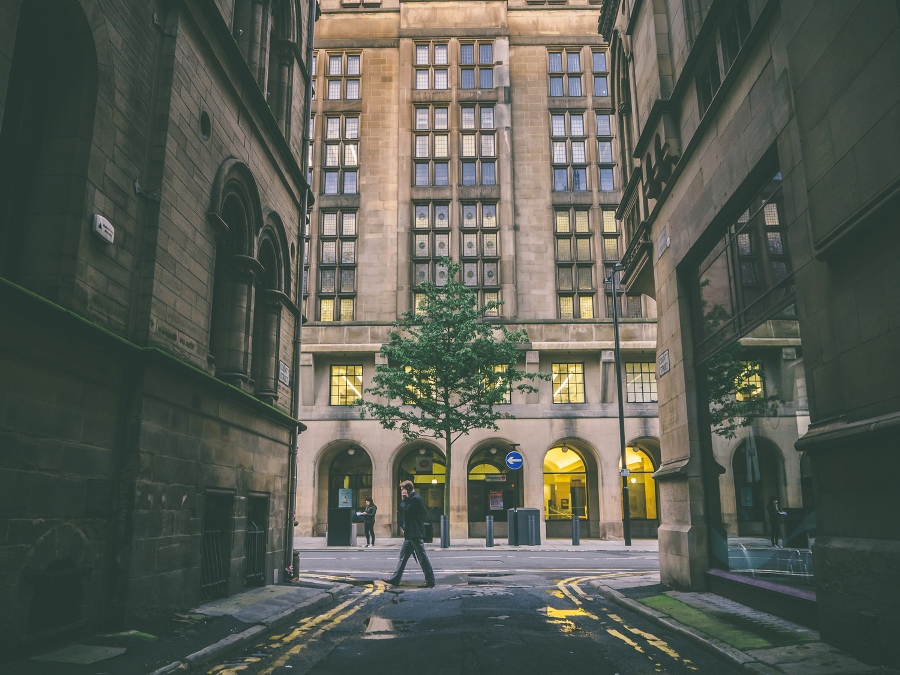 Now, the dead end County Street might not be the most obvious spot on a photographic tour, but trust me. Hidden away down that street, you have an excellent frame looking onto Mount Street and a great chance to indulge in a bit of street photography, as people walk past your lens blissfully unaware of your presence.
5. Albert Memorial and Town Hall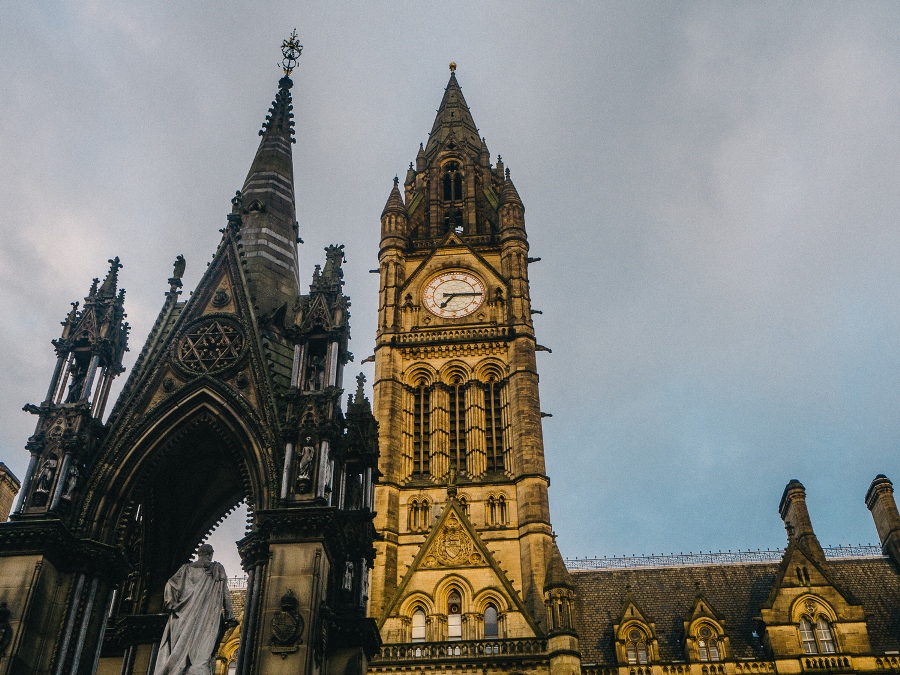 You shouldn't miss a visit to Albert Square, housing another incredible piece of Victorian architecture, in the shape of Manchester's Town Hall, which is stared down by the city's Albert Memorial. It oozes power, style and sheer presence.
6. Spinningfields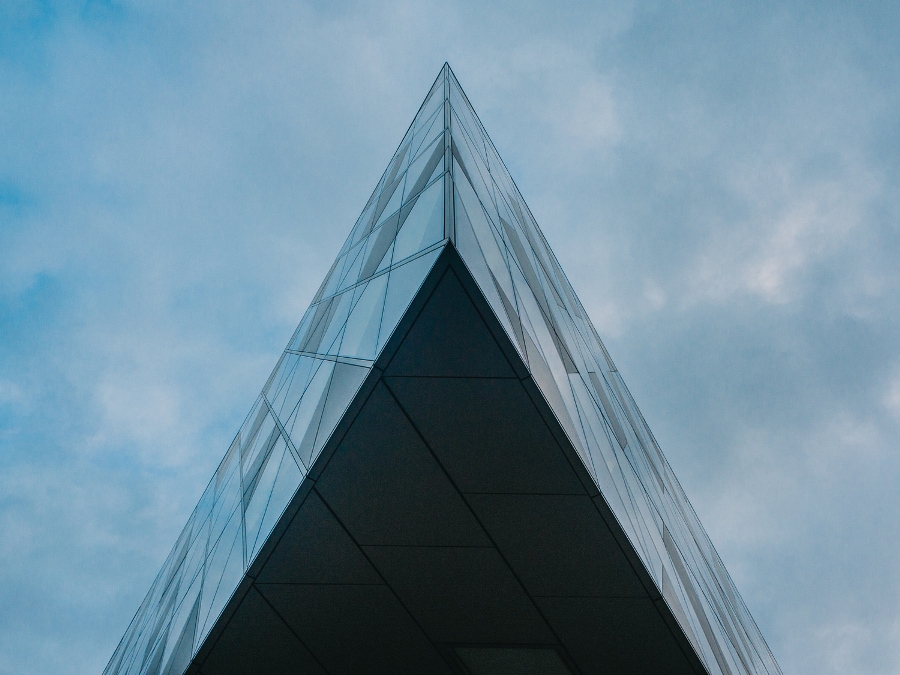 If all that Victorian pomp isn't for you, then you should head to Spinningfields, which is just off Deansgate. It was developed in the 2000s at a cost of £1.5bn and is a business, retail and residential development packed full of steel, glass, clean lines and crisp angles.
7. Opera House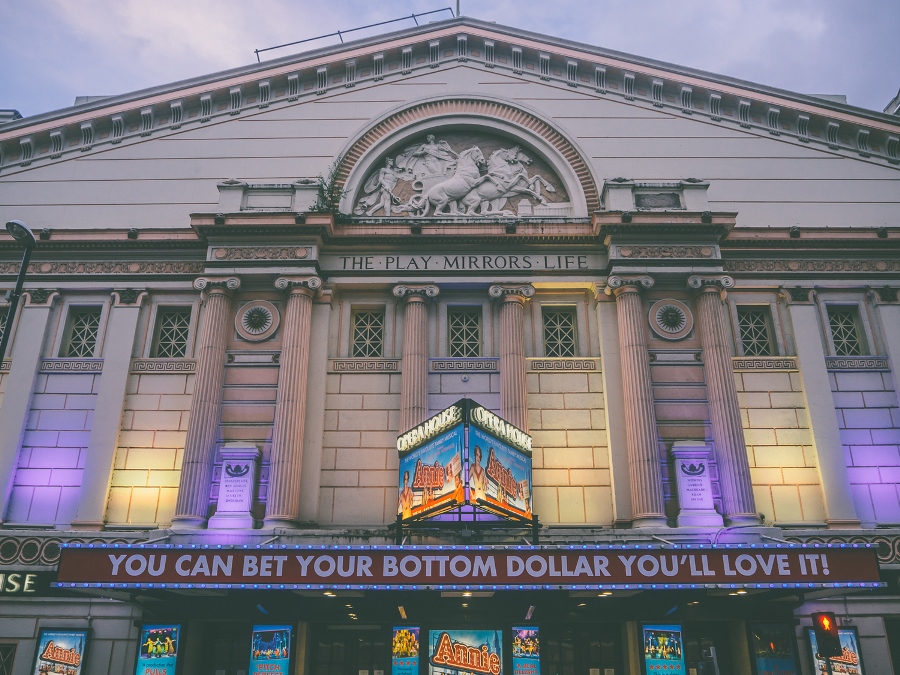 Tucked away on Quay Street is the glorious Opera House, a Grade II listed building with imposing columns, wonderful architectural details and a bold claim that "The Play Mirrors Life". It also has a local sister theatre – the Palace Theatre on Oxford Street.
8. Duke Street bridges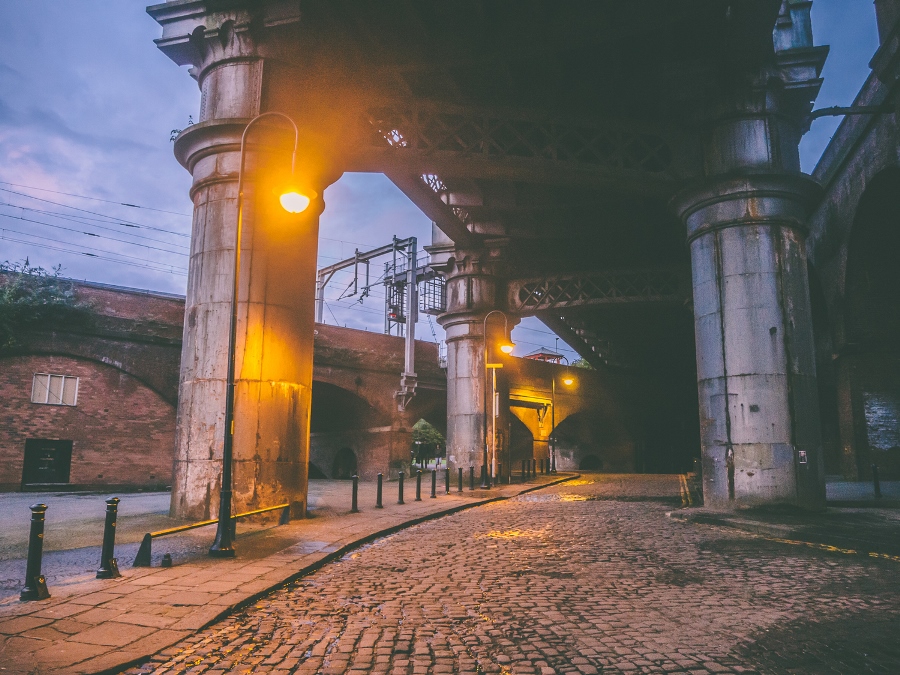 As Duke Street winds under the huge railway bridges, you could be forgiven for thinking you were in New York as you look up at their fabulous undersides. Get there late enough to capture the glow from the ornate street lights, but early enough to ensure there's still a bit of light in the sky.
9. Bridgewater Canal, Castlefield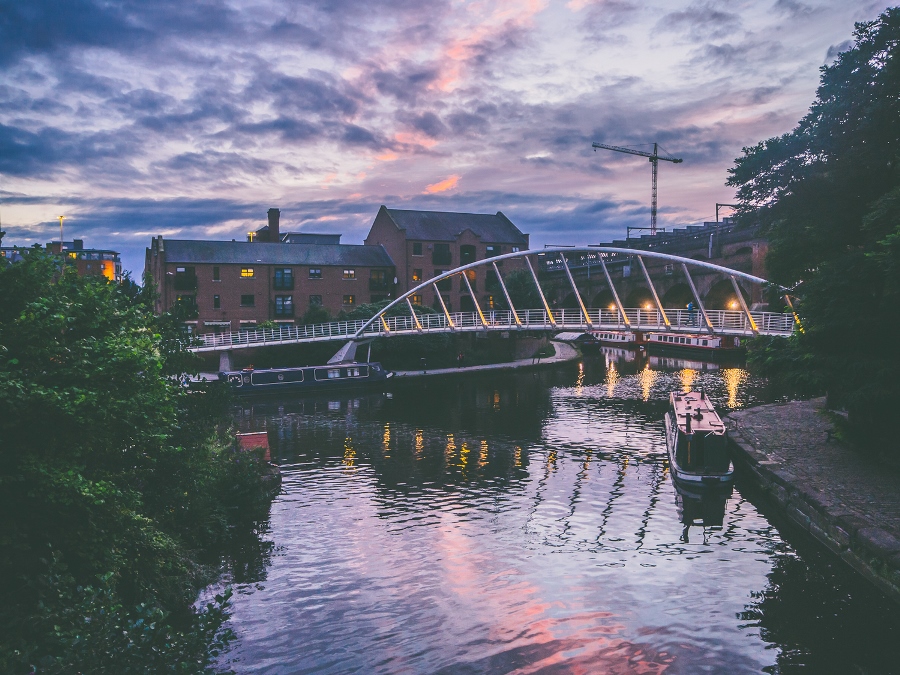 Despite being just a few minutes' walk from the heart of the city, the peaceful view of Britain's first "true" canal from Castlefield is a cracking little oasis of inner-city calm. You'll notice plenty of greenery here and that's because Castlefield is an inner city conservation area.
Look one way and you've got the peaceful water, but turn around and you'll have a great view back up to the hustling, bustling city, as marked by the Beetham Tower.
About the Author
Dave Musson is a music photographer based in Birmingham. His website is davemusson.com
Related articles