These islands in the Scottish Hebrides are perfect for all sorts of photography – Chris Orange explains why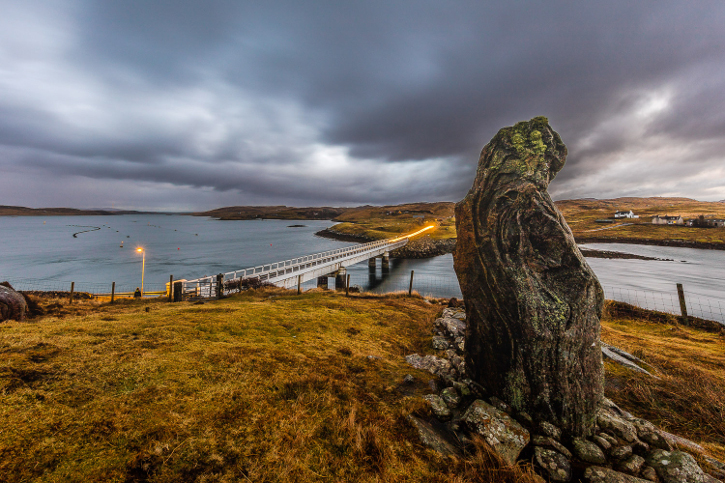 All images by Chris Orange
Every landscape photography shoot in the Scottish Hebrides is special to me. I love the moody, changeable skies and far-reaching views across the seas towards the other Hebridean islands, which themselves create a wonderful backdrop to any photograph. I love the white sands and turquoise seas that surprise any new visitor who expected a less exotic environment, for there is nowhere else so dramatic and diverse in its scenery within the British Isles.
Of course, it is often very windy and rains aplenty – but that's part of its charm, and the reason for the dramatic skies that help frame and beautify any landscape photo.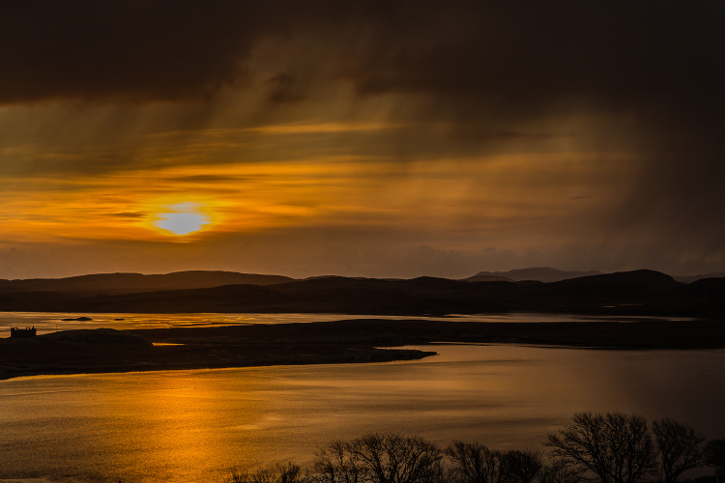 Loch Roag, Isle of Lewis
With 35 inhabited islands in the Inner Hebrides and 15 inhabited islands in the Outer Hebrides there's a huge choice for any landscape photography trip. It's a bit like choosing what flavour of ice-cream you prefer on any given day; the options are all incredible, it just depends on your mood and how adventurous you're feeling. If you're wanting to go as far as possible and experience every weather known to man then I suggest a trip to the Isles of Lewis and Harris. They're located in the Outer Hebrides and are connected by land, but are often referred to as separate islands. They can be reached by ferry from Ullapool or Skye, or by air from Glasgow International Airport, which flies direct to Stornoway on the Isle of Lewis.
The great thing about the locations of Harris and Lewis, which you can easily drive between in a few hours, is that there are a variety of different landscapes to capture. Lewis is flatter but by no means less beautiful or eye-catching. One of the jewels in its crown is a stunning set of Neolithic standing stones, called the Callanish Stones (or Calanais).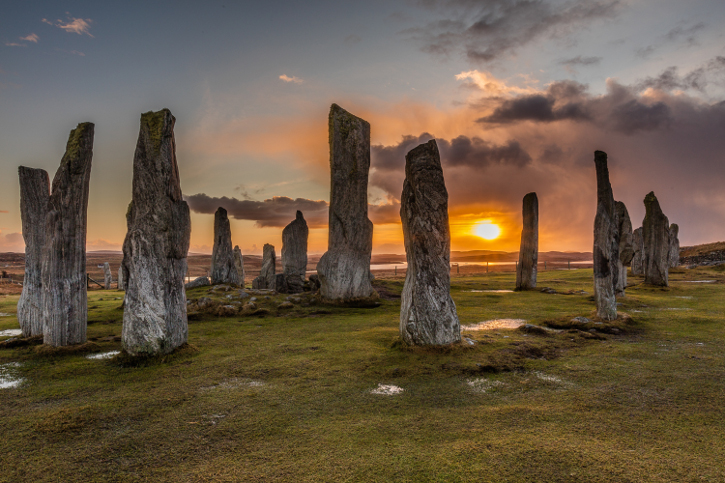 Calanais Stone Circle, Isle of Lewis
Located 12 miles west of Stornoway, these bronze age monuments are over 5,000 years old and look incredible at sunrise from their raised position in the landscape. Unlike England, where you're not allowed to get close to the standing stones at places such as Stonehenge, Scotland welcomes you to walk around the stones and touch them, meaning you can move within the circle to get your composition just right.
I visited during a freezing January, so the sun was positioned perfectly for a sunrise photo, but as you're allowed to walk around the site you'd be able to get a great sunrise or sunset photo any time of year. There are several stone circle sites on the Isle of Lewis within walking distance of the main set of stones, and these are numbered Calanais II, III, etc, and each compliment the landscape perfectly.
If you visit during the winter months you may find that many of the cafes are closed due to a lack of visitors, but the visitor centre at Calanais stays open and is a wonderful place to charge batteries, get a warm drink and edit photos. It's located just beneath the standing stones and can be seen in the photo below.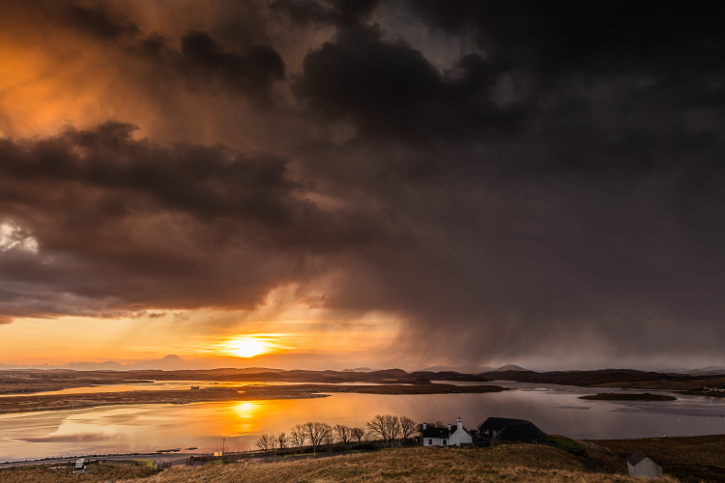 Loch Roag, Calanais visitor centre
At the northern tip of the Isle of Lewis is the Butt of Lewis, which lies in the North Atlantic Ocean and is the most northerly point in the Western Isles. It's officially the windiest location in Europe, but has wonderful seascape views and a lighthouse that adds to the composition of your photo.
I found that a walk along the coastline during the evening golden hour gave me plenty of great photo opportunities, and then as the sun went down, the beams from the lighthouse shone across the night sky, looking truly magical.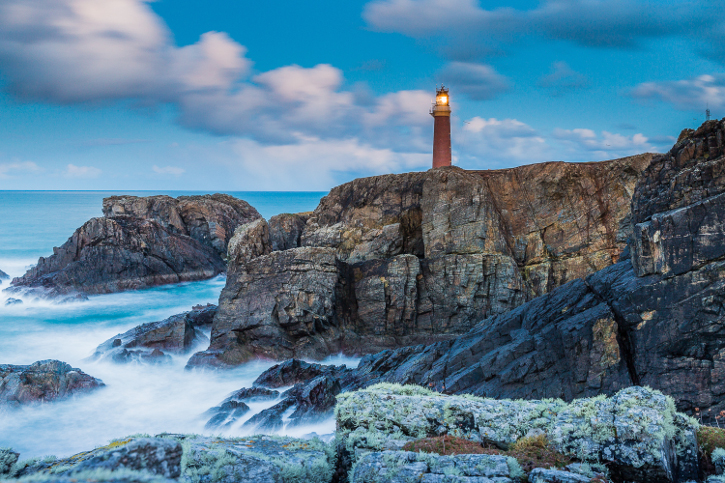 Another of my favourite locations in Lewis was Cliff Beach. On the day I visited it was mid-afternoon and raining, but I decided to climb the cliffside that rises above the beach and takes you along the coast to provide wonderful views of the coastline.
My trek up to the highest point was accompanied by rain, snow, hail and high winds – but the moment the sun burst through the clouds, a heavenly glow presented me with stunning photo opportunities. It's so easy to be put off by changeable weather, but in my experience, extreme weather creates the conditions for incredible, dramatic photos.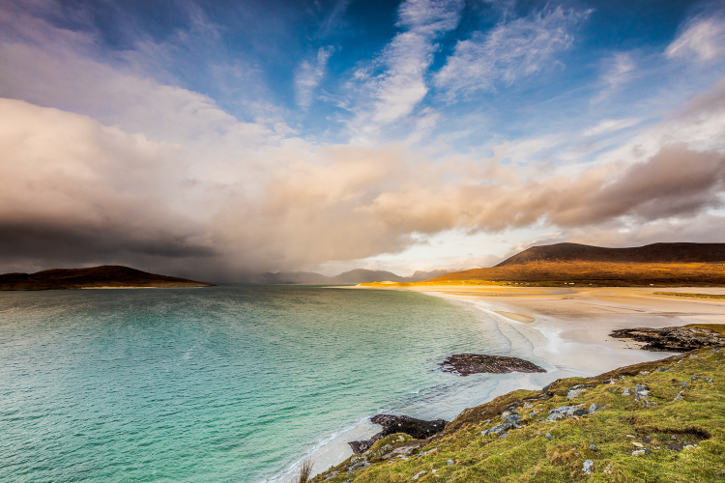 Cliff Beach, Isle of Lewis
To get the most from your landscape photography trip to Lewis and Harris you'll need to hire a car. If it's winter then I recommend a 4x4 as some of the roads can get slippery, especially if you're exploring some of the less travelled areas of the islands. However, the drive between Lewis and Harris is spectacular, and you'll find yourself looking for a safe place to stop to capture the views.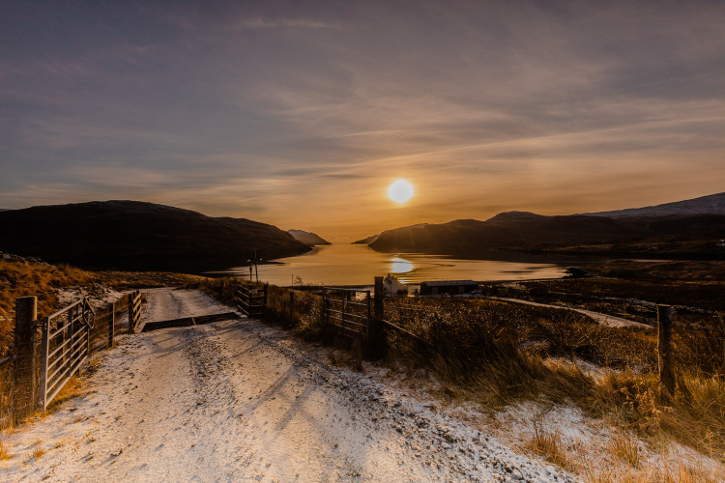 Bunavoneader, Isle of Harris
As you approach Harris you'll notice that the landscape begins to change, as it has more than 30 peaks that rise above 1000 feet. The drive through the mountains is spectacular, and there are several places to get out of the car and walk to great photography positions.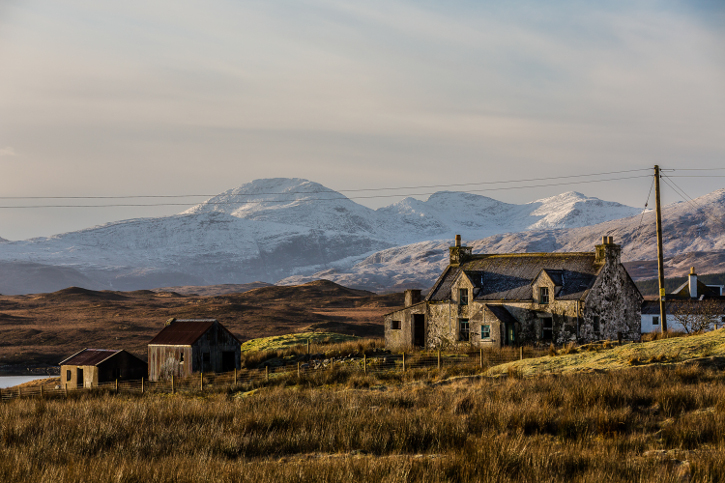 Bunavoneader, Isle of Harris
One of the advantages of a winter trip to Lewis and Harris is that you'll probably feel like you've got the place to yourself as visitor numbers are significantly lower in the winter months. This makes it much easier to photograph the landscape without having to wait for people to move out of your way. I think it also provides more dramatic skies.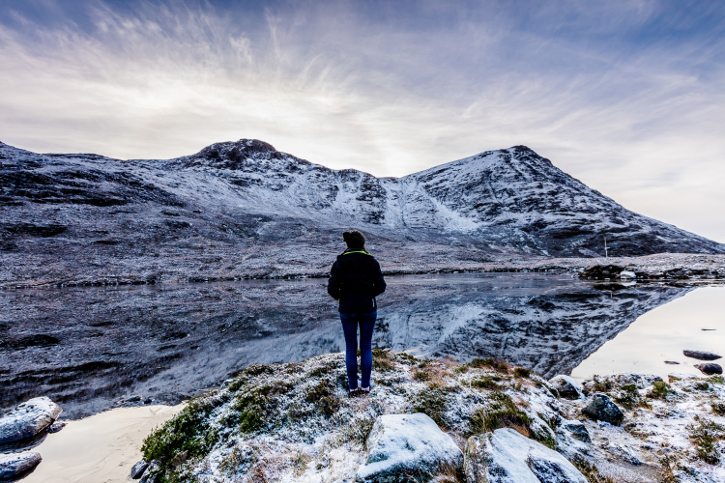 Bunavoneader, Isle of Harris
On a sunny day, it can feel like being on a tropical island (even in winter), but any visitor to the Outer Hebrides knows to expect the weather to be changeable. For me this added to the Isles' charm, as I had the pleasure of watching the weather systems travel up the coast. Seilebost is a wonderful place to stop and photograph as it has a stunning white sandy beach with turquoise seas, when the sun shines, giving the whole scene an incredible glow.
There is a fantastic walk near here, starting from Borve, another beach that's a little further down the coast. It climbs the hill behind the sands and leads you to one of the island's many standing stones, which affords magnificent views of the mountains.
Walk from beach at Borve, Isle of Harris
The Isle of Harris has plenty of little coves where you can find places out of the wind so you can shoot some longer exposures with your tripod. I sat and watched the seals and a variety of birds as they searched for fish along the coastline, and sometimes you'll be helped along by willing sheep wanting to have their portrait taken.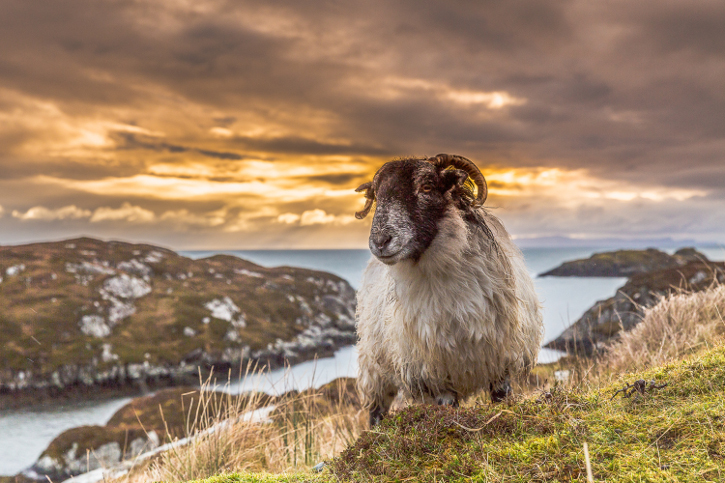 Grosebay, Isle of Harris
I found the Isles of Lewis and Harris to be stunning locations for landscape photography, giving you two islands for the price of one. However, as with any trip like this, it's advisable to bring the right waterproof gear for you and your camera equipment as the weather can change in an instant.
Make sure you have a comfortable camera rucksack for walking, and plenty of lens and filter cleaning cloths as the wind can blow the rain directly onto your lens. It's also wise to use a steady tripod that can cope with high winds, otherwise you'll be waiting around for the wind to calm down so you can take your shot. And that could take a while!
About the Author
Chris Orange is an award-winning food, interior and landscape photographer, based just outside of London. To find out more about Chris and to view more of his stunning photographs, visit his website.
Related articles