Matt Parry and Kriss Hampton embark on another travel photography adventure – this time they're visiting the captivating country of India
Episode one of An Indian Adventure. Watch the entire series HERE.
Day three (Agra)
Agra is famous for the Taj Mahal, arguably one of the most beautiful and iconic buildings in the world. However, there is much more to the city than just the striking marble mausoleum, and we were determined to experience as much of it as possible. I researched the city before the trip to find out what I could photograph and came across an amazing project called Sheroes' Hangout. This café is fighting to stop acid attacks in India. These horrendous crimes have often forced survivors to hide away from society, but Sheroes' Hangout has helped provide these brave women with a renewed confidence as well as the friendships, family and support they deserve. I was determined to meet some of these inspirational women and tell their stories.
I wanted to make sure it would be possible for us to photograph and film at the café, so I contacted Sheroes' prior to my trip. I would always recommend making contact over turning up unannounced. For example, while the café was thrilled to accommodate our request, I was informed that none of the women spoke much English. But, contacting Sheroes' ahead of the shoot meant they were able to provide us with a translator. I wasn't planning on a long or complex shoot – the women were working after all. I rely on natural light and the backdrop of wherever I am so even with planning it's hard to anticipate the conditions, in particular the light and space.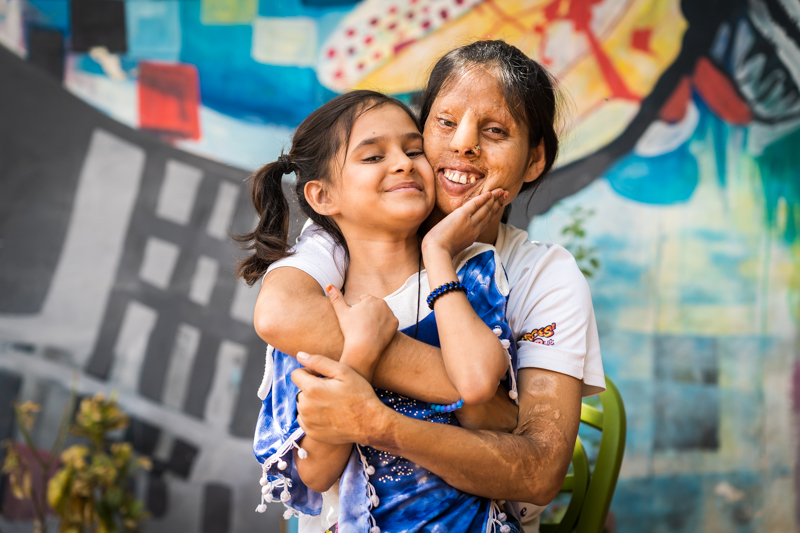 Shabnam with her seven-year-old daughter.
The café turned out to be compact and busy – word has thankfully spread and this great enterprise accommodates a steady stream of visitors from all over the world. We were fortunate enough to spend time with the ladies and I was able to shoot several simple portraits outside, using a wall mural for the background. My goal was to capture natural portraits, not to engender sympathy. I wanted to present these brave women as the beacons of hope, inspiration and courage that they are. I can honestly say it was a real privilege to meet these empowering women. Take a look at the Sheroes' Hangout website to find out more.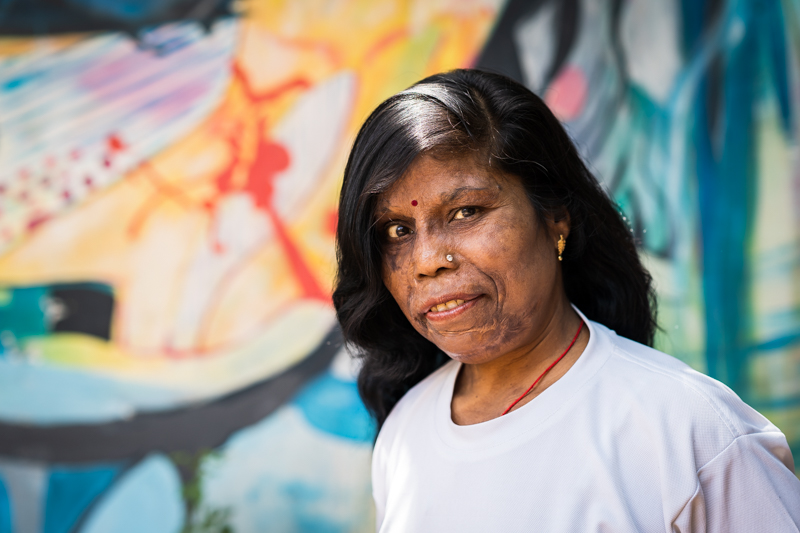 While at college, Madhu turned down a marriage proposal and was attacked two days later.
Following our visit to Sheroes' we hired Khan, an auto-rickshaw driver, who took us to a few sights we were eager to visit, the imposing Agra Fort and Mehtab Bagh – a garden with one of the world's best views! These places were definitely on the tourist trail, so I knew it would be tricky to find an original shot. In reality, I found it harder than I imagined...
Agra Fort is a huge and incredible complex, despite only 30% of it being accessible to the public. It is somewhere you could happily explore for hours. Yet, as much as I was enjoying the Fort, I was finding it difficult to get any shots I liked. Time was against me, and the light was harsher than I'd prefer. There were lots of tourists too, so getting a clean or pleasing composition was a real challenge.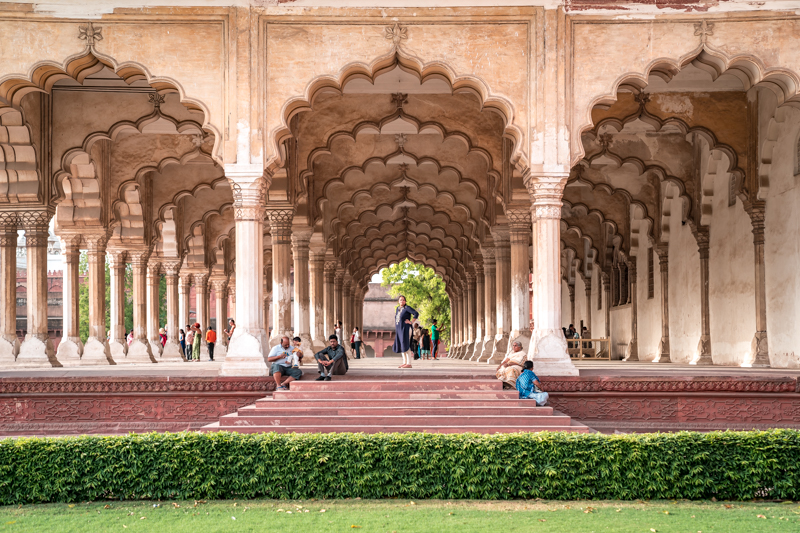 One of the only shots of Agra Fort that I liked!
This can be the reality of travel photography. You are at the mercy of the weather, lighting, venue, crowds and circumstance. You often have to work hard for your shots and, at times, they just don't work out, despite your best efforts. The evening was to continue in the same vein as we rushed to Mehtab Bagh for sunset. This garden offers superb, uninterrupted views of the Taj Mahal, which sits on the opposite bank of the Yamuna River.
However, like many sights in India, tripods are not allowed and the garden closed at sunset before the best of the light normally kicks in. In this instance, it didn't matter though as the sunset was obscured by a thick haze and the lack of clouds ensured an uninspiring end to our evening. The view, however? Well, that's special regardless of the light.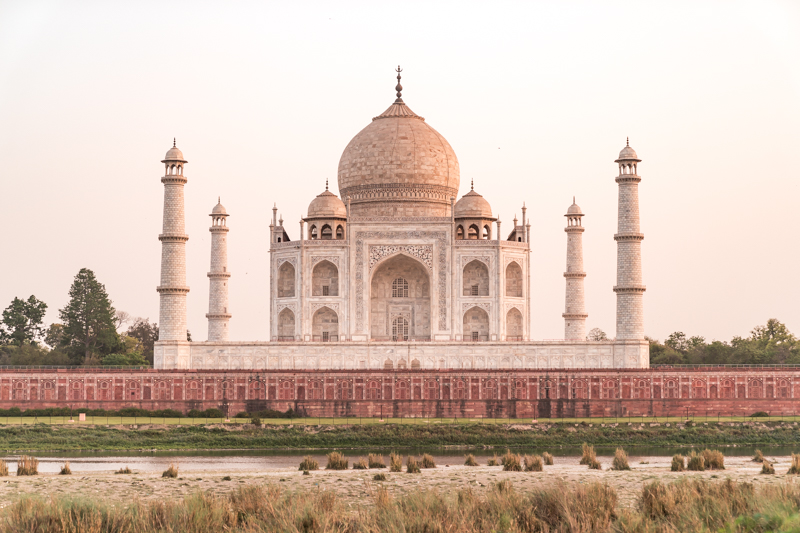 Even during a disappointing sunset, the Taj Mahal still looks impressive (viewed from Mehtab Bagh).
Day four (Agra)
The Taj Mahal is closed on Fridays, so our visit had been planned for sunrise on the Saturday morning. The light is amazing at sunrise and it makes the experience much more enjoyable, given the cooler temperatures. Even at 6:30am, the place is busy, but it was still possible to get that iconic shot we've all seen a million times before.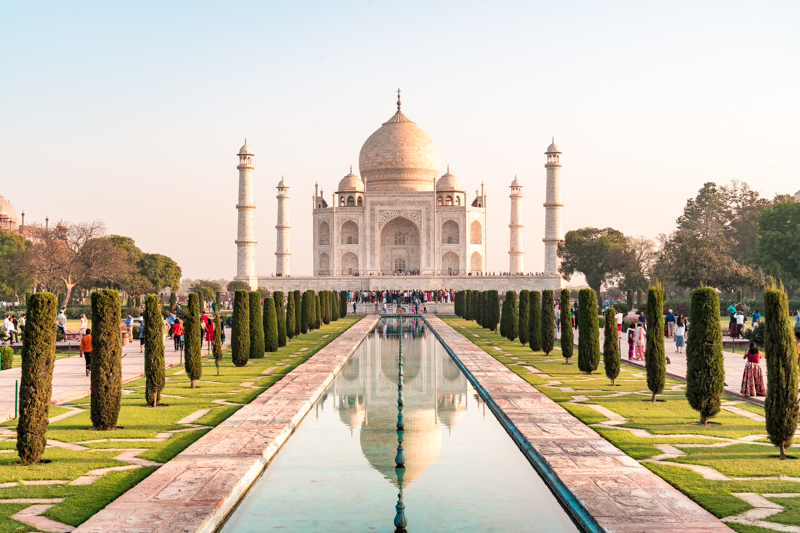 Capturing this classic view of the Taj Mahal at sunrise was certainly worth the early start.
I was also looking for something a bit different – this is a challenge given that the Taj Mahal is one of the most photographed buildings in the world. Feeling more inspired than the previous day, I did manage to use the colourful crowds to my advantage.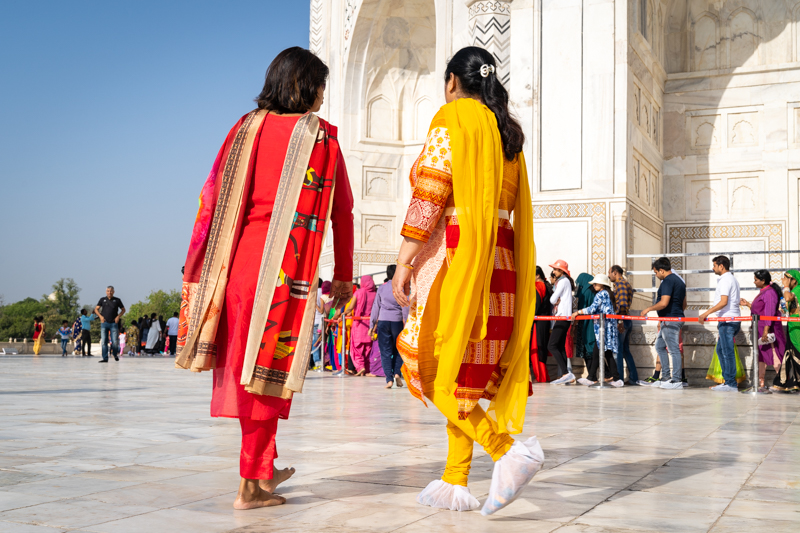 I also captured some portraits of some of the workers who were restoring an area of the site.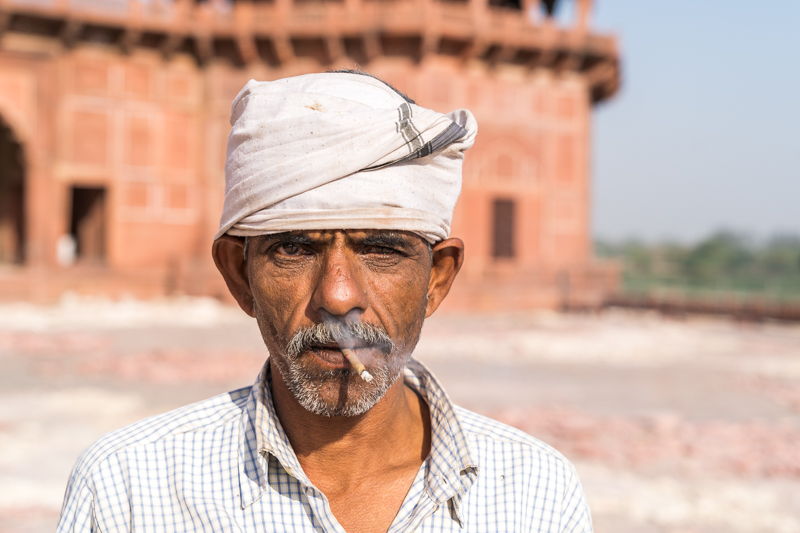 A worker taking a break.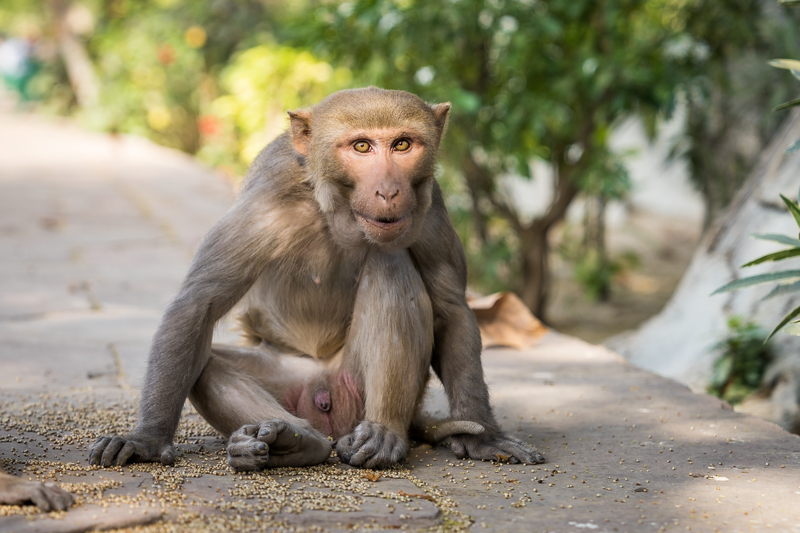 The visitors to the Taj are not all human. As you'll see in the video, this monkey took a dislike to Kriss...
We left the Taj via the East Gate and headed towards the river. I'd heard of a local boatman who would take people out onto the river for a small fee. While he wasn't allowed directly in front of the Taj, the boat offered a fantastic (and unusual) perspective, especially on a still day where you can capture a nice reflection in the water.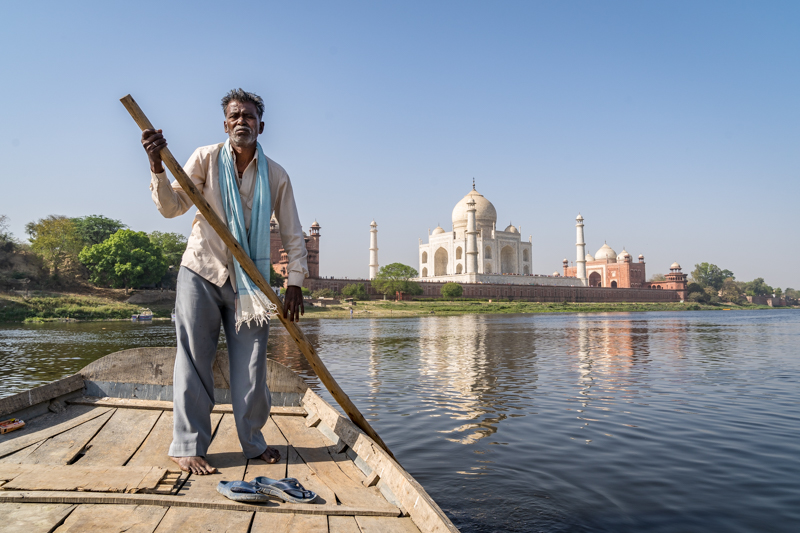 A boatman will take you onto the Yamuna River for an alternate view of the Taj Mahal.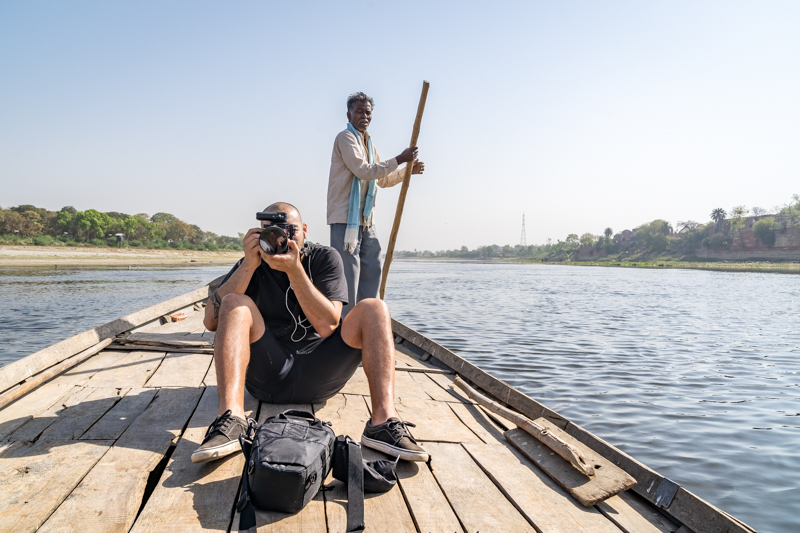 Kriss, filming from the boat with a Sony A7S Mark II.
Following a wonderful morning at the Taj, we had to contend with an overnight train journey to Varanasi. The train was late arriving, but we passed the time chatting to friendly locals on the platform and by observing Agran life. The rail network is an integral and fascinating part of Indian's heritage, plus watching people avoid a bridge and take a shortcut across the tracks or playful monkeys jumping around the busy station is not something you see back home!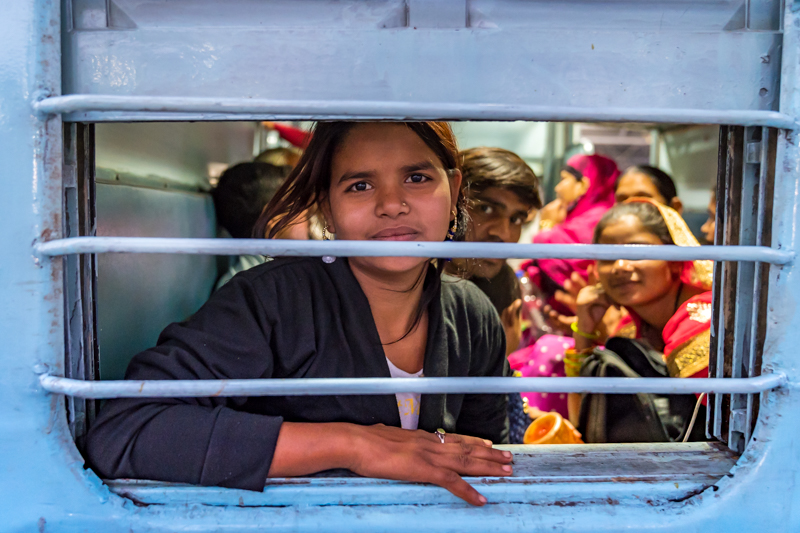 On the train at Agra Fort railway station.
I loved my time in Agra. It was too short, exhausting and at times proved frustratingly difficult to get the shots I was happy with, yet the women we met at Sheroes' and the chance to visit the Taj Mahal made it an unforgettable experience.
Varanasi was up next and in many ways we had saved the best city until last. Watch the final episode here.
About the Author
Matt is an award-winning travel photographer whose images and articles have been published in leading travel and photography publications. He's visited over 55 countries across six continents, and his passion for photography evolved from a way to showcase his trips to become the driving force behind where and why he travels. You can see more of his images and follow his travels on Facebook or his website: mattparryphotography.com.
Related articles