Matt Parry and Kriss Hampton embark on another travel photography adventure – this time they're visiting the captivating country of India
Day five (Varanasi)
Our overnight train rolled into Mughalsarai Junction Station over 3.5 hours late. After 13 hours confined to a train, we still had a 45-minute taxi ride into the ancient and holy city of Varanasi. It sounds like a lot of effort, but this place is more than worth it (plus there are cheap two-hours flights from Delhi if you want the easier option). This sacred city has been known by several names over its long history. Call it Kashi, Banaras or modern day Varanasi, this is one of the most fascinating, culturally significant and photogenic cities on Earth.
Much of the sights are along the banks of the Ganges River. This is where you will find ghats (steps leading to the water), temples and all walks of life. Boatmen ferry people up and down the river, people bath or wash clothes and families watch over the burning bodies of deceased loved ones, on the ancient funeral pyres of the Manikarnika Ghats.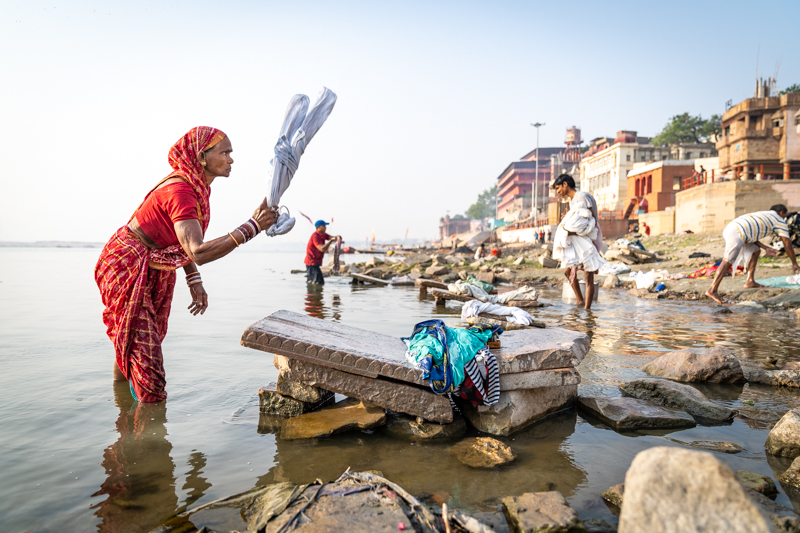 Early morning life by the ghats – it must be laundry day!
Unlike Delhi and Agra, I had nothing pre-planned, other than a good idea of what I wanted to shoot and roughly where I would find it. I always find local knowledge invaluable – it makes getting shots in a very short space of time achievable – so we contacted local guide Karan Sachan. We told Karan what we were after and a plan was formed.
Karan was on his way to a traditional Indian dance class, where he was learning Kathak under the guidance of his teacher Guru Mata Prasad Mishra. This is not the sort of experience you'd find in the guide books, so we were glad to tag along and watch Karan's lesson.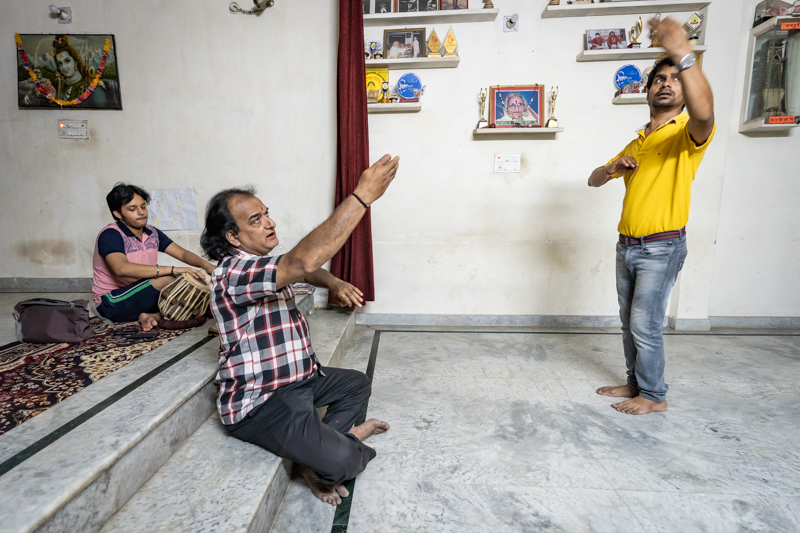 Karan learning Kathak dancing from Guru Mishra.
After the class we slowly made our way on foot, traversing the chaotic city streets to our final destination, the nightly Ganga Aarti ceremony at Dashashwamedh Ghat. The traffic in Varanasi is crazy. It's normal to find cows taking a nap in the middle of the road, oblivious to the riot of honking horns as cars, bikes and auto rickshaws fight for every inch of space. Walking tours are a fantastic way to experience life on the streets of Varanasi. We found an incredible and packed flower market with a wonderful vantage point for photography.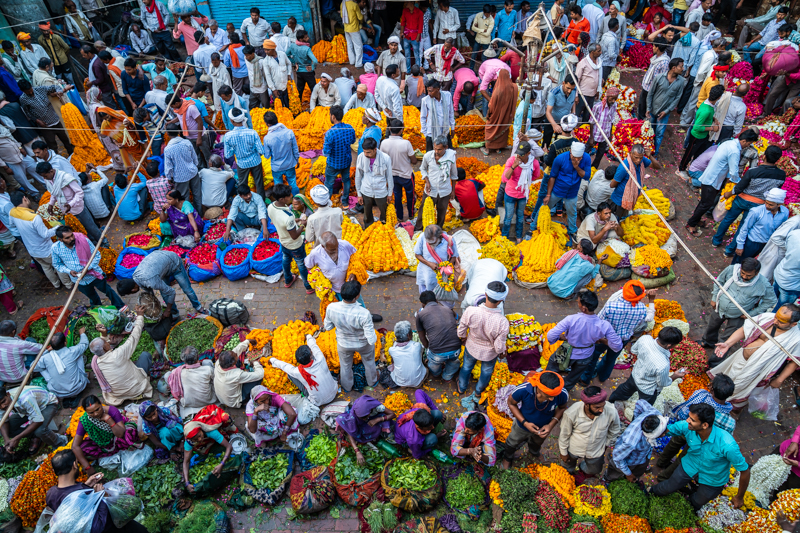 A flower market in Varanasi.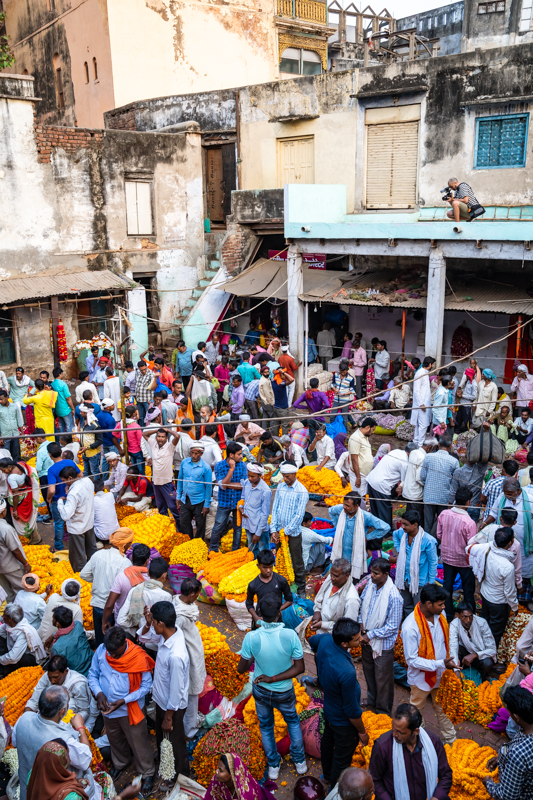 Where's Wally? Can you spot Kriss?
The Ganga Aarti ceremony was an amazing experience. The area was packed full of Hindu worshippers and tourists. Many watched from crowded boats on the river as orange-clad men took to the stage to praise the Goddess Ganga.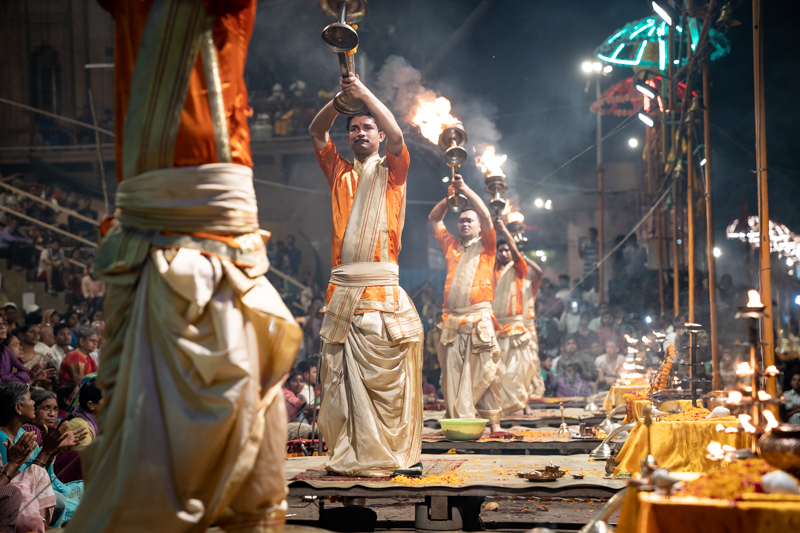 The Ganga Aarti ceremony at Dashashwamedh Ghat.
Day six (Varanasi)
The morning Ganga Aarti at Assi Ghat had much fewer visitors than the event of the previous evening, probably due to the fact that it started at 5:10am. It was well worth the early start though, as we witnessed additional and more intimate rituals. We also had more freedom to move around and take photos.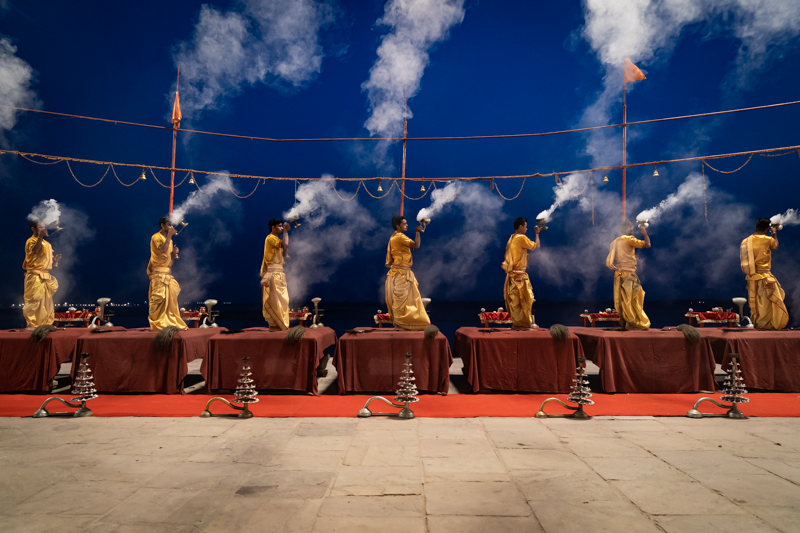 The morning Ganga Aarti ceremony at Assi Ghat.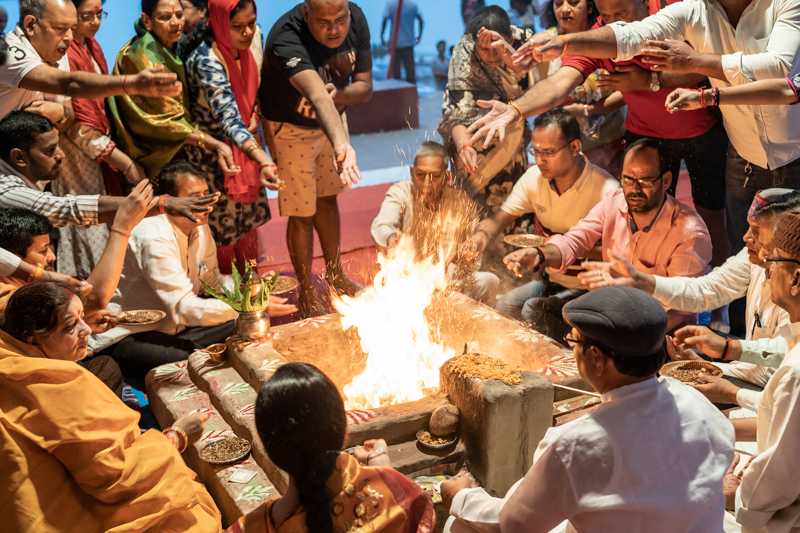 Throwing rice into the fire as part of the ritual.
After the Aarti we headed to a traditional kushti wrestling Akhara (venue). This form of wrestling is slowly dying out, as these talented wrestlers are urged to adopt more modern formats. However, the chance to witness this was a real highlight of the trip for me and one of my main photographic goals while visiting Varanasi.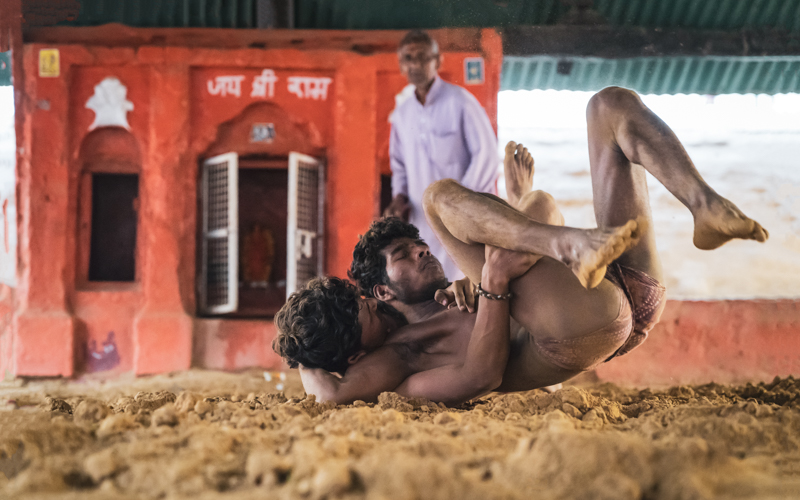 Kushti wrestlers at the Akhara.
The wrestlers work out using an array of exercises and rudimentary equipment before the mud is churned and the final rituals are carried out. There is an element of spirituality attached to this sport, and the training and lifestyle is a big commitment for the men. They train every single day and wrestling takes place every day but Wednesday, the day reserved for cleaning the Akhara.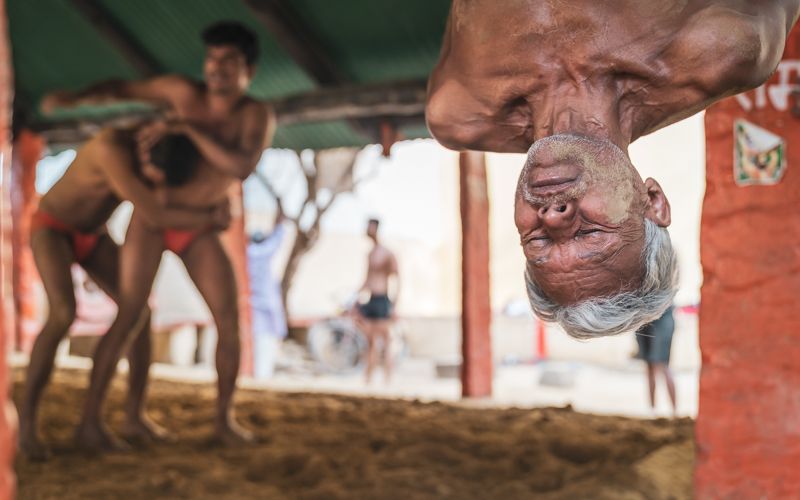 SiyaRam, aged 64, seen here doing sit-ups from the roof pillar. He has trained at this Akhara for 13 years.
From the Akhara, we wandered around the local textile area where silk weavers made colourful saris using centuries-old techniques. The final garments take hours of detailed work and sell for hundreds of pounds.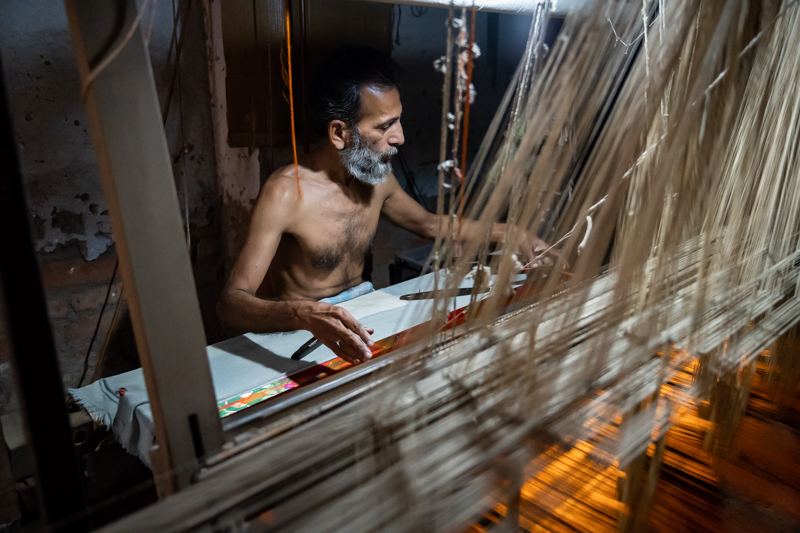 A silk weaver making a traditional sari.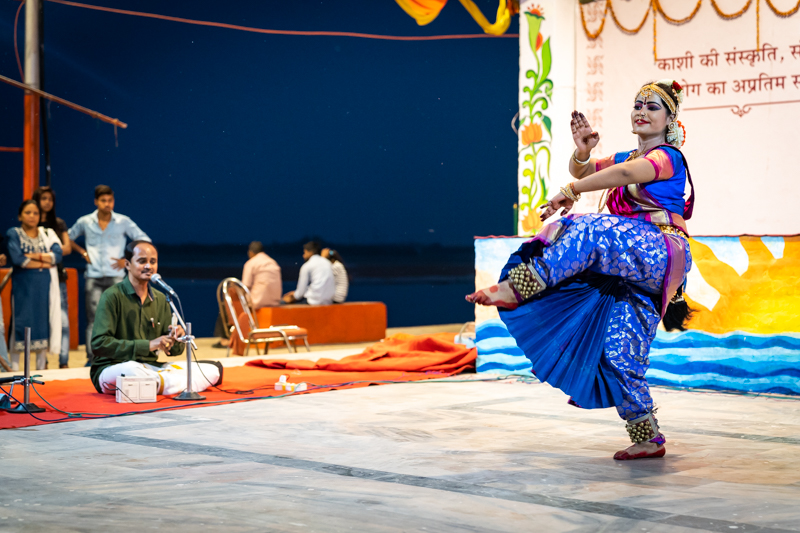 An impressive cultural dance performance.
Day seven (Varanasi)
Our time in Varanasi ended with a sunrise boat trip on the Ganges River. This is the perfect way to watch the city come to life as the sun peaks above the opposite bank and lights up the ghats.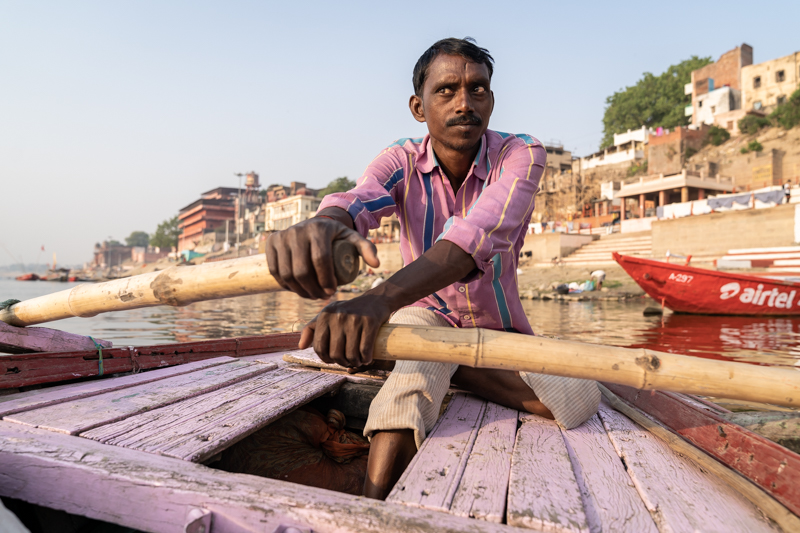 Our boatman for the sunrise journey up the Ganges River.
From Assi Ghat we rowed up to Manikarnika Ghat. We then took a small detour to the opposite shore where people were bathing and playing in the river, mainly visitors making the pilgrimage from South India.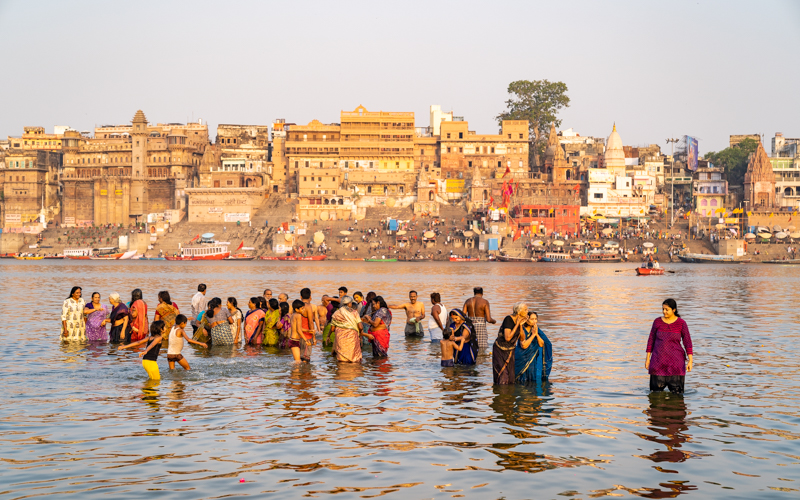 Pilgrims bathing, playing and praying in the river.
On the way back to Assi Ghat we had one last stop. I requested that the boat pull over at a ghat where Sanskrit students, clad in vibrant orange robes, were lined up on the steps. This was an incredible and opportune moment. Good fortune is often as important as planning and can provide fantastic experiences like this.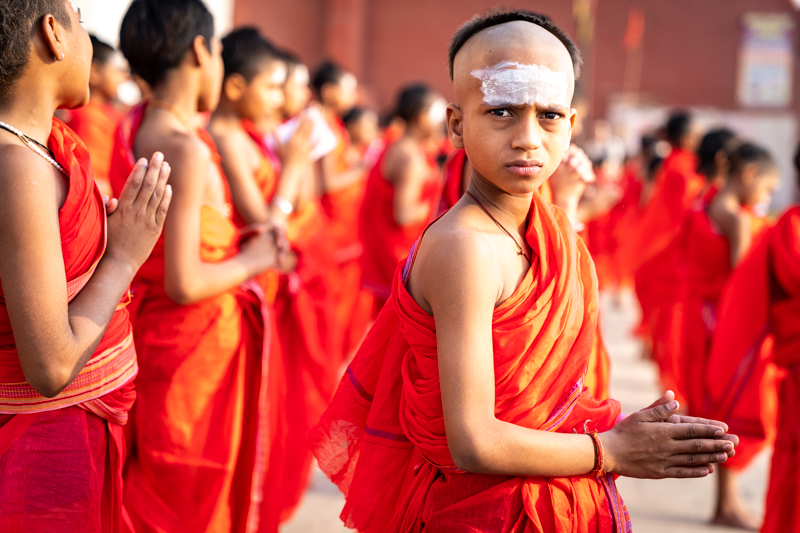 A striking scene, Sanskrit students on the steps of a ghat.
Before we left the boat, both Kriss and I wanted to have a go at rowing. Our boatman had made it look effortless and so when Kriss only managed to do a couple of 180-degree turns before almost colliding with a passing vessel, he was soon relieved of the oars (for the record, I was like a young Steve Redgrave).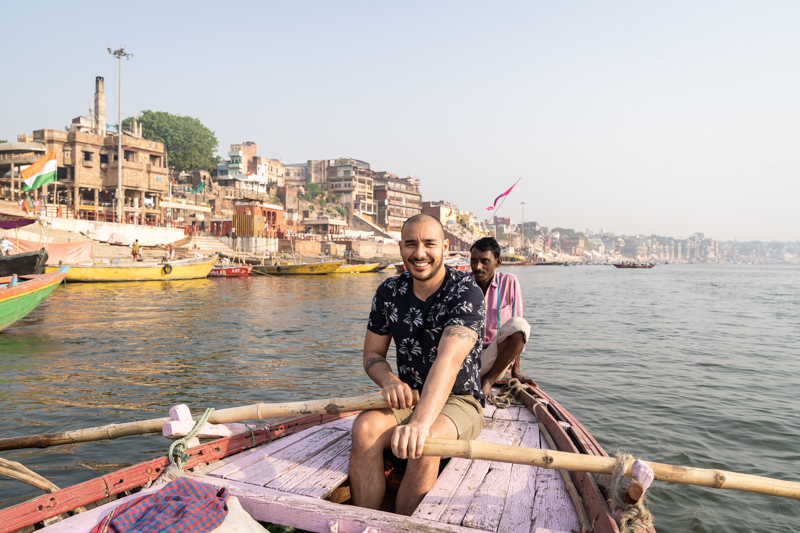 Kriss failing miserably at rowing – we were supposed to be pointing the other way!
As we stepped off the boat for the final time, our adventure-filled week in India came to an end. This trip was an incredible, fun and memorable experience, and I hope that comes across in both the videos and blogs. But more so, I hope they have given you a flavour of this incredible country and its wonderful people. Of course, there is so much more to see and do, so I hope we've inspired you to find out more about India and maybe even discover it for yourself.
About the Author
Matt Parry is an award-winning travel photographer whose images and articles have featured in leading travel and photography publications. He has presented videos, led workshops, and given talks on travel and cityscape photography. To date, Matt has visited 60 countries across six continents. Follow his travels by visiting @mattparryphotography on Instagram or mattparryphoto.com.
Related articles