Shooting the aurora borealis is on many photographers' bucket lists, but Tom Mackie managed to capture it with an unusual difference. Here, he explains what happened.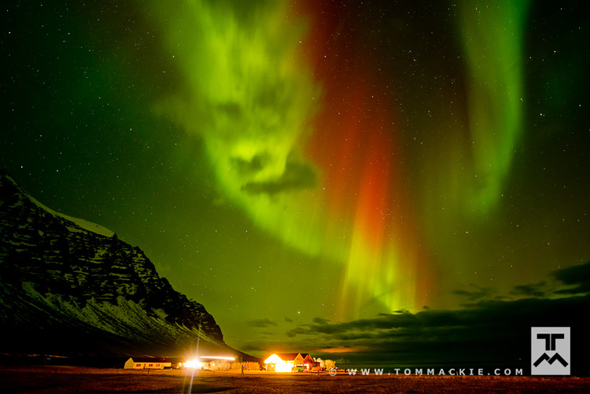 Image © Tom Mackie
The door burst open and someone shouted: "The lights are on!" The restaurant cleared within seconds, leaving our host and waiters standing with plates of hot food in their hands. In most countries this would be highly unusual, but this is a normal occurrence in Iceland.
The aurora borealis, or northern lights, are the main attraction for most visitors that come to this sub-arctic island, just a 3-hour flight from London. I was conducting a week-long photography workshop with a small group of photographers and the aurora was at the top of their list of things to photograph. This was early for the illuminations to begin as the best time to see them is between 22:00-02:00, but nature is unpredictable. When I went outside to check the sky, it was only just beginning with faint glimmers of green. Our host informed us that an unusually high activity of 7 was predicted on the Kp-index scale for the night; the Kp-index is a global geomagnetic storm scale from 0 to 9.
After dinner, we headed back to our house to get the gear required for photographing the aurora, which consisted of a thermal underwear base with several layers on top – something short of a Michelin man comes to mind. As we were loading the van with the camera gear, I looked up and saw an amazing display of swirling green and red light. Change of plan: photograph here and now, as we don't know what it will be like at our intended location (it could, for instance, be covered in cloud).
We needed to get away from the lights of the house, so we went into an open field, but there was still a farmhouse in the distance with bright lights on. There was no time to go anywhere else as the show was now in full flow, so I decided to include the farmhouse to give the scene some scale and sense of place.
Not only did we have vivid green swirls across the sky, but also the rare red colour that we could see with the naked eye. The camera's sensor is much more sensitive so it makes the colours stand out even more. After the first few exposures I checked my histogram on the display to make sure I was capturing as much information as possible. I couldn't believe what I was looking at – an angry aurora looming over the farmhouse. I looked back up to the sky, but within seconds it was gone. At that moment I knew I had captured something special.
There is a particular technique or procedure to follow when photographing the night sky. Choose the widest focal length that you have – in my case, I used the Nikkor 14-24mm f2.8 G AF-S ED lens. You will want to allow as much sky and as much light into the lens as possible, so set the aperture wide open.
Because the aurora can change shape very quickly, a short exposure is required, something that will also keep the stars from elongating. Due to the rotation of the earth, it appears as though the stars are moving, leaving long trails during long exposures. So how do we know what's the longest exposure we can use? There is the '500 rule' to help determine this, which is 500 divided by focal length of your lens. This will give you the longest allowable exposure in seconds before the stars start to blur. I was actually using 16mm on my 14-24mm lens, so 500 divided by 16 resulted in a time of 31 seconds. This is still quite a long time to be capturing a highly active aurora that's changing by the second. I found that 8 seconds worked perfectly at an ISO of 3200.
With most modern DSLRs, noise is not a problem at high ISOs. Obviously, using the lowest ISO will be better for reducing noise, but this will result in longer exposure times. In any case, any excessive noise can be reduced in post-production. Adobe Lightroom has a feature called 'Luminance Noise Reduction' in the Detail section that works brilliantly to reduce noise.
There are other factors that will influence exposure times. The amount of light pollution from nearby cities or villages will create a colour cast at the horizon; this is usually a yellow cast from sodium vapour street lighting. Also, the phase of the moon will have an effect on your exposure. A full moon, for example, will illuminate the landscape, giving the appearance of daylight. This isn't ideal when you want to photograph the night sky, so it is better to have no moon.
It's best to have a little torch handy to check settings, especially when you have set the focus on your lens. You should have your lens set to focus to infinity, and with autofocus lenses you will need to turn off the autofocus and put the middle of the infinity symbol to the focus indicator.
I have one space left on my Iceland workshop in February. If you would like to experience the amazing landscapes that Iceland has to offer, and possibly capture the aurora too, click here for more information.
About the Author
Tom Mackie is recognised as one of the world's finest landscape photographers, his understanding of light, perspective and colour; the hallmark that has established his name both internationally and here in the UK. He has written several books and regularly contributes to a number of photography magazines. You can view more of his work on his website.
Related articles