Now that the 5D Mark IV, the true successor to the 5D Mark III, is finally here, we can compare their specs and their features side-by-side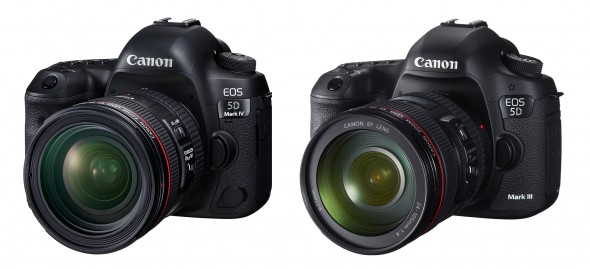 The EOS 5D Mark IV (left) and the Mark III
5D Mark IV vs 5D Mark III: Design and handling
There's very little to differentiate the two cameras at a glance, or even at a considered stare for that matter, as Canon has stuck with its winning formula for the new model. There are no obvious cosmetic differences between the Canon 5D Mark IV and the Canon 5D Mark III.
The button layout between the two cameras is near identical, with only one significant change: Canon has added a new modifier lever that can be used to switch the function of the control wheel, just to the right of the Quick menu function. One great example of how the new button can be used is assigning ISO sensitivity to it. When set up like this, it can change the top wheel from an exposure control such as aperture, to ISO when the button is held down. It's a subtle addition, but one that puts more control at your fingertips and makes the camera even quicker to operate.
The inclusion of USB 3.0 and HDMI has forced the sync cable input around to the bottom right hand corner of the new 5D Mark IV, where the "Mark" icon previously sat. One of the knock-on benefits of this is that the sync cable no longer points awkwardly forward, instead pointing towards the right and back. It's a more natural fit.
Keen observers will notice that the pentaprism of the newer model is slightly larger; this because it now houses built-in Wi-Fi, NFC and GPS connectivity. Holding the camera will be an entirely familiar experience for anyone who knows the 5D-series cameras, although the new 5D Mark IV is 50g lighter, despite the new features and has a slightly more pronounced grip for improved ergonomics.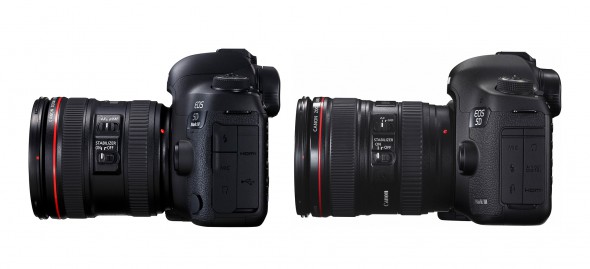 The EOS 5D Mark IV (left) and the Mark III
Performance
There are upgrades to all key areas of the 5D Mark IV vs the 5D Mark III. The newer model uses the DIGIC 6+ processor, which speeds up performance across the board and helps to deliver 7fps continuous shooting with full AF and 4.3fps when focus tracking in LiveView. Native ISO sensitivity has been improved from ISO 100-25,600 to ISO 100-32,000 and the expandable limits of that ISO range have been improved to L:50, H1:51,200 and H2:102,400.
Canon's new mirror box construction technique utilises small motors instead of springs, which produces an attractive and subtle shutter noise, reduces vibrations for sharper images and help to extend the life of the shutter.
The new 5D Mark IV uses the newer Intelligent ViewFinder II, first introduced in the 7D Mark II. This intelligent optical viewfinder provides detailed shooting information and an optional horizon level. Contrary to some speculation the new 5D Mark IV doesn't have an articulated screen, no, it's still a fixed 3.2-inch screen, but this time it's a 1620K-dot version of the Clear View LCD II with full touchscreen functionality. Touchscreen is a great addition, not only does it make it easier to navigate the menus and adjust settings but it can also be used to select focus during stills capture and smoothly pull focus during video recording. I've had a great experience using this technology with the Canon 80D and believe it is what gives the 5D Mark IV a genuine advantage over its predecessor.
Metering and Focusing are other areas where the 5D Mark IV eclipses the 5D Mark III. The same advanced 150,000-pixel RGB+IR sensor used by the 1D-X Mark II, which can detect flickering and deliver consistent exposures in a wide range of lighting environments, is used in the new camera. And although Canon may have parked the AF system at 61 points, with 41-cross type, the system now lives on a Dual Pixel CMOS sensor, thereby benefiting from improved algorithms and processing power.
All of these developments help to deliver improved tracking performance and consistency. An additional benefit is that the 5D Mark IV can capture RAW distance information from the dual pixel sensor, allowing you to make some slight focusing adjustments during post-production using the parallax data. It's a neat and innovative feature that we've never seen in any Canon camera before.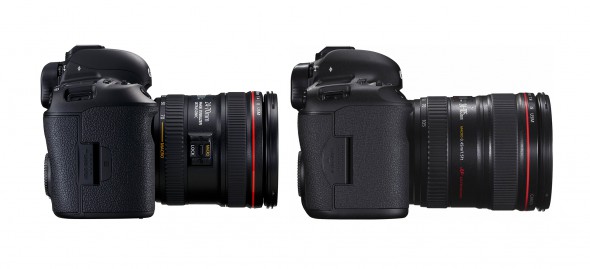 The EOS 5D Mark IV (left) and the Mark III
Key Specs
Camera: 5D Mark IV / 5D Mark III
Megapixels: 30.4 MP / 22.3 MP
Native ISO: 100-32,000 / 100-25,600
Processor: Digic 6+ / Digic 5+
AF System: 61-point Dual Pixel AF / 61-point AF
Video: 4K @ 30p / Full HD @ 30p
Burst rate: 7fps / 6fps
Viewfinder: Intelligent ViewFinder II / Intelligent ViewFinder I
LCD: 3.2in 1620K-dot / 3.2in 1040K-dot
Weight: 890g / 950g
Dimensions (W x H x D): 150.7 x 116.4 x 75.9 / 152 x 116.4 x 76.4mm
Video
Canon revolutionised DSLR video with the Canon 5D Mark II and built upon that camera's success with the solid 5D Mark III, adding useful features like the video mode switch on the rear and built-in audio socket for monitoring.
But the 5D Mark III still lacked some useful features, including an uncompressed HDMI out and when compared to the competition that followed shortly after its release it seemed a conservative in terms of resolution and framerate.
The new 5D Mark IV fixes all of those issues and a couple of extras by adding a clean HDMI-out, USB 3.0, and Headphone and mic inputs. It can also do much better than the 5D III's maximum spec of Full HD in 30p, bettering it by offering 4K video in 30p, as well as Full HD up to 60p and HD up to 120p – although the 4K video is cropped by 1.74x. Still, the new features and dual pixel AF are strong additions and considering this is primarily a stills camera with video capabilities, it's a marked improvement on what the older 5D Mark III offered on release.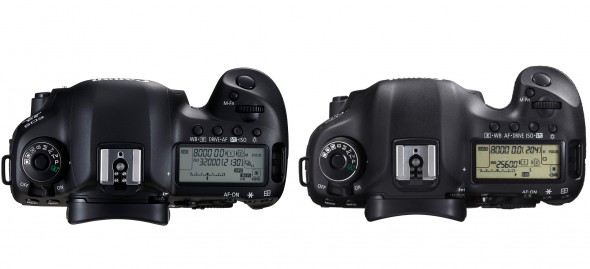 The EOS 5D Mark IV (left) and the Mark III
Canon 5D Mark IV vs 5D Mark III: Which one should I choose?
People fortunate enough to get their hands on either of these two cameras will find themselves in possession of a highly capable image capturing device. Both are fantastic tools for photography and video, and both benefit from being compatible with Canon's broad range of quality lenses.
The 5D Mark IV's fast and smooth Dual Pixel AF, Dual Pixel Raw, improved connectivity and touchscreen functionality are the most notable improvements, and they're improvements that will make a daily difference to workflow. Some of these new features may even be the difference between you nailing and publishing the shot or losing it.
If you want the best image quality and performance that Canon currently has to offer, make no mistake, the new 5D Mark IV is the toughest, best connected and most equipped full-frame DSLR camera that the company has ever made. The Canon 5D Mark IV price is listed at £3599, around the same price as the 5D Mark III price when that camera was first released. The 5D Mark IV is expected to begin shipping from September.
Related articles