Paul Bayfield reveals what it's like to be a photographer in the hectic world of high fashion. Read on for his diary of shooting the V&A's Fashion in Motion…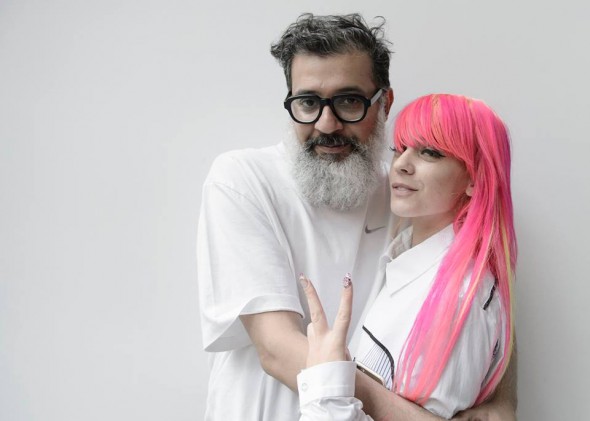 Designer Ashish Gupta was the subject of the V&A's October 2015 Fashion in Motion event. He presented highlights from his label's collections and I was asked by the designer to shoot a retrospective of his work over the last ten years.
The Victoria & Albert Museum has been host to some groundbreaking events, including the very successful "Savage Beauty" exhibition celebrating the talents of the late Alexander McQueen. The difference now though was that the Ashish exhibition would be a series of live catwalks in front of a fully sold-out crowd.
No pressure then…
The brief
Shooting runway shows usually works in one of two ways, with the photographer working either front of house or in-house. If you were doing the former it would mean that you would be an accredited photographer on assignment for whoever has commissioned you, while the latter would mean you were personally shooting for the designer or PR agency.
Before entering the venue when shooting front of house you have to negotiate the PR agent decathlon. This will include presenting emails from head office, proving your accreditation, proving your identification, a song and dance routine, possibly even a blood sacrifice to the fashion gods. The agents' sole purpose is to keep numbers low, and those who don't HAVE to be there will not make it to the door. The photography riser is a very busy place and can become a frothing pit of tension unless meticulously controlled.
Shooting in-house is a fairly different world. You are selected because you are reliable, consistent and can be left to simply get on with your work. The client knows you will supply what they need when they need it. You will be marked up on the riser front-and-centre, and won't have the pressure of needing to get there early to find a sweet spot somewhere near the centre.
Sounds good, right? Well yes, it's very good, but there are now far more difficult pressures on your back. You only have one chance to get your photographs of each look. You cannot miss one shot. It's pretty hard graft and you have to be on your game.
The Fashion in Motion show, however, was going to be more like when I shoot a music festival. There would be four walks, or "shows", and I had to decide how I would approach each one. I didn't want each walk to be shot from the end of the runway, I wanted different perspectives. I was also aware that after each show finished I would have to get the images edited and uploaded to Dropbox for the PR (effectively going out live), and that Ashish Gupta himself would be supplied with a flash memory stick at the end of the evening with all shows on so he could use them as he saw fit.
The day of the shoot
I arrive on the day. First things first: rehearsal. And it's clear from the outset this is going to be difficult.
Ashish wants a dramatic show. His clothes sparkle, and the "wow" effect will come from his use of lights on the catwalk. This is going to take the form of four follow-spots, each hand-held by a lighting engineer, that will be focusing as the models came down the catwalk. This also means that as the models cross there will be light clashes.
"Note to self," I think, "Burnout area near the gap in the seats about a third of the way down the walk."
Also there will be twelve high-powered tungsten lights to backlight the models from the opposite end of the runway.
A second note to self: "I need more height to avoid any lens flare."
Out come the models for their rehearsal. They walk in the shoes they'll wear for the show, but as they're still in hair and make-up prep they're still wearing their own clothes, meaning I have no idea what the final outfits will look like and how they might be affected by the lights.
It's no biggie: I can go and see the clothes when I do backstage shots and get an idea of what I'm dealing with. What's more of an issue is the catwalk. It's black and the organisers don't want footprints on it, so they've covered it in plastic that will stay there until the start of the show proper. This plastic is currently bouncing all the light back up from the floor on to the models' faces.
My third note to self: "It's going to get a LOT darker on this catwalk once they take that cover up come show time."
Sigh…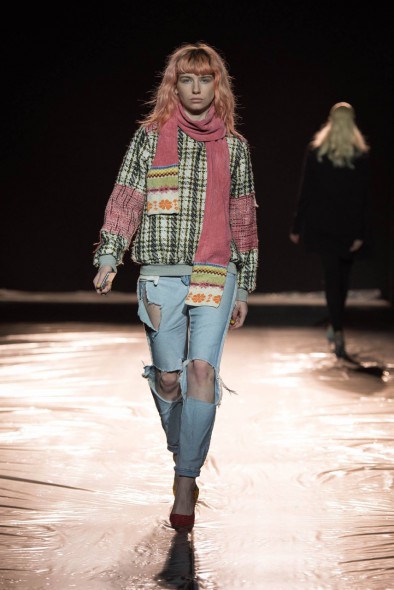 Final preparations
I must make sure I get some texture photographs. I want the client to have images that evoke what it's like being here, working here, the space we are operating in. That way, all their fans and customers can feel part of the event.
I like getting the shots of the clothes on the rack. They are the stars of the show, and it feels like they can't wait to come alive and get out there. Lots of colour, lots of crazy, all tied together by the headshots of the models who will be wearing them. Having these on standby is a foolproof strategy come chaos time. I'm drawing on old times when I would look for similar texture shots at a wedding. Find the shoes, find the light, etc. Try and catch the nature of the setting and the building itself. Wow, this place is amazing.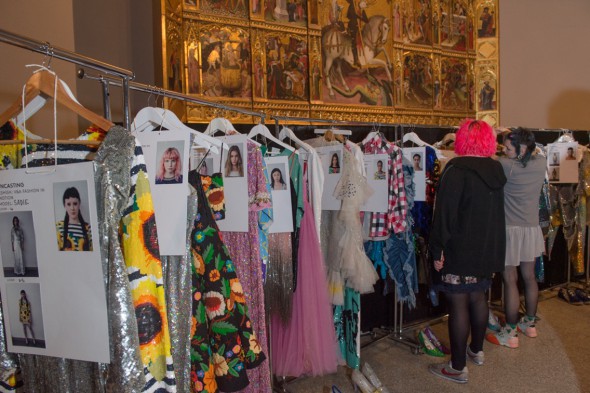 Show one
It begins. All the public are piling in. There are a lot more people here than at a normal fashion show. I've also just realised that they are all taking photos on their phones. Should've thought about that.
I push a third of a stop on the camera, and I'm surprised by how much light all those phones add to the room.
I'm going to use this first show to shoot my individual looks. I now know where the sweet spot is for the light, that moment when the distance is just right. There are three paces that each model will take where I can capture them with their foot hitting the floor in front of them. Three paces, three chances per model, three changes of clothes per model.
Final check – make sure the camera is set to spot metering. 3D tracking is on ready to track the first model's face.
All set. Let's go.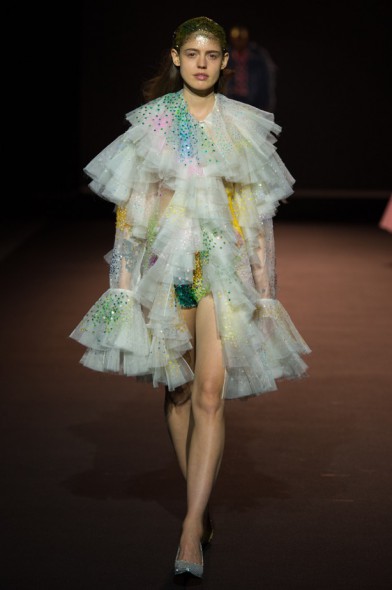 Note how much darker the catwalk is now the plastic cover is gone
Show two
This show I will use to get my closer shots. Lots of eye contact and details of the clothes.
What did I learn from Show One? Well, principally that it's really bloody dark in here. My Nikon D810 is coping well with it, considering. The clothes are nice and crisp and there's not too much noise. The massive resolution is giving me wiggle-room to crop in, which is useful as I like to create a nice uniform look with the images, depending on which of my three shots I use.
What I am noticing is that when I take shots of the models further down the walk the autofocus is having a little trouble, as there's just no light on them. The boys on the follow spotlights are doing well to find them coming out of the dark, but I'm going to have to shoot the third show on a Nikon D4s, something that's more at home in the dark.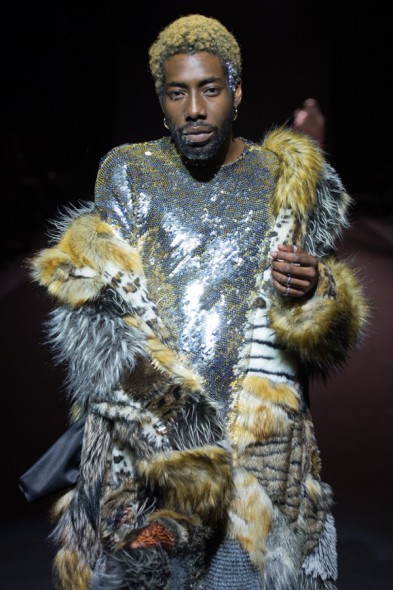 Show three
Right, third show. Texture and alternative P.O.V. of the runway. I take the D4s and a 50mm f/1.4 lens. This is going to be my main camera. I want some nice profile shots so I'm going to head to the side of the walk. There are three rows of seating but the 50mm will bring me nice and close. I want these shots to show off all that hair glitter and find some nice points where the models pass each other.
My second camera will be a Fujifilm X100T. I. Bloody. LOVE. This camera. It's like having a little 35mm prime around my neck that I hardly even notice is there. I can whip up to my eye in a heartbeat, and in the dark the EVF will show me an accurate live preview of my finished shot as I dial the aperture or ISO up and down. I like that feature a lot.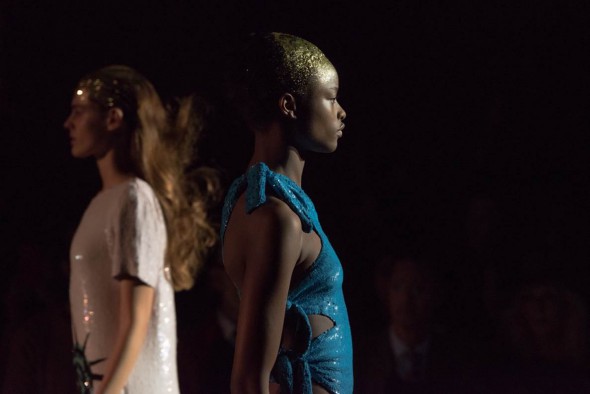 Show four
Final show. There's a little less pressure now as I've been editing between shows and I know I've got my images. I'm happy with what I got in Show One, but I want to see if I can improve on it as it was so damn dark so it's back to my first position.
I use the D4s along with a 70-200mm f/2.8 lens, which should be perfect in this light (or lack thereof). I don't usually have this luxury so I may as well take advantage of it. My flash drive with all the previous shows is in my pocket so I'm ready to do my handover after showtime. This show I can send via Dropbox about an hour after it finishes, as everybody will be long gone.
As soon as the final parade is done I dash down the runway before the crowd lunges for the exit. I put the flash drive in Ashish's hand, and am enveloped in a massive hug. Seems like I wasn't the only one under a lot of pressure today.
We are wrapped and the weight is off our shoulders.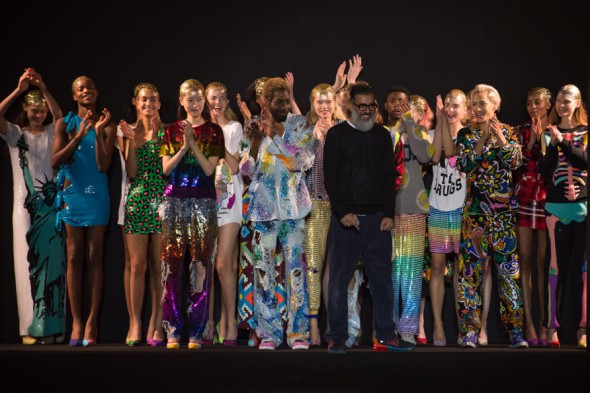 About the Author
Paul Bayfield is a professional photographer, specialising in music and editorial photography. You can view more of his work on his website andfollow him on Twitter.
Related articles