A big challenge of street and travel photography is approaching people for portraits. Geoff Harris helps you face the fear and do it anyway…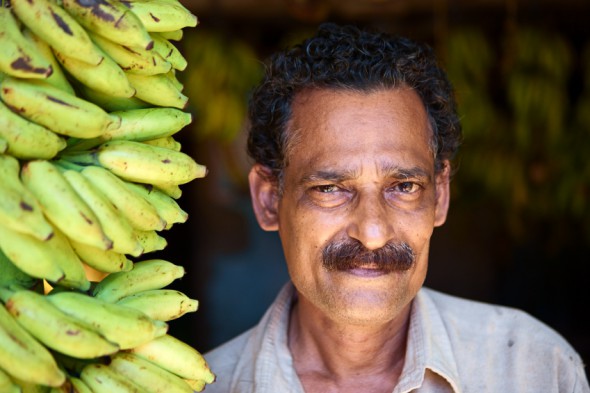 When it comes to portraits, mastering the essential techniques and getting the right gear is one thing – the next big challenge is learning how to deal with people.
Great portrait photographers – and great documentary, news and travel photographers for that matter – absolutely have to be able to put people at their ease in order to create successful images. It's easier said than done though, and it's amazing how many enthusiast photographers find this aspect of photography really difficult.
Here are my tips for getting over that first hurdle and improving your photography through the timeless art of talking to people…
Face your fears: what's the worst that can happen?
While professional news and travel photographers have to either face their fears about photographing people or face finding themselves out of a job, it's less of a 'fight or flight' situation for amateurs. But if you want to get better people shots, you still need to feel the fear and do it anyway.
Imagine you are in a street market in, say, Bangkok and you see somebody really interesting, with a very photogenic face. While you can try and get a candid shot of them, you often get a much better image if there is some eye contact. So just ask them for a shot, gesticulating if they don't speak English. The worst that can happen is they shake their head. Don't take it personally.
I have found, however, that if you approach people in a confident and unembarrassed way, they often agree. If you look sheepish and nervous, people will subconsciously respond to this.
Don't feel guilty
I interviewed Martin Parr last year and he shared an interesting observation: "Photographing in public need only become an issue if you make it one. Just explain to people what you are doing, if necessary."
This echoes my previous point. Being a photographer is nothing to be ashamed of. That said, the climate has changed over the last 15 years or so, and yes, there is general anxiety about terrorism, paedophilia, and other social problems (as well as lots of people in hi-vis jackets ready to tell you that "you can't take a photo here, mate.") So be prepared to explain what you are doing, but only if appropriate. Don't create an issue where one doesn't exist.
It pays to be prepared however, so I recommend carrying some business cards. They simply need to have your name and contact details on the front, along with any photographic qualifications or camera clubs you belong to, and a nice image on the back. Cards can be printed for next to nothing, and they can help to put people's minds at rest.
Getting people to relax
Without wanting to get sidetracked into a discussion of photographers' rights, you are usually allowed to take pictures of the general public on the street as long as you don't harass them or cause an obstruction (taking photos of the police or military personnel is another matter). For more on photographers' rights in the UK see here, and obviously check the law in a particular country if you are travelling abroad.
Once somebody agrees to have their photo taken, it's important you interact with them. Maybe try to chat a bit first, or share a cup of tea, or buy something from their stall if they don't speak English. As their defences come down, you will start to get better shots. People will often grin and pose at the beginning, but just let them do this, and eventually you'll get more natural expressions.
Another good tip when shooting working people is just to hang around a bit – eventually they'll forget you are there, and again, that's when you start to get stronger shots.
Other portrait tips
If you are taking a face-on shot, people often don't know what to do with their hands. Encouraging them to hold something can help – the tools of their trade, for example. Before you press the shutter button, try to get them in the nicest possible light, where practical. Backlighting from the sun can look great.
If the sun is shining full in their face and they're squinting, suggest moving into a different position, and consider using fill-in flash to lift the shadows on people's faces caused by strong sunlight. Stray hairs can be another problem, and ask them to remove sunglasses etc. if you feel confident enough to do so (maybe not such as good idea with an American traffic cop).
Share the images
Another good tip is to show the person the image you have just taken. This can work particularly well in parts of the developing world where digital cameras aren't so common, and helps to further strengthen the interaction between you and the subject.
If you are particularly excited by a subject, you could even take along a little postcard printer or get the images printed at a shop, then go back and show them the fruits of your labour. It all helps build trust and rapport, and encourages the subject to let you take more shots. That said, you need to know when to stop and move on, particularly when dealing with working people – don't push your luck too far!
Do you agree with Geoff? Tell us what you think in the Comments section below.
About the Author
Geoff is an experienced photography journalist and recently stepped down as editor of Digital Camera, the UK's best-selling photography magazine. He now writes for a range of publications. Geoff is a keen travel and portrait photographer, and a Licentiate of the Royal Photographic Society.
Related articles