Whether you're a wedding photographer or a video industry pro, teaming photography and video services together can work wonders for your business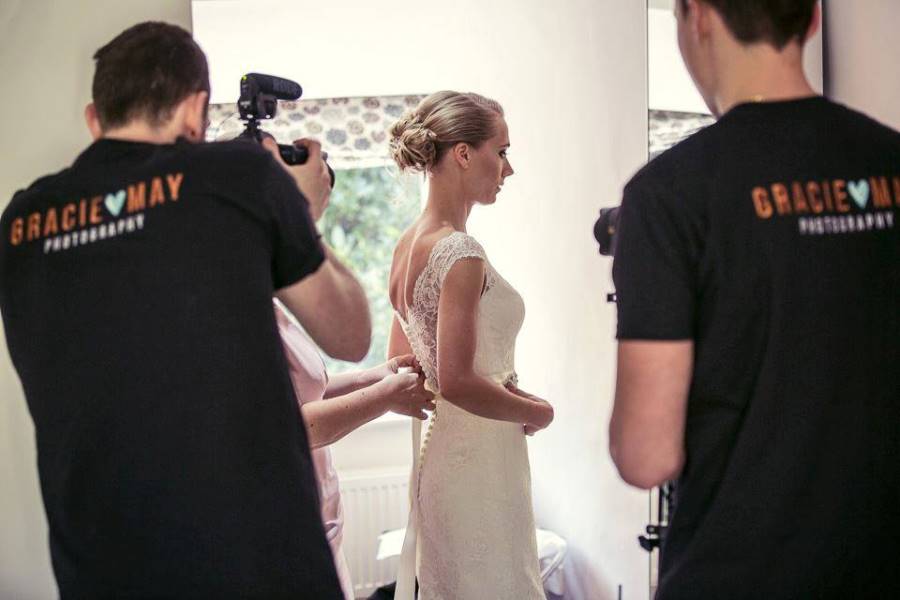 Elizabeth Halford built a team of vendors who were happy to white label their services and proudly wear the Gracie May Photography brand.
When consumer photography equipment came onto the market, it allowed the average person to start taking pictures. Cameras were now portable and this changed the ways in which they were used, and what we considered worthy of being photographed. Now we have powerful cameras in our pockets at all times. Heck, the average ten year old has their own device, meaning the average ten year old holds in their pocket the tiniest, most powerful cameras in history. And, we have everything we need to make stunning films too. As I write this, I have a 4K digital video camera sitting on my lap – it also makes phone calls and browses the internet.
The fact that equipment is only one ingredient in making movies worth watching is apparent now more than ever. If it were all about cameras, then our feeds would be jam packed with Oscar-worthy pieces of content, 24/7. But no, our feeds are filled with on-the-go bites of video. From one-second Boomerangs to hours of Facebook Live streams, video is saturating our daily lives. Shooting slick movies of your vacation is as much a given as taking five thousand photos. And, this has made the wedding video a given too.
How wedding photographers can bring video to their photography business
Before I discuss how you can bring video to your photography business without losing your focus on photography, let me tell you why you should do it…
Your clients are looking for videos. You should be the one to scratch that itch. These are mine.
Don't leave money on the table! If it makes money, it makes sense.
Having creative control of both the stills and motion picture means both bodies of work can be a cohesive story, and will not compete with one another for attention.
You can package both items together so that one doesn't have to suffer for the other. Before adding video services, I regularly heard from couples who chose their videographer first and were now looking for a photographer they could afford with the leftover budget. It's all about which vendor gets to their wallet first. Neither piece of work should suffer for that reason. Offer both!
So that's the why. The how is a bit more complicated. Although the equipment is sometimes the same, shooting stills and video are very different. The thought process, frame of mind and technicalities are very different, and so I find it important for a member of my team to be dedicated to whichever role they play (and not cross over). Don't try to shoot video in addition to stills. This means in order to create video for your photography clients, you need to build your own team. For me, this looked like finding experienced video pros who were happy to white label their services and operate under my brand. Here are some bullet points about how I run things…
Pricing
You can treat your video vendors like any other kind of subcontractor relationship. Just take what they charge you, add on a percentage and boom, there's your price.
It would be natural to desire cheaper prices from your suppliers because they aren't dealing with the clients. However, remember that for them, you are the client. And, since they're white labelling and this isn't going to be building their own portfolio of work, it's not really any different. In fact, you might even expect them to charge you more for this premium service.
In the USA, I haven't yet found a video team I'm ready to work with. But in the UK, I offer photography and video pricing independently. I offer engagement sessions for free when clients book both services. And yes, I will also offer my video team to clients who have already fallen in love with another photographer.
Sales: How do you sell these things?
First, you need to build a portfolio, which really only needs to be a couple of pieces. How many do you really need in order to show you can nail it? For me, it was two.
My first video guys wanted to test out the idea and see how it might work for their company, so they were happy to do a couple of weddings for free. I knew I'd be able to use these to start selling the service and it worked!
If you're making contact with experienced pros, you can expect that you will need to pay for your first wedding together. If you're a good marketer, you should be able to recoup that spend easily once you start selling video in addition to your photography services.
Before we move on, a word about whether you should go with a free option (someone learning) or a team (production company) with prior experience. You need to consider what best fits your brand. If you're an established photographer with a polished look and clients with expectations, this isn't the time to be experimenting. From the very first video, you will need a team who are not only talented filmmakers, but experienced at weddings. The rhythm of the wedding day is a very unique thing, and you'll want a team who knows how to operate with wedding etiquette and class.
Client relations and expectations
All of the wedding videos on my website are very similar. They maintain a uniform style and each film has certain hallmarks of the Gracie May Photography video brand. This is the one product we offer. I tell my couples: "It's like a music video for your wedding". They can choose to have voice audio like in this film or music only like this one. Anything requested outside of this product (ceremony footage, speeches, etc) is quoted in addition and I don't show these on my website.
I act as the producer and handle all client communications, contracts, call sheets for the team, etc. I also set expectations and make sure everyone's where they need to be. The video guys are purely my suppliers and never cross into client territory until the day of the wedding.
After the wedding, I maintain the relationship and the client doesn't speak with anyone else on my team. (We'll talk more about file delivery later.)
On the day
On the day, it will be important for both teams to operate as one and to work around each other effortlessly.
I always have two photographers, one with the bride and one with the groom. When a wedding has my video team, there's also one videographer with each the bride and the groom.
During the ceremony, there's a video person and a photographer tied at the hip. We operate in tandem, which means we get the same shots in both mediums and don't get into each other's shots. If there are times when we're moving around independently, we keep an eye on each other and give way for us to both capture the same moment (the first kiss for example) and then get out of the way for the other to get their shot. It requires hand signals and mind reading, but we make it work pretty well. We're there for the same reason, and this means always supporting one another and having each other's shot in mind, not competing for the same shot.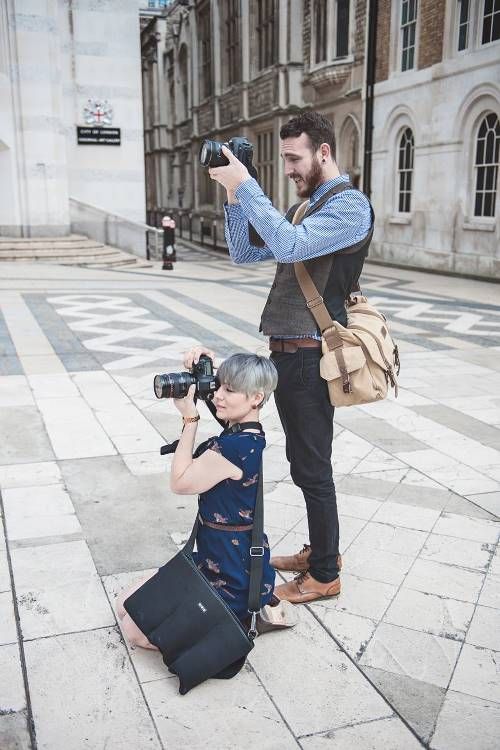 My videographer and I shooting together from the same position.
Editing process and file delivery
Once my stills editing is complete, I share these with my video team so they can grade the video to match in colouring and overall editing style.
We pay to license music. It's important to be clear with clients from the outset that the music needs to be licensed, and this means they can have a choice of thousands of songs which won't likely include Beyoncé! I don't leave this giant choice to the couple. In fact, my team chooses the song we feel best fits the vibe of the couple and the event. The clients rarely (if ever) push back on this. They basically always love the piece we choose.
All file delivery goes through me. My team delivers me a first cut and I give them my notes which are usually music edits, shots to change and other things to keep the piece on brand. By now though, my video people are so well-versed in the Gracie May way that this has become a very fluid process.
When I'm satisfied with the piece, it's then delivered to the client fully graded and ready to go. Unlike my corporate clients who are used to the video process (B2B), this is more of a B2C situation, so I don't really even invite them into a feedback process. I just say: "Yay, here's your story!" And they love it, and that's that.
Marketing
I offer one-minute Instagram cuts, which are great for marketing yourself to their network of friends. Give them things they can share with ease! 15-second vertical clips for Instagram Stories or Snapchat could be a very cool thing to give them. Anything that makes word of mouth easier is a good idea.
Naturally, I use the videos on my own site as video timeline covers on Facebook, whatever. My clients sign a release at the beginning of our relationship because using your own work to generate further business is important. Otherwise, you'll need to invest in expensive advertising which will greatly increase your pricing. And I guarantee clients don't want that!
My video team always gets behind-the-scenes (BTS) footage and footage of me working. After a few weddings, you'll have enough footage to cut together a little commercial for yourself. This is mine! And here's a little BTS we did on the fly. I'm always looking for ways to get the most out of this effort to market myself and sell more video. (Want to learn more about behind-the-scenes footage? Visit our blog: Marketing for Video Producers | The Value of Behind-The-Scenes Pieces.)
Adding video to your photography offerings can greatly enhance your bottom line and marketing for your own business. Telling their story in both mediums can bring so much juicy goodness to your business. I wish you all the luck in the world, and happy shooting!
About the Author
Elizabeth Halford is a wedding photographer and creative producer in Orlando. She got her start in photography and video production in the UK, and lives on Twitter at @bettyhalford.
Related articles