On a BBC shoot, Manolo Mendieta had to get dynamic drone footage of the world's largest mammal. He tells us the story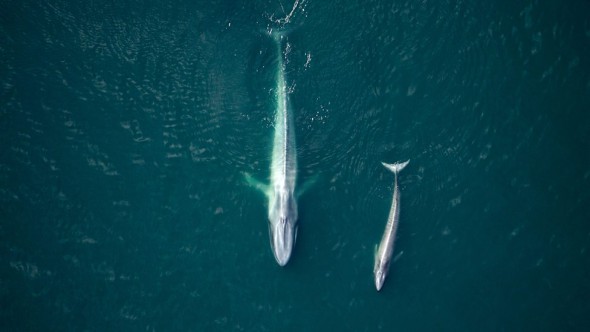 Image credit: BBC
Sometimes a job comes along that's just a little more exciting than the norm. When Manolo Mendieta was tasked with capturing imagery of blue whales using drones for the BBC's Wild West: America's Great Frontier programme, he knew he had something special on his hands.
What followed was an adventure, an exciting professional challenge and a majestic experience. Read on as Manolo tells us how he tackled the task of finding one of the planet's largest and shyest aquatic creatures – from the air...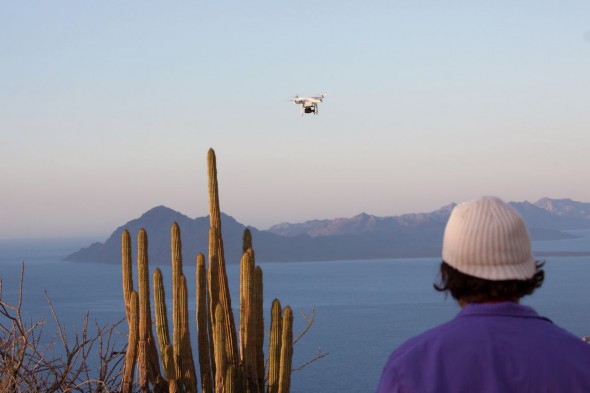 Manolo flying the drone over the sea in preparation for the expedition
Wex Photographic: Thanks for speaking to us, Manolo. How did you get involved with this project?
Manolo Mendieta: I was in charge of the drone based aerial cinematography for the BBC Restless Shores programme, which is the third iteration of the Wild West: America's Great Frontier miniseries. As well as getting landscape and b-roll footage, our main goal was to capture cinematic aerials of blue whales aiming for a clear perspective on size.
I'd been recommended to the producer Felicity Lanchester by Scott Carnahan, a good friend who happens to be the best fixer [someone who is familiar with a particular country and helps film crews with local logistics] in Baja. He was also a key element on the production team.
WP: What was the process of finding the whales?
MM: The single most important step is partnering up with a capable team. In this case, it all started in the BBC NHU offices in Bristol.
Knowing where to go, with whom to go, and in which time of the year to go are the most important elements in finding the subject you're looking for. In this case, our subject was the largest animal on the planet.
Once on location and paired with the right team, it was time for action. Testing all the equipment was step one – the first thing I did after offloading my equipment was set it up and make the necessary adjustments and calibrations. I proceeded to do a couple of test flights before the first day at sea.
Over the next few days we ventured out onto the open ocean very early in the mornings – just a little before first light – and returned after the sunset.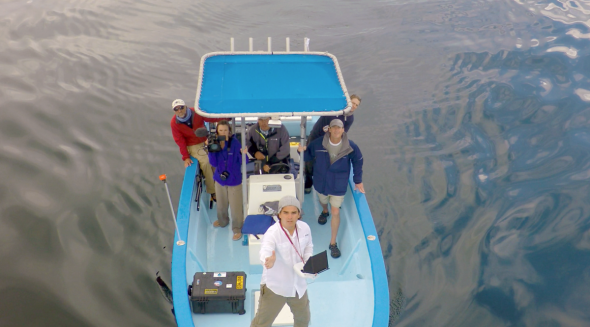 Manolo and the team in the boat
In average we covered about twelve hours a day looking for blues, day in, day out. One nice trick when looking for whales is to turn off the boat's engine, remain as silent as possible and wait patiently until hearing them surface to breathe.
Yes, hear them. The best way of knowing when there's a whale around is by listening for their exhalations, also known as blows or spouts, which can be heard for many kilometres around and can also often be seen on the horizon, as blue whale spouts can reach up to twelve meters.
WP: You had one of the hardest jobs in getting the drone footage. What were the challenges of your role?
MM: We were looking for quite specific aerial footage. Whales close to the boat or in rough waters weren't going to make the cut for us – we needed slow-paced whales in calm waters, at a certain distance from us but not too far away. All those factors made for a nice challenge.
Given that whales surface to breathe for only a very brief period of time, getting a chance for a shot requires taking off as soon as they surface and flying straight to them before they dive again.
I also had the added challenge of working with a fairly tight focal length of 50mm. While this resulted in a quite narrow field of view, it was also amazing at rendering the detail we were looking for. It was a trade-off I needed to overcome.
Take-offs and landings from a moving small boat were also implicit challenges of shooting at the ocean. Nautical experience was a must.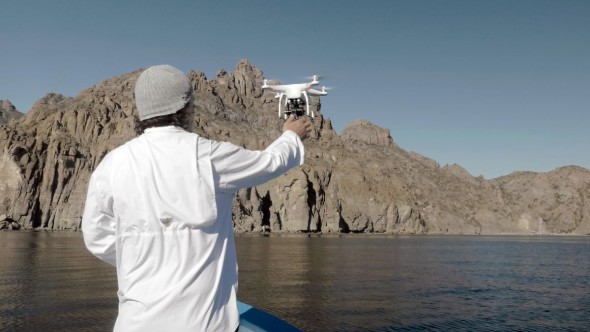 Manolo carefully executing a drone landing
WP: Were you ever nervous that you wouldn't be able to get the shot?
MM: Honestly, I did feel nervous on the first couple of flights at the start of the expedition. It was windy, the whale's breathing sequences were quite short and erratic, and it was also hard to find them on the screen because of the tightness of the lens. I was just seeing water, even when I knew I was close to the whales.
After a few attempts, I started relaxing and getting in sync with the whales' pace. I learned the approximate altitude I needed to be to get my subject fully in the frame and could start my composition from there. That's when I started enjoying it, relying on my experience and letting the creativity flow.
I don't want to sound overconfident but I knew I was going to deliver: failure was not an option, and it's especially never an option when collaborating with others. This is especially true on these kinds of high-profile shoots. When aiming for any goal it's vital to be confident, set your mind on the target, rely on your experience and visualise success. Of course, being properly prepared with the right equipment and team is always key.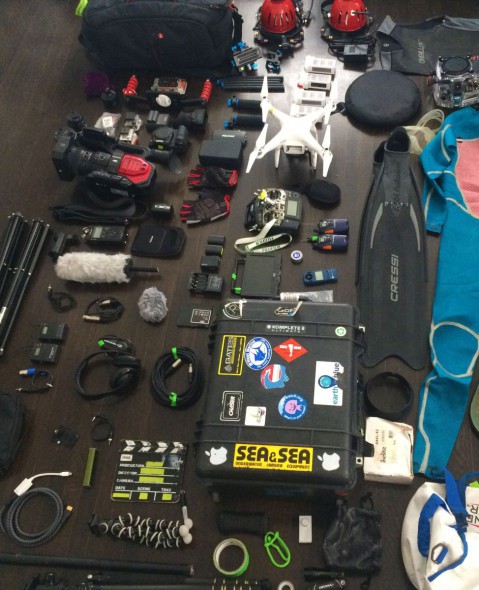 A selection of Manolo's kit for the shoot (more on which below)
WP: How did you feel when you finally captured the whales? What was your reaction?
MM: It was like being at the finals of your favourite sport – one that you've been practicing your whole life – getting the chance to play at the big leagues and scoring a home run for the team. I was awed by the beauty of the sight before me. I was looking through the screen, Felicity was by my side looking as well, when the biggest creature ever to live started appearing in the frame, with a baby by its side. There wasn't much time to consciously think about camera movements, composition or anything else.
It was like being in a ballet alongside a partner you've never danced with before – you have to get in perfect synchronicity and start 'swimming' with the whales from the air. It's a magical sensation, hard to describe. It's a reminder of our interconnection, I guess. That's the only way to get the perfect shot: you have to feel it. You have to dance with the whales.
WP: Were there any other shots on the projects that you were particularly proud of getting?
MM: For sure the shots of orca hunting mobula rays! It was a wonderful experience having the opportunity and luck to witness the biggest of all marine predators hunting in the wild.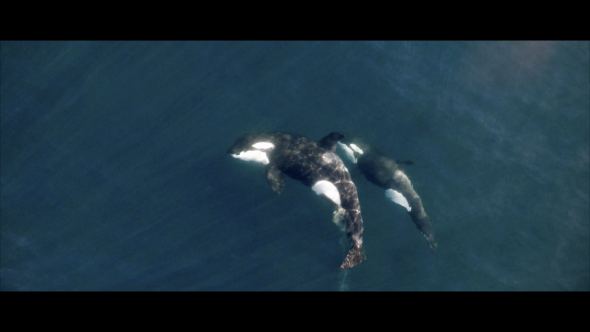 This was completely unexpected and the first time this behavior has been captured in the form of low altitude aerials. I'm especially proud of those shots because as well as being featured in the documentary, they were instrumental for the Restless Shores promotional video.
WP: What was the drone you were using?
MM: I was using a custom modified DJI Phantom 2 v2.0 with upgraded motors, props and redundant video transmitters. I also used the stock radio controller for simplicity on functions and a Futaba T8j radio system, which is a beauty in terms of range and sensitivity. All of this was paired with a modified GoPro Hero 4 Black, using a custom lens equivalent to a 50mm in a 35mm sensor camera, plus an ND and CPL filter. Two of the aforementioned systems were on hand for redundancy, and everything was protected in pelican cases.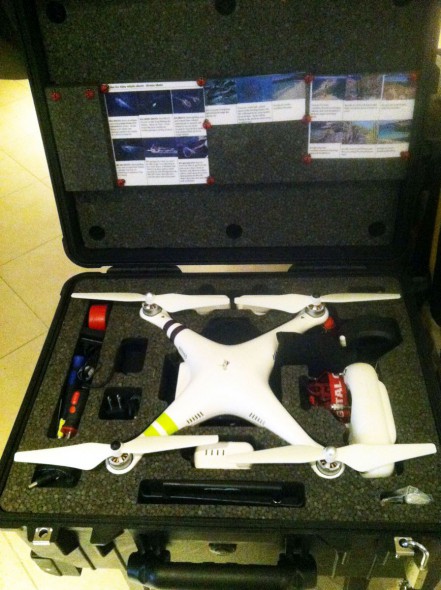 I have to add that despite the fact this was all shot almost two years ago (which as you all know in terms of tech development can be long time), the above setup is still my aerial filming platform of choice for some projects.
You may ask why, when there are quite a few new models to choose from? Well, firstly it's important to choose the right tools for the job. For other kind of shoots, I may choose a more robust rig, but in this case, considering I wasn't able to bring a second operator, a spotter or any kind of support team, a small aerial camera platform was the best way to go.
In some cases, versatility, size and portability are king. When shooting whales, your kit must be always set and ready for action. When nature does its magic, versatile camera platforms work wonders! Being able to release and catch by hand is also very important when operating from moving boats.
Also, consider this: the Phantom 2 was the last product in which DJI and GoPro worked as a team. Each one was and is the best in their respective fields.
After DJI decided to take a larger piece of the market, this dynamic duo was lost. In my opinion, none of DJI's Phantom line cameras are quite at the level of the GoPro Hero 4 or 5 when comes to image quality and customisation settings, especially when combined with custom optics.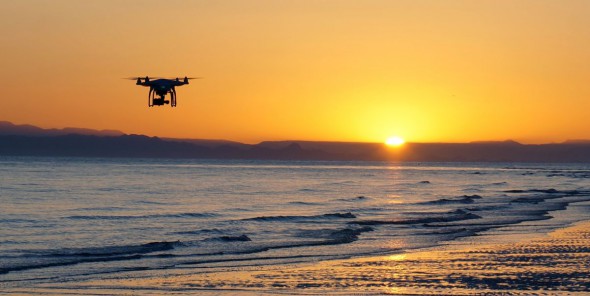 To summarize the tech talk: as of today, almost at the end of 2016, the DJI Phantom 2 paired with a GoPro 4 is still a great customisable base for a versatile professional aerial filming platform.
I would like to emphasise the importance of choosing the right tools for each project in accordance to the shoot specifics. This will not always mean the newest or shiniest. Customisation is also key.
But more importantly work on developing your craft, perfect your skills, practice, practice, practice, shoot as much as you can! You need to be ready to dance without thinking about it.
Tools are just one part of the equation which, although always important, is not up par with the most relevant variable that is you, the artist behind the lens!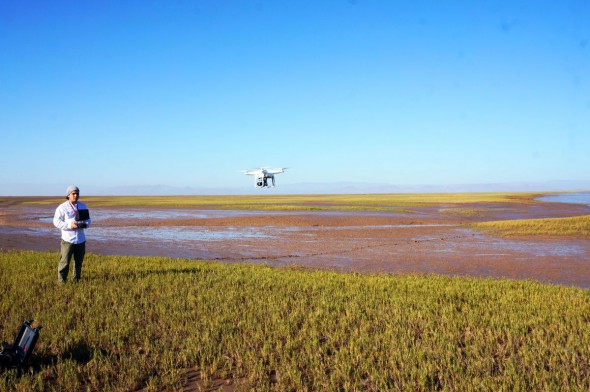 Manolo Mendieta is an executive producer and director at Spunco Films
Related articles