Mike Harris visits our gallery at Wex Photo Video London and witnesses some of the most iconic music photography ever produced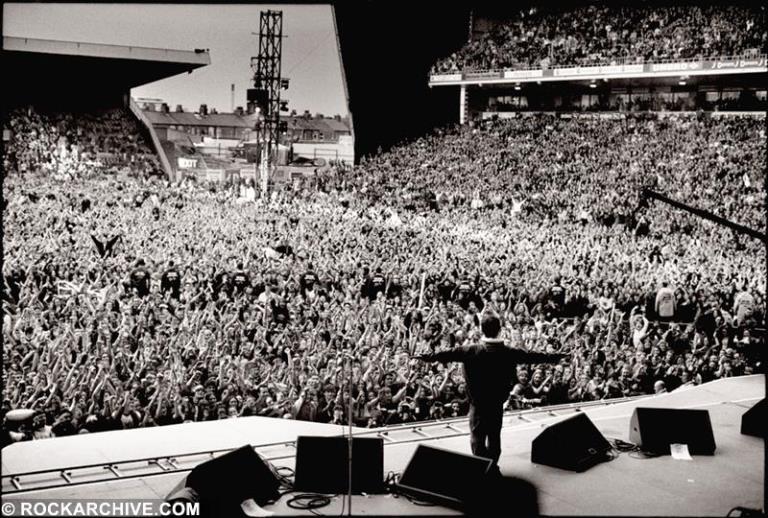 Noel Gallagher walks on stage at the beginning of Oasis' legendary 1996 appearance at Maine Road on April 28th. Jill Furmanovsky.
On April 27th and 28th 1996, Oasis played Manchester City FC's Maine Road stadium – this would prove to be two of Oasis' and indeed Brit pop's most iconic live outings. Luckily, Jill Furmanovsky was waiting in the wings to capture the moment Noel Gallagher walked on stage and addressed a crowd of over 40,000.
This is but one example of the iconic prints we're currently hosting in our London store's gallery, and how they've helped to immortalise some of rock's greatest moments and most iconic faces. 50 Years of Iconic Rock Photography features over 25 stunning images from Rockarchive's broad collection of images and features the work of famed music photographers including Jill Furmanovsky, Michael Putland, Ray Stevenson and Mick Rock.
This particular collection has been specially curated for Wex Photo Video and provides a tantalising glimpse of what Rockarchive has to offer. Our exhibition features historic images of rock royalty including David Bowie, Eric Clapton, Debbie Harry, Freddie Mercury, Prince and Amy Winehouse. Expect raw captures of live gigs, stunning studio setups and intimate portraits.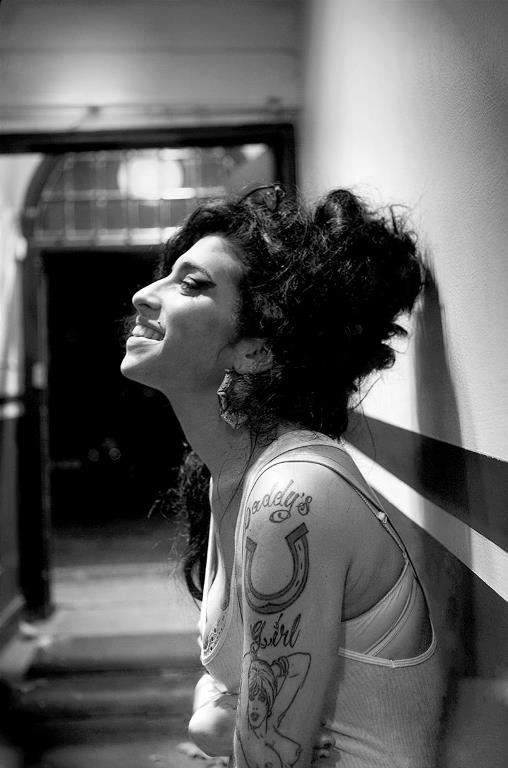 An intimate portrait of the late, great Amy Winehouse at London's Union Chapel in 2006. Jill Furmanovsky.
Highlights are many, but are sure to include the photograph of Pete Townshend thrusting the headstock of his guitar through an amp cabinet, an impromptu back-stage portrait of the late Amy Winehouse and an intimate three-photograph series of Jimi Hendrix restringing his guitar before playing London's Marquee Club in 1967.
Limited edition prints of the exhibited images are available to order in store or online via the Rockarchive website. Each print is produced at Rockarchive's London studio on museum-quality paper or sourced directly from the photographer. Prints are signed or estate stamped, and come with a certificate of authenticity and can be shipped internationally.
Let there be rock!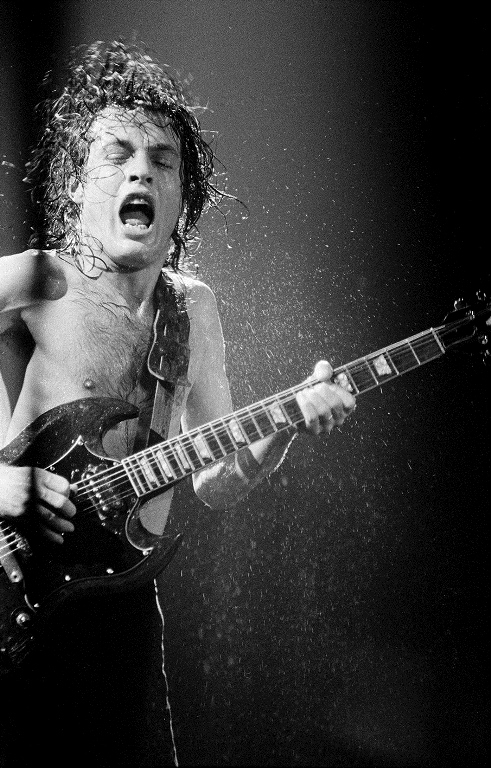 AC/DC's flamboyant lead guitarist Angus Young is captured mid-headbang during the band's UK tour in 1981. Michael Putland.
Rockarchive was founded by Jill Furmanovsky in 1998, and was built to make the work of rock photographers and visual artists more accessible for both fans and collectors. The website was launched with just 30 of Jill's images, and has since grown to house over 750 images by 60 photographers and art directors. From Bruce Springsteen to Blur, Elvis Presley to Ed Sheeran and AC/DC to Amy Winehouse, Rockarchive's fine-art prints are much sought after and feature all manner of musicians from the past 50 years.
Rockarchive Seminar with Michael Putland
Eric Clapton coolly displays his guitar-playing virtuosity on his USA tour in 1974. Michael Putland.
Alongside the 50 Years of Iconic Rock Photography exhibition, we're very pleased to announce that acclaimed music photographer Michael Putland will be visiting our London store on October 25th for a special rock-photography-themed seminar.
Michael is known for his work with the Rolling Stones, but his portfolio encompasses a broad range of artists including David Bowie, John Lennon and Yoko Ono, Bob Marley, George Michael, Siouxsie Sioux, Tina Turner, Marc Bolan, The Clash, Billy Joel and Led Zeppelin. In fact, on Michael's website it states: "It has been said that Michael photographed everyone from Abba to Zappa".
Michael's introduction to photography was through his uncle and he gained experience after leaving school as an assistant. By 1971 he was working as the official photographer for British music publication Disc and Music Echo. In 1973 he toured with the Rolling Stones and subsequently formed what would become an ongoing relationship with arguably the biggest rock band in the world. In his own words, Michael reflects on his career as a photographer: "I have been fortunate enough to join my love of music and my love of photography to make a wonderful career of more than fifty years... and I am still shooting and still listening." For more information on Michael's seminar and to book your slot, please CLICK HERE.
About the Author
Mike Harris is Wex Photo Video's production editor and is an experienced journalist with a passion for motorsport photography. You can view his portfolio via @MDHarrisPhoto on Instagram.
Related articles