Sony has announced the super-speedy successor to its A6000 CSC, the A6300. Here are the key upgrades
The a6300 (left) and the a6000 (right)
1. New autofocus system
The headline feature of the new Sony A6300 is its 4D FOCUS AF system. Boasting a whopping 425 phase-detection points across the entirety of the frame, the system is billed as the fastest in the world, able to acquire a subject in as little as 0.05 seconds. The A6000, by contrast, came out with 179 AF points, which is still a fair few but now seems rather paltry compared to the new model.
Sony says that the increase in density of the focus points, plus the A6300's improved AF algorithms, will also enable the camera to track moving subjects more accurately. The improvements to the AF also extend to video – Sony claims the A6300 will find focus twice as fast as its predecessor when recording video.
2. New sensor and processing algorithm increase speed
Though there is no real change in resolution between the Sony A6300 and its predecessor, the sensor under the bonnet is actually a newly developed unit that delivers advantages in other ways. Chief among these is the copper wiring employed in the sensor's structure, which according to Sony will improve light collection efficiency and significantly accelerate readout speed. This, combined with the updated algorithms in the BIONZ X processor, serves to make the Sony A6300 faster than ever in all aspects of its operation.
3. High-speed shooting with uninterrupted live view
The A6300 can fire out frames at a maximum of 11 fps, just as its predecessor the Sony A6000 could. What's interesting however, is the new 8 fps continuous live view mode, which provides a near constant live view in the viewfinder even while burst shooting. This opens up new possibilities for accurate framing while shooting fast action at high frame rates, and we're excited to try it out for ourselves.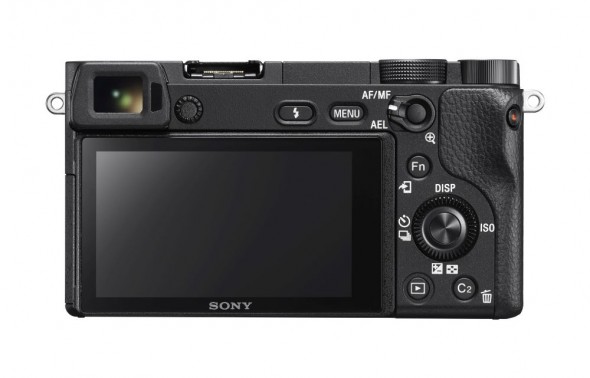 The rear of the A6300
4. 4K video
The A6300 also brings 4K video to the party, recording at 100Mbps and using the full pixel readout to collect 20MP of information (equating to 6K footage), which is then oversamples to create 4K footage with clarity and depth.
There are a few other nifty video features too, including Full HD shooting at 120 fps, which can be edited into super slow-motion video, as well as S-Log gamma recording which offers a wide dynamic range of 14 EV. Sony has also granted videographers an extra tool with a dedicated mic input.
5. Full A-mount autofocus compatibility
A nice feature worth noting – the Sony A6300 can use all of its 425 AF points when paired with an A-mount lens via the LA-EA3 adapter, meaning those who have invested in A-mount glass won't have to live without the camera's advanced autofocus features.
6. Improved EVF
The XGA OLED Tru-Finder sitting atop the Sony A6300 looks really rather lovely, with 2.4-million dots of resolution compared to 1.44 million on the A6000. It also features a new mode that can display images at 120 fps, meaning action can be tracked smoothly and clearly, with very few afterimages.
7. Increased sensitivity
ISO sensitivity gets a nice little bump in the A6300, going up to 51,200 from 25,600 on the A6000.
8. Silent shooting
Lastly, also included on the A6300 is a new silent shooting mode, which is a nice boon for the wildlife and street photographers who will be making use of its fast AF and burst modes.
Related articles